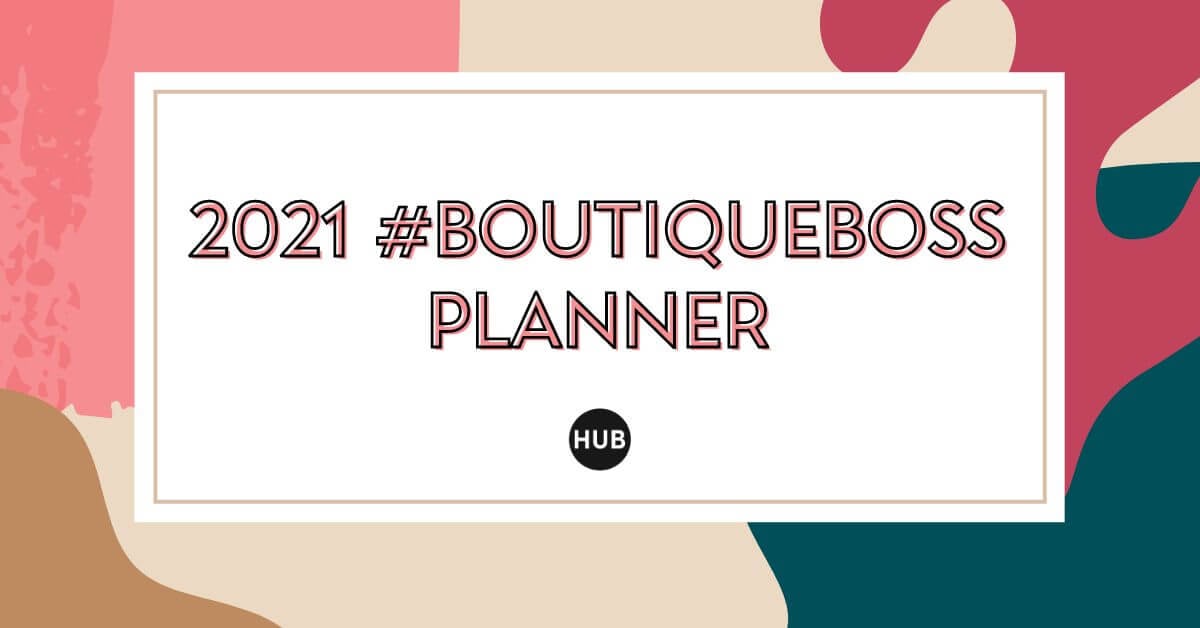 22 Oct

2021 #BoutiqueBoss Planner

We will be the first to admit, 2020 might have been the worst year to ink your schedule into a master calendar. What a year to jump in the pond of designing our first-ever 12-month planner? Yeah, we probably could have timed that one a bit better. On the plus side, while you might have crossed a lot of things out of your monthly schedule, the 2020 #BoutiqueBoss Planner still kept your business accountable with its quarterly and monthly checklists, inventory tracking, and daily sales goals.

It's safe to say we're all ready to put 2020 behind us, and there's no better way to do that than with a fresh, new 2021 edition of the #BoutiqueBoss Planner. She's back, and better than ever, featuring a hardcover (eekkkkk!), more in-depth tracking sheets, and a brand new vertical weekly layout that's perfect for time blocking! We also moved all of our resources into a single area, so they're easy to refer back to all year long!
We can't wait to show you the in's and out's of this year's edition! Inside you'll find:
– January – December 2021 Layout
-Monthly and Weekly Calendar Layouts
-Tracking sheets for sales, inventory, social & business growth
– Retail Specific Checklists
– Expert tips + resources
– Retail Math guides + equations
– Goal setting + tracking
– Social Media tracking
– Plus, a free Digital Download with even more tracking pages that we couldn't fit in the hardcopy!
As always, we've got some FAQ's about our #BoutiqueBoss Planner that we want to answer for you…so here we go!
Why is the #BoutiqueBoss Planner different?
The #BoutiqueBoss Planner is the ONLY planner built specifically for boutique owners, makers, designers, or any product-based business that relies on inventory and marketing to grow their business.
We take the tracking and planning that you've been spending time on outside of your average day planner and added it into the same place you're making your lists and keeping up with progress.
Plus – we know those random to-do's specific to your business each week, month, and year, so we created business-specific lists, ideas and reminders just for you that you won't find anywhere else.
Why is the #BoutiqueBoss Planner more than just a 'planner'?
It's one thing to make a plan, but it's another to have someone who knows exactly the business you're trying to build, give you the daily tips and reminders you need to make sure you're on the right track!
How can I get the most out of the planner?
Make a date with your planner, daily. Set aside time to review your day ahead, the week ahead and to gather all tracking numbers to keep your business records in one spot!
Plus, do you have a manager or other key employee who should be up to speed with you? Use your planner, or get a second one for your store or warehouse manager to also keep on track with your daily operations, to-do's and business goals as they progress all year long!
When will the 2021 planner be released?
You can snag your 2021 edition of the #BoutiqueBoss Planner now!
For the time being, planner orders are a pre-sale, but once they sell out they won't be restocked until there is a 2022 edition available.
As always, we could not have put this planner together without our Service Provider partners:
WWD Magic
SheProfits Now
Excelerate America
FashionGo
Hot Mess Consulting
Digital Boutique Co.
Harequin Bookkeeping
CommentSold
Sezzle
Once you get one, use #BOUTIQUEBOSSPLANNER hashtag, where we do monthly drawings and giveaways. And tag the planner on the 'Gram (yes, a full Instagram account dedicated to your planner-loving organization skills) @boutiquebossplanner.
Join the Hub for more training, information, and connections.
www.theboutiquehub.com/join
Recent Posts: