Guest blog post by Vajro
As a shopper, there's nothing more frustrating than a slow website that doesn't fully reflect the store's shopping experience. This is where mobile apps come in, making the shopping experience much more convenient and engaging for customers.
In recent years, mobile apps have become an essential part of the e-commerce world, acting as a super profitable sales channel for online retailers. Mobile apps allow customers to easily browse and shop online stores from their smartphones. In fact, 78% of people would rather access a store from an app compared to a mobile website.
Shopify quickly caught up with this trend and has made it easier by offering a wide range of mobile app builders that allow online retailers to build their own mobile apps and engage with customers more effectively.
Vajro is the top-rated mobile app builder on Shopify that comes with a simplified design editor, 70+ integrations, and numerous meaningful features, like live selling and push notifications.
Here are 5 ways mobile apps attract loyal users:
Seamless shopping experience
It's simple – mobile apps, in addition to having an incredible brand recall value, offer ease of shopping by enabling customers to browse and purchase products from their smartphones. This means that shoppers can quickly find what they're looking for, add items to their cart, and checkout with just a few taps. Vajro offers numerous smart search options and product recommendations that keep shoppers hooked to their mobile apps and help improve their conversion rate.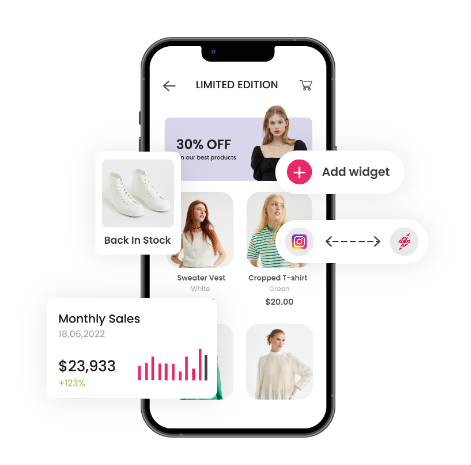 Personalized recommendations
Mobile apps offer personalized product recommendations to your customers based on their past purchases, browsing history, and so much more. This can help your shoppers discover new products that they may not have found on their own and can make the shopping experience more engaging and enjoyable. According to a report from Netcore, 77% of customers demand a more personalized customer experience.

Push notifications
Push notifications are one of the most powerful tools to communicate with your customers. With mobile apps, you can send out personalized push notifications to your customers to offer discounts, tell them about your product drops, and keep them updated about their orders. Sending push notifications can improve your app retention by 3-10 times! By sending timely and targeted push notifications, you can increase the likelihood of users making a purchase, ultimately driving revenue for their business.Push notifications, when leveraged right, offer more than just a direct line of communication with customers. By leveraging data about a user's shopping history and browsing behavior, merchants can craft personalized notifications that are more likely to resonate with each individual user. This level of personalization not only helps increase conversions but also improves customer loyalty, creating a more positive and engaging shopping experience. Vajro enables merchants to send automated notifications to their customers at different touch points to optimize engagement and boost conversions.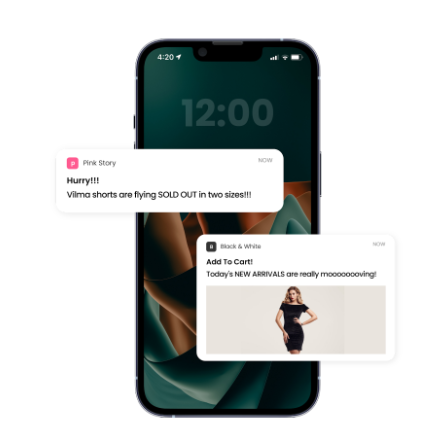 Convenient checkout and payment
One of the biggest advantages of using a mobile app is the convenience of the checkout process. With features like one-click checkout and saved payment information, shoppers can complete their purchase in just a few seconds, without having to enter their shipping and payment information for every purchase.
Mobile apps also solve a major hassle during the checkout process by offering numerous payment options that will allow shoppers to buy products and then pay later in smaller installments over a period of time. Vajro integrates with major players like Sezzle, Klarna, and Zip which make the shopping experience on the app much easier, thus resulting in better conversions. According to reports from eMarketer, almost half of Gen Z are expected to use BNPL by 2025.


Live video selling
Live video selling has emerged as a popular trend in the e-commerce industry, providing a new and engaging way for merchants to sell their products. Live video selling allows merchants to showcase their products in real-time, interact with customers and build a stronger connection with them by answering questions as they arise right away! Live selling helps retailers boost sales by creating a sense of urgency and exclusivity around their products.
Live selling was a popular substitute for in-store shopping during the pandemic, allowing shoppers to see products in real-time and interact with the store owner. Did you know that fashion and apparel account for a whopping 36% of all live stream shopping events? That's a massive number that cannot be overlooked.

Vajro offers its own live selling platform where retailers can go live on their mobile app and Facebook pages/groups simultaneously, allowing them to reach a bigger audience at a given time. Shoppers can also cart hold and waitlist products during the live sessions. The platform also allows retailers to set up live replays of their past sessions that shoppers can watch later and purchase products from. The biggest advantage is: everything is synced to the Shopify store (inventory, orders, loyalty points etc.) so that you get the same experience in all your favorite shopping destinations (web, mobile or social).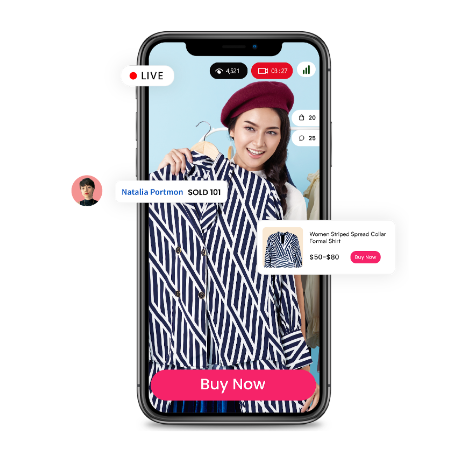 Conclusion
Mobile apps have revolutionized the way people shop online by providing an easy, personalized, and convenient shopping experience. By offering rich features such as personalized recommendations, push notifications, and easy checkout and payment options, mobile apps have become an essential part of the e-commerce ecosystem. Retailers maximize their conversions with a profitable sales channel and shoppers with a highly engaging shopping medium. With the added feature of live video selling, retailers can now connect with their customers on a deeper level and provide a more engaging shopping experience. With the help of mobile app builders like Vajro, online retailers can now easily create their own mobile app and offer a seamless shopping experience to their customers, resulting in better customer retention, increased sales, and overall business growth. Talk to Vajro now!
In short, turn every customer into a loyal, raving fan using a mobile app.
App-ify your store with Vajro!