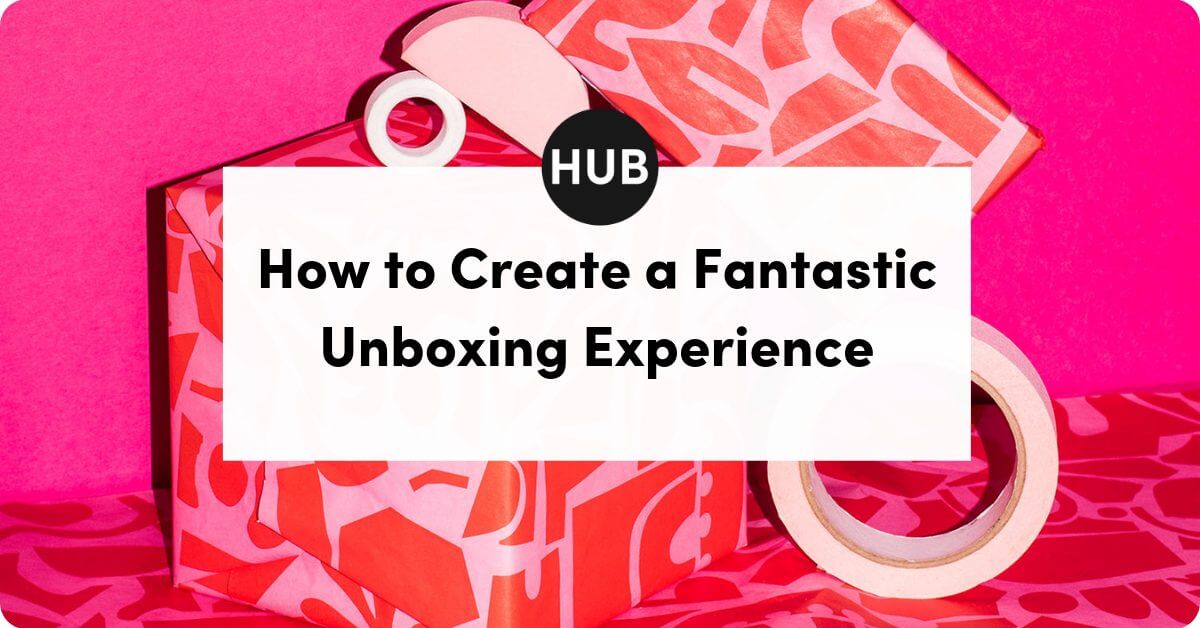 05 Nov

How to Create a Fantastic Unboxing Experience

As every fashion retailer knows, competition has become pretty fierce. With more and more boutique brands popping up every day, standing out from the pack has never been harder. The key to success? Maximizing all available touchpoints with your customer. There is one in particular which has been historically neglected – the moment of delivery. This is where an attractive, fashion-forward unboxing could be your key to greater success as a brand.
What is Unboxing?
When people hear the word 'Unboxing', they usually think of the videos on YouTube of people unwrapping consumer goods on camera. In the context of branding and marketing, an unboxing experience is when a retailer has put effort into creating an immersive brand experience through the unveiling of their product. As opposed to a regular online delivery, an unboxing will feature value-added elements such as branded packaging, attractive product presentation, or free samples.
The main reason that unboxings are so popular is that they help customers to forge a more personal connection with a brand. It makes an online delivery, so often a forgettable and impersonal process, feel like a gift from a trusted friend. This sets the foundations for long-term brand loyalty, and so has become a growing trend in boutique retail.
3 reasons why a fashion-forward unboxing is a great investment
1. Unboxing creates a great first (and last!) impression
We all know that for predominantly eCommerce fashion brands, first impressions really do matter. The first tangible interaction that customers will have with your brand is when their order arrives on their doorstep. You really need to make this count, because it's also their LAST interaction – the moment of delivery is the final step in the buying journey. If you want to boost customer retention, then you need to leave them with a lasting impression that leaves them wanting to come back for more.
Here's a quick test: which is more likely to stick in your customer's mind: a plain cardboard box, or one custom-printed with your logo and color scheme? The answer is pretty obvious!
So, a fashion-forward unboxing is one of the most effective strategies for influencing how customers feel about your brand.
2. Unboxing maximizes value
"Value" can be a difficult concept to define in retail. We all know it when we see it, but actually creating value as a brand is much more challenging. In short, it means showing customers that what they are purchasing is more than the sum of its parts.
Luxury fashion brands were among the first to achieve this, long before social media was around. They understood that in order to justify premium pricing, they needed to offer more than just a product – they needed to offer an experience that couldn't be found elsewhere. Not surprisingly, these brands are veterans at creating memorable unboxing experiences. From Chanel to Louboutin, these branded unboxings can be found everywhere on the web.
Why? Unboxings remain a unique and exclusive retail experience, and transfers to how customers view your brand. They effectively shift your brand storytelling from products to a demonstration of care, creativity, and above all, great style. These are all things that you want your customers to associate with your fashion brand!
3. Unboxing boosts your social media feeds
Social media is one of the most powerful selling and marketing channels that independent fashion retailers have at their disposal. But curating a feed that really stands out from competitors isn't a walk in the park. Sticking only to generic product photography is unlikely to engage people. Why? Because although we all love a fashionable flatlay, they don't tell a viewer is why your brand is unique. By contrast, a product with premium packaging is a much more sophisticated value proposition.
Unboxing videos and stills boost your content marketing efforts because they are truly immersive. They put your followers in the position of a customer who has just received their purchase. It leverages consumer desire much more effectively than regular product imagery.
Putting together a fashion-forward unboxing experience
Creating an unboxing for your brand might feel like an intimidating process, but it really comes down to just a few key ingredients. Any great unboxing experience, no matter what industry or target audience it has, will consider these things:
What packaging will suit the products best
Innovative ways of putting brand identity front and center
Creating a personal connection with the customer
Here is a step-by-step guide to creating your own fashion-forward unboxing experience:
Choosing your branded packaging elements
It's tough to name a more iconic duo than custom packaging and unboxing. Without the former, you can't create an immersive experience that stimulates brand recall. Branded packaging elements are also what gives an unboxing that curated look, which is the key to making a lasting impression on your customer.
Custom boxes
This is the largest (and most expensive) element of an unboxing. Custom boxes tend to have high MOQs (Minimum Order Quantities) of 500+ units, which means they might not fit the needs of every boutique. However, as exterior packaging, they are one of the most effective ways to build brand recognition in your customers. When they see your box on the doorstep, the anticipation helps to create an even more positive and lasting impression.
Pro tip: Fashion brands have a big advantage over other retailers in that clothing items are soft and fairly resistant to damage in transit. For smaller orders, shipping mailers present a really fantastic option as they are much more cost-effective than boxes. Not only do they cost less per unit – they also keep shipping costs down because couriers charge on the size as well as the weight of a package.
As Hannah Rumsey shows, you can still create an Instagram-worthy unboxing, even without the box!
Custom tissue paper
Custom tissue paper is a super versatile packaging element for all kinds of retailers but works especially well for boutique fashion brands. It's more affordable than custom boxes, as MOQs are much lower. It's also a very easy way to make your clothing or accessories look more high-end. This is because it shows that you have put in a little extra care into the packaging process, as opposed to sticking something straight into a bag or box. When you have treated your product as something special, it influences your customers to perceive it that way too!
Custom stickers and tape
Custom-branded stickers provide a really nice focal point in your packaging design, which makes it a great element to put your brand name or logo on. Custom tape is also a solid investment because it has both a practical and aesthetic function. You can use it to seal up your box and to add some extra branding. If you are choosing plain exterior packaging to save on cost, customized stickers or tape are also a fantastic way to add some visual interest!
Brainstorming a packaging design which reflects your brand
Once you have chosen your packaging elements, you need to settle on a design. As any business owner knows, consistency is the key to successful branding. So, the best place to look for inspiration is in your own backyard. Branding elements such as your color palette and logo transfer well to custom packaging and will make your unboxing look very polished. But it's also a great opportunity to get creative! On your larger packaging elements, you have room for some more ambitious designs that communicate your brand's personality.
Above is a fantastic example from accessories boutique Violent Tinsel. Their doodle-inspired custom tissue design is fun and flirty, whilst also incorporating brand-specific hashtags and slogans!
Personalize it!
An attractive unboxing will create a lasting impression, but the icing on the cake is when there is a personal touch as well. When your customer feels that the experience has been designed with them in mind, it feels all the more special. Small additions such as thank-you notes or free samples based on their order history will really take your unboxing experience up a notch!
Extra top tips for fashion retailers:
If you sell a lot of smaller accessories like sunglasses and jewelry, consider using branded cloth pouches. They both protect your product and provide your customers with a reusable packaging element that stimulates brand recall.
Try to maximize the number of recyclable packaging elements in your unboxing. Fashion doesn't have the best reputation when it comes to waste, so lowering the footprint of your design shows that you are making the effort to be a responsible retailer. Try using paper and cardboard where possible as opposed to plastic – recycled or FSC-certified sources are even better!
To spread more awareness of your selling channels, consider custom-printing your website address and social media handles onto your packaging directly rather than using packaging inserts. It's more cost-effective and more likely to grab your customers' attention!
If you plan on using your unboxing experience as social media content, it's really worth investing in some high-quality product photography. Avoidable mistakes like bad lighting or composition will really downplay your unboxing, so putting in the time to get some fantastic visuals makes all the difference!
To recap, a fashion-forward unboxing is a fantastic marketing strategy to set your boutique apart from the crowd. It shows your customers that you truly care about their experience with your brand and that attention to detail doesn't stop at the moment of purchasing. Most importantly, it creates a memorable and lasting impression that helps to retain customers – the secret to long-term success as a brand!
Beth Owens is the Content Strategist and resident unboxing expert at noissue. Their premium custom tissue paper is acid-free and FSC-certified as being socially and environmentally responsible in its production. Their low minimum order quantities and quick turnarounds mean that they are suited to help everyone, from small independent businesses to Fortune 500 companies.