Hooray! It's the time of year where it's completely acceptable to mix fashion, football, foam fingers and fabulous tailgate foods…it's GAMEDAY TIME!
If you're a southern girl, you know that your outfit on Saturdays has to be on point, so we're rounding up a few graphic tee brands to help you show your team pride.
And as a bonus if you're also a boutique owner, each of our 20 favorite tee's below is produced by a different apparel company, so be sure to contact them about carrying these styles in your store too!
Here's 20 of our favorite gameday tee's for those weekend warriors!
1.) Southern Football Tees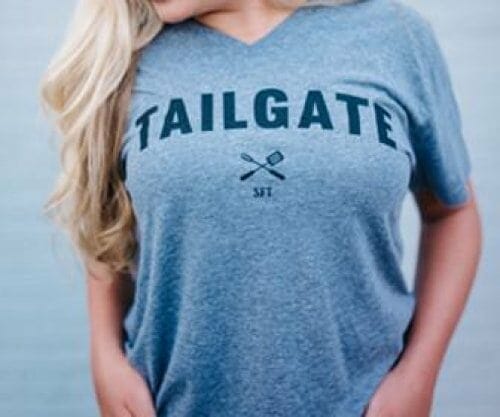 2.) Texas Sweet Tees
3.) Kickoff Couture
4.) Bling a GoGo
5.) Ruby's Rubbish
6.) Crazy Consuela
7.) Glamourous Couture
8.) ATX Mafia
9.) Okie Dokie Tees
10.) Katydid Wholesale
11.) Oliver & Otis
12.) Charlie Southern
14.) Lauren James
15.) Moots Clothing Co
16.) Southern Trend Clothing
17.) Pink Armadillos
18.) Jadelynn Brooke
19.) Live Love Gameday
20.) Game Day Couture
(available in various teams)
With this many to choose from, you'll have to change clothes throughout the day!  Most styles are available in various colors to support any team.  Which one would YOU wear??
If you love getting the latest boutique industry and style news – grab a copy of The #BoutiqueBinge (bonus, you'll even get 15+ boutique coupon codes just for signing up)  or join our Boutique Favorites & Deals Facebook Page for daily boutique purge deals and specails!
Or if you're a boutique owner looking for wholesale apparel brands to shop like the ones listed above, check out our Brands and Vendors Facebook Group just for finding new lines to carry!