We all have that one, "go-to" place we shop, where we can find any outfit, for any occasion, be it work, a backyard barbecue, or a night out on the town. If you polled the population of western women, many of them would probably tell you that their "go-to" is Woolies Quality Clothier.
Woolies Quality Clothier truly is a one-stop shop for women of any age, who are just as comfortable in an area or on the range as they are in front of a camera or downtown Dallas. Owners Alisha Kurtz and her husband Andy live that same lifestyle, also owning a successful horse training business in addition to Woolies Quality Clothier.
We sent Alisha a link to our famous interview questions, and she absolutely killed it with her answers!
Tell us about life before owning a boutique? What consumed your life before fashion?
Fashion has always been a pretty big part of my life, even prior to owning Woolies. Growing up, and especially in high school and college, I always wanted to stand out from the crowd with my eclectic taste in clothing. I grew up in the city, but I was always a Western girl at heart. I never went really bold with extreme "fashions", but I always found a little something here or there that set me apart and show off my love for all things Western. A lot of these statement pieces I would pull from my horse show wardrobe. For example, my senior year of high school I wore a rhinestoned show scarf just about every day – a trend of been thinking about bringing back lately.
Beyond my lifelong love for fashion, I ended up where I am now in quite the roundabout way. I previously spent my time in the corporate world in the public relations, communications, and marketing fields. I had a few different positions in very different sectors, and I really appreciate the skills and knowledge I gained from each – a lot of which has been beneficial to me in boutique life. I always worked to be able to do the one thing that is truly all consuming for me: show horses.
Showing horses has always been all-consuming for me (from about the time I was six years old) and was one of the driving forces behind leaving the corporate world. Initially, when I embarked on the boutique journey it was a side gig and a way to afford to send myself down the road with my reining horse. I would set up a small booth at all the reining horse shows I attended, and I always made enough money to cover all my horse show expenses. Eventually, working full time, going to Graduate school, operating a small boutique, showing horses, and having a long distance relationship caught up with me. I couldn't do it all anymore. Like any dreamer would do, I made the decision to leave the good paying job behind. I spent about two years showing horses, earning my Master's degree, and selling clothes. I wasn't making the big bucks, but those two years left me with some of the best memories.
Once my husband and I decided long distance relationships were for the birds and moved in together I decided to let the boutique thing go. He is a horse trainer/rancher, and like they always say, "behind every successful horse trainer/rancher is a woman who works in town." However, I could never quite shake the boutique business. I would find myself spending my lunch hour and evenings at my computer scouring all my wholesale vendor websites. My husband knew what my real passion was and pushed me to build a website for my boutique, and the orders started coming. I wasn't bringing in enough money to where I felt like I could leave my job in town (that I loved), but my husband had all the faith in the world in me and knew how much it killed me to stay home while he headed to the next horse show. He told me I would never know how successful I could be in the Western fashion industry if I didn't give it a real go, and he let me quit my job in June 2015 – a month before we got married.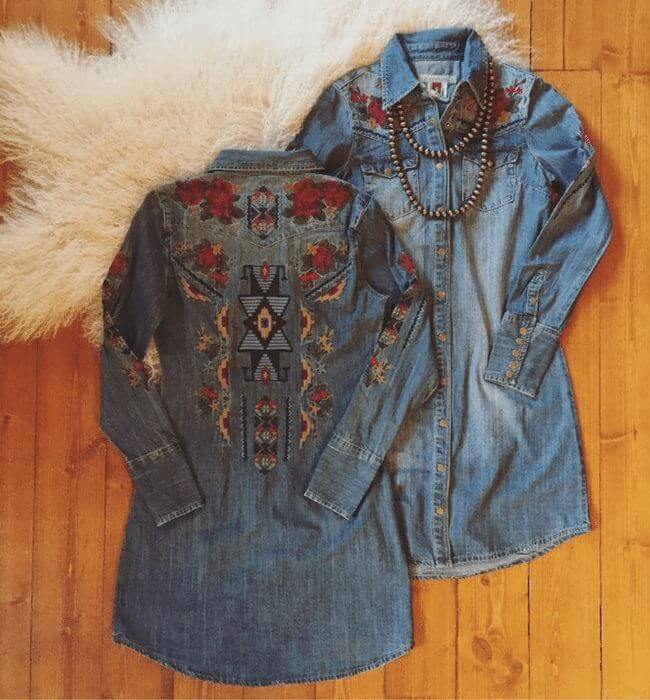 What tips do you wish someone would have shared with you as a new entrepreneur?
Dream big but keep your goals in perspective.
What has been the most fun or exciting part of owning a boutique for you? The most challenging?
I love that the day to day is always different. In my previous positions in the corporate world, I had such a difficult time staying stimulated. Whether I was doing package design, writing press releases, and drafting corporate e-newsletters, the tasks were very mundane and nearly the same day-to-day or week-to-week. Operating Woolies has been the only career that has truly kept me interested, challenged and stimulated. There is always a new goal to meet, a new training to complete, a new product to photograph, etc. The challenges never end, and that is exactly what I love.
What's in your closet? Do you have a go-to style?
My closet is as eclectic as they come, but the older I get the better I am at letting the not-so-practical pieces go. I live about 20 minutes north of Steamboat Springs, Colorado, which has a rich history of blending ranching and snow skiing. And my closet is just that. Since Woolies is currently online and mobile only, I don't have to get dressed up every day. My typical go-to everyday outfit includes a pair of Kimes Ranch jeans (the only brand of jean I own/sell), a comfortable t-shirt, topped off with either an embroidered button up or a cozy sweatshirt or fleece. In the summer, I pair it with a pair of moccasins and in the winter you will pretty much only see me in Sorrels. However, the left side and top shelf of my closet are my favorites! That's where I keep all the Tasha Polizzi, Double D Ranch, Silverado, leather jackets, fringe, cowboy boots, and more. When I hit the road, I grab everything from these two spots and packing is a cinch.
How does your style differ from that of your boutique? Or is your boutique a reflection of your style?
Since rebranding to Woolies Quality Clothier in 2015, my goal has been to transition our offering to something that reflects my style a touch better. This isn't because I think my style is the end all be all, but I believe my style is an often missed market. I know what it's like to work in town, do ranch chores in the evenings, show horses on the weekend, and fit a date night in here and there. Who has the time or money to have a different wardrobe for everything? Woolies strives to offer clothing for both men and women that fits all the different "lives" us Western folks live. With that being said, you will always see a lot of embroidery at Woolies. Embroidery has forever been my favorite fashion statement!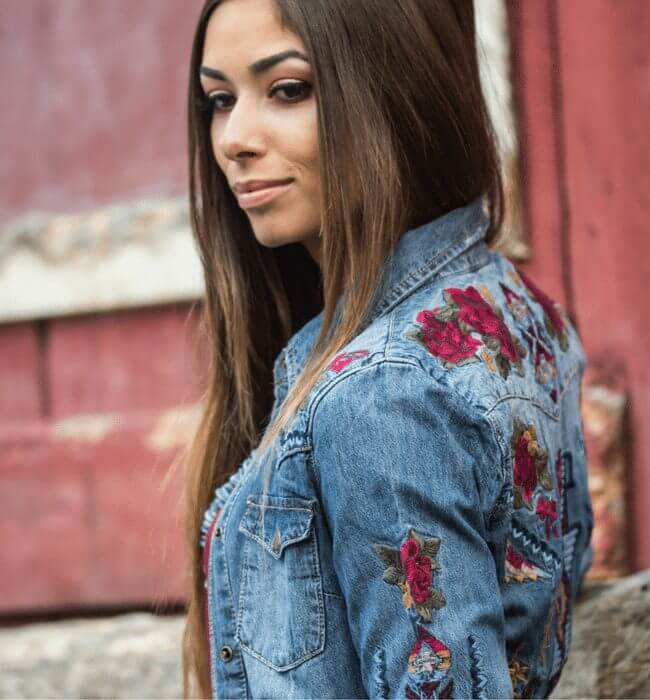 Who's been your role models – both in business and in style?  
Wow! This is a tough one. Let's start with business…

The entrepreneurial spirit runs deep in veins. Both my husband and I come from a long line of successful business owners, so I would say my biggest role models in business have been our parents and grandparents. We were both fortunate enough to grow up with hard-working, self-employed parents who instilled in us a strong work ethic. While our parents have been successful entrepreneurs, I have always admired how well they were able to and continue to balance work and family. Both of our parents were always present, whether it was horse shows, soccer games, ski races, dance recitals, or whatever we may have needed as children. That is one thing I hope I can always balance well while providing for my family. My husband! While he may not be the most fashion-forward person (shh! I didn't tell you that), he is so business savvy. While he spends his days training horses, he puts his business degree to work in the evenings and on the weekends crunching numbers and
My other two biggest role models in business also fit into the style category as well.

Kathleen Brannon of Desert Sage Bead Art has been my biggest cheerleader since the day we became friends. Deep down our souls connect in a way that I don't have with many other people. Kathleen is an artist in every sense of the word, but she has a strong head on her shoulders that makes sound business decisions. She selflessly shares what she does to stay fresh and ahead of her competitors with me, while also sharing the mistakes she has made along the way. If I ever need advice, someone to set me straight, or just tell me it will all work out, Kathleen always answers the phone. And, have you seen the woman? She is beautiful with the most stunning jewelry (both that she makes and collects). Through Kathleen, I have learned that sometimes the simplest of outfits make the boldest statements when paired with the perfect accessories.

Trent Johnson of Greeley Hatworks is another business owner that knows a thing or two about style. I still remember the first time I talked to Trent on the phone. He told me he was going to give me some unsolicited business advice. I quickly let him know that I'll take all the unsolicited advice he wants to share. Every single thing he has told me about making it in the Western industry has held true. Trent has taken a successful business and through his passion, hard work, and killer style transformed it into a major powerhouse. Just being around Trent ignites a spark inside me to take the next big leap. I'm nearly positive I'm not the only person to feel that way.
What scares you the most in life or business?
I think most business owners have the same answer to this question: failure.
More importantly, dark or milk chocolate?
Dark, but really just give me all the wine!
What's your favorite retail season?
Fall and winter. These two seasons are always the most lucrative with holiday shopping taking place. However, fall and winter clothing is my favorite so it's the easiest and most fun to buy for.
What is your favorite social network and why?
Instagram – it's the simple and straightforward social media platform to present product on.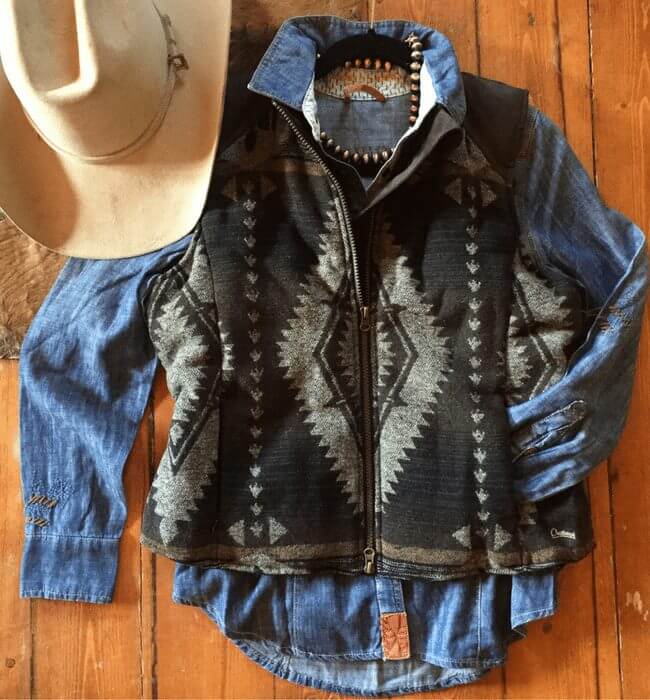 If you could give advice to a young person, interested in fashion, and maybe one day hoping to start their own boutique – what would you tell them?
Always be you! Don't follow other boutiques on social media. Don't shop other boutiques brands. Even if you're not trying to imitate another, if you're constantly looking at what someone else is doing you will subconsciously start trying to become them. One of my favorite quotes is, "you do you, and I'll do me."
Owning a business is hectic, how do you unwind?
How about owning two businesses? Because my husband and I both own our own businesses we really have to focus on setting time aside where we don't do business. Now that we have a daughter, it is more important than ever. Riding horses has always been my escape, and while I still use it as such I have had to find other ways to unwind so my husband can as well. Together, we love getting out and exploring the outdoors whether it is hiking, paddleboarding, boating, or skiing. We also both love craft beer and exploring local and not-so-local (when we're traveling) breweries. Shop small and support local, right? One of the simplest ways we unwind and connect is at the dinner table. While I may complain about it, I have actually come to really enjoy cooking. My husband and I always eat at the dinner table and talk with each other about our day. These days, now that we have a six-month-old, we actually both really look forward to a night or two a week where we veg out on the couch with a glass of wine and our favorite Netflix show after our baby girl has gone to bed.
Is there anything big goals for you as a boutique owner that you are excited about reaching?
My goals to continue to evolve as each small goal is met. A few years ago, my goal was to have a booth at the NFR. Now we have two, and that goal has morphed into having Woolies be a must do on NFR attendees shopping list. When I was rebranding and choosing a name, I really wanted something classic and that could eventually become a brand in itself. While we're still working on that goal, it's been pretty awesome to sell out of Woolies branded caps a few times and receive emails asking if Woolies wholesales.
What are some of the biggest fashion trends you're anticipating to see at this year's NFR?
I always love seeing what kind of outfits everyone dreams up at NFR. This year, I think velvet, denim jackets, embroidery, and wild rags are going to be everywhere. And, I'm totally okay with all of that.
If you're an NFR veteran, what's one thing you'd recommend a Vegas -rookie to make time for while they're in town?
Oh wow! This a tough one. NFR related: Buy a ticket and go to at least one NFR performance. The energy in the Thomas & Mack is electric and unlike anything I have ever experienced.
Simply Vegas related: If you love sushi and consider yourself a bit of a sushi purist, get off the strip and head west to a little place called Yonaka. You can thank me later.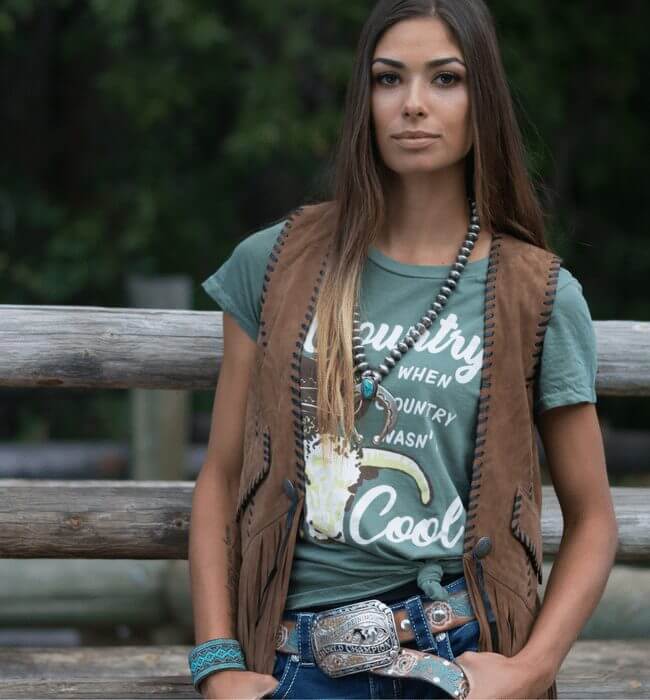 Now we want to know more about Woolies!
Year your boutique was founded?
I originally started part-time in the mobile boutique world in 2010. In June 2015, I rebranded to Woolies Quality Clothier and went full time so that's the date I typically go by.
Your boutique's brand in three words…go!
Authentic, Bold, Western
How did your boutique get started? Any fun stories behind your name?
In June 2015 I rebranded the business to become more of a Western lifestyle retailer than simply a women's fashion boutique. We went through a lot of name ideas but nothing seemed right. I wanted something that was classic and all-encompassing while representing the Western heritage and the ranching/ski town where we are based out of. I also wanted a name that would allow us to brand our own clothing line in the future if we so wished. My mother-in-law actually came up with the name Woolies, and I instantly loved it!
When I walk into your boutique, what is the atmosphere like, how do you hope to make your customers feel?
My biggest goal is to make the women and men who shop at or with Woolies to feel beautiful/handsome, confident, and genuinely happy. I always try to be engaging and feel out if the customer wants to chat or shop on their own, and go with their flow. The Western lifestyle is everything to me, and I really try to let that be the focus of Woolies through our booth set up, brands we offer, music playing, and the staff I have.
I think my favorite booth setup we do is at the Roper Cowboy Marketplace at Mandalay Bay. We have an extra large booth there, which allows room for a small seating area and a tub full of ice and beverages. Sometimes your customer or their shopping partner (husband/boyfriend) just need somewhere to rest their feet and chill out.
Tell us about the women who shop at your boutique?
Woolies women are fearless, confident, strong, bold, and most of all beautiful! When I buy our inventory, I always ask myself if I can see a 20-year-old wearing something and if I can see a 60-year-old wearing the same thing. If the answer is yes, it probably makes the cut. The women who wear Woolies wear multiple hats and rock them all. They are as handy as any man on the ranch. They train and show top caliber horses. They juggle being a mom and a small business owner or struggle with the thought of sending their children to daycare while they advance their career. They are high school barrel racers dreaming of running down the alley at the Thomas & Mack. They enjoy nothing more than getting a little cleaned up and heading to town for a nice dinner with their best gals or handsome man. They need fashion that fits all of these lifestyles.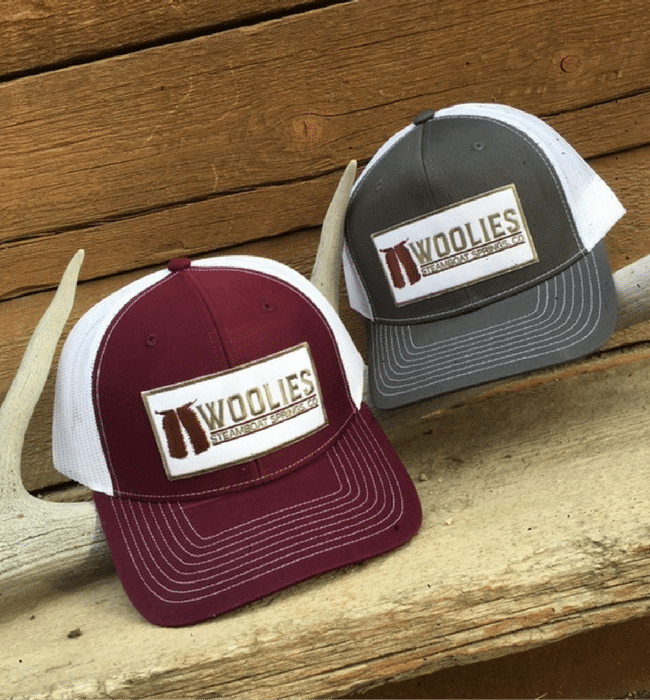 In your store now – what's one steal and one splurge?
Steal: The Studio West lace mock neck top. It is the perfect layering piece, and it looks fabulous on its own piled high with turquoise.
Splurge: The Straight as an Arrow embroidered velvet shrug by Double D Ranchwear, hands down. It is definitely what dreams are made of.
What are your favorite trends at the moment?
I always say, "if embroidery is wrong, I don't want to be right." Embroidery is always on trend to me, but I love that it can be found amongst all genres of the fashion world right now.
Which brands you carry are your personal go-to's? Customer favorites?
Kimes Ranch jeans are both a favorite of mine and a customer favorite. The majority of our clientele rides horses, and there simply isn't a better made, more flattering Western jean on the market.
What are some of the things you're looking for when choosing a brand to carry?
As I stated above, everything has to pass the will a 20-year-old and a 60-year-old both wear this test. Also, I often bounce my picks off my mom, sister, and best friend before purchasing. We all have very different taste in fashion and know what sells for Woolies. If we all agree on something, it's a no-brainer. If the jury is split, I usually skip the piece.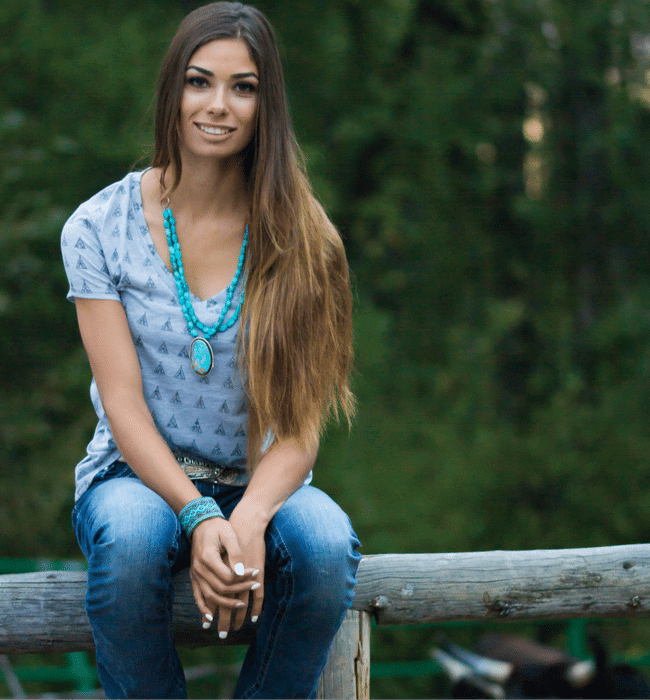 How do you decide what to buy for your boutique?
I often bounce my picks off my mom, sister, and best friend before purchasing. We all have very different taste in fashion and know what sells for Woolies. If we all agree on something, it's a no-brainer. If the jury is split, I usually skip the piece.
What's been the best marketing decision you've made?
Finding the right social media influencers to work with.
Do you use outside models and photographers or do you keep those things in-house?
I mainly keep everything in-house. Flat lays seem to sell items better for me online so I tend to stick with those. Typically once a year I'll do a real photoshoot. Other than that, yours truly is doing it all.
Do you work with bloggers or influencers? If so, what do you look for in an influencer or blogger before working with them, and what kind of expectations do you have in a collaboration/partnership?
Yes! First, I have never used an influencer who has messaged me telling me how great they are. Every influencer I use is someone whom I sought out on my own. Some of them had "liked" and purchased from Woolies previously and someone of them did not. Each influencer I use has a fairly large social media following – 8k to 40k+ followers. While their following is somewhat important, I also looked out how much response their posts generate and whether or not they engage with their followers. Also, I use influencers who live the Western lifestyle. My gals range from ranchers to rodeo wives to singers, but most importantly they're all encouraging and real people.
I simply ask that they post a photo and tag Woolies within one week of receiving the item. I keep it pretty simple because the women I work with are trustworthy, appreciative, and honest.  
If your boutique dressed a celebrity daily – who would it be?
Reba. When I think of a classically beautiful, strong, determined Western woman whom can hold her own with the guys, Reba always comes to mind. Woolies encompasses everything she brings to the table. She's not afraid to get her nails dirty, push fashion limits (1993 CMA awards, anyone?), and dress up with the best of them. She always represents that Western industry in an ideal light.
Wasn't that an awesome interview?! If you're going to be in Vegas, you can shop with Alisha and Woolies at Roper Cowboy Marketplace (Mandalay Bay) and at the Cinch Western Gift Show (South Point). We'll be making an appearance at both booths with our video crew, so hopefully, we catch you while you're there!