With the first round of the National Finals Rodeo quickly approaching, we're still western-outfit obsessed, still shopping ourselves putting the final touches on our Las Vegas outfits. If you're still in need of a few things to solidify your outfit, meet Ropes and Rhinestones, a western boutique based out of Solon, Iowa. Owner Alicia Smith is a western girl at heart, who started her love of retail early on, working at a western wear store while in high school.
Ropes and Rhinestones has both an online website and can be found throughout the year at various shows and events.
If you want to find out more about this awesome boutique, then keep on reading!
Tell us about life before owning a boutique? What consumed your life before fashion?
I was fresh out of college when I started the journey. I was managing my grandparents business and rodeoing in my free time.
What tips do you wish someone would have shared with you as a new entrepreneur? This is hard work! People underestimate what it takes to start & run a boutique. I worked at a western store in high school and I'm still in shock some days at what all needs to get done.
What has been the most fun or exciting part of owning a boutique for you?
The most challenging? The fun part is meeting your customers. I love doing shows and being able to talk face to face with the people that are shopping in my store. The most challenging thing is definitely having enough time to get everything done.
What's in your closet?  Do you have a go-to style?
My style is western casual. I like a good pair of jeans and a graphic tee. I love jewelry & accessories. I'm usually simple in my clothing choices but love wearing & layering lots of necklaces & bracelets. Don't forget the big earrings!
How does your style differ from that of your boutique? Or is your boutique a reflection of your style?
My boutique is definitely a reflection of my style. I want a shirt that you can throw on with a pair of jeans and dress it up with some jewelry.
Who's been your role models – both in business and in style?  
My role model in business would be Wally Andrus & Becky Boyce the owner & manager of Western World the western store I worked at in high school. They knew what worked for their store, they stuck to it and treated their customers & employees well. My role model in style would be my grandmother Suzanne. She wears high heels and a dress every day and doesn't care what anyone else has to say about it. She has her own style and she sticks to it.
What scares you the most in life or business?
I'm not scared of much. I take everything as it comes and try not to get too excited. If anything being a business owner makes you a little scared of keeping the sales coming every day. Maybe it's just good motivation to keep going.
More importantly, dark or milk chocolate?
Milk chocolate
What's your favorite retail season?
I like spring because coming out of winter in Iowa it's always fun to get out from under the layers of clothes. I also like Christmas because I enjoy helping people get gifts for others.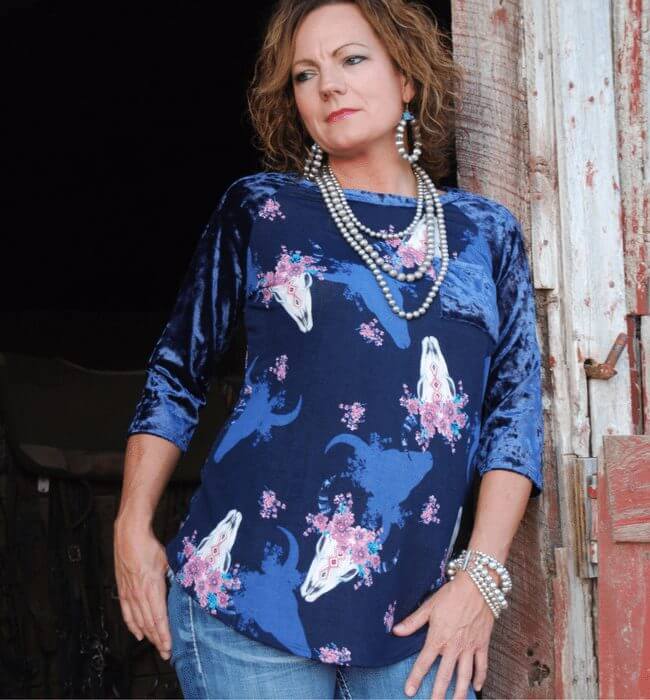 What is your favorite social network and why?
I like facebook. It's pretty neat the way you can connect with so many different people in one day from all over. You can't find that anywhere else.
What's the best marketing strategy you've discovered?
I do a lot on Facebook. If you can figure out Facebook ads it's pretty powerful. I'm really working on that and my photography for those ads.
If you could give advice to a young person, interested in fashion, and maybe one day hoping to start their own boutique – what would you tell them?
It's a lot of work. Be prepared to put in a lot of hours and don't worry about what your competition is doing.
Owning a business is hectic, how do you unwind?
My family and I rodeo so my free time is spent riding mainly barrel racing and team roping. My girls are starting to ride now so that's a lot of fun.
Are there anything big goals for you as a boutique owner that you are excited about reaching?
I recently had my highest month ever in sales on my website so that is exciting. My goal is to one day have a booth at the NFR so that is something I'm working toward.
What are some of the biggest fashion trends you're anticipating to see at this year's NFR?
I think there will be lots of fringe and sequins. I love fringe!
If you're an NFR veteran, what's one thing you'd recommend a Vegas-rookie to make time for while they're in town?
I like to get away from the rodeo and walk down the sidewalk just looking around. There are so many things to see I like to explore.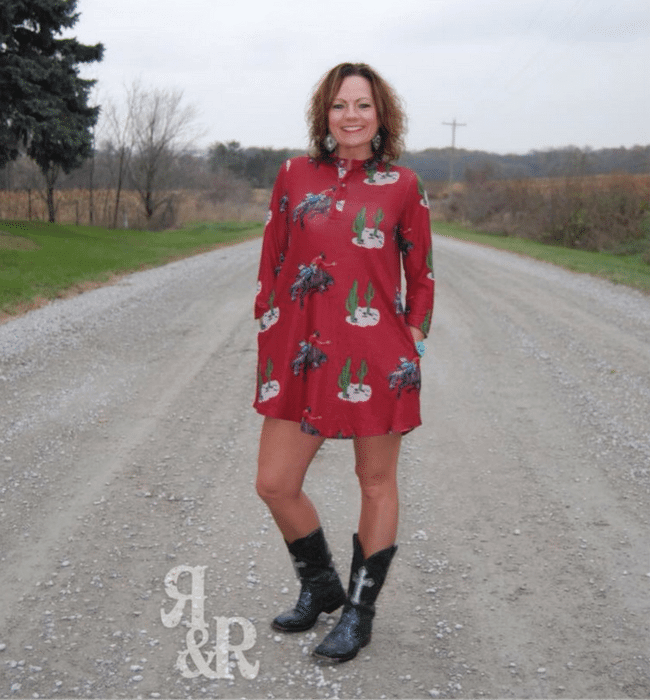 Now that we've got all the info on you, we want the down-low on your boutique!
Year your boutique was founded?
2005
Your boutique's brand in three words…go!
Western, casual, fun
How did your boutique get started? Any fun stories behind your name?
My sister and started gluing rhinestones on everything when "bling" was the hot trend. From there we started making necklaces and decided to sell them. After doing just jewelry for a couple years I added some clothing. We were sitting in the living room writing names down in a notebook and my husband Cody is the one who came up with Ropes and Rhinestones. He loves to take credit for it too.
Tell us about the women who shop at your boutique?
The women who shop with me are a range of college girls to moms. They like western fashion, want to look good and not break the bank while doing it.
In your store now – what's one steal and one splurge?
A steal is our Aztec arrow earrings they are only $9.99! A splurge would be our cowhide tote bag. They are the higher end of our price point but very nice bags and the customers love them.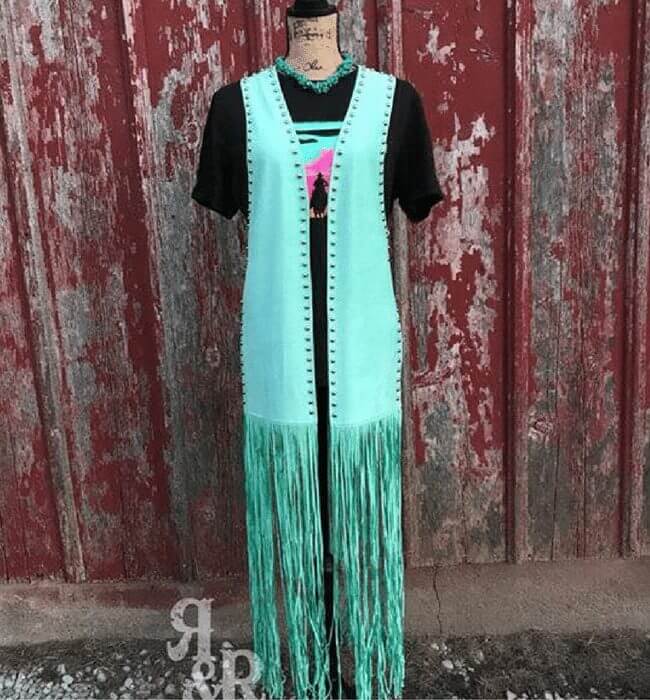 What are your favorite trends at the moment?
I love the retro graphic tees. They are so versatile, you can dress them up or down. Wear them with a jacket or skirt and of course, add some jewelry.
Which brands you carry are your personal go-to's? Customer favorites?
L&B is a favorite of mine and my customers. They have great designs and unique western style fabrics.
What are some of the things you're looking for when choosing a brand to carry?
The fabric designs and prices. I know what my customers like to spend and it's important that I bring them the best quality I can for that price.
When you first started, what was the process like to carry brands in your store?
Google, google and google some more. Being in Iowa and starting out I didn't have access to a market so I spent hours and hours on the internet.
How do you decide what to buy for your boutique?
It started out buying things that I liked. As I've grown I think I've been able to step back and look at my customer and think about what they might like. Now I try to buy a mix and it's been working out well.
What's been the best marketing decision you've made?
Spending money on Facebook ads. When people start out I always hear "I don't have much money to spend" well you need to find some because you can't make any if you don't spend a little.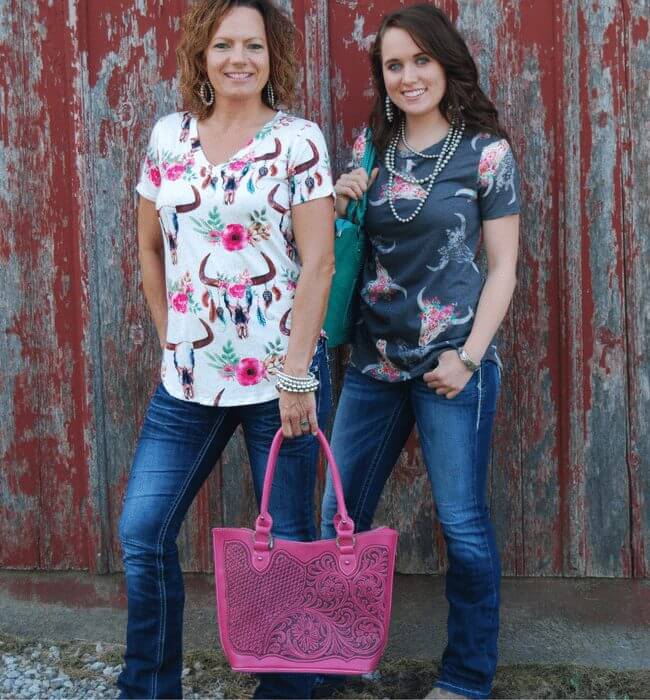 Do you use outside models and photographers or do you keep those things in-house?
I have two models that are both good friends of mine. Nikki Langrher and Paige Stewart, I don't know what I would do without them. They enjoy modeling for me and are good about listening to my crazy ideas. We have a lot of fun taking pictures. I do the photography myself which is something I'm definitely learning more about all the time.
Do you work with bloggers or influencers? If so, what do you look for in an influencer or blogger before working with them, and what kind of expectations do you have in a collaboration/partnership?
Yes, I have. It's very important to express any concerns/desires you have right from the get-go. I've had some good experiences and some bad and had to learn that the hard way. I look at photos to see if they have a similar style and what kind of interaction they get with their followers.
If your boutique dressed a celebrity daily – who would it be?
I think Miranda Lambert would be fun to dress.
There's a really good chance we're currently shopping the Ropes and Rhinestones website….why wouldn't we?!
Are you a fashionista with an eye for all things western?! Then you'll want to sign up for our BRAND SPANKIN' NEW western-focused email list! All you've got to do is follow this link, and leave your info!