If you are a connoisseur of western fashion, then you are likely scouring the internet and local boutiques for the perfect outfits to make your style statement.
Each year before the National Finals Rodeo, we break down the best places to shop for the perfect looks for Las Vegas, and we will be the first to say, this style genre (because of its cross-over popularity with mainstream fashion) has blown up in the past 12 months!  The competition is fierce, so we know you will find the perfect statement pieces at these shops.  We kept the list to 20, but we have got our eye on so many more that are making their own western fashion statement, and we can't wait to see where 2017 takes them! Trust us – there were SO many more we would have loved to add below!
Here are your go-to 20 western boutiques to shop all year long, listed A-Z!
Eagle Lake, Texas
Bar T might be the trendiest boutique around; known for carrying a wide variety of women's and girl's apparel, footwear and accessories and is frequented by fashionistas of all budgets.  Owner Kaitlynn Titman established this fabulous online boutique in 2013, and recently announced that she will be opening Bar T Boutique's first storefront in January 2017, located in Eagle Lake, Texas.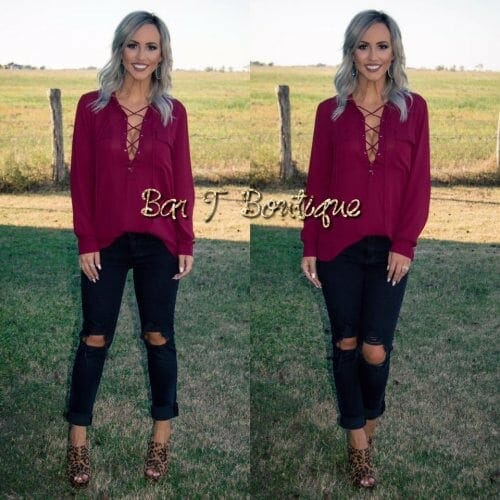 Bellville, Texas
The slogan of this family-owned, Bellville, Texas business is "originality is our standard," and they are not lying in the least!  Their inventory is boho-inspired with western roots, and includes brands such as El Vaquero, STS Ranch, Old Gringo, Free People, Ivy Jane and so many more.
Mason, Texas
With their old west, meets new west vibe, Chica Chula Boutique provides customers with beautiful, handmade pieces for their closets, jewelry boxes, and homes.  Owner Morgan McMillan Willis has an undeniable love for fashion and is known for providing customers with an unrivaled shopping experience, through both Chica Chula's website, and retail location in Mason, Texas.
couleecreekdesigns.myshopify.com
New Town, North Dakota
Hailing from North Dakota, Jordan and Melanie Luger carry signature high end western fashion from Double D Ranchwear, Old Gringo, to Tasha Polizzi.  These two women know firsthand how to intermix the stunning pieces of Native American Fashion with the history and beauty of the American Cowboy.  You will be drooling when you get there, we promise.
Andrews, Texas
Carly Stewart and Courtney Mitchell are two very creative women, and are the official dynamic-duo behind this Andrews, Texas storefront.  Gypsy Pearl carries all of the latest styles, with a huge selection of sequins, fringe, suede and velvet; all of which can be found on the boutique's website as well.
Chandler, Texas
This Chandler, Texas store front and busy online boutique has an eye for great southern fashion, and blurs the line between many mainstream trends and sassy statement pieces.  Owner Dana Waltz models for her growing store with great alternative price point to some major labels, and a wide selection ranging form maxi rompers, maxi's, tops, tunics to shoes.
instagram.com/hazelsfashionwagon
Purcell, Oklahoma
Darcy Good is one chic cowgirl, and her Purcell, Oklahoma boutique is a direct representation of her own personal style.  Carrying brands such as Liberty Black, Charlie 1 Horse, Ryan Michael and Tasha Polizzi, along with unique accessories; Hazel's Fashion Wagon is a one stop shop for every western fashionista.
Rusk, Texas
This Rusk, Texas based online boutique combines two things essential to the modern western fashionista – a little boho hippie, and lots of Haggard swag.  From sequins and glitter, to rocker chic tees, the sassiest statements for western babies, to velvet bell bottoms; this traveling boutique knows how to make a statement just like their name.
Hamilton, Texas
Located in Hamilton, Texas, inside the Circle T Arena, Punchy's is known for having a very exceptional line of inventory including brands like Dear John, Lane Boots, and a wide variety of genuine sterling silver and turquoise jewelry pieces.  Punchy's unique business location plays a big role in their offerings, providing shoppers with the simple elegance of western culture, tempered with a bit of modern flare.
Jayton, Texas
Redford Ranch Style specializes in their own line of Cracker Jack Gals graphic tees and produces an assortment of handmade turquoise jewelry and statement buckles.  Missy Redford, owner of Redford Ranch Style, has been in the boutique industry for over a decade, to now being an online-only business in Jayton, Texas.
Online
Retro West, is a Louisiana-based boutiques that offers hand selected western couture, vintage turquoise jewelry, and a fine selection of leather goods.  Owner Taylor Pee Brown is an up and coming boss babe with an eclectic style, which is why the latest and greatest fashions at Retro West are a cut above the rest.
savannahsevens.com/?ref=boutiquehub
Brookville, Kansas
"Bold, rugged and beautifully feminine" are the words that owner Ryley Austin Wimer uses to describe Savannah Sevens Western Chic, and we wholeheartedly agree with that portrayal.  Carrying both men's and women's apparel, along with a gorgeous assortment of handbags and accessories, it is easy to see why Ryley's inventory is often seen sported by the "it-girls" of western fashion.
instagram.com/sinfulsouthernbelles
Texas
This Texas-based online boutique is known for their unique, head-turning pieces, like their serape-lined boyfriend jeans that brought the fashion world to a halt this spring.  Owner Kelly Enriquez is the creative mind behind much of their fun, funky pieces, made for the gypsy hippie queens in everyone.
Belleville, Texas
Founded to provide women with the ability to embrace their individuality through fashion, Southern Trends is the place to shop for anyone who has a gypsy edge.  With both an online store, and retail location in Bellville, Texas, owner Megan Lancaster carries brands such as Freebird by Steve Madden, Farrah B jewelry, and her own line of Southern Trends Signature graphic tees.
New Plymouth, Idaho
The Frosted Cowgirls boutique is known for offering trendy western chic pieces at a price that fits all budgets, none of which are lacking in quality.  This Idaho boutique truly is a family business, where owners Cody and Rikki Ruiz share equal responsibilities—with Rikki running the boutique side of things, while Cody specializes in custom American Hats.
Hico & Stephenville, Texas
If you are an avid shopper of western fashion, then you are probably very familiar with the names The Lace Cactus and owner Kelsey Darby.  Now with two locations, one in Hico, TX and another in Stephenville, it's no wonder this shop made the list. We can't wait to see what they do next!
Phillipsburg, Kansas
This Phillipsburg, Kansas storefront features everything from women's apparel and accessories, to kids clothing and home décor.  Store owner, Shelly Jo Jarvis, vows to only carry quality pieces and brands she can see herself wearing, and manages to maintain a wide variety of inventory that appeals to shoppers of all kinds.
Burleson, Texas
Catering to women of every style, Tin Rose Boutique is a Burleson, Texas boutique that is known for its fun fashions full of style and class.  Carrying brands like Double D Ranchwear, Junk Gypsy by Lane, and Johnny Was, it is plain to see why Tin Rose Boutique's storefront and website both appeal to all ages and styles of women.
Clarksville, Texas
If you visit Wild Bleu's website, you will quickly realize that owner Tierney Perkins has thought of absolutely everything.  From the personalized messages sprinkled with a southern twang, to the gorgeous inventory and unique name for each item, shopping this Texas-based boutique makes for a one-of-a-kind experience, you will want to come back to time and time again.
Abilene, Texas
Last, but definitely not least is one of the most popular boutiques known to western fashion—Ya Ya Gurlz of Abilene, Texas.  This eccentric boutique is owned by two ladies named Julie and Summer, who are known for carrying all the fabulous western brands, from Bandit Brand to YKnot Branded.
Honorable Mentions
Competition to make the top 20 was fierce, so we need to also acknowledge a few honorable mentions that are making their own mark on western fashion as well!
The Rusty Rose (@therustyrose)
Dirty Gringa (@thedirtygringa)
Tribe West Boutique (@tribewestboutique)
Maverick Western Wear (@maverickwesternwear)
Southern Bound (@southernboundtx)
The Shadee Palm (@theshadeepalmboutique)
Ritzy Gypsy Boutique (@ritzygypsyoriginals)
Want more of these western fashionistas? See this post and more #BoutiqueLove with additional boutiques in our Ultimate Western Fashion Style Guide!
Which one of these favorite western boutiques do you shop? Let us know in the comments below — or over in our Boutique-Addict shopping group "Shop The Best Boutiques | Boutique Hub" – see you there!
---
Don't miss a style story, make sure you are on our VIP list to get the Boutique Binge email weekly, you'll have access to 20+ exclusive boutique coupons when you sign up together in one email, right in your inbox!  You don't want to miss the list!