Old timers used to say, "There sure seems to be a fine line between a hippie and a cowgirl," and when it comes to fashion, we wholeheartedly agree. If you end up in Las Vegas for the Wrangler National Finals Rodeo this year, you will notice that a few of the cowgirl's favorite styles have a 1970's twist.
It's proven that western fashion influences come from just about everywhere, so all of this fringe and suede we are seeing should not come as a big surprise. The best part about this genre crossover is that it's something that is loved by, and looks good on, women of all ages.
Whether you are wanting to add a little something fun back into your wardrobe, or consider yourself to be the hippiest-cowgirl of them all, these next styles are a closet necessity and are appropriate for fashionistas of all ages.  
Squash Blossom
Whether you are reading the pages of your favorite magazine and turn to a Ralph Lauren advertisement, or are digging through your grandmother's jewelry box, the squash blossom is the statement piece of all statement pieces.
With its rich heritage among many cultures, a Native American squash blossom is definitely worth the investment.  If your husband balks at the idea, remind him that just like his collection of priceless silver bits, over time a genuine squash blossom will only increase in value.
With many vintage and custom designers offering stunning creations, the demand has also prompted a number of imitation squash blossom brands, offering this hard to find piece to consumers, no matter their budget or family jewelry history.
Bell Bottoms & Flares
Believe it or not, this 1970's turned 90's trend is back, and in a big way. Whether it is a pair of asset-enhancing denim flare jeans, or a pair of suede bell bottoms, chances are you will see plenty of this style here in Sin City.
Part of the appeal with this pant is that the options truly are endless. From crushed velvet options, to patterns, sequins and all the colors of the rainbow–a girl could have a pair for everyday of the week, and none of them would look alike.
If you are still a bit unsure of this trend, start by choosing a pair of denim flares and combining them with a graphic tee, long duster cardigan and your favorite snip toe boots.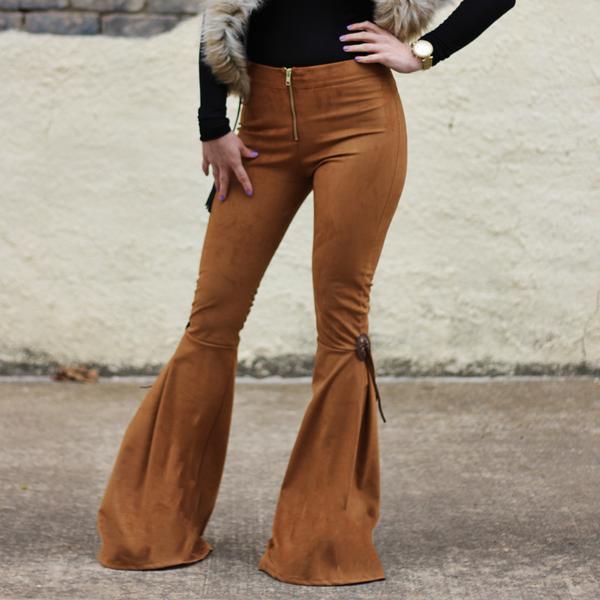 Chokers and Bolo Ties
These two accessories are making a huge comeback, and hippie cowgirls all across the West are over the moon about it.  Both of these necklace varieties are reminiscent of days gone by.
Chokers can be as simple as a thin piece of fabric, or a more intricate round leather braid adorned with a nugget of our favorite stone, turquoise. When it comes to bolo ties, you will see a lot more vintage pieces straight from the 1970's, handmade by Native American silversmiths.  At the time, this 1970's trend was worn most often by men; but four decades later the tables have turned, as the ladies have been the ones to resurrect the bolo tie.
If you are looking for a trend to try, these two accessories are the easiest way to dip your toes in the hippie cowgirl waters.
Crushed Velvet
Crushed velvet has been around the block a few times, but this year it means business. There is just something about the way this texture looks when the light hits is just right; that metallic, shimmery glint can stop a fashionista dead in her tracks and magically make her pocketbook spit out a debit card. Just put our receipt in the bag, please!
In Las Vegas you will find women wearing this texture in blazers, tops, pants and dresses. We also expect to see it donned by many rodeo wives during the nightly Wrangler National Finals Performances; proving that it is a fabric full of versatility. This too is a fashion staple for all ages; because after all, those 1970's ladies were the ones who brought this trend about in the first place, and they deserve a chance to wear it again!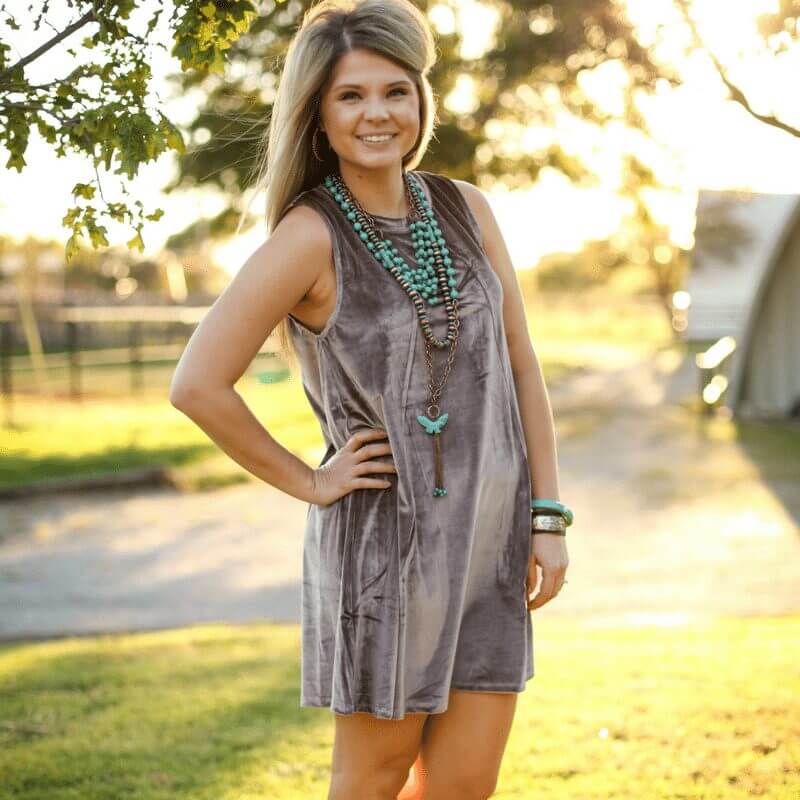 Vintage Appeal Graphic Tee's
Be it new or vintage, the graphic tee is quite possibly the number one closet staple for anyone, hippie or cowgirl.
Part of the appeal is that they can be worn a multitude of ways—traditionally, off the shoulder, with upcycled sleeves, or slightly cropped. The graphic aspect this tee shirt style is also widespread; with hundreds of originals designs touting the lyrics of old country songs, fun sayings, rodeo romances or the logos of rock and roll bands.
Our favorite graphic tee looks are worn with a fitted blazer for a relaxed meets professional look, or thrown underneath a leather jacket and paired with some turquoise for a healthy dose of western with a rocker edge.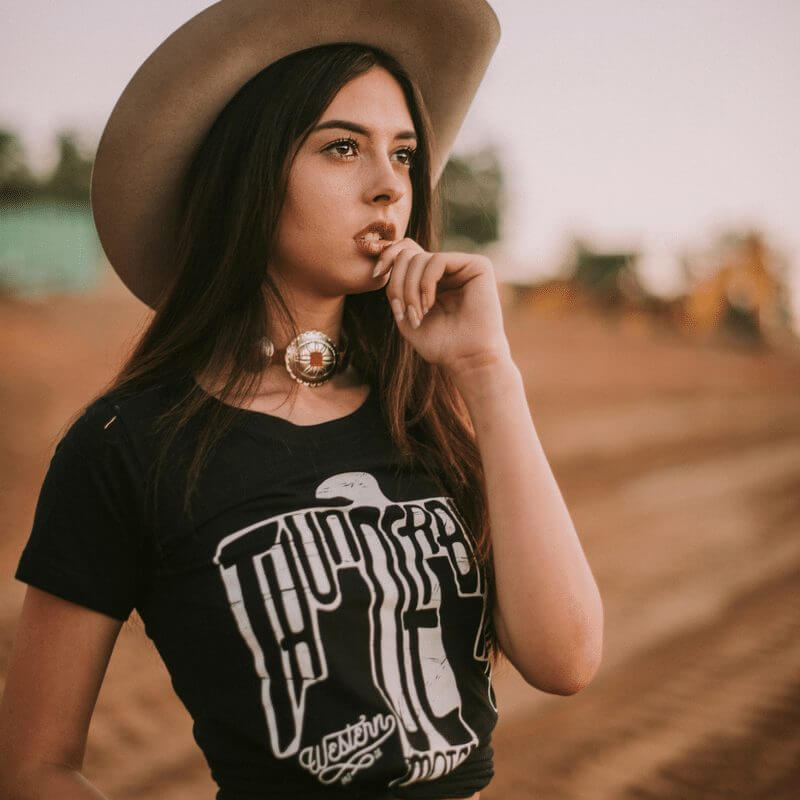 If you are not already a fan of these hippie cowgirl trends, we hope you take a chance on one of these; we know you will not be sorry! If you are ready to try one now, visit our Facebook group, Shop The Best Boutiques. The boutiques in the group are ready to help you channel your inner hippie. 
Want more boutique style? 
Make sure you're inside the tribe, we'll even be sharing 20+ exclusive boutique coupons with you when you sign up!