Welcome to the podcast thats shaking up the fashion industry

I always get something out of each podcast that I can immediately put in to place to help me!!!!!
We opened our boutique in Feb 2020 and found this podcast a few months later — It is such a blessing because I honestly don't think we'd still be open to this day if it weren't for Ashley and The Boutique Hub! There's so much amazing info in this podcast alone but becoming a member of the Hub on top of that has completely transformed our business!!! It's easy to feel lost when starting a business yourself but you don't have to do it alone! Thank you Ashley for your support and dedication to everyone tuning in!!!!
The Boutique Hub has aided in building my confidence as a business owner and understanding how I'm not alone regarding boutique challenges. As a business focused on adaptive and inclusive clothing (cancer, limited mobility, chronic illness, etc), I was unsure if the boutique hub would be the right fit for me. Yet, I learn something everyday from the guest speakers and even hub members. You will learn something every time you tune in!
I'm a new boutique owner and am sooo glad I found this podcast, and you all at the hub! It's been such a help and I adore all the learning and help I've received!
Thank you Ashley Anderson and the boutique hub for this podcast. Each of these podcasts and the Boutique Hub have changed the trajectory of my small business and have given me the tools to finally take the next step of growth in my boutique.
The bhub and the podcast have helped me transform my mindset and realize who I am, all I can do and the community the hub provides is amazing! The best advice and tips for thriving business owners.
Love love love to listen to this podcast while I work. I started listening to them on YouTube before I got addicted HA. So much knowledge, fun, and education wrapped up in 1 podcast. Love the guests every episode and it just keeps getting better!
Every time I listen to the Boutique Chat I walk away with practical applications and an instant infusion of energy in my business. Being a solo-preneur is hard! And plugging into the Boutique Chat podcast weekly helps me feel surrounded by a community cheering me on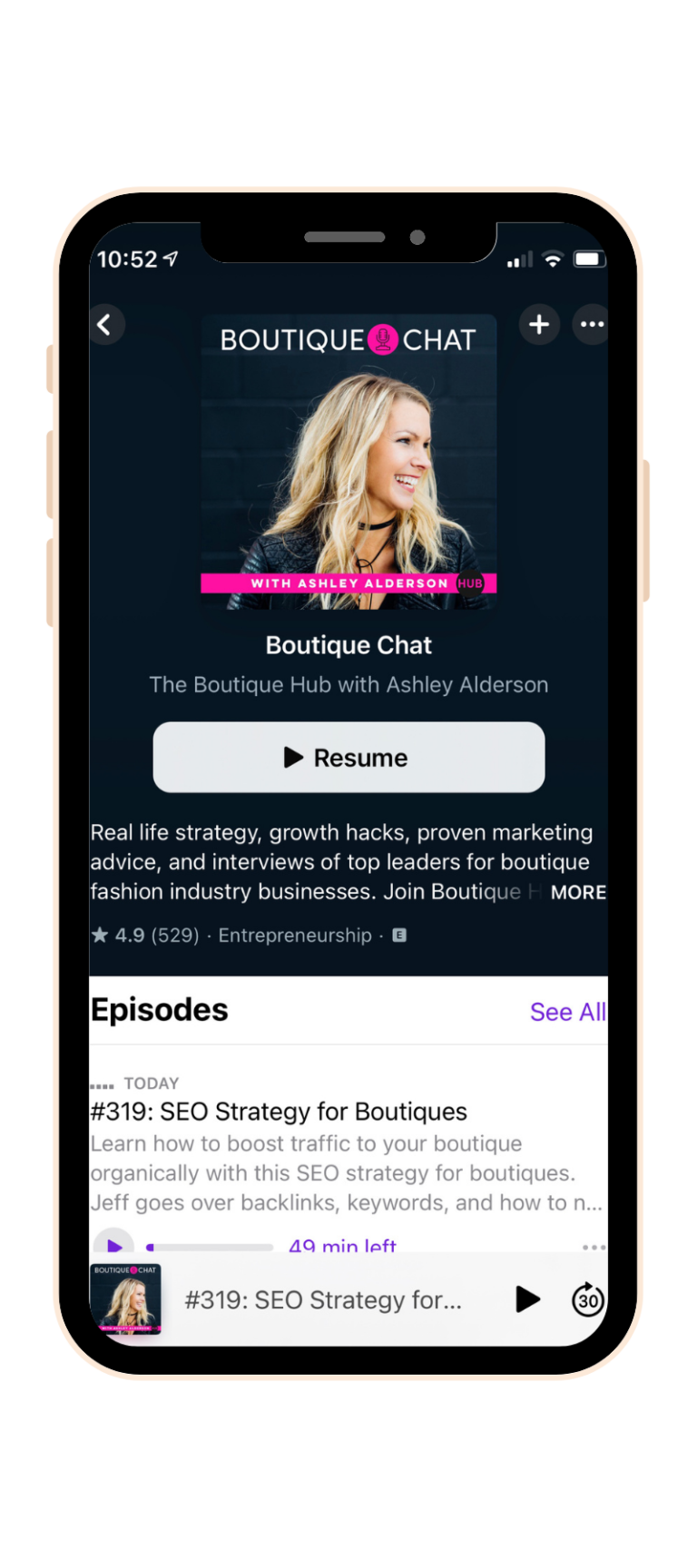 Hey there #BoutiqueBoss! It's time to join the conversation about YOUR business, this industry, your life, and what this crazy rollercoaster business and fashion is all about.


The Boutique Chat podcast is all about real life strategy, growth hacks, business insight, and proven marketing advice for fashion industry businesses. Join The Boutique Hub's Founder, Ashley Alderson, as she talks with retailers, boutiques, wholesale brands, vendors, and industry insiders to bring you the proven, juicy secrets that have helped companies rise to the top, all while balancing life and business.
Learn how to grow your boutique business, position your wholesale brand, collaborate with influencers and companies in the industry, and find the latest tools and resources to reach the next level in your business.
Perhaps it was her wild imagination as a kid that led her to believe that Kenny Rogers was her imaginary friend or some creative juice that lived deep inside, that later led her to start building The Boutique Hub, the world's largest boutique fashion community. Either way, there's never a dull moment.
Pairing her love of fashion, turquoise and shoes she found at boutiques around the world, together with her background in retail, marketing and economic development, Ashley lives daily to serve entrepreneurs in the fashion retail industry.  She is a coach, speaker and mentor, who loves working daily with her team at The Boutique Hub and thousands of boutique owners, brands and insiders to find strategies to grow their brands and business.