There's no doubt that 2016 has been the 'year of western fashion'. The wear of the west has made a big appearance on almost every mainstream fashion runway, and there has been an exponential increase in bloggers and influencers who specifically cover western fashion.
With so many out there, we wanted to bring a well-rounded mix of those who are well known, and those who to watch explode onto the scene in 2017. These ladies are proof that there's never been a better time to use Instagram to make a statement, by telling your own fashion story.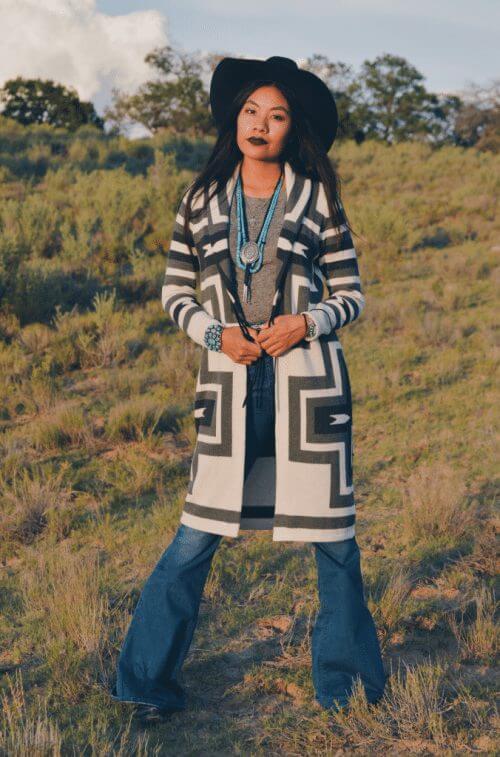 Shondina Lee
Shondina Lee is a photographer, model, stylist, adventurer, and is as fashionable as they come. A proud member of the Navajo Nation, you can often find Shondina combining modern western lifestyle essentials with the long-standing cultural elements of her ancestors. Did we mention that she's a brand ambassador for Pendleton Woolen Mills and recently walked in San Diego's Fashion Week? Be it one of her spectacular red rock sunsets, or a perfectly styled natural-light photoshoot—Shondina will easily keep you scrolling for more!
Bleacher Babe Squad
Led by Brianna Hall Bigbee, creator of Shop Bleacher Babe, the Bleacher Babe Squad is a group of stylish women, bringing their followers the latest and greatest in western fashion. The squad is made up of 13 women representing a wide variety of ages, sizes, locations and backgrounds—all of whom find sisterhood in their passion for the west and sense of style. Squad members include: Aya Dunklin, Britney Burns,Carly Long, Danielle Keighley, Geena Marcuzzo, Hannah Hogner, Janzen Jackson, Jessie Jarvis, Lynlee Madrid, McKenzie Kimbro, Tara Trask and Whitney Benton.
Turquoise Teepee
(Amanda Richardson, Amanda Johnson & Rachel McGinn)
Describing themselves as "John Wayne and Aubrey Hepburn's creative love child, adorned in turquoise and boots," Amanda Johnson, Rachel McGinn and Amanda Richardson easily make up the most fashionable triple-threat known to western lifestyle blogging. Individually these long-distance pals may have similar tastes, yet each one's elective style shines through; emitting a certain element of inspiration that will quickly have you reaching for the style you never thought you could wear. Each girl's authentic nature keeps their lives relatable to that of their followers—and if you aren't one of those then you are certainly missing out.
Jena Venturacci
If there was ever a woman who could do it all, and still look fabulous doing it, Jena Venturacci would be the one. This long-legged beauty can rope, ride, hunt, model for some of western fashion's biggest brands, and has the perfect outfit for every single occasion—be it Monday morning slack or the WFNR Back Number Ceremony. She's a big player in the game of western fashion and we guarantee you'll want to be following what she does next.
Adrian Brannan
Adrian Brannan, possibly better known as Buckaroogirl, is a talented singer/songwriter with a million-watt smile, glorious voice and always an outfit to match. Adrian's personal style is as free as the wind; chances are she'll wear a pair of quilled moccasins, 50's inspired dress, or modern day graphic tee—all in the same week. Adrian's deep appreciation for the Old West makes her a hit with those young and old, and one you won't want to miss.
Quincy Freeman
When it comes to unique and inspiring style, Quincy Freeman is a force to be reckoned with. The #BossBabe and designer behind the Rodeo Quincy brand, is the true definition of a cowgirl fashionista—with much of her style inspiration coming from her family's Spanish heritage and ranching traditions. Along with her own brand, Quincy recently designed a line of retro-inspired pieces for Wrangler, which will first be released here in Las Vegas during the National Finals Rodeo.
Shanna Means
The Western Revival is best described as a blogazine; a destination where everything faith, style, horses, people, the western lifestyle, and everything in between can be found. The babe behind the scenes is Shanna Means, a woman who lives by her own fashion rules and can make even the most effortless of outfits look extraordinarily chic. Crediting Steven Tyler, Dale Evans, Jennifer Anniston and Cher as her "fashion icons", it's plain to see why Shanna refers to The Western Revival as a place where "where the passions of the modern western woman merge".
Thea Larsen
Hosted by Thea Larsen, This Cowgirl Life is a place to discover the best of life and style from out West. Thea knows the need for inspiration does not simply stop at one's closet; so she makes sure to include all aspects of western lifestyle inspiration—from home goods to DIY projects, and everything in between. Thea's artistic mind manages to pull the most creative pieces, keeping This Cowgirl Life a cut above the rest, and a must-follow for anyone enchanted with the West.
West Desperado
West Desperado is a must-follow fashion and lifestyle blog for all of the wild, gypsy-souled desperados. Tax accountant by day and fashion lawbreaker by night, Shaley Ham is the face behind West Desperado, and we are not lying when we say she is one stylish sister! We love that West Desperado shares everything from girl next door looks to runway fashion, and can throw outfits together on her own that are just as impressive—keeping her ahead of the rest.
Megan Wilson
Drawing fashion inspiration from her heritage, American history and her relationship with Christ, Megan Wilson is part Marketing/Communications dame and part foxy fashionista. No doubt, Megan is best known for creating and revamping her own pieces of clothing; which you'll often find her sporting at various events and even sometimes for sale on The Velvet Steer Co. Megan praises the way western fashion shines a light on the diversity and values of the cowboy culture—and we know she'll be one fashionista to watch for!
Janzen Jackson
Another fashionista who can do just about anything is Janzen Riley Jackson,  a talented model, stylist,  and photographer. Janzen is a cowgirl to the core, born in the saddle and raised in the alley of a barn; but that never stopped her from putting her Mom's dresses, heels and all the jewelry she could find. Her love for fashion has continued to grow over her lifetime, and you will now find her maintaining her own western fashion blog, Rodeo Vogue, where she covers morning slack outfits, high fashion photoshoots and everything in between.
Jessie Jarvis
Women with beauty are admired, but women with beauty, brains and business savvy are cherished.  Jessie is an Idaho rancher with brains and beauty to boot. When she's not styling her favorite western chic pieces for the Bleacher Babe Squad, she's writing grants, blog posts, or planning projects such as the Ultimate WNFR Style Guide with The Boutique Hub and Fashion Posse.  Jessie is a kind soul and a friend to all.  In her limited spare time you'll find her downing a Starbucks or practicing a round of golf.
Alexis Bloomer
TV Journalist and rodeo aficionado, Alexis Bloomer, is one fashionable woman whole is always on a mission. Whether she's on television or spotted in the stands at a rodeo, Miss Bloomer's style is the perfect blend of professional and western, and is something anyone can find closet inspiration from. We love how Alexis can rock a pair of Christian Louboutin heels one day, and a pair of Desert Angels boots the next, without ever missing a beat.
Fallon Taylor
This seven-time NFR Qualifier and World Champion Barrel Racer is becoming the newest queen of the western style scene; be it in the arena or on the sidewalks of Los Angeles. Owing three different clothing lines–Lish Label, Ranch Dressn' and Heiress Athletics–it's pretty clear that the only fashion rule Fallon plays by is that anything goes, and we are obsessed with her "wear anything" attitude. Couple that with her empowering and positive attitude, Fallon is just as fabulous as a role model as she is as a fashionista.
Katy Jade Hall
When it comes to fashion, Katy Jade Hall is a household name, inspiring western women by the thousands. Led by beauty and an amazingly creative brain, Katy Jade's personal style gives off a very effortless-chic vibe that cannot be recreated by anyone else. Two constants of Katy Jade's ever-changing wardrobe is that her style always stays true to herself, and you'll rarely find her not wearing one of her signature Wonder Years Collection hats from Warbonnet Hat Works.
Fashion Posse
(Tiffany McGhan, Keenie Word, Shaina Clifford)
First launched in 2014 by creator Tiffany McGhan, Fashion Posse began as a visual story, showcasing the fashion of rodeo wives, girlfriends and mommas at rodeo's across the country.  Today the team is a triple thread, all with South Dakota roots, endless beauty and talent both in front of, and behind the camera. Watch for this team to continue to capture western fashion in a whole new light whether they are creating a trend or documenting someone else's style. Co-creators of the Ultimate WNFR Style Guide, we can't wait to see what projects this team works on next!
Which of these western fashion influencers are you following? Let us know in the comments or over in our Facebook group just for boutique fashion addicts like you and I — Shop The Best Boutiques!
---
Don't miss a story! Get on our VIP list of readers looking for the boutique style dish weekly. You'll even get 20+ exclusive boutique deals and coupon codes when you sign up!  See you in your inbox!