Boutique Strategy: How to NOT Sweat Instagram's Algorithm Change. Grow Your Boutique on Instagram
As a small business owner using Instagram, you've probably been bombarded with news about the upcoming algorithm change. "The death of small businesses on Instagram" they say, or Instagram to be ruined just like Facebook….yes, you've heard it all. But the way I see it, it may be a little less dramatic.
Here's the full skinny on Instagram's announced changes if you'd like to read, but in a nutshell it is this. Rather than the Instagram feed being chronological by those you follow, it will now be based on engaging content or content Instagram thinks you would be most interested in.
While some compare this coming change to the series of updates to the Facebook algorithm that impacted millions of small business owners, I agree that it will be a blow to some, but like any marketing change, this means it's time to get serious about strategy and finding ways to innovate and evolve.
Change is hard, but it might be better in the long run. (Think I'm crazy? Hold on, I'll explain in a bit.)
Regardless of any algorithm updates, when leveraged, both Facebook and Instagram are the most powerful social engines allowing small businesses to reach target audiences worldwide. The key is knowing how to use them to build your leads, not just simply post to have a presence.
Like any marketing platform, just when you hit your stride, things will change. So it's crucial to see what's coming and start making updates to your strategy.
Why are they making this change you ask?
Instagram use has skyrocketed in the past 18 months, not just by average users, but with the introduction of brand advertising. With a chronological feed, and a greater number of users, the 'natural algorithm' Instagram has been using (chronological feeds) was squeezing out content users were most interested in by sheer volume. In fact, as noted by numerous published studies, the average brand engagement had dropped around 37% over the past 18 months with no algorithm change.
What does that mean for boutiques or retailers?
1. Quality content is the top priority (as always)
2. Driving engagement is crucial (if you don't already have a strategy, it's time to get one)
So how can you address these two items? Let's talk about content first, which may be a refresher for some of you.
Quality Content
Cohesive Photos & Design
Is your Instagram feed cohesive? Do all of your images seem to fit together? If you are using models or flat lays, do your photos look similar to one another, or are you intermixing vendor shots, flat lays on different surfaces or backdrops, and backyard model shots? No more mixing – find your style.
Find what works best for YOUR brand and focus on that type of image, filter, attention to detail, then stick with it. Use a post planner like Latergramme or Hootsuite, or arrange photos on a blank background in Canva so you can see what your posts will look like for the week ahead when used together.
Clean and clear designs and photos are always best, so steer clear of busy borders, backdrops or too much text with photos.
Are you sharing quotes or sale images? Stay true to your brand's colors, fonts and layouts so that each image you share appears branded and ties well to your feed. This can be done in any photo or design app you choose, or if you are using Canva for Work, the program will automatically save your brand's fonts, recent work and suggest layouts for your designs making it simple to stick to your brand.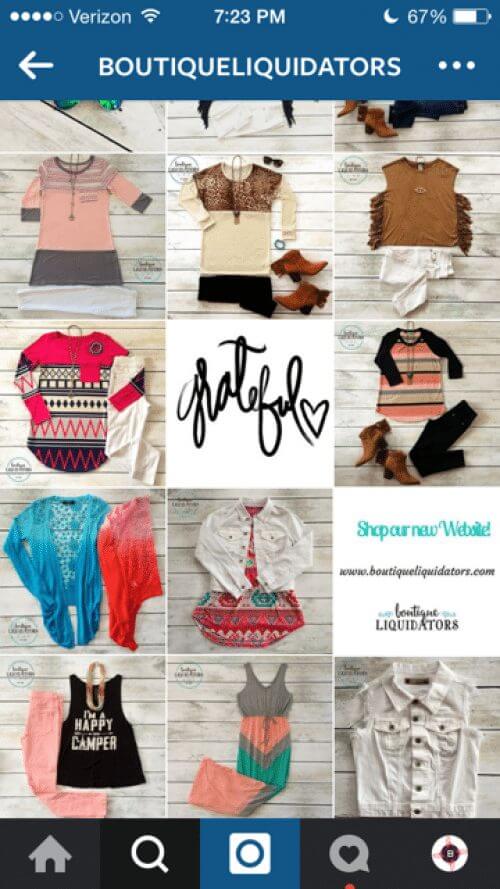 Content Messaging & Purpose
Let's face it, no one likes to be sold to. Are you posting product, after product, after product on Instagram and always asking for the sale?
A great content strategy is a mix of:

– Content that is related to your brand (behind the scenes, unique product or lifestyle images that tell your brand story, customer photos, brand events or outings that you participate in)

– Content that is entertaining or relevant to your niche or industry (style tips or inspiration, quotes, engaging images your target market would relate to)

– Promotions (contests, opt-ins, giveaways or offers that benefit your followers, build engagement & leads)

– Content that contains your Products (new arrival sneak peeks, sales, close up shots, pass or purchase)
Plan out your Instagram content a week or more in advance so you can make arrangements for the highest quality photos to be shared within a mix of your content types.
Hashtags
Hashtags are vital to help you reach new followers on Instagram. Take time on programs like Latergram.me or Squarelovin to find the most relevant hashtags to your brand and your audience.
While it may sound tempting to use the most popular tags, sometimes using the second tier tags can help you find your niche faster and not get lost in the shuffle. Example: Rather than using #InstaFashion (38 million posts), try something more targeted like #BoutiqueLove, #ShopBoutiques or #OnlineBoutiques
Mixing hashtags is key. Use both general tags like the above mentioned, along with 4-5 brand specific boutiques using your name or taglines you've developed.
You can keep your posts clean only choosing 2-3 hashtags in your post description, then quickly place the bulk of your tags (up to 30) in the first comment on your post.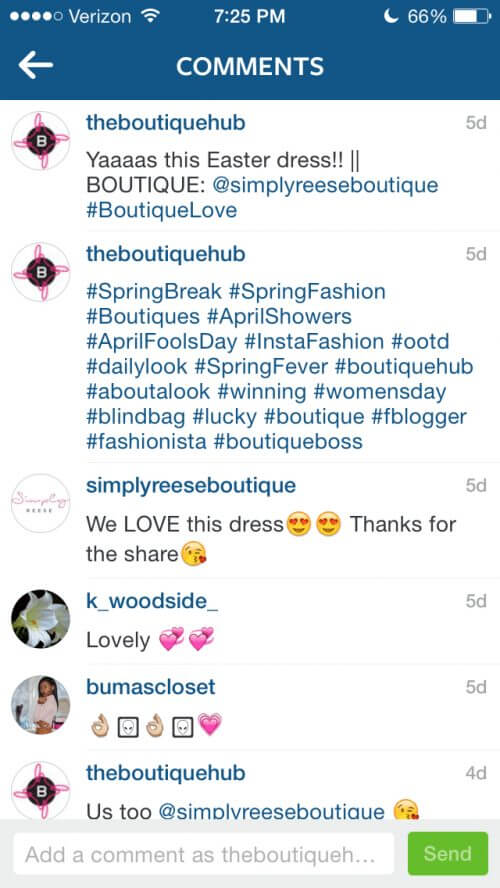 Drive Engagement
Calls to Action
Content is key, and simply posting a photo that falls into one content bucket isn't enough. While some posts are simply there to entertain and gather likes, others come with a specific call to action.
If you are promoting a sale, a giveaway, an offer, a freebie, a new arrival or any post that requires the user to take action – ask them! We all get into scrolling mode, and the brain needs to see messaging that encourage it to stop and take note.
Sign up – link in bio, don't miss out – comment with your email, new arrivals just went live – link in bio to get them first, do you want this deal? – comment to get it, double tap if you agree — you get the idea! Make the action you want users to take clear.
Engagement Giveaways
Just like the purpose of a LIKE/COMMENT/WIN giveaway on Facebook, giveaways based on post interaction are going to rise in popularity as Instagram's new algorithm takes effect. (Double Tap to Win!)
As posts are shown based on previous interaction, it will be key to get your users clicking and commenting on your posts as often as possible. Perhaps you'll be running a weekly new arrival giveaway, where one lucky follower who likes and comments with their favorite new piece gets to take it home for free. Or if shipping products for free isn't for you, entice shoppers with a weekly or bi-weekly $10 boutique cash perk for those who like and comment on Instagram.
Whatever you choose, be consistent and each promotion will grow. Get your followers used to engaging with you!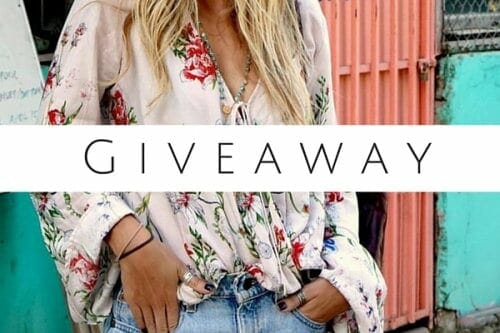 You were waiting for this tip the hole time — if you skimmed over everything else, read this!
You don't own any social media profile you have. You don't own your page likes, follower counts or super fans.
But do you know what you do own?
Your email list.
It all can change at a moment's notice, so leverage Instagram and all social media platforms as a lead generation tool and get fans to join your email list. Running giveaways to drive engagement certainly have their purpose and their place, but don't miss the opportunity to add a third layer to that by doing a lead generation giveaway.
There are numerous apps available (hello Mr. Google – PromoSimple, WooBox, Gleam, Rafflecopter) that allow you to run giveaways that collect email addresses. Use them and leverage social media shares, comments and likes at the same time.
Post a link to the giveaway in your Instagram bio (and cloak it using bit.ly so you can gauge how many clicks and conversions it's getting), and use your post descriptions and occasional giveaway text image to drive traffic to your bio and link.
At the end of the day, these giveaways will both build engagement on Instagram and grow your email account so you don't have to rely on any social media account for reach or sales.
How are you preparing for the Instagram algorithm change? Let me know in the comments!
Cheers + #BoutiqueLove,
Ashley Alderson
founder, jewelry hoarder, marketing junkie + boutique lover at The Boutique Hub
Want more tips like these? Checkout our Facebook group just for boutique owners, brands and designers to talk business and marketing strategies daily! And don't forget to join our email list for exclusive news, tips, promotions and giveaways just for the boutique community.