It's pretty difficult to scroll through any boutique feed or Instagram feed without coming across some pretty fabulous graphic tee's. They are certainly one of the most popular items for any women's closet, no matter her age, location or perception of fashion.
Any catchy saying is available to wear on your chest, and while that concept may seem new, it's certainly not.
We sat down with Pink Armadillos, an Austin, Texas based apparel brand who's been in the business of custom tee's and selling as or working with boutiques for more than 30 years.  It's no wonder the brand and owner/founder Dee Hamilton have a fabulous reputation in the industry!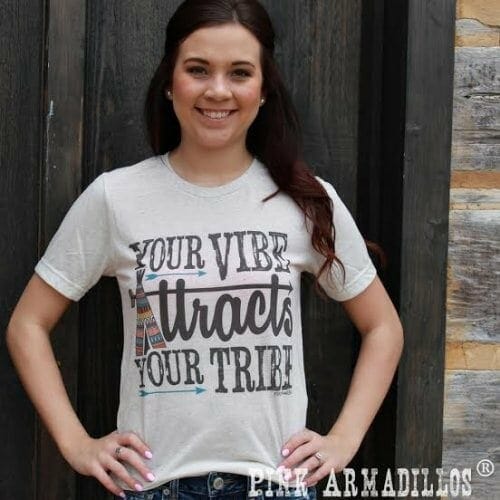 Hey Dee, we have followed and loved Pink Armadillos for sometime now as a leader in the space. How did you get started with the brand?
I've been in this industry since my senior year in college. I've always been a "clothes girl" and I come from a long line of creative ladies so it's pretty much in my blood.
I started hand-painting shirts in 1989 while in college at SWT (now Texas State) in San Marcos.  In January 1990, I painted some sample shirts and took them to Dallas market for wholesale.  I had a goal to sell 100 shirts and met that goal in 1 ½ days.  Throughout the years, our embellishment techniques and target customer has changed, but our concept has always remained the same; to design and create fun and trendy apparel and accessories.
Pink Armadillos was established in 2008, to fulfill my love for all things Texas, Southern, and girly.  We made our debut at the Dallas Gift Market in the cash & carry section and I was by myself.  I just remember being crazy with non-stop selling and order writing and at the end of the day, it looked as if a hurricane hit my booth, but I loved it.  We have many customers that are still buying from us since that very first market.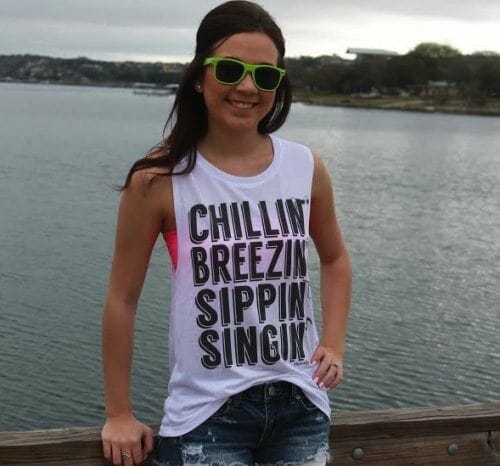 What's Pink Armadillo's style in three words?
Spreading Southern Sunshine
Why a Pink Armadillo?
I am a native Texan and love everything about our great state and I just wanted something related to that love while being girly too! It is a perfect blend for us.
Makes for quite the mascot!
Are their certain parts of the country where Pink Armadillos is more far reaching? Graphic tee's are so big right now!
The graphic tee trend has been really strong in Texas for several years now, it's spreading throughout the south and now we're stretching even further. We currently have Pink Armadillo's customers from Washington to Florida.  Our brand has so many different styles that we really have something that appeals to everyone!
What are your favorite trends at the moment?
We are loving loose and over sized slouchy tops which we are featuring a lot for spring and summer.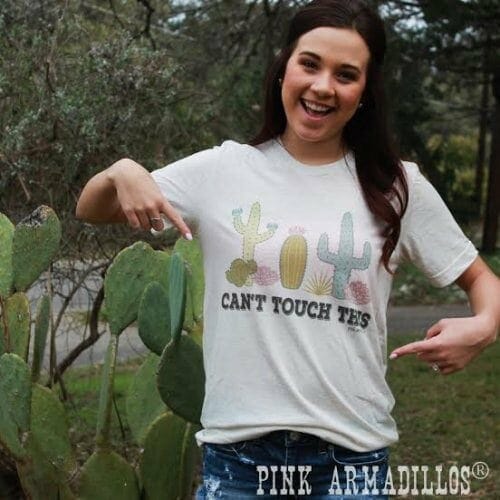 What's your favorite season to design for?
I love Christmas and I love designing tees for the holiday season! I feel like we spread a little bit of joy through our designs and brand. Our brand has always been focused on spreading southern cheer, Christmas is a fun time to do that on a larger scale!
What's next for your brand? Any big surprises or new designs you're excited about?
I do have something totally unrelated to embellished apparel that we hope to be launching in the next few months! Y'all will just have to stay tuned!
Ok, let's get personal for a moment. Being a founder and owner and designer is a lot of work. What scares you the most?
Balancing my family and business. I could work 24/7 and never be finished with everything I want to do, but I still have a child at home. He's in high school and will only be home for a few more years I don't want to miss these last few years with him, but there's always just so much to do! Balance is a constant struggle and there are many sacrifices.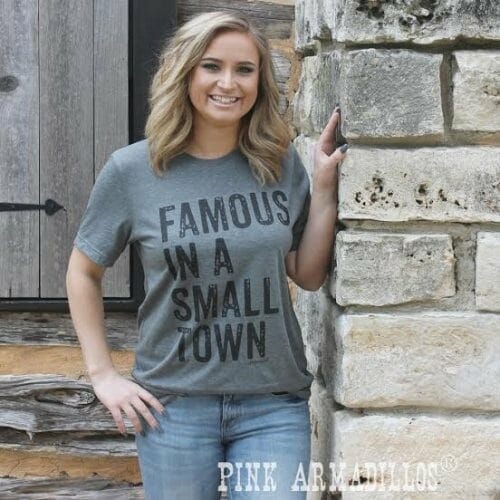 What's been the highlight of your career so far?
I love hiring young women and after being with me for several years, my assistant was moving to another city and was becoming an assistant buyer for JC Penney's. During her exit interview, she told me that she had never worked harder, learned so much and loved every minute of it. I truly love being a positive business woman's role model for the young women that I hire.
The highlight of my day is when a store calls and says they have a problem; they sold out of Pink Armadillos® apparel in 1 day and need more.  We LOVE those problems!  We strive to have outstanding customer service, stay on top of fashion trends and deliver the best quality product in the industry.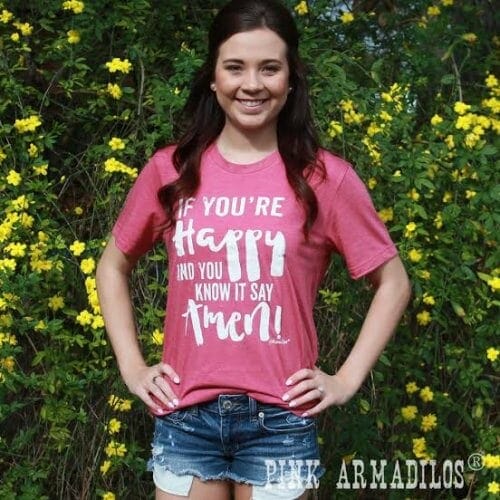 What tip do you wish someone would have shared with you as an new entrepreneur?
Social Media is a necessary evil and has actually come into full swing after the creation of Pink Armadillos®. It's very easy to let yourself get caught up in drama and comparisons; both personally and professionally.
One of my daily reminders is, "Comparison is the thief of Joy". We do what's best for Pink Armadillos ® brand and not worry about what everyone else is doing.
Wow.  This is so true both for the sheer number of new apparel brands or even for boutique owners seeing more and more new businesses open daily.  Be happy doing you right?
Exactly!
What's been the best marketing decision you've made to grow your brand?
A consistent social media calendar! If you don't have those posts all planned out, it's so easy to forget or put it aside. Not to say that everything we do is planned, because some of our best posts are spontaneous but we always have a plan.
More importantly, dark or milk chocolate?
Dark for sure! I always have a pack of Dove dark chocolates on my desk! My afternoon treat is 2 Dove squares and a Diet Coke!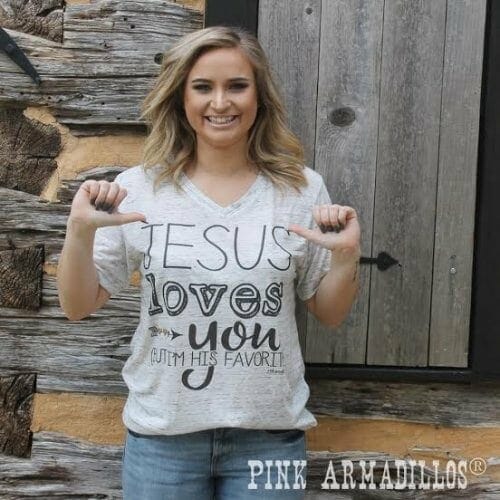 How can boutiques interested in carrying your brand learn more or see your line sheets?
We have a very large line so we don't use line sheets, we work off of our website. Interested stores can apply for a wholesale account on our website at http://www.pinkarmadillos.com/register
Do you have minimums or regional requirements?
Opening order minimum is $200 and 6 pieces per style, no pre-packs, you choose the sizing. We don't have a territory protection because it's very difficult to do it correctly.  We are doing a special for the next two weeks too, check out our event page for details and free shipping!
You've been setting up at Markets for years, where can boutiques find you?
Yes and that's the best place to find us! When we go to market you have the opportunity to basically custom design your apparel. For instance, you can put a design you love on a different shirt than what we are showing. That way it can be customized for your customer and your price points. We currently show at: MAGIC Las Vegas, all Dallas apparel and gift markets, all Atlanta gift markets and several Atlanta apparel markets.
We invite the Boutique Hub followers to come see us this week at Dallas Apparel Market.  We'll be open Wednesday, March 30 – Saturday, April 2 in the fashion temps on the 12th floor booth #3816.  We're located by Monkey Crepe Cafe which is a great place for lunch and the cosmopolitan bar which opens at 3pm every afternoon.  Mention the Boutique Hub for FREE shipping on your order placed at market – or anyone joining our joint online event with The Boutique Hub!
Dee, you and your brand are such a class act, it's so great to visit with you!
For More Information: 
Facebook Event Special for Boutiques
Do you like finding new brands to shop like Pink Armadillos? Check out our Facebook group featuring only wholesale brands and designers for boutiques to discover!