Creating your own clothing line isn't for the faint of heart. BuddyLove founder Grayson DiFonzo has worked in fashion for years and even owned her own showroom repping other brands at Dallas Market Center before she ventured into designing. Developed out of a need to bring a unique taste to the boutique industry, she saw a need and filled it.
It takes an eye for fashion, style, fit, and body types for a clothing line to be successful. As well as loyal retailers, copyright knowledge, and a grounded idea of what your customers want.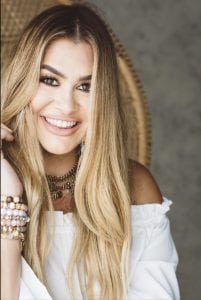 ABOUT GRAYSON
Being raised in a small town in Texas, Grayson always knew she wanted to go out and see the world. She loved to travel and always had a passion for the fashion industry, so she decided to combine the two early on in her career. She did styling and PR internships for Nicole Miller in NYC before heading to London. There, she worked for Charles Jourdan and Kurt Geiger.
Making people look good and feel good is her passion and she always believed that the right ensemble could do that. She realized a real lack of contemporary collections and started the brand named after her husband, BuddyLove.
KEY TAKEAWAYS
Before you start your business, learn as much as you can. Work for other people.

Creating your own line? Get ready for a new set of responsibilities.

Relationships = Loyalty.  

Copywriting is harder than it seems.

Give your customers what they want.

Make your brand relatable.

You have to be obsessed with fit, style, and body type to have a successful brand.
SHOW NOTES
09:00 – Before BuddyLove
13:50 – Making the decision to design.
20:20 – The importance of attending markets.
25:00 – Less is sometimes more.
33:20 – Grayson's go-to marketing platform.
37:20 – The trail to a new customer and the future of wholesale.
40:40 – About Grayson
48:00 – Work mom balance.
FOLLOW BUDDYLOVE
Their Boutique Hub Profile
On Facebook
On Instagram
On Pinterest
FOR MORE ON THE BOUTIQUE HUB & BOUTIQUE CHAT
Join the Hub for more trainings, information, and connections.
www.theboutiquehub.com/join
Use the hashtag #AskAshley on Instagram, or tag her at @ajalderson to suggest topics for the podcast and let us know what you thought about this episode!
Want to be our listener of the week? Subscribe if you love the show, then leave us a review on iTunes Apple Podcasts here!
FOLLOW THE BOUTIQUE HUB
Boutique Hub Business on Facebook
Boutique Hub Business on Instagram
Ashley Alderson on Instagram
Original Air Date: May 22, 2018
Love this episode? We would be so humbled to hear your review on Apple Podcasts or iTunes! Or, let us know below!