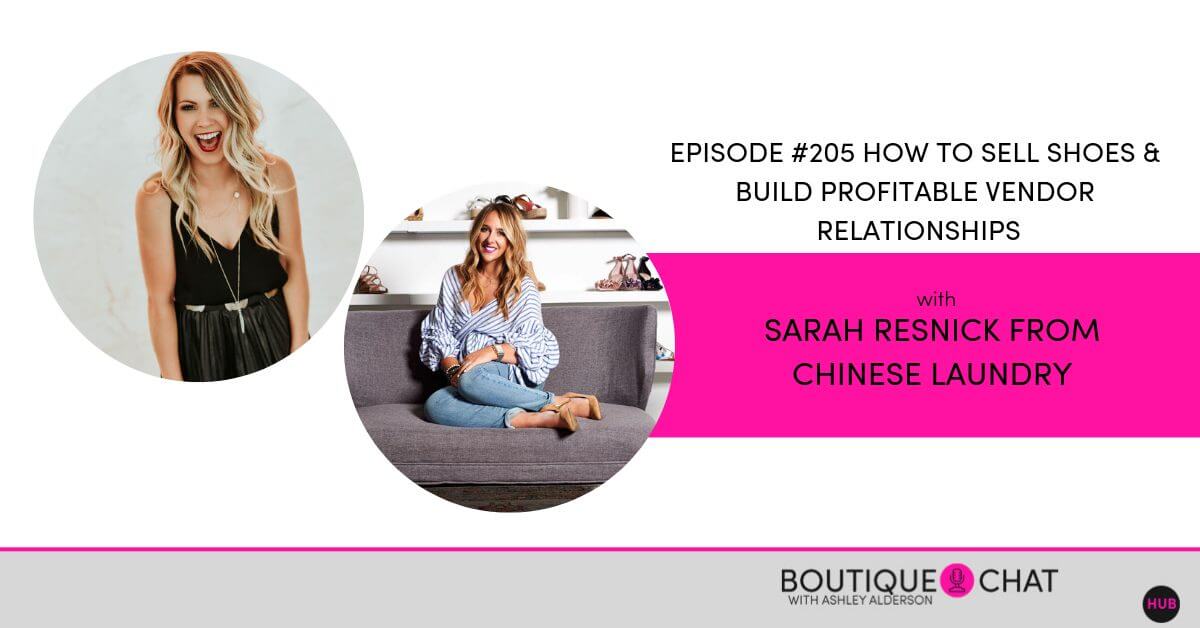 26 Mar

How to Sell Shoes In Your Boutique

Sarah Resnick, Representative at Chinese Laundry, shares her vast experience in the wholesale business. If you are ready to sell shoes in your boutique with profitable vendor relationships, this article is for you. Sarah gives us some background information on how she got started in the fashion industry at the age of 15 and what she's learned in being in the wholesale shoe market. She gives us important tips on how vender/boutique owner relationships are so vital in creating a more profitable business.

>> EPISODE 205 – LISTEN NOW ON iTunes <<
Don't Have iTunes? Listen on Libsyn here
See the Full Boutique Chat Podcast Website here
3 Key Points: To Sell Shoes in Your Boutique
---
Use social media to market your products, Instagram being one of the most effective outlets.
Having a good relationship with your vendors will benefit you and your business.
You know your customer, your store, and your products better than anyone else, so trust your instinct.
Favorite Quotes:
---
"If we're only operating at 30 percent, we're only going to receive 30 percent." – Sarah Resnick
"Boutiques will never go away; everyone wants that next door neighbor customer service." -Sarah Resnick
"The customer experience is the same from the employee to the owner – this is so important."- Sarah Resnick
---
FOR MORE ON THE BOUTIQUE HUB & BOUTIQUE CHAT
Join the Hub for more trainings, information, and connections.
www.theboutiquehub.com/join
Use the hashtag #AskAshley on Instagram, or tag her at @ajalderson or @theboutiquehubto suggest topics for the podcast and let us know what you thought about this episode!
Want to be our listener of the week? Subscribe if you love the show, then leave us a review on iTunes Apple Podcasts here!
You can also join us on YouTube and listen to our podcasts there.
FOLLOW SARAH RESNICK & CHINESE LAUNDRY
Instagram: @sresnick212, @chineselaundry
Original Air Date: March 26, 2019
Love this episode? We would be so humbled to hear your review on Apple Podcasts or iTunes! Or, let us know below!