Viva Las Vegas! Before we attend one of the season's biggest apparel markets, we are getting you ready to maximize your trip to Las Vegas. WWD Magic Brand Director, Kelly Helfman is breaking down everything you need to know from the shows all week, trend analysis of what's coming for spring, and sharing insider business tips for boutiques. Kelly is a total mom meets fashionista and takes us inside of her career in fashion, after owning a retail store herself. Even if you aren't going to Vegas, this podcast is full of takeaways and strategies you can use right now.
>> EPISODE 25 – LISTEN NOW ON iTunes <<
Don't Have iTunes? Listen on Libsyn here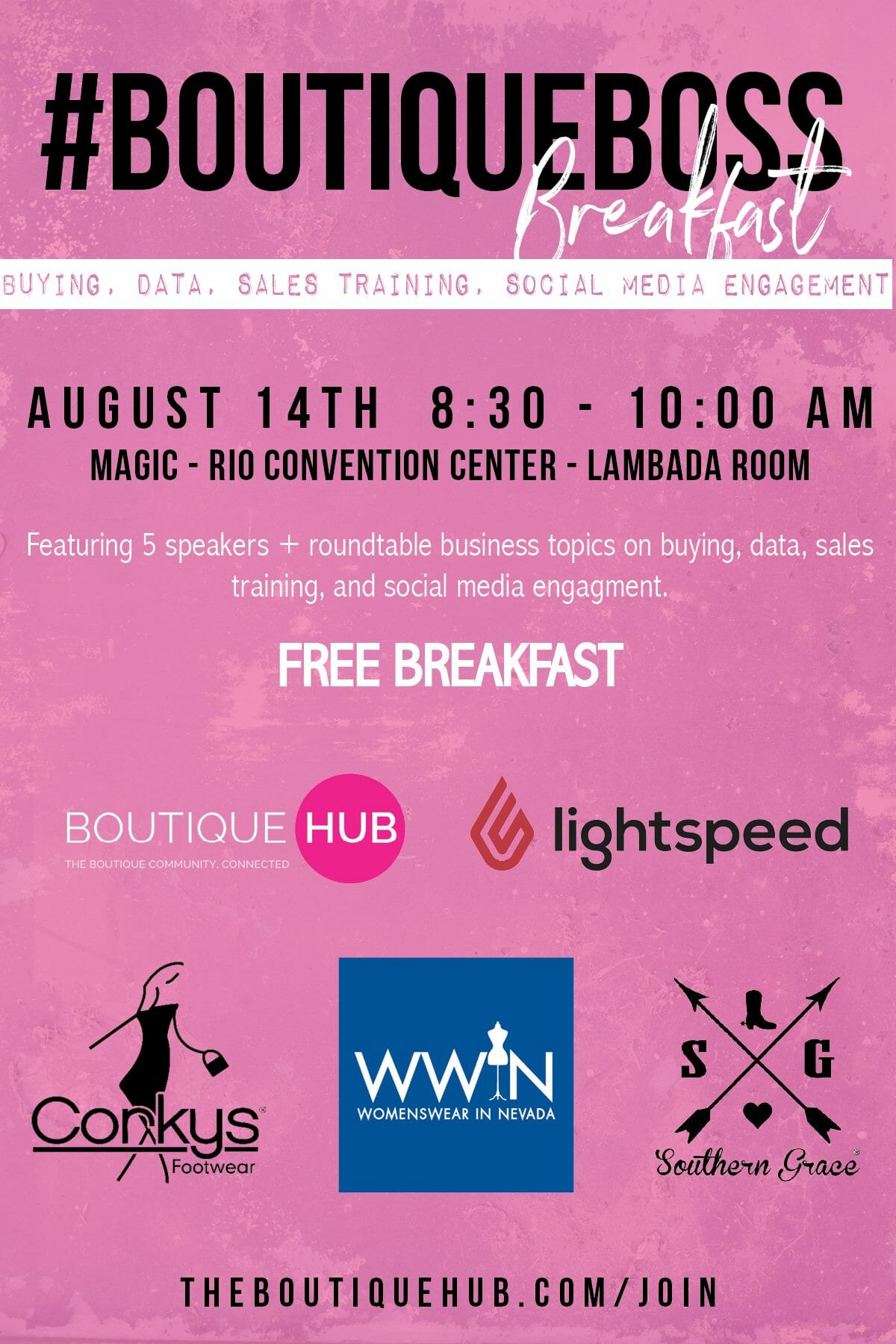 Have you heard the Hub team will be in Vegas!?
For those of you headed to Vegas, just a heads up that we will be hosting TWO events this season, both on Tuesday, Aug 14th.
#BOUTIQUEBOSS BREAKFAST: at WWIN @ 8:00 AM
Featuring 4 speakers + Roundtable business topics on buying, data, sales training and Social media engagement. Breakfast will be served!
Click here to RSVP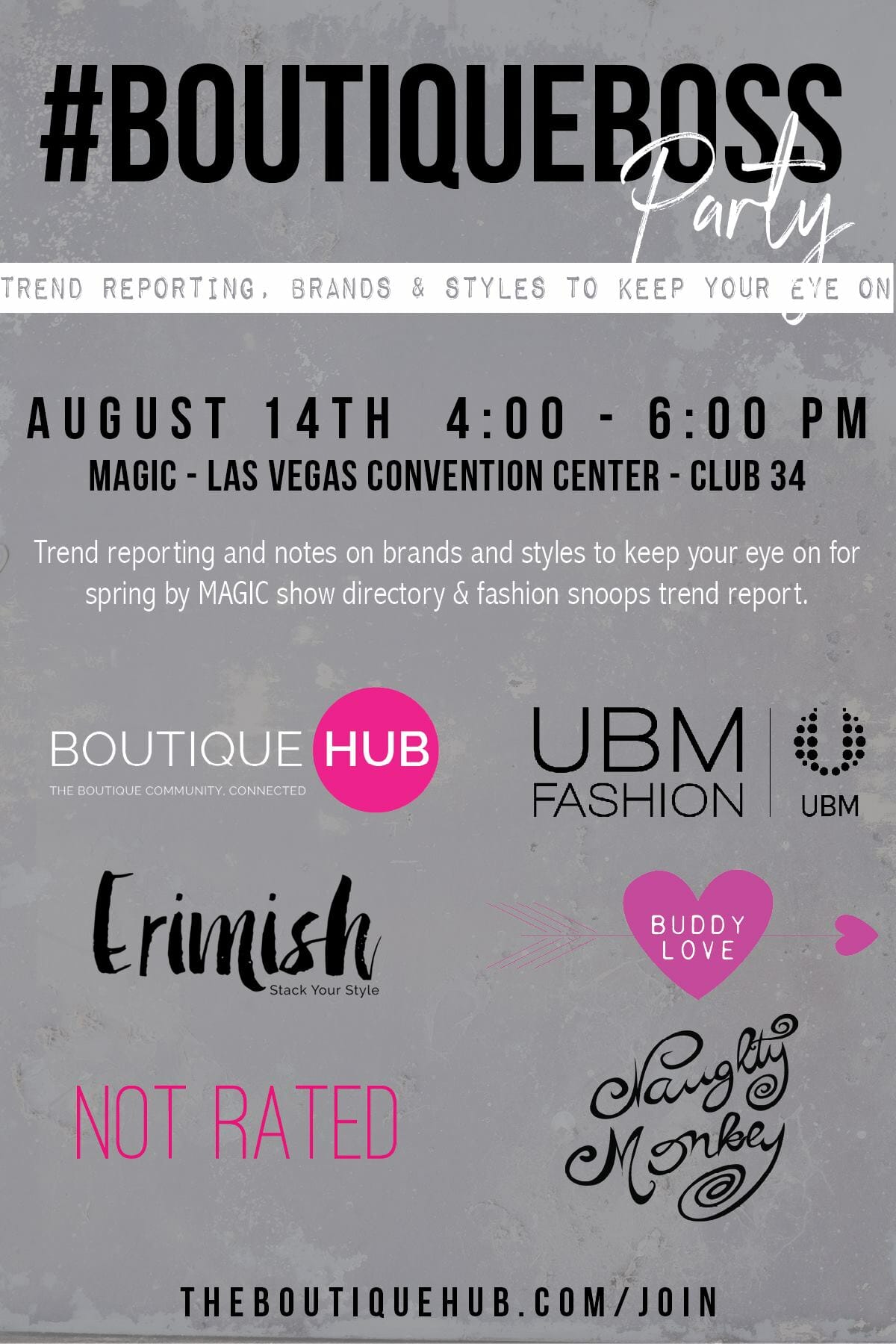 #BOUTIQUEBOSS COCKTAIL PARTY: at WWDMAGIC @ 4:00 – 6:00 PM
Featuring MAGIC Show Director Kelly Helfman, breaking down trend analysis for boutiques, and notes on brands and strategies to be looking for, for spring 2019. Cocktails will be served
Click here to RSVP
AFTERPARTY — BUS provided by WWD MAGIC to VIP POOL Party at Mandalay Bay to follow!!
Find all of our Vegas Boutique Hub Events on our Business Page The Boutique Hub: Business
ABOUT Kelly Helfman
Kelly Helfman is Vice President and Brand Director of  WWDMAGIC, FAME, AccessoriesTheShow and POOL Tradeshow, four of UBM Fashion's top performing events.  With 15+ years of experience in fashion sales, marketing, and design, her career highlights include starting her own celeb-favorite, vintage-inspired clothing brand and launching Children's Club Las Vegas, and FWD New York (now merged with FAME.)
KEY TAKEAWAYS
Search #MomBoss when the mom guilt starts to kick in.

Schedule your entire trip before you go to WWDMagic.

Western chic is going to be BIG in 2019 along with belt purses!

WWDMagic combines education, buying, parties, and inspiration.

Post on social media while you're at market! See what your customers like.

Put your work thoughts in a bag and leave it at the front door when you get home, your family will thank you.
SHOW NOTES
07:15 – What you need to know about Las Vegas Market this year!
13:10 – Start private labeling & creating your own lines at the Sourcing Show.
19:20 – Bridging the gap between online and instore buying
26:00 – 2019 trends. Fringe, sequins, and, oh yes, shoulder pads.
30:30 – What to do when you don't know if you should purchase bold trends or not.
35:05 – Boundaries for work/life balance and deciding what you really want to do.
47:35 – Why Kelly loves boutiques.
FOLLOW WWDMAGIC & KELLY
On Facebook
On Instagram
On Twitter
Kelly's Instagram @greydahl
Kelly's MAGIC Monday Blog
BOOKS MENTIONED
You are a Badass
You are a Badass at Making Money
Girl Wash Your Face
FOR MORE ON THE BOUTIQUE HUB & BOUTIQUE CHAT
Join the Hub for more trainings, information, and connections.
www.theboutiquehub.com/join
Use the hashtag #AskAshley on Instagram, or tag her at @ajalderson to suggest topics for the podcast and let us know what you thought about this episode!
Want to be our listener of the week? Subscribe if you love the show, then leave us a review on iTunes Apple Podcasts here!
FOLLOW THE BOUTIQUE HUB
Boutique Hub Business on Facebook
Boutique Hub Business on Instagram
Ashley Alderson on Instagram
Original Air Date: July 31, 2018
Love this episode? We would be so humbled to hear your review on Apple Podcasts or iTunes! Or, let us know below!