When it comes to western fashion, few in the Pacific-Northwest (PNW) do it better than Triangle T Boutique. Owner MaryJo (MJ) Usabel is a fashionista to the core, who left her corporate job in 2016 so she could build Triangle T into what it is today. You can find MJ and Triangle T Boutique at rodeos, fairs and other events across Idaho and Oregon, throughout the year. If you're not a PNW local, you can shop this stylish boutique online, too!
We sat down with MJ and asked her to give the behind of scenes of Triangle T, her own personal style, and everything in between!
Your boutique's brand in three words…go!
Western Edgy Chic
How did your boutique get started? Any fun stories behind your name?
One night during happy hour some girlfriends and I were talking about what we wanted out of life and during the conversation I said I wanted to own my own boutique. They all loved the idea! At that point in time, I was busy working on my career with Frito Lay that I kind of put that dream on the back burner. The idea and dream always stayed with me and I kept revisiting the idea over the course of two years. In 2015 I gave birth to my daughter HarleyJo on February 22 and while on maternity leave I realized I wanted to find a job where I could provide for my family while staying home with her. The idea of having my own boutique re-entered my mind. I came up with a name from inspiration from Jeff's family brand because I loved the design; it looked like a martini glass. I applied for my business license and drew up a logo on some free website. August 2015 the business came to life but didn't really start. I did a few things here and there but I wouldn't say it was a boutique quite yet. In June 2016 I gave birth to my son Jackson and I knew I had to make a change because working 60+ hours a week for Frito Lay and taking my kids to daycare wasn't going to cut it for me. So I sat down and drew up a real business plan, built a website, and launched a brand new "real" boutique on Cyber Monday, November 2016. In December 2016, I left Frito Lay and now I have been able to give my dream a real chance.
When I walk into your boutique, what is the atmosphere like, how do you hope to make your customers feel?
When girls shop with us at our mobile events I would say they definitely feel welcomed! We generally have some red dirt music playing on the radio and lots of outfit inspiration on mannequins throughout the trailer. Ladies love when the outfit is made up for them rather than having to create it themselves. Also, at events where it's allowed, we serve up Triangle T Punch which has become somewhat of a signature item for us. Gals come in asking for it and know they get to have a tasty beverage and do some fun shopping. My little sister and my best friend usually assist me at mobile events and they enjoy helping gals create the perfect looks. Gals know it's going to be a fun time when they see is set up!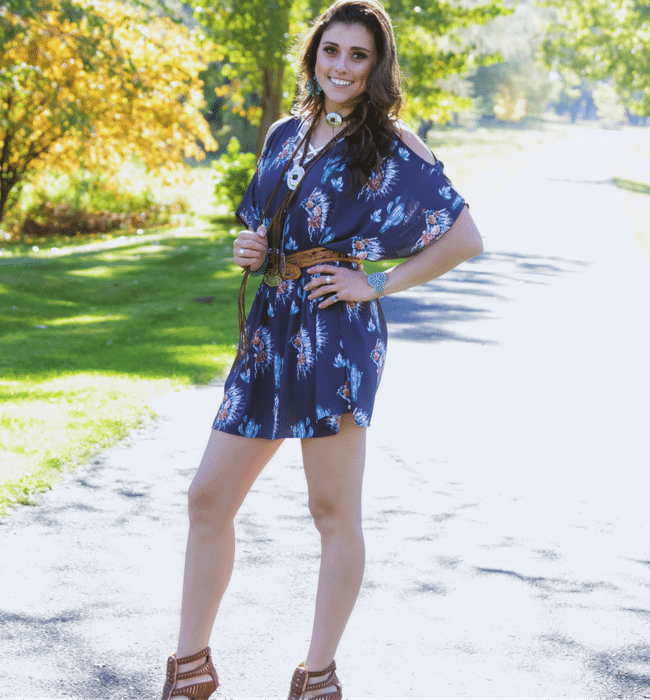 Tell us about the women who shop at your boutique?
Our shoppers are real women. They range anywhere between 16 and 76. We have cute high school girls who enjoy our sweaters and graphic tees. We have the moms who are looking for a cute and comfy outfit for running errands in, yet are able to find the perfect look for date night. We've got college girls who know how to have a good time and pick styles to help them bring out that edgy look that's over the top yet you can't help but stare. Our other customers really hone in on the classic look and enjoy our custom design pieces. Our customers are everywhere from ranch wives and trendy grandmas, the high school sweetheart to the young business professional, we cover every woman in between. Each woman comes to us and we help them each to "brand your style."
In your store now – what's one steal and one splurge?
Steal: Our slab bolo necklaces, slab buckles, and our faux turquoise jewelry.
Splurge: Definitely any Silverado piece as they're higher than our normal clothing and a custom made Espuela design co bags.
What are your favorite trends at the moment?
I am loving the turquoise slab trend: buckles, rings, and necklaces. I'm also digging bell bottoms and flares, graphic tees, and fringe everything!
Which of the brands that you carry are your personal go-to or customer favorites?
Espuela Design Co Bags
Silverado Apparel Company
Beast Fringe Booties
Very Volatile Marcel Leopard Boots
Machine Jeans
Crazy Train
What are some of the things you're looking for when choosing a brand to carry?
Quality and price point are huge for me. I want to make sure that the items that I am carrying are high-quality items and are going to hold up for my customers with each wear. I like to keep price points in the mid-range, I am a firm believer you get what you pay for, and sometimes that means you'll spend a little extra to get a one-of-a-kind piece, and sometimes you're looking for a good deal on a popular top. I like to know ship dates and turnaround times as well. With our VIP group, I like to do a game called "pass or play" and if they choose to play, I hate when the item won't be available within 2 weeks. Ladies don't like to wait too long for styles they want, instant (or as instant as you're able) gratification is best these days.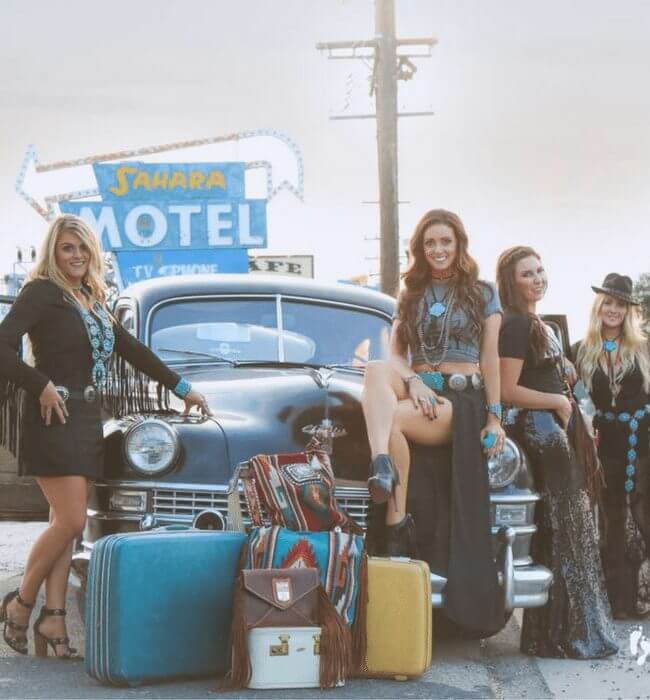 When you first started, what was the process like to carry brands in your store?
It was a lot of trial and error as I think when I first started I was still trying to lock down who my "ideal customer" was. While we may think we know who would shop with us, I can say sometimes I have been surprised by my wide range of shoppers. I would bring items in I thought were great and they would sit. Then I would try something else that maybe was trending, but I didn't like it as much, and I couldn't keep it on the shelf. Learning your customer as quickly as you are able will really help with this process and have more success and less error.
How do you decide what to buy for your boutique?
I looked through countless pages of items and looked for styles that were "me." My boutique is a reflection of my style so I found items that fit my style and personality. As a boutique owner, it's fun to sometimes go out of your comfort zone and choose styles that maybe traditionally you wouldn't wear, create an outfit, and inspire other girls to kick it up a notch. Now that I have been continuously buying for almost a year, I have my go-to vendors that I know have my style. In June, I attended market and that was great because you got to see tons of vendors, the latest styles, touch and feel the clothes, and order before the items were available online for the remaining populous.
What's been the best marketing decision you've made?
Hiring a photographer to take our pictures was my best decision. I am able to fully style outfits and create looks with current inventory and new arrivals to use for all of our marketing needs. Plus, when you have a great photo or create a desirable look, girls want to buy it. It was after the first photo shoot that I really saw our sales begin to skyrocket.
Do you use outside models and photographers or do you keep those things in-house?
Our photographer is a friend of ours and is also our family photographer. Valerie Music is the bees-knees when it comes to capturing the essence of my boutique, my style, and my story. She understands me and the look and feel that I am trying to create with my pictures. She always has great ideas that she brings to the table that elevates the shoot to another level. I model our clothes along with a few of my friends. I picked gals that have a similar style to me, yet still have their own unique twist and flare. It's fun in photo shoots because you see my style, plus a little of theirs and it makes for a really great photo. Daily website pictures of new arrivals I am the model for those items. I never wanted to hire out other models for my business (aside from my style shoots) because I always wanted to be at the forefront of my business and have girls know my face and associate my business with me. They got to know the girls from the photos and the girl behind all the emails, comments, and messages. Plus girls are used to seeing me in the pictures so they know exactly how items run, fit, and look.
Do you work with bloggers or influencers? If so, what do you look for in an influencer or blogger before working with them, and what kind of expectations do you have in a collaboration/partnership?
We worked with one blogger during the Pendleton Round-Up for an Instagram fan favorite giveaway and it went very well. I researched her to check on her activity, fan following, her professionalism, and the quality of her work. I was very satisfied with how well she did during the giveaway and her excellent communication. After the event, she sent a follow-up message tracking her results so I was able to ensure it was worth my investment.
If your boutique dressed a celebrity daily – who would it be?
Miranda Lambert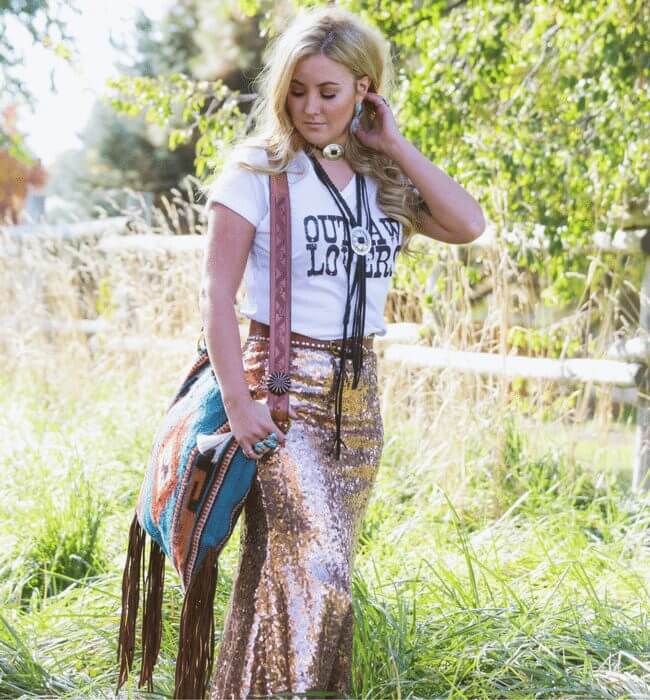 Now we want you let everyone get to know more about YOU!
Tell us about life before owning a boutique? What consumed your life before fashion?
Before owning a boutique I worked for Frito Lay as a District Sales Manager. I led a team of roughly 20 people and managed 12M in sales, annually. My job was definitely dual duty: managing people and selling product. In my spare time, I was either helping my dad on our family farm or hanging with my girlfriends. Countless road trips, concerts, dancing, rodeos, camping, music festivals; you name it, we were there. My friends and I came up with the idea of opening a boutique because we loved shopping and enjoy getting dressed up for whatever event was calling our names. I then met the man of my dreams whose family brand is the inspiration behind my boutique's name. Jeff has been by my side since day one gave me the nudge of encouragement to chase my dreams. He has supported me through all my trials and errors and been there to congratulate me on my successes. We have two beautiful children, HarleyJo (2) and Jackson (1) who are truly the light of my life. I am thankful that my family is the driving force behind my desire to build a successful business.   
What tips do you wish someone would have shared with you as a new entrepreneur?
I wish I would have learned about building my brand first and foremost. I was so eager to start my business that I jumped in head first and made many mistakes. I wish I would have taken more time to invest in my logo, website, photographer, and a solid fan following. I think I jumped in too quickly that I could have invested my money in more productive areas of business rather than solely inventory. With better marketing materials and an easier sales channel (i.e. website rather than comment with size and email) I think I would have experienced better success and ROI initially rather than 6 months down the road. The second thing that I wish I would have learned was to stay true to myself. So many times in this industry it's easy to look around and want to copy or replicate someone that you see as successful. However, in the end, people will purchase from you because they enjoy shopping with you. Whether you pride yourself on personal customer service, fast shipping, or unmistakable style, people will notice and that's what will bring your customers back time after time.
What has been the most fun or exciting part of owning a boutique for you?  The most challenging?
The most exciting part of owning a boutique is getting to meet so many fabulous women. I love the gals who shop with me. Whether it's online or in the trailer at a show, it's always a good time. I like that I get to basically be a personal shopper and help gals find just what they're looking for. I get a lot of requests to create an outfit for a special event or activity and I take pride in that; that someone loves my style so much that they let me dress them for their important moments in life. I love when I receive customer photos and feedback with how happy they are, how beautiful their clothes have made them feel, or how many compliments they received on an item they purchased from us. That's what does it for me, happy shoppers, not only with their items but with their self-image. The most challenging aspect of boutique life for me is time management. There never seems to be enough hours in the day to complete everything I need to do for my business while also making time to be a mom, wife, and homemaker. I pride myself on being present for my children and making time each day to have fun, learn new things, and explore outside that I have to remember that emails and customer questions and comments can wait until after breakfast or playtime. When my children are napping is definitely when I'm able to be the most productive with getting back to all the managerial tasks of owning a boutique. Luckily, a majority of my customers know I have two little kids and understand and for that, I am extremely thankful.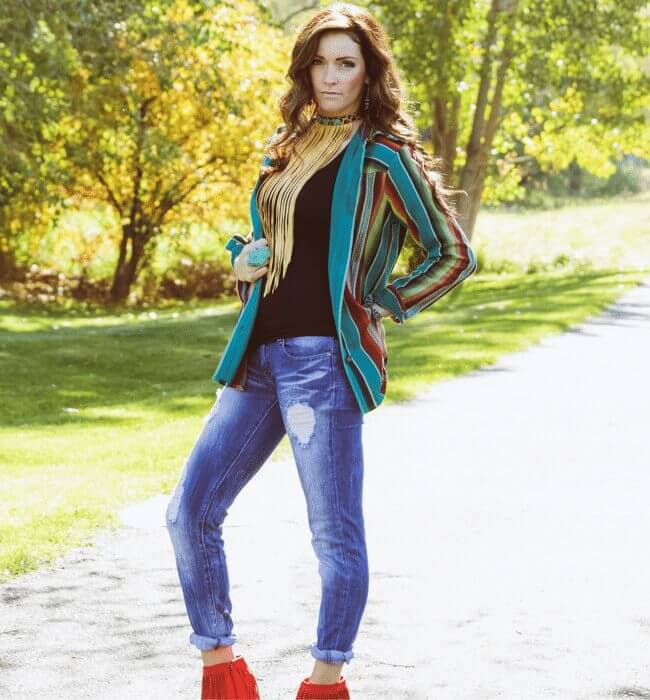 What's in your closet? Do you have a go-to style?
Oh gosh, a little bit of everything and a lot of black. I love fringe booties, fringe sandals, basically everything with fringe.Some of my favorite pieces are my accessories: custom made Espuela Design Co purse, turquoise cuff, and my custom made engagement ring. I'm a huge accessories girl; I love turquoise, layering necklaces, big chunky concho belts and slab buckles. My favorite jeans you'll find are 7FAMK Dojos and various Machine-brand skinny jeans. I definitely have a section of my closet that I like to call "date night." This one is reserved for mommy's night out and where my outfits for the NFR reside; this has cute dresses, fringe skirts, jumpsuits, starched jeans, fringe dusters, and maxi shorts. I also have a section I refer to as trendy mom on the go. This contains lots of dusters, kimonos, and graphic tees; items that I can easily dress up or down depending on the errands we are running that day. My go-to style is a cute graphic tee, duster, turquoise cuff, layered necklaces, a fun hip belt with turquoise slab buckle, and fringe shoes.
How does your style differ from that of your boutique? Or is your boutique a reflection of your style?
I would say my boutique is definitely a reflection of my style. Some looks are more casual that have the ability to be dressed up or down depending on one's needs. I like to offer styles such as this because for my customers and myself it's important for them to be able to buy items that are versatile, comfortable, and can take them from working girl to uptown girl within a matter of minutes and a few additional accessories. Dressing up for events has always been exciting for me, almost just as exciting as the event itself. That's why the other side of my boutique specializes in edgier style. This is where women find those statement pieces to create a look that's bold, show-stopping, and fierce. I like this side the most because every girl loves to get dressed up, feel good about herself, and walk that self-confidence into a room and turn heads. I absolutely love when I have an idea on how I would style an outfit and someone is able to take those same pieces, mix it up, and create a look that is truly unique and own it.
Who's been your role models – both in business and in style?
My role model in business has definitely been my dad. He has always taught us the value of hard work, integrity, and discipline. The world does not hand you the life you want, it's your job to take what you're given and build the life you want until it becomes the life you dream of. My dad exemplifies what it means to be a businessman and know your business in each and every aspect from the ground up. Growing up I remember watching him work from sunup to sundown on our family farm in order to provide our family with a life that we can be proud of. To this day, he is still the hardest working man I know. He has taken a small operation and expanded it far beyond imaginable means. I hope that by owning a business and truly making it a thriving business, I am able one day to teach my children the same respect for hard work that my father was able to instill within me.
My role model in style has definitely been Miranda Lambert. From her beginning days of boot cut jeans and white tank tops in her music video "Kerosene" to her present-day black fringe dress at the ACM Awards, along with each and every look in between her style has hands down been my favorite. I've definitely looked through many Google images of Miranda and tried to find edgy, southern, and trendy looks to gain inspiration for styles to bring into my boutique. If her music and lyrics don't speak to your heart and resonate in your soul, her style surely will. I love someone such as her that can be confident and sexy on the red carpet wearing a gorgeous gown, and still just as sure of herself in a ball cap and jeans with her dogs. She is a queen of fringe, cowboy boots, leather jackets, tank tops, cute shorts, good jeans, and black! She is my spirit animal!
What scares you the most in life or business?
Failure. I am scared of failure as a mom, wife, and business owner. I come from a very competitive family and competition has always been a driving factor for me. Growing up we played sports, competed in 4-H and FFA, and various school clubs in between, that have driven my competitive attitude. As I enter into the business world as an owner and not just a manager chasing a number and leading people, it's taken me awhile to learn that it's not about being better than the person next to you, but being better than you were yesterday.  You cannot fail if you keep reminding yourself to be better than you were the day before: to your kids, your spouse, and your business. There will always be setbacks and failures, but everyone has room for improvement. If we trust in God's plan and remember he only gives us as much as we can handle then we truly can be successful and we will ultimately never fail completely. "A flower does not think of competing with the flower next to it. It just blooms."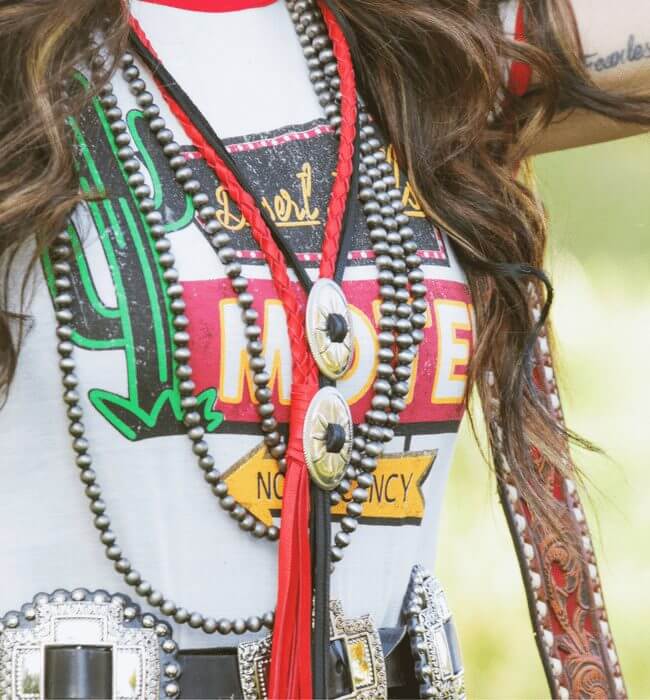 More importantly, dark or milk chocolate?
No chocolate, give me gummy bears!
What's your favorite retail season?
Summer and Pre-NFR is my favorite season. During the summer is when we really get to take the boutique out on the road and connect with our customers. We tend to fall more into the western chic fashion category so setting up at rodeos and music festivals is our forte.  During these events, we meet all kinds of kinds: new customers who have never heard of us, fans in our VIP group, and our repeat customers who chalk us up as their favorite boutique. It's wonderful to talk to women face to face, hear their stories, create outfits that fit their personality and style, have them try the clothes on, and take their picture. This truly is when our business shines for me and my favorite shopping trends that seem so easy and effortless yet make a daring statement. Our NFR Style party was a hit last year and we are planning a few this year to help gals prepare for the 10 most exciting days in rodeo and get them ready from head to toe: hair stylists, make up gurus, and of course clothes!
What is your favorite social network and why?
I love Facebook! It allows for me to really connect with my customer's one on one. Our VIP group is like a family. Women are able to post pictures of themselves rockin' some Triangle T swag, ask questions on sizing, cast their vote in our "pass or play" posts for items I am considering bringing in, and get first dibs at new arrivals in our live sales. These gals are able to learn about me, see me dressed up, dressed down, mommin' it, and heading out for a night on the town. They get to meet the real me and I love that. They know who they're buying from and it allows me to create a personal shopping experience and know when they get a message or reply, it's from me, not some call center. I love that through Facebook we have managed to make shopping fun again for so many women. For our business page, I love that I am able to schedule posts, like set them all up while the kids are napping, but know they will post when they are scheduled to. Having the insights on our page and learning when fans are most active has really helped create an increase in activity as well as our sales. It allows us to get the most out of our post rather than just posting when it's convenient for me.
What's the best marketing strategy you've discovered?
Live sales are really where it's at. Gals are always eager to see what we have coming in and it almost becomes a friendly competition to see who can "win" the item first. I love the interaction I get from my customers and their response to the live sales has been phenomenal. I like to change the live sales up as well, so sometimes a random customer gets a free gift with purchase, sometimes whoever buys the most receives a surprise, and other times we offer free shipping on all live sale orders. Our customers like incentives and this seem to work well for my group. The second marketing strategy that I have found to be successful for me is partnering with another retailer that's not completely direct competition. We have become a signature retailer for Espuela Design Co and while we sell the same bags as they offer, it has really helped both businesses grow. We both gain exposure each time we post throughout social media because we tag each other and when their followers see their posts, my boutique clothes are also in the photo; and when I post, their bags are featured. I have enjoyed working with them and feeding off their knowledge and connections while sharing mine with them. It truly helps to inspire and ignite a flame to drive my business to its full potential. I am proud to be one of two signature retailers for this wonderful family-owned company.
If you could give advice to a young person, interested in fashion, and maybe one day hoping to start their own boutique – what would you tell them?
I would advise them to be true to themselves. You can find your niche in this industry as long as you do what works for you; stay in your lane. Don't try to be like someone else because they're already doing it. Be you and your customers will see that and that's what entices them to shop with you.
Owning a business is hectic, how do you unwind?
Wine. Also family time. At night we have a routine where all business is set aside, we make dinner together, and eat as a family. I love this part of the day because the kids get to hang out with both parents completely uninterrupted. Then its bath time, we play around, read lots of books, and followed by goodnight hugs and kisses. There's something about your children giving you a slobbery kiss and wrapping their arms around your neck saying "I wub (love) you mommy" that takes away all the stress and mess.
Are there any big goals for you as a boutique owner that you are excited about reaching?
Our sales in the past three months have now over tripled what they used to be and I am just so excited to watch my business boom. Once I made the choice to run my business as a "business" and not just a fun side job, I was able to really see its true potential and I am excited for the future of my business. I cannot wait to officially be set up next year as a vendor during the NFR.
What are some of the biggest fashion trends you're anticipating to see at this year's NFR?
Sequins- bell bottoms- maxi shorts- lots of turquoise- velvet- blazers- fringe chokers- fringe skirts- basically all things fringe- vintage tees- custom pieces (jewelry, bags, and hats)
If you're an NFR veteran, what's one thing you'd recommend a Vegas -rookie to make time for while they're in town? Turnpike Troubadours at Brooklyn Bowl, Cody Johnson Band at South Point, Mandalay Bay personally has the best-priced items, and be sure to make some time to go gambling!
We hope you loved MJ's interview as much as we did! If you're still in need of a NFR outfit, or two, be sure to visit Triangle T Boutique!
Want more style stories?
Make sure you're on our VIP list of insiders who hear it first and are treated to 20+ boutique coupons when they sign up or hop into our Facebook Group, Shop The Best Boutiques anytime to hear style tips, must-see trends, deals and shop our threads by product type from hundreds of boutiques in one place. See you there babe!