We're Makeup Junkie Bag obsessed, and if you aren't already, you will be by the end of this blog post.
Chances are, you've heard of Makeup Junkie Bags (MJB) from their spot on one of TV's most looked-to entrepreneurial shows, Shark Tank, this past January. Prior to the show, MJB has always been a hit among The Boutique Hub's boutiques, since our first Boutique Summit in 2017. We're excited to announce that once again, MJB will be a focus of The Boutique Summit, as they're the sponsor of our Sunday night VIP Party!
Founded by Meredith "MJ" Jurica, a self-proclaimed "true makeup junkie" who was tired of wasting money on cosmetic bags that didn't deliver. According to MJ, if they were wide enough, they fell over, sending cosmetics tumbling about. If they were deep enough, they became a black hole where you couldn't find anything you need. If they were pretty, the interior was not water resistant/washable and became dirty very quickly. MJ designed her own pattern for the perfect cosmetic bag that lays flat on a surface and has an elongated medial zipper that allows the bag to gape open allowing easy access to all materials while eliminating the chances that the bag will fall over sending products everywhere.
Each bag is characterized by a signature brightly colored zipper and suede tassel. The patented and trademarked design/logo has achieved mass popularity since its recent launch in September 2016.

The bags we are about to show you come in 4 different sizes, and are priced as follows:
Mini $16 | Small $18 | Medium $21 | Large $24

Savannah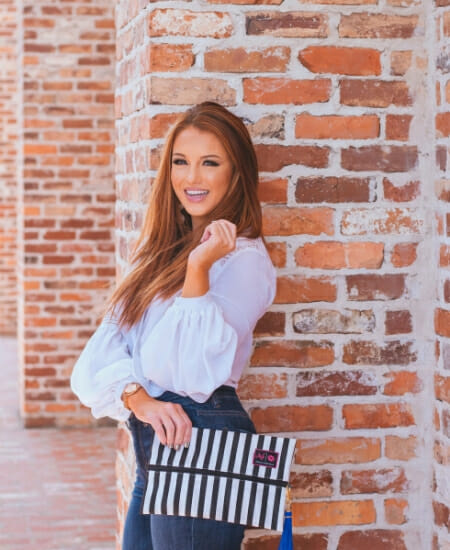 Glam Stripe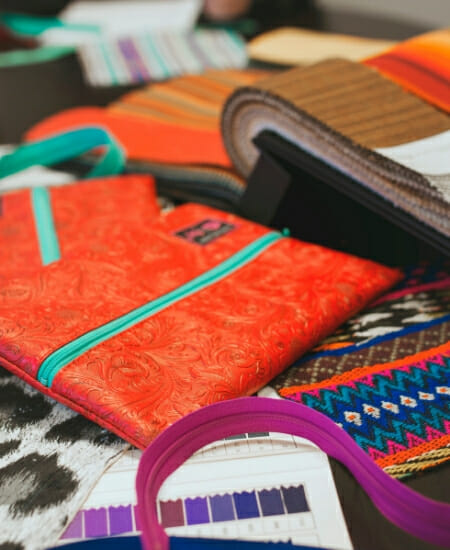 Addison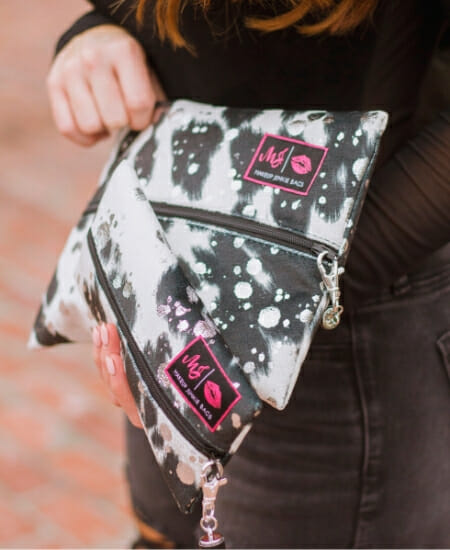 Rodeo Queen
Like what you've seen? To make an appointment while you're in Atlanta, this June, email MJ.
If you won't be at Atlanta Market, but want to see what's hot off the MJB sewing machines, then get yourself on the MJB email list, by following this link and scrolling down to the bottom of their homepage!