Can we just let you in on a little secret? We love shopping. Ok, so that's clearly not a secret at all, but the secret we're about to reveal is that some of our favorite places sell more than just clothes. True story, morning glory! Don't believe us? Well, let us introduce you to the only and only, Branded Envy.
Branded Envy truly does cater to the masses, offering its shoppers everything from daily apparel basics, to high-end lines like Double D Ranchwear and Old Gringo. Additionally, Branded Envy carries a wide assortment of home decor, including furniture pieces, in their storefront location, and also has the capabilities for happy couples to set up their wedding registry through the store. Founded in 2010, this Bismark, North Dakota boutique has a well-known storefront, as well as a fully functioning online store, so shoppers far past North Dakota can shop their wide variety of inventory.
We got to know Branded Envy, and owner Shanda Morgan a little bit better, and wanted to give you guys the chance to do the same!
Tell us about life before owning a boutique? What consumed your life before fashion?
When I started Branded Envy, we were living in Texas and the store was in North Dakota. I was the marketing director for a national clothing company and traveled all over the country with little time at home. We had 2 young boys at home and we spent any time we had outside of our jobs, going to rodeos and training horses.
What tips do you wish someone would have shared with you as a new entrepreneur?
The importance of OTB and figuring out who my ideal customer was going to be and targeting them. I spent a lot of time trying to target everyone and in turn ended up bringing in a lot of inventory based on requests, that ended up sitting there.  
What has been the most fun or exciting part of owning a boutique for you? The most challenging?
It's like Christmas every day when new arrivals come in! I love being able to help ladies feel good and look their best. Seeing customer's houses decorated with our decor and furniture is a pretty great feeling as well. The most challenging is definitely finding that work-life balance.  With 2 boys in Junior High that are involved in lots of sports, a 3-year-old daughter – my little fashionista, and a 2-year-old son, they consume a lot of time just being a taxi service. We all rodeo and we really enjoy doing that as a family. I am the Event Manager for my family's ranch including weddings and corporate events, as well as being the chef and guest relations specialist during hunting season for our outfitting business. It is basically organized chaos!
What's in your closet? Do you have a go-to style?
My closet is all over the place, because I like to be different. I have more boots than I can count–they can be worn with anything!  
How does your personal style differ from that of your boutique? Or is your boutique a reflection of your style?  
It's really a reflection of my style. I have to be passionate about what I am selling and really believe in it, or I don't feel like I should be selling it.
What scares you the most in life or business?
Failure – it's not an option! And not being a successful role model for my kids to look up to and strive for.
More importantly, dark or milk chocolate?
White!! Of course, I have to go somewhere else, LOL. I don't really care for chocolate, but if I have to….milk chocolate 🙂
What's your favorite retail season?
The Christmas holiday season. I love the hustle and bustle of being busy with customers and helping them find that perfect gift for their special someone. Christmas music puts everyone in a nice cheerful mood….if I am listening to Christmas music, it even makes my time shopping at Walmart almost bearable!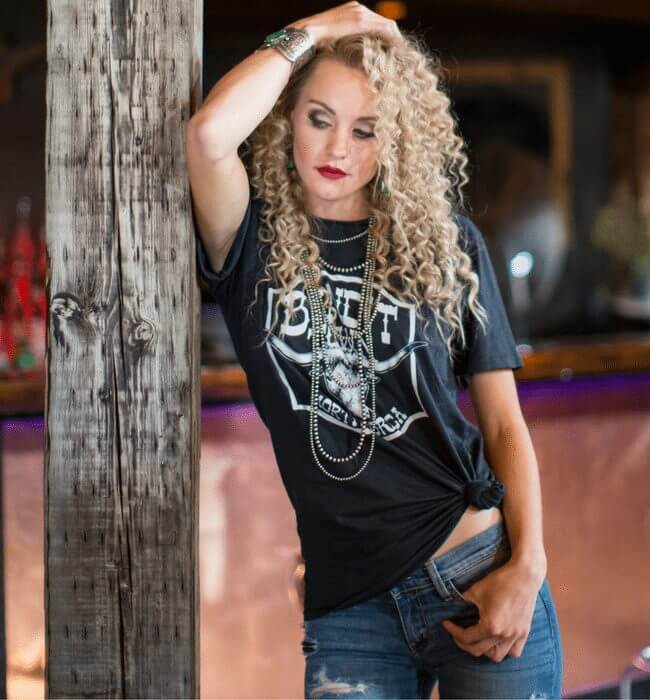 What is your favorite social network and why?
Probably Facebook as it has made it so easy (and yet too easy) to get back into and stay in contact with people from all over the world. I am really starting to enjoy Instagram more each day, however.
Owning a business is hectic, how do you unwind?
A long, hot bubble bath! Ok, by long I mean anything more than 5 minutes before my kids come knocking on the door or trying to get me to come out because it actually took them 5 minutes to figure out where I was.
Is there anything big goals for you as a boutique owner that you are excited about reaching?
I have a lot of goals and each one is exciting, but I am always striving for the next. I do need to get much better about celebrating the small wins along the way.
If you're an NFR veteran, what's one thing you'd recommend a Vegas -rookie to make time for while they're in town?
Take time to go to at least 1 of the shows that are offered. The Cirques Soleil is fantastic!
Now we want to know more about your boutique, Shanda! Give us the goods!
How would you describe your boutique's brand in three words…go!
Edgy Western Tradition
How did your boutique get started? Any fun stories behind your name?
In 2010 my husband and I and our 2 kids at the time were living in Texas. I was driving back to ND to help with hunting season (we operate a hunting lodge), and we had a space in the strip mall behind our kid's entertainment place that we ran, available. So, I decided to bring along a load of furniture, that was unique to the north, and see if people liked it. We had a handful of jewelry, cowhides, purses, and some tops, but mainly furniture. And it went crazy.  
I was throwing around name ideas, and actually had a whole page or two of different words I liked. I loved the idea of using "Branded" with something because I'm part of the 5th generation on our ranch…so I wanted to keep it something western. Our brand for the store is a spinoff of the ranch brand. Our ranch is "Black Leg Ranch" and the brand is a backward "B" with a hanging "L".  I used the same brand and just made the "L" into an "E" for "Envy".  
When I walk into your boutique, what is the atmosphere like, how do you hope to make your customers feel?
We have music playing and are very upbeat–I want people to feel like they are walking into an experience that they can't get anywhere else, all while feeling comfortable doing it. I try very hard to keep things unique and to keep changing the products we carry so it's always a new experience! We are very laid back and I want them to feel like they can ask any question about our items, or ask for help and we will take care of them.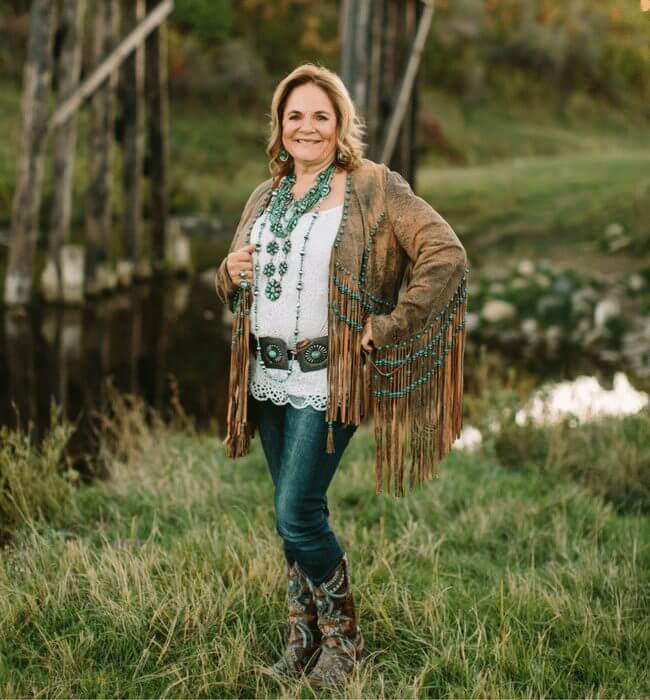 Tell us about the women who shop at your boutique?
We have women from every age and walk of life that shop at our boutique….First, the college or just out of college girl that loves to look good on a budget – they love our graphic tees, sweaters, jeans and faux turquoise lines. There is the ranch wife that works hard during the day, but wants to splurge and look great when she's in town or on one of those few nights out she gets with her man. And of course, we have the rodeo cowboy and cowgirl who come in wanting a good quality American Hat and a pair of Old Gringo boots they can rodeo in!
In your store now – what's one steal and one splurge?
Splurge: A pair of the Old Gringo or Liberty Black boots – they are fabulous or a piece of the genuine turquoise – absolutely stunning!
Steal: The amazing horn art decor pieces we have that are a perfect accent to any room.
What are your favorite trends at the moment?
Graphic tees that can be paired with literally anything.  
Which brands you carry are your personal go-to's? Customer favorites?
For me, I love all things boots! So you will find my closet full of Old Gringo, Liberty Black, and Miss Macie boots. Pair them with a great pair of Flying Monkey jeans, top, and statement turquoise and I'm done! Our customers love our variety. Of course, they love the furniture and decor pieces we have, especially our horn art. Right now the tulle skirts, genuine turquoise, Liberty Black boots, and Double D Ranchwear tops are flying out of the door.
What are some of the things you're looking for when choosing a brand to carry?
I'm looking for those lines that do not sell to the boutique down the street – whether they are a b&m, online, or in their home. Since I try to carry unique items, I am constantly trying to find new lines as it seems like when we get one and it's doing well, it shows up all over the place.  It's a constant process of keeping things fresh. The items have to be good quality, I myself am a busy mom of 4, so when I spend money on an item it needs to be able to hold up to some wear!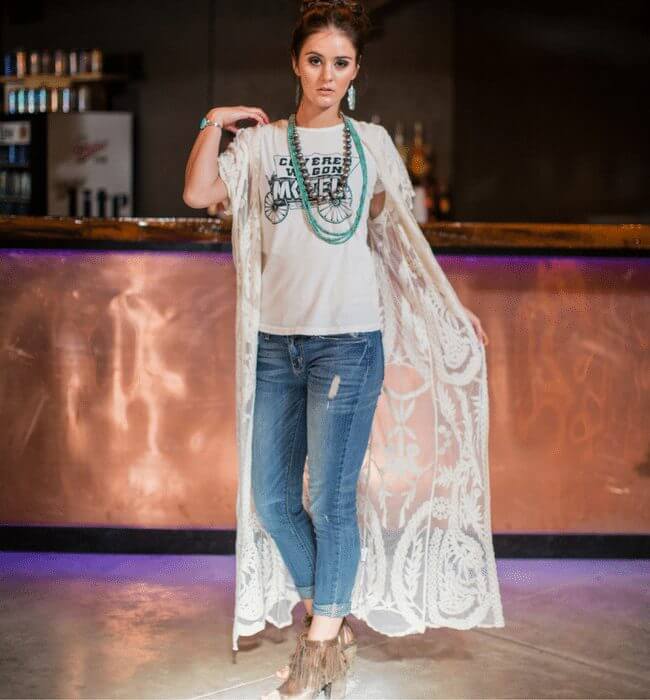 When you first started, what was the process like to carry brands in your store?
I had no idea what I was doing. I had been to market with the company I had previously worked for, so I at least knew what it was like and how the process worked. I had no idea how overwhelming it would be going as a buyer. It was quite a guessing game at first.  I would bring in things I thought would be great, and those would sit. I would bring in things I didn't particularly like and they would fly out the door. Most of the items were pretty fashion forward to my area, so it took some getting used to for the ladies around, but they caught on pretty quickly and embraced the fashion!
How do you decide what to buy for your boutique?
I do a lot of looking. To start with a new vendor, I like to see, feel, touch the items to get an idea of quality. Once I am established, it's easy for me to go online and grab a few items or pick from line sheets when I am in need. It has to be an easy process for me or I will move on.
What's been the best marketing decision you've made?
Deciding to have an actual photo shoot with hair, makeup, models and a photographer!
Do you use outside models and photographers or do you keep those things in-house?
We do most of that in-house. I have some pretty spectacular girls around here, so I'm very lucky. And I have a great friend that is a photographer–she has changed my business with her pictures!
Do you work with bloggers or influencers? If so, what do you look for in an influencer or blogger before working with them, and what kind of expectations do you have in a collaboration/partnership?  
We have just started doing a little of that.  I'll let you know how it turns out :0)
If your boutique dressed a celebrity daily – who would it be?
We are such a mix…but I feel like I most relate to Miranda Lambert, which I'm sure a lot of people say. She is such a down to earth girl that can get dirty and glam up and look beautiful no matter what! She kicks butt at what she does and doesn't apologize for being herself, she is very confident in who she is and I LOVE that!
We love Shanda's spirit, her passion to only sell pieces she loves, and her constant quest to carry unique items for her shoppers.
Want more style stories?
Make sure you're on our VIP list of insiders who hear it first and are treated to 20+ boutique coupons when they sign up or hop into our Facebook Group, Shop The Best Boutiques anytime to hear style tips, must-see trends, deals and shop our threads by product type from hundreds of boutiques in one place. See you there babe!