If you've ever watched How to Lose a Guy in Ten Days, you might remember the scene where Ben (Matthew McConaughey), is working on a tagline for the Delour Diamond campaign and suggests "Ladies, Frost Yourself" to his co-workers. The idea of someone "frosting themselves" with fancy goods is quick to catch on, both in the movie and in real life. Enter Rikki Ruiz, owner of The Frosted Cowgirls, who, in 2010, saw that Idaho's western-inspired fashionistas needed a place where they could frost themselves with all kinds of cowgirl goods.
In its seven years of existence, The Frosted Cowgirls has become a leader in the western fashion world, shipping orders far past its rural area in New Plymouth, Idaho. Girls from across the U.S. are quick to shop The Frosted Cowgirls, whether they're looking for a basic outfit, or something more flashy.
We sat down with Rikki and asked her a few of our staple questions–hear what she had to say!
Tell us about life before owning a boutique? What consumed your life before fashion?
I graduated with a Masters Degree in Agricultural Communications and took a job as a University of Idaho Extension Educator. Before owning a boutique I spent lots of time at work, and roping/riding my horses in the evenings and running half marathons. My first baby came the same time as my boutique, so my rodeoing and running has taken a back seat for the last few years.
What tips do you wish someone would have shared with you as a new entrepreneur?
Make a plan. It's so hard to build and focus without a solid plan. I ran in the dark for so long, before I really sat down, wrote out the plan I had and began to strategize.
What has been the most fun or exciting part of owning a boutique for you? The most challenging?  
The most fun is the people. I love people and I love clothes. I just have so much fun with my customers. The most challenging is making the leap to jump and take on my boutique full-time.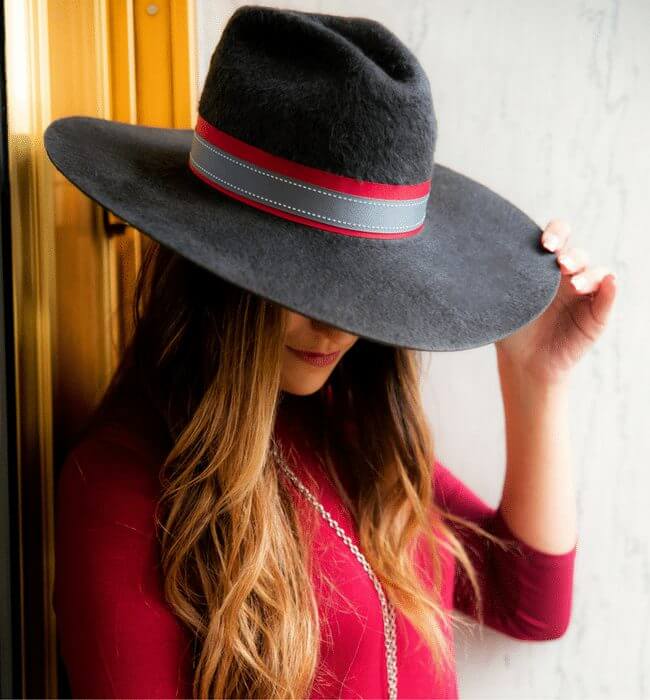 What's in your closet? Do you have a go-to style?
Cheetah, Serape, and Turquoise. My main loves in life after my family of course. I love cardigans and kimonos and graphic tees.
How does your style differ from that of your boutique? Or is your boutique a reflection of your style?
My style is similar to what's in my boutique. I'm western and I love fringe! I believe that is reflected in the type of products I sell.
Who's been your role models – both in business and in style?  
So many to choose. I love a lot of the current fashion influencers and utilize their styles. I think back when I started my boutique I loved Miranda Lambert's style. She's been it from the start. I have so many Business babe crushes too
What scares you the most in life or business?
Stepping out of my comfort zone has always been stressful. I think I've overcome a lot in the last few years. I believe in myself now, more than I ever did in the beginning. Failing is always scary, but both my husband and I have somehow managed to keep moving forward.
More importantly, dark or milk chocolate?
Dark chocolate with some red wine. Are we in heaven?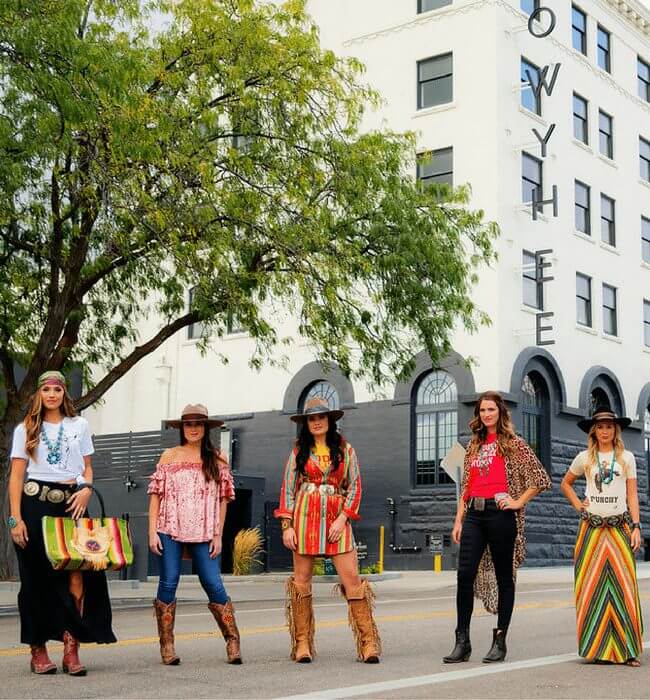 What's your favorite retail season?
Fall. It excites me. I love staple pieces, cardigans, boots, etc. I love Fall Fashion, especially when we tie it into NFR styles.
What is your favorite social network and why?
I go to Facebook first, then Instagram, and then Snapchat. Most of our social media comes from Facebook so I've always given that my first priority.
What's the best marketing strategy you've discovered?
Being real, being authentic and being kind. Those three things have gotten me farther in this business. When people relate to you, they buy from you and they become your friend. That is really what makes me the happiest.  
If you could give advice to a young person, interested in fashion, and maybe one day hoping to start their own boutique – what would you tell them?
Do it. If it's in your heart, then go for it. When you have the passion, the knowledge and skills in running a business can be learned.
Owning a business is hectic, how do you unwind?
Still working on this….I'm an "up late and wake up early" kind of girl. To completely unwind, I enjoy listening to e-books and taking baths. It's my quiet time.
Is there anything big goals for you as a boutique owner that you are excited about reaching?
I'm going to increase my online sales and become a full-time boutique boss in the future. This will allow me to become a better mom and wife too.  
What are some of the biggest fashion trends you're anticipating to see at this year's NFR?
Love, Love, Love velvet. I'll always be a fringe girl too.  
If you're an NFR veteran, what's one thing you'd recommend a Vegas -rookie to make time for while they're in town? Go shopping by yourself. I always think it's fun to take some time to explore all the boutiques and vendors on your own time.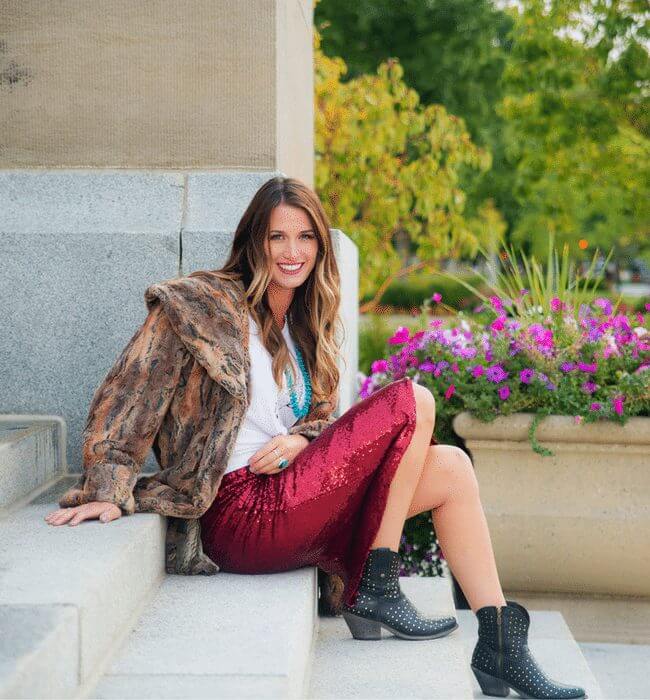 Now that we've gotten to know you, tell us about Frosted Cowgirls!
Your boutique's brand in three words…go!
Trendy, Cowgirl, Chic
How did your boutique get started? Any fun stories behind your name?
I named it "The Frosted Cowgirls" after the movie "How to lose a guy in 10 days", when he says "Frost Yourself". I thought about a cowgirl with a little extra. Now that I have two little "frosted cowgirls" it is absolutely perfect. My boyfriend (now husband), loaned me $5,000 to start the boutique. I spent it all. Then about 8 hours later I found out we were pregnant. I almost returned the merchandise, but Cody said "You better learn how to sell it". The rest is history.
When I walk into your boutique, what is the atmosphere like, how do you hope to make your customers feel?
It's like coming home…it's actually attached to our home. We love having people come shop. You'll find dogs, kids, and a nice cold beer–Cheers! We treat our customers like family.
Tell us about the women who shop at your boutique?
We have women young and old, size small to large.We offer the rodeo college girl looks all the way to your sweet, beautiful grandma. I'm proud of the fact that we have something for anyone who walks through the door.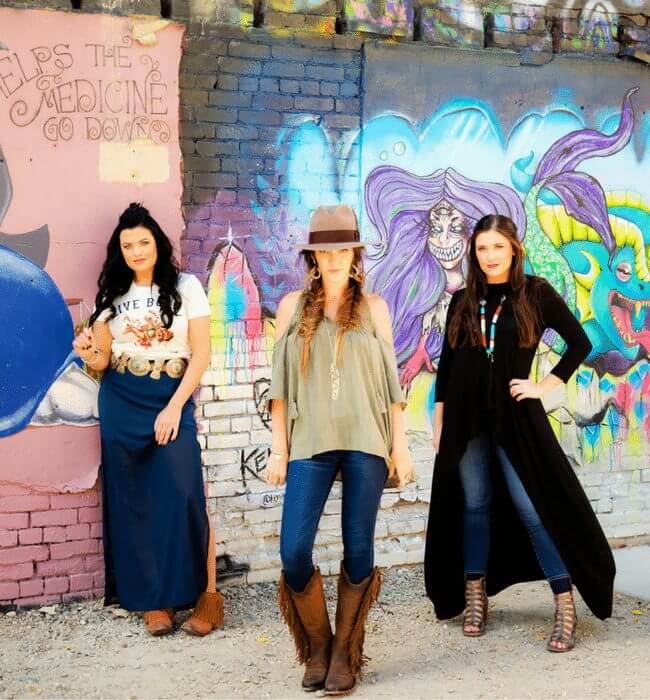 In your store now – what's one steal and one splurge?  
We offer a whole range of "fashion tops" under $38. They are a steal! Now if you are splurging—go to the Silverado rack.
What are your favorite trends at the moment?
Serape and the Hi-Lo tunics. I love these looks on everyone.
Which brands you carry are your personal go-to's? Customer favorites?
Silverado. I love it and so do our customers. We also love our Liberty Bex line and our Bex Sunglasses. One item that sets us apart is our Fashion Cowboy hats. Cody hand shapes these hats and we "frost" them up. Cody owns, "Cody's Cowboy hats" and is one of the best shapers around.
What are some of the things you're looking for when choosing a brand to carry?
Quality.  We have all price points, and I want quality to be a factor in all of them. If I don't think it's made well, I won't put it in on the shelf.
When you first started, what was the process like to carry brands in your store?
If I liked it, I bought it. I've learned to be more strategic. We go to Market and meet with brand reps. Those relationships are a key to success.
How do you decide what to buy for your boutique?  
I follow trends and listen to our customers. I stay up late and scope out lots of magazines, Pinterest, etc. It's what makes this extra fun. I love it!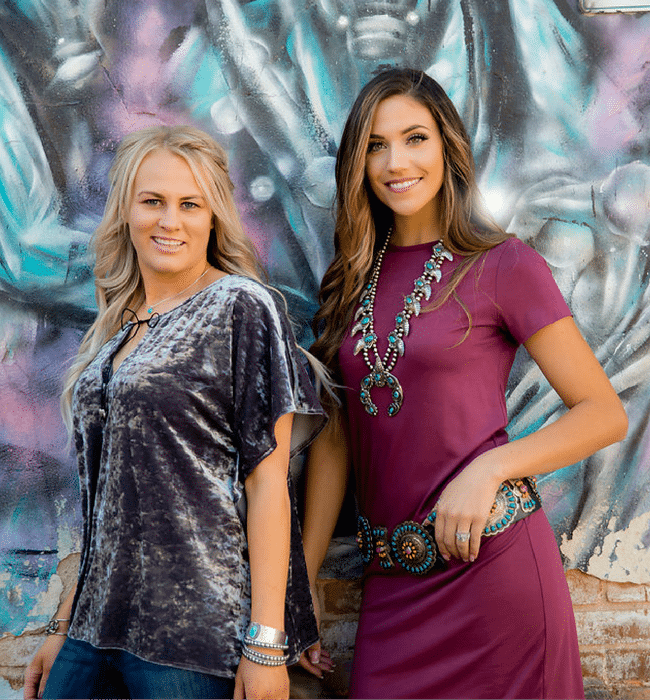 What's been the best marketing decision you've made?
I enrolled in The Boutique Hub's Boutique Bootcamp. It was a complete game changer for me, my husband's business and our mindsets as a whole.  
Do you use outside models and photographers or do you keep those things in house? We use outside models and photographers for our bigger quarterly photoshoots.  
Do you work with bloggers or influencers? If so, what do you look for in an influencer or blogger before working with them, and what kind of expectations do you have in a collaboration/partnership?
Yes! Such a huge asset. I look for style, the vibe they portray and I like to develop a friendship with them.  
If your boutique dressed a celebrity daily–who would it be?
Back to Miranda- someday she'll discover us!!
We love Rikki's true to you style, and her desire to stay honest and authentic to her wide range of customers.
Want more style stories?
Make sure you're on our VIP list of insiders who hear it first and are treated to 20+ boutique coupons when they sign up or hop into our Facebook Group, Shop The Best Boutiques anytime to hear style tips, must-see trends, deals and shop our threads by product type from hundreds of boutiques in one place. See you there babe!