Ask any woman what's the one thing she can't live without, and there's a good chance she'll tell you it's her purse. A woman's purse is a treasure trove, where you can Altoids, a Ziplock bag full of snacks, and one of everything in between. Obviously, a handbag needs to be functional, but there's no doubt it needs to be just as fashionable to equally match the woman whose essentials it's toting around. Each woman out there has her own handbag preference, be it crossbody, doctor bag, messenger, hobo, tote, bucket, or even backpack.
With so many options, how does a girl choose?! Well that, our fashionable friends, is where Elaine James Fine Goods (EJFG) comes into play. EJFG is a fabulous handbag brand, focused on building high-quality, western-influenced bags. Founded earlier this year by Kirsten McCulloch, EJFG is a brand that can easily be described as western elegance. Headquartered in Meridian, Idaho, Kirsten is constantly working to bring new designs to her line, including three new styles that will be launching at this year's National Finals Rodeo.
We threw some of our favorite questions Kirsten's way, and here's what she had to say!
What are the primary products you sell?
Handbags
Your brand's style in three words?
Timeless, Western-Elegance, Handcrafted
How did your brand get its start? What's the inspiration behind the name and the mission?
The idea for Elaine James started while sitting in a boardroom. I wanted to share my love of the western culture but still stay classic and business appropriate. I have always loved the smell of leather which is perfect because I married a saddle maker. We created our bags to be the perfect marriage of western elegance and functionality.
The name Elaine James is my middle name as well as my oldest son's middle name.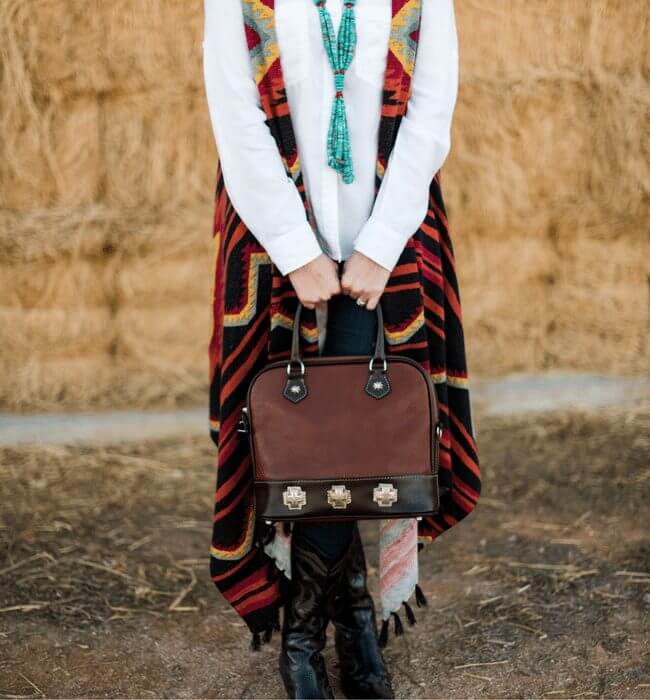 Who are your ideal customers?
Those who appreciate high-quality, handcrafted items. Ladies who love to put an amazing finishing touch on their look!   
Are their certain parts of the country or globe where your brand is far reaching?
Not yet, but we are getting there!
What are some of the biggest fashion trends you're anticipating to see at this year's NFR?
There are so many amazing western fashion designers. We expect to see rocking one of a kind looks, pieces that make the wearer sparkle and stand out from the crowd. The wonderful thing about western fashion is that it gives freedom to try looks that someone wouldn't see just walking down the street. Vegas is the time of year and place to shine for western fashion.
If you're an NFR veteran, what's one thing you'd recommend a Vegas -rookie to make time for while they're in town?
Other than the most amazing western shopping all in one place! Vegas does have some amazing restaurants, we always make a point to eat something a little far out while we are in town.
Do you work with bloggers or influencers? If so, what do you look for in an influencer or blogger before working with them, and what kind of expectations do you have in a collaboration/partnership?
Livewire Country Couture is always our favorite fashion influencer to work with, Megan is not only a designer but also an influencer. She creates pieces that help the wearer shine and feel gorgeous.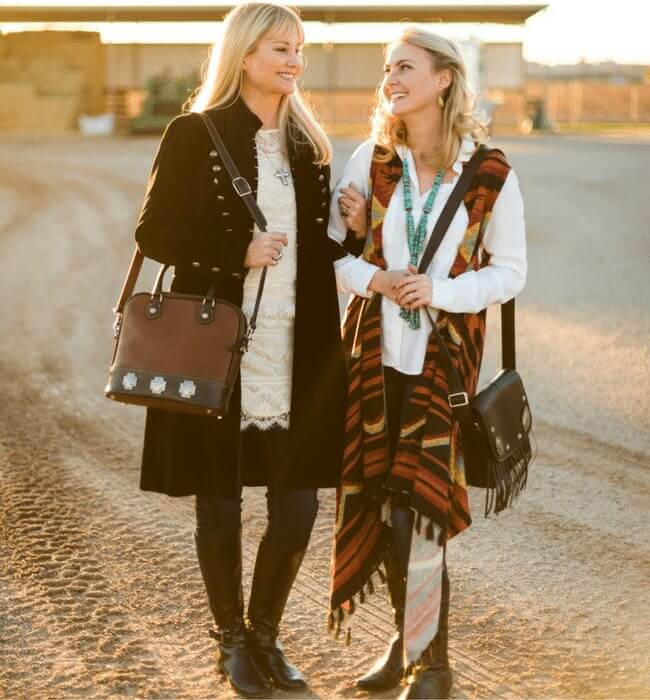 What was life like before you created this brand? How did you get inspired to start?
Life before I started my company was busy, but a different kind of busy than I have now with two kiddos, a start-up business and helping my husband's saddle business thrive. Before Elaine James I was working in a fortune 500 company, driving three hours every day to get to work. I was craving to start something so I could create a legacy for my family. I saw a need for handcrafted leather goods that gave a nod to the western way of life. So after trying to make motherhood and a high powered job jive and failing. I knew I needed to start something on my own. My wonderfully creative husband helped my start and five years later we launched Elaine James.
What tips do you wish someone would have shared with you as a new entrepreneur?
Don't give up, it is going to get hard but the hard work is totally worth it!
What's been the highlight of your career so far?
Launching this year!
What's in your closet?  Do you have a go-to style?
High-quality pieces. I have always believed in buying less. My go to always has an amazing fit, last for years and helps me stand out from the crowd.
Who's been your brand role models – both in business and in style?  
Business role model, Kendra Scott. She is an amazing woman in business. She started the company from very little and has grown into an international powerhouse!
What scares you the most in life or business?
Writing those big checks without knowing if you have the customers to buy them!
More importantly, dark or milk chocolate?
DARK!!!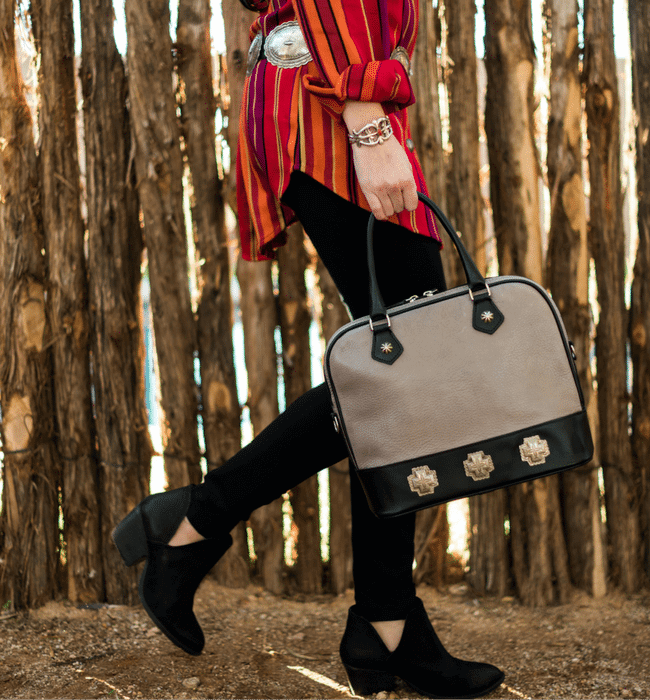 What's your favorite season to design for?
Any season! A great bag can transition seasons!
What's been the best marketing decision you've made to grow your brand?
I have made some big ones this year, I will let you know after the NFR!
If you dressed a celebrity daily – who would it be?
If we are talking all time favorites than it would have to be, Grace Kelly, she was the epitome of an American classic beauty.
If I could dress someone today, Gal Gadot, she is too beautiful not to have one of our bags on her arm!
What's next for your brand? Any big surprises or new designs you're excited about?
We are launching three new bags at the NFR!!!!
How can boutiques interested in carrying your brand learn more or see your line sheets?
Just call! 520-705-2599
For those of you who will be shopping the streets of Vegas next month, you can find Elaine James Fine Goods at the South Point Cinch Western Gift Show, December 10-17, 2017. We'll be paying Kirsten and her gorgeous bags a visit, and we hope you do, too!
Want more style stories?
Make sure you're on our VIP list of insiders who hear it first and are treated to 20+ boutique coupons when they sign up or hop into our Facebook Group, Shop The Best Boutiques anytime to hear style tips, must-see trends, deals and shop our threads by product type from hundreds of boutiques in one place. See you there babe!