Contrary to popular belief, you can live somewhere other than the Southwestern section of the U.S. and still find killer western fashion pieces. Think we're wrong? Then you haven't met Soul Revival Boutique. This Willard, Ohio-based boutique has some of the most fashionable pieces a girl will ever need.
Founded in 2015, Soul Revival has made quite the mark on the fashion world in its two short years of existence. Soul Revival has a website you can shop 24/7, or a killer Airstream-turned-mobile boutique that you can find out on the road! We sat down with Soul Revival's owner Brooke Carmean, who filled us in on all the juicy details–including what celebrity she'd love to style, and the secrets to her own fabulous style.
Your boutique's brand in three words…go!
Gypsy, Southern, Glam
How did your boutique get started? Any fun stories behind your name?
We started in 2015 and decided from the beginning to give back to missions. That is where Soul and Revival came from. We are faith-based and we knew that we would donate 10% of all sales to various missions. With my nursing background, I was able to travel to Nicaragua to help out with communities in that country. I witnessed first hand how others lived and I knew we could make an impact with our company. So, Soul (the spirit within us) Revival (awakening) was born.
When I walk into your boutique, what is the atmosphere like, how do you hope to make your customers feel?
We have decked out our Airstream in a rustic glam vibe. It's warm and inviting and we love being able to have conversations about everything from our western vibe to Christ!
Tell us about the women who shop at your boutique?  
The Soul Revival girl is fun and outgoing – we honestly have clothed women from 21 to 70! The majority of our girls are 25-40. They love country music, Jesus, and most of all, fringe!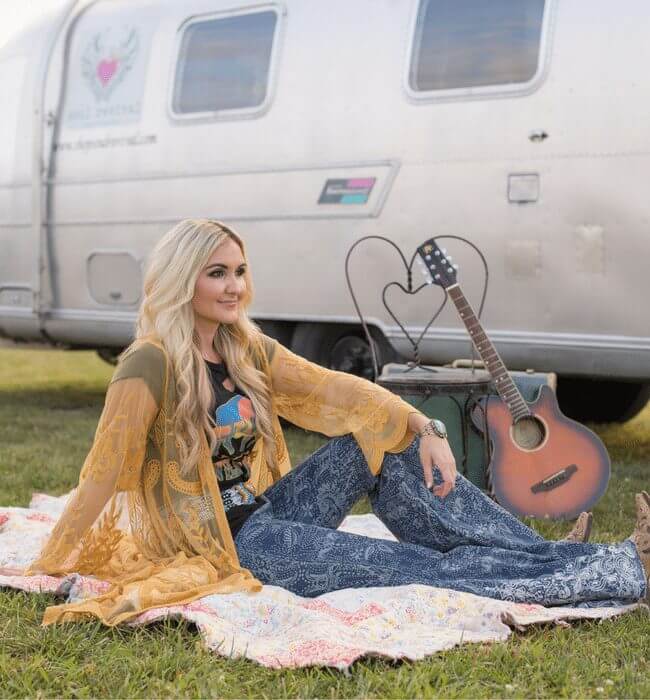 In your store now – what's one steal and one splurge?
STEAL – Down to Business Blazer ($29.95)
SPLURGE – Haute Pink Cape Blazer ($59.95)
What are your favorite trends at the moment?
The velvet trend. And overalls! We love that the 90's classic made a comeback.
Which brands you carry are your personal go-to's? Customer favorites?
We love Phil Love and our customers are crazy over our Handmade & Upcycled Plaids.
What are some of the things you're looking for when choosing a brand to carry?
Is it zip code protected, is everyone carrying it, is it unique, do I LOVE it? I always ask myself those questions. We try to be as unique and true to ourselves as possible.
How do you decide what to buy for your boutique?
I take a look at what is trending and what I love.
What's been the best marketing decision you've made?
To invest in a business coach!
Do you use outside models and photographers or do you keep those things in-house?
We keep everything in-house for the most part. We do some professional shoots quarterly.
Do you work with bloggers or influencers? If so, what do you look for in an influencer or blogger before working with them, and what kind of expectations do you have in a collaboration/partnership?
YES. I look at not only how they present themselves professionally, but personally too. Do they respond back to their followers, are they kind, and are they a good fit for our brand and what we stand for. Btw I love Hannah Hogner. She was our first blogger collaboration and such a peach!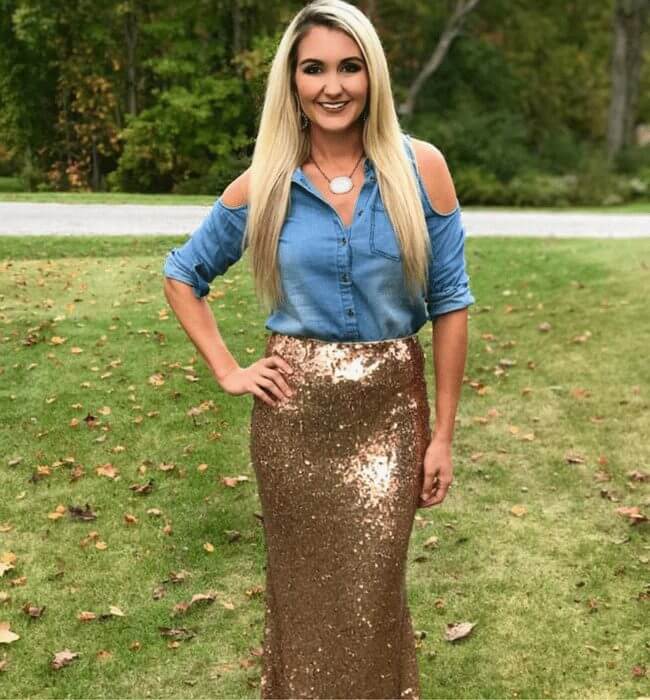 If your boutique dressed a celebrity daily – who would it be?
Miranda! I. Would. Die. She is just so classy. Whether it is being dressed down in jeans and a tank or dolled up in rhinestone tights, skirt, and top. Love her style and I think she would totally rock some Soul Revival!
About YOU!
Tell us about life before owning a boutique? What consumed your life before fashion?
Before my boutique, I was working as a Registered Nurse for a large insurance company. I was working nights, a new mama, and juggling the boutique at the same time for the first year and a half.
What tips do you wish someone would have shared with you as a new entrepreneur?
To enjoy the RIDE. There will be ups and downs and to remain consistent.
What has been the most fun or exciting part of owning a boutique for you?  The most challenging?
The most fun part (and rewarding) of owning a boutique is seeing women at events that tell us stories about how we have touched them when it comes to their faith. We are Christian based and give back 10% of every sale to various missions. Being able to donate and give back to others is amazing. The most challenging is when you have occasional hateful comments via social media. Everyone is entitled to their opinions, but we don't like anything disrespectful on posts and I think people sometimes forget that there are people with a heart and feelings on the other side of that picture.
What's in your closet? Do you have a go-to style?
I have AT least 50 pairs of cowboy boots, leopard, sequins, plaids, fringe, vintage blazers. I love mixing it up. From boho to edgy western femme. When I get to be dolled up, I love playing with my style mixing old and new trends. During a regular day, I am usually in a tee and jeans!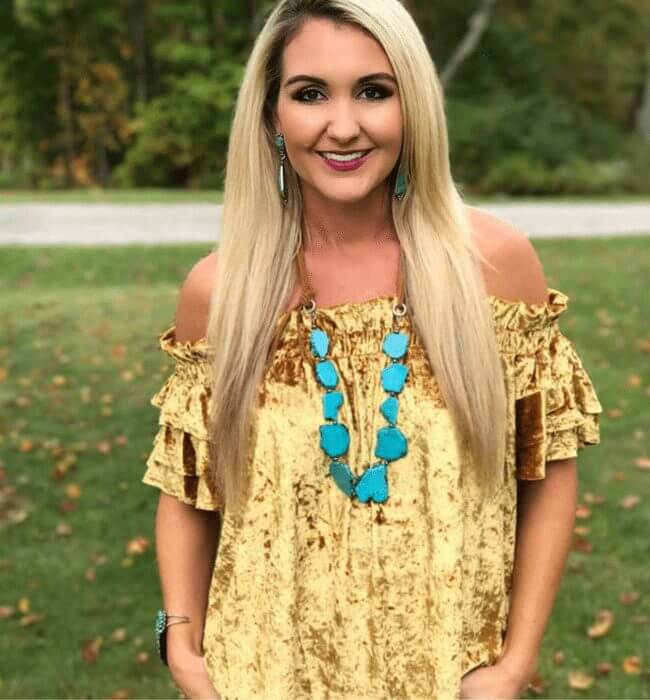 How does your style differ from that of your boutique? Or is your boutique a reflection of your style?
It's a mixture of both. My boutique is a lot of things that I would personally wear, but I like to throw in some items that are a little outside of my normal go-to's.
Who's been your role models – both in business and in style?
For business, it would be Laura Benson of Filly Flair. I love how she puts her faith out there and she is so humble. She is right there working with her employees and you see that she truly loves what she does. She is an absolute inspiration!
For style, it would definitely be my Granny (Ruth) and Dolly Parton. My Granny taught me to always get gussied up because I never knew who I would run into. And Dolly because she is the Queen of sequins and glam.
What scares you the most in life or business?
I used to be nervous that we couldn't meet certain goals, then we did, and we crushed them. I rely heavily on talking to God and praying that I am always in His will for what he wants us to do, from the missions we give back to, to the shows that we are apart of.
More importantly, dark or milk chocolate?
BOTH. Chocolate in any form is my weakness.
What's your favorite retail season?
Spring/Summer. I LOVE brights, it's changing back from cold winter to warmer days. Give me all the pretty and colorful dresses!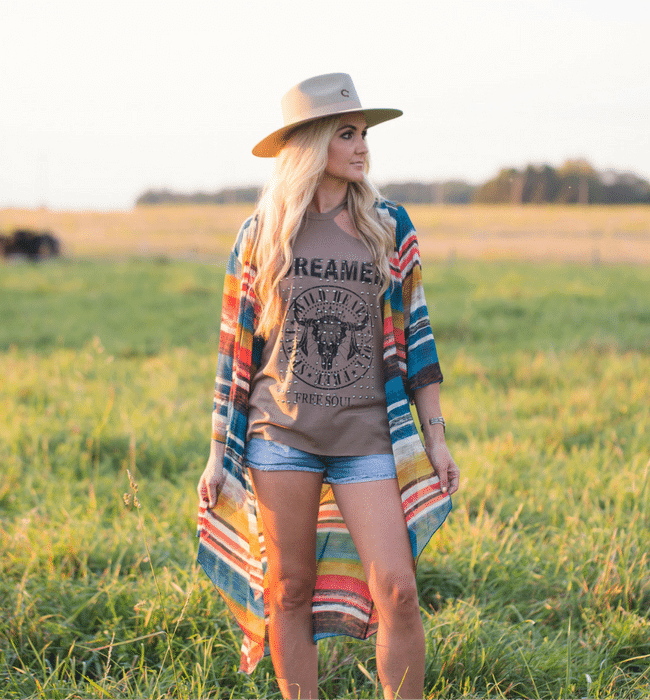 What is your favorite social network and why?
I love Instagram's InstaStory feature. I get to show our followers what we are doing on a daily basis and talk candidly with them. Same with Facebook Lives! Being able to show our fans in real time what is going on in our daily lives is a favorite for me.
What's the best marketing strategy you've discovered?
To be consistent. I don't think there is a strategy so much, as to remain the same and to engage! Customer service goes a LONG way.
If you could give advice to a young person, interested in fashion, and maybe one day hoping to start their own boutique – what would you tell them?
To be yourself. People will want to buy from you, because you are you!
Owning a business is hectic, how do you unwind?
Wine! Or a good date night with my husband. Listening to music, reading, and sometimes working out.
Are there any big goals for you as a boutique owner that you are excited about reaching?
We have goals to set up at Texas Antique Week and the NFR within the next three years. We would love to grow into a warehouse and have employees, that we could one day take on a missions trip!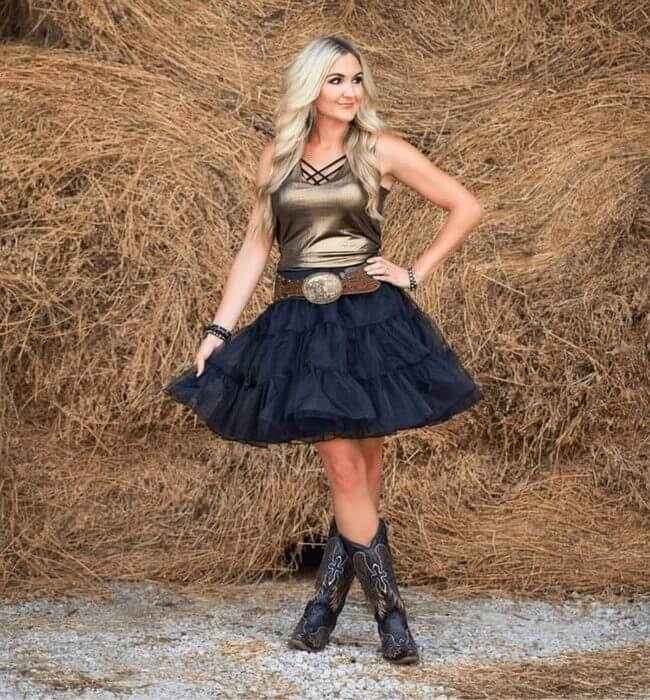 What are some of the biggest fashion trends you're anticipating to see at this year's NFR?
Cape blazers & Velvet Jumpsuits
If you're an NFR veteran, what's one thing you'd recommend a Vegas -rookie to make time for while they're in town?
Go to Fremont Street in Old Town Vegas! It is one of my favorite places and full of vintage neon nostalgia.
Tell us the truth…do you already have Soul Revival's website pulled up in another tab? You bet we do!
P.S. That Pink Cape Blazer she talks about would be perfect for NFR's Round Five–Pink Night (Monday, December 11).
Want more style stories?
Make sure you're on our VIP list of insiders who hear it first and are treated to 20+ boutique coupons when they sign up or hop into our Facebook Group, Shop The Best Boutiques anytime to hear style tips, must-see trends, deals and shop our threads by product type from hundreds of boutiques in one place. See you there babe!