Boutique Hub Guest Blog
It's almost that time of year where we say bye-bye to the summer heat and welcome cooler fall temperatures. Obviously, we are in that in-between weather pattern where it isn't quite time for an oversized jacket, nor is it warm enough to wear a tank top. Let me introduce you to layering!
Layering takes some time to master as you're arranging a variety of different styles, colors, shapes, sizes, etc. into one composed ensemble. Not to mention each piece (ideally) has to work well together, and you need to make sure it doesn't leave you feeling too hot or cold. It's honestly an art.  But creating your layering masterpiece can be accomplished, and I am here to help!
First, I actually have a step-by-step process that I go through when figuring out what I am going to wear and how I go about layering an outfit.
I ask myself these questions:

What is the temperature outside?

Will I be more indoors or outdoors?

How many layers will I need?

Once I know how many layers I need, I start to pull different pieces out of my closet and lay them out on my bed. This is key to visualizing each piece side-by-side without the annoyance of trying multiple outfits on. Tip: Make sure you play around with different lengths of layers and proportions. This will help with eliminating the cliché of layering, e.g., frumpy/bulky.

Now I start with layer one: lightweight (aka my canvas)

Transitional dress or

Skinny jeans with long sleeve top  

Heading into layer two: adding warmth

Transitional dress + tights + socks or

Skinny jeans with long sleeve top + cardigan

Now layer three: bringing in extra warmth

Transitional dress, tights and socks + knee-high boots, and scarf

Skinny jeans, long sleeve top, cardigan + knee-high boots, socks, and scarf

Layer four: ready to brave the cold

Transitional dress, tights, socks, knee-high boots, and scarf + underneath button-down blouse, and jacket

Skinny jeans, long sleeve top, cardigan, knee-high boots, socks, and scarf + blazer or jacket, and gloves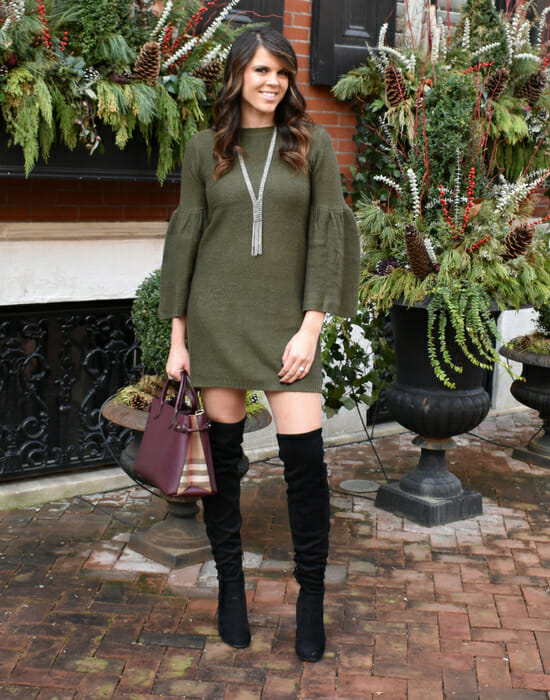 Now that you have a visual of my step-by-step process, you are on your way to layering successfully. Start with a canvas and add different pieces based on the warmth level and keep building from there. With that said, I am bringing you some of the critical articles of clothing for you to layer like a fashionista this fall.
Layer One
Usually key wardrobe staples such as tank tops, skinny jeans, dresses, long sleeve blouses or button-downs. I personally like the long sleeve button-down because if you are not quite ready to give up your summer clothes, you can add a long sleeve blouse or button down underneath your dresses, tank tops or even sweaters to help with adding an extra layer of warmth.
Tights are a blessing when it comes to colder weather, and there are always instances where you need to bare your beautiful legs. Tights add an extra protective later while you are rocking a dress or even skirts. And they are a great way to keep your legs extra warm when wearing jeans or dress pants.
Layer Two
These pieces help with adding warmth. My three favorites are cardigans/dusters, bulky sweaters, and blazers.
Cardigans/Dusters
Cardigans/dusters scream layering, as they really cannot be worn alone. Another piece that is exceptionally versatile in size, color, and style that can be worn in many different ways. Cardigans can be worn over any type of blouse or sweater. If you have a cardigan that is oversized, you can add a belt to give shape and eliminate the frumpy look.
Bulky Sweaters
Larger, oversized sweaters can be worn over dresses, tank tops or even other sweaters. Again, if you feel frumpy, think about adding a belt.
Blazers
Boyfriend fitted, longline, oversized or even different button types – find a particular fit/style that works with your body type and one that will advance your layering.  Blazers can be worn under a larger jacket or even over a top with some jeans.
Layer Three
This layer is the one right before the oversized jacket. My favorite layer three pieces are knee-high boots, scarves/capes/ponchos, and belts.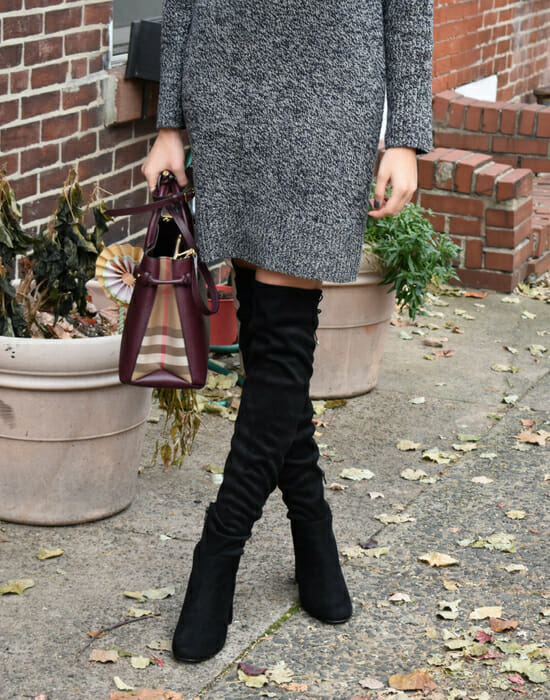 Knee-High Boots
Pair knee high boots with your look when the temperature continues to drop. You can add them to your skinny jeans to keep your legs extra warm.
Scarves/Capes/Ponchos
Blanket, infinity, pashmina and neck scarves are very versatile and add an extra element to any outfit. Whether the purpose of wearing it is for warmth or style – have a variety of colors, textures, and styles in your closet to spice up your look quickly.    
Belts
Of course, when you start to layer articles of clothing, you might begin to lose your defined shape and begin to look frumpy. Adding a belt to your outfit brings back the defined shape and can help accessorize your outfit with either added textured or adds a pop of color.
Don't get me wrong; I am not saying that three layers are all you can do. If your climate or outfit needs more, go ahead and add another one (always remember my tip from above). Play around and see what is required to create your masterpiece.
Here are some layering tips and tricks:
Make sure layer one is more fitted. This will help with reducing a "bulky" look

Have different lengths of layering pieces

Don't be afraid to mix and match patterns and textures

Purchase versatile pieces that can be worn with varying ensembles of layering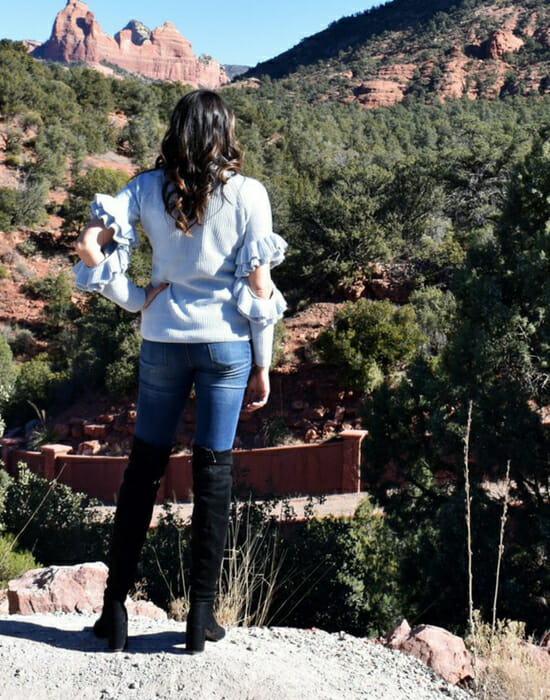 Ta-da! Now you have a new understanding on how to layer for the fall. Check out my Instagram to tell me about some of your current favorite fall layering pieces and be sure to post a photo!
Want some layering options for yourself? Head over to The Boutique Hub's exclusive Facebook group Shop the Best Boutiques to find killer items like the ones mentioned above!
Article by Julie Davis, Empowering in Heels
Julie Davis is the founder of Empowering In Heels, named one of Philadelphia's top 20 Fashion & Lifestyle blogs. Her passions include delivering empowering and engaging content on fashion, lifestyle, business, and wellness to her loyal readers and followers.  
Besides blogging, she enjoys exploring new things with her husband Jeff, playing volleyball, board games, entertaining, reading and finding fabulous locations to shoot new outfits or products.  
If you love fashion and lifestyle topics, check out her blog!