Today our host Ashley Alderson does a Solo episode on Finishing the Year Strong. The end of the year is the perfect time to reflect on how your business is doing and what you can do to make 2020 an even more successful year. Ashley gives us all the strategies to end the year with a bang and get us prepared for the year ahead! Today's episode will include 3 main focus areas that will help you finish the year strong, tune in to find out all the details!
>> EPISODE 236 – LISTEN NOW ON iTunes <<
Don't Have iTunes? Listen on Libsyn here
See the Full Boutique Chat Podcast Website here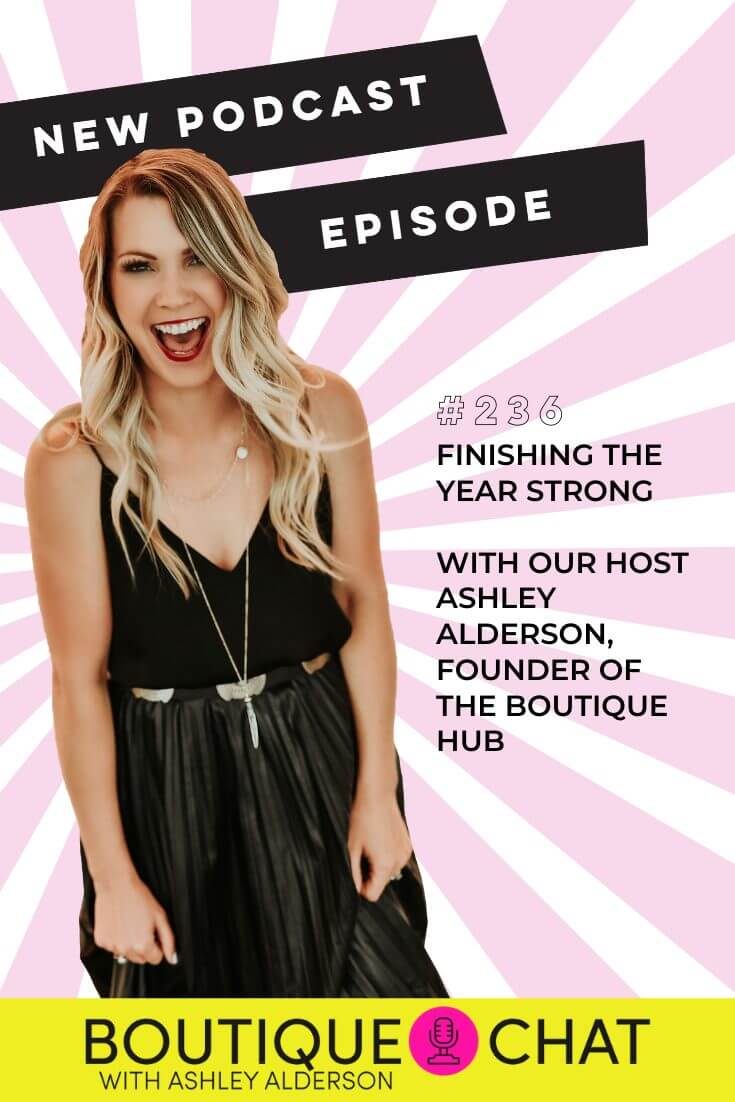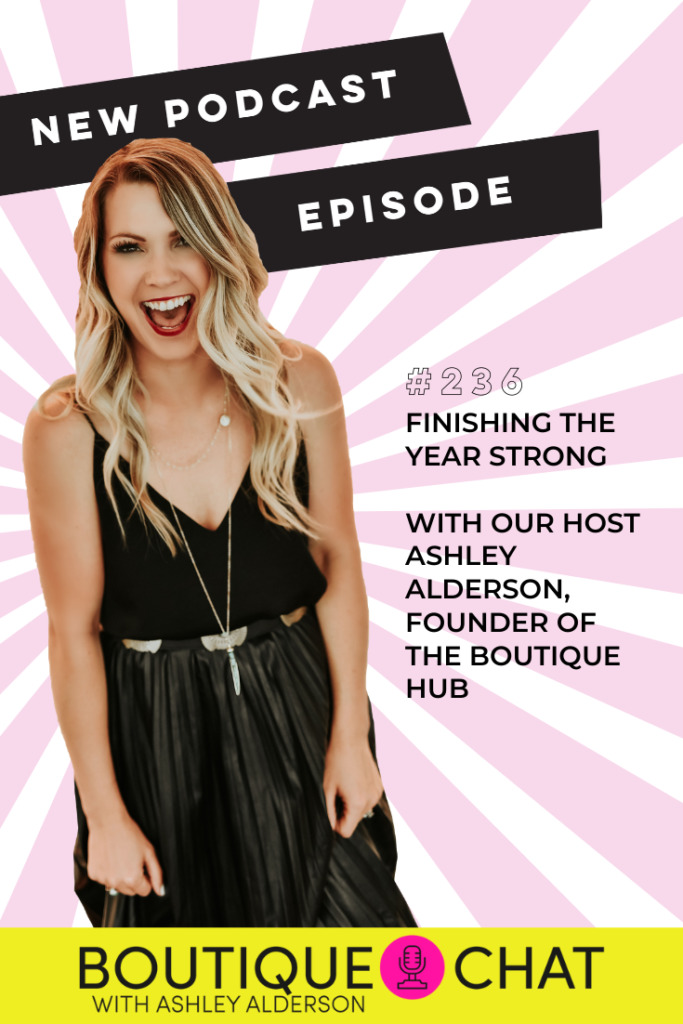 KEY POINTS TO FINISHING THE YEAR STRONG
---
Reflect on how you personally grew this year. Two key questions to ask: What brought me joy? What brought me stress?
Reflect on last year's goals and then create the change you want to see in this year's goals. And get your vision board updated for 2020!
End of the year = clean up time! This includes your inbox, unused subscriptions, office space, spare room, etc.
FAVORITE QUOTES
---
"But more so, I focused on how do I want to feel and the impact I want others to feel when they are around me." -Ashley A.

"That change was monumental for us. So I highly suggest number one, if you don't have an accountant that acts like a counselor or a consultant that you definitely find one, now! It's an important relationship to have to grow your business." -Ashley A.

"Four key areas to think about to close out the year strong; with your team, with your operations, with your financials and reports and finally with your personal goals and vision."-Ashley A.
EXTRAS
---
Grab our End of the Year Checklist in the Training Library to make sure you are getting everything done to end your year successfully and to kick off the new year on the right path!

Join the Hub for more training, information, and connections.
www.theboutiquehub.com/join
Use the hashtag #AskAshley on Instagram, or tag her at @ajalderson or @theboutiquehubto suggest topics for the podcast and let us know what you thought about this episode!
Want to be our listener of the week? Then Subscribe to our podcast and after that, leave us a review on iTunes Apple Podcasts here!
Original Air Date: December 9th, 2019
Do you love Finishing the Year Strong? Let us know what you think about our show and help spread the word about the #BoutiqueChat Podcast.
Related Posts: