There is a lot going on in the world right now that is affecting the retail industry.
Fear is contagious….
So is hope.
I've been listening to a thousand podcasts and experts over the last two months, and no matter what the strategy or solution I hear, it often comes down to this.
Either you are going to cave to the fear…..
Or you are going to peddle your bike a little harder up the hill and know that this, like everything, is to a cycle.
There will be another side.
Our entire team at the Hub see's you and everyone in the retail industry. We are baking ideas, strategies, and next steps for the retail industry DAILY into our training, guest experts, weekly LIVE office hours sessions, free recession-proof toolbox and so much more.
We've got you — and YOU'VE got you!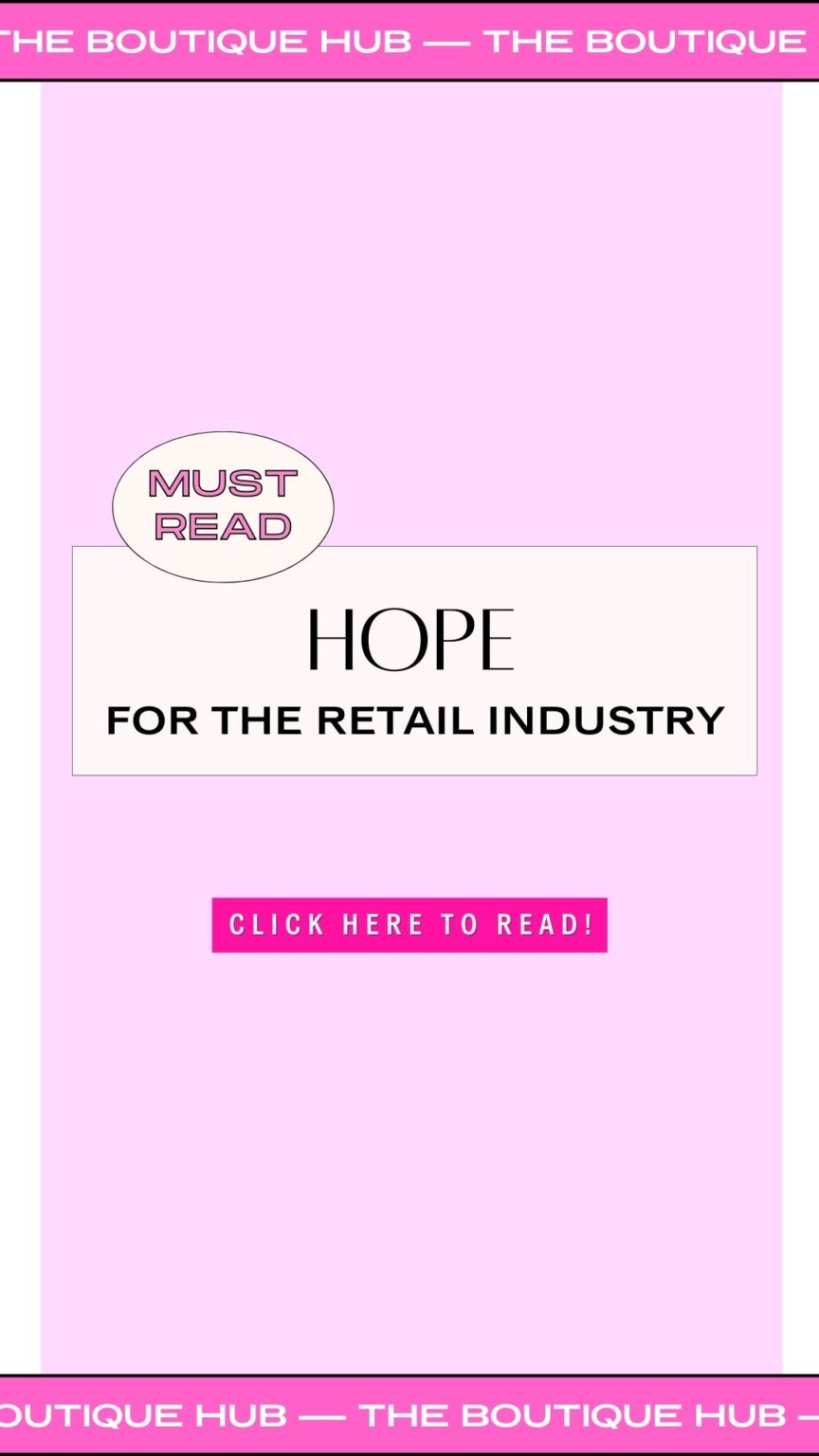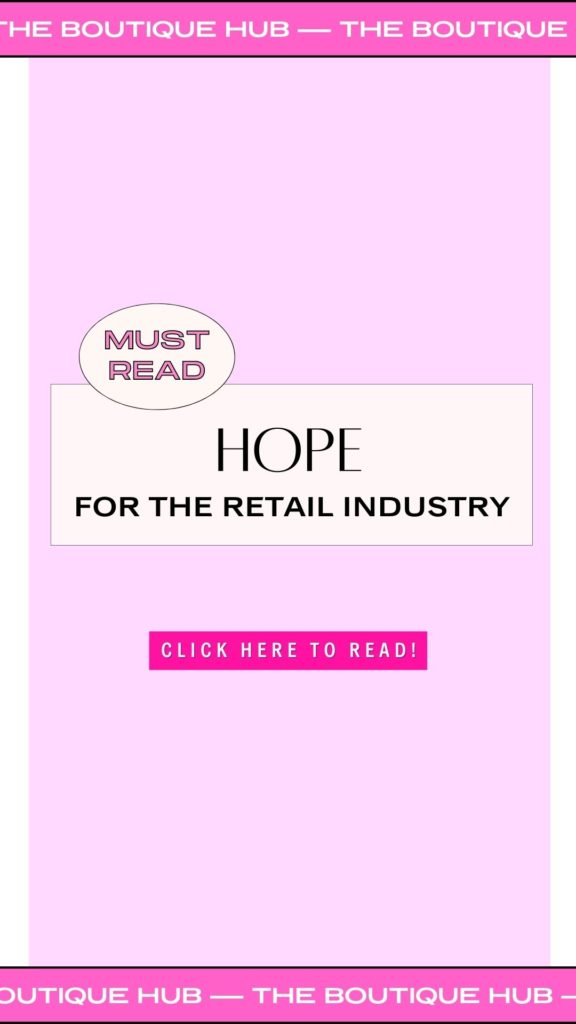 Here are some actions and tips that I've found most helpful in this time for the retail industry.
The sky is not falling….keep going. Your mindset is NUMBER ONE most important to manage. If you think that's too fluffy and doesn't matter, quit now.
Your customers are still buying. Just differently. What do they still need? How can you hep them see the value in what you have? How can you help them restyle what they do have or get more use out of new items? Building collections and speaking to needs is huge!
Bundle, save, loyalty – give them a win when they keep buying!
Experiences MATTER MOST! Products are a dime a dozen, but experiences last a lifetime. Events, games, nights out, video, vendor events, behind-the-scenes, collaborations — give them an experience!
Vendor shows are super strong right now! I've talked to hundreds of stores setting up in person for sales and lead gen, and it's working!
Build relationships, plant seeds, and know they will harvest later! Even if your customer isn't buying RIGHT NOW, she will be again in the future. Will you be top of mind? Keep talking with her, building trust, goodwill, and relationships with her!
Solidify your operations — go back to the basics, use this time to get stronger from the ground up, and look for the blessings in getting big projects done now that will pay off later!
Getting lean in SMART ways – leases, policies, unused apps, untrained/underutilized employee hours. But that doesn't mean cutting ROI-generating activity – payroll (when it's optimized), advertising/marketing, your own education, and support! INVEST where you have a return!
Keep the excitement high. You sell most of what you are excited about! If you are filled with fear, it becomes desperation like a stinky cologne.
This business has had a lot of hobbies…. buy-in groups, and copycats. What an opportunity for YOU to rise above because you've invested in yourself and your legit business!
Inventory cycle – restyle, re-shoot, reuse, consign, trade, destash, swap, dropship — there are so many creative ways to make what feels old, new again! Keep that spark alive!
Set goals against 2019 vs 2021. That HUGE spike in 2020 and 2021 was stimmy money hype — we are just getting back into a cycle, so know that your WORTH is not measured against you breaking every YOU goal you set! It's in your fulfillment, peace, profit, and the JOURNEY you are on…not a number.
This will strengthen independent retail in its battle with big box stores! You are nimble and self-funded — there will be a big box fall out from this that will benefit you in the end!
Advertising is about to get cheap! When everyone else is backing out….you will remain. Ad spend is dropping across the board, so now is a good time to investigate FB and Google because demand is lower and that means getting new eyeballs.
Diversify revenue streams! Amazon accounts or brand influencing for other businesses? You've built a community and following that you can offer more to than the products on your shelves!
Be a light. The world needs it, you need it, and the only way over this hill is together.
Just like the stock market, this is the time to buy. But it low and sell it high – there is opportunity in every downturn if we choose to seek it out!
I am BEYOND PROUD of the retail industry and this community for pushing through tough times and being inspirations and role models in your communities.
Now is your time to speak up and share some light when we all need it most! And to know that if you need help — you have a HUGE TEAM OF US and THIS COMMUNITY here to back you up.
You've got this.
We've got this.
This is a blink in time.
Let's go!
Free Recession-Proof Toolbox
Our team and our partners at the Hub have teamed up to pull all the important next steps and resources we can, to help YOU stay strong and continue to grow during this time! Access our free recession-proof toolbox for links to both free and member-based resources (for those of you at the Hub) with downloads, checklists, videos, blogs, idea guides, and tools!
---
We hope you liked this blog on Hope for the Retail Industry.
Join the Hub for more training, information, and connections!