Raise your hand if you are a parent and an entrepreneur! This week, I am going solo to talk about one of the hardest juggling acts in the world: how to be a good parent AND a good business owner. If you struggle with this, you definitely don't want to miss this episode!
Tune in as I share some of the lessons I've learned along my own journey of being a parent and an entrepreneur, including how to set clear boundaries (so important!), the importance of knowing your why, and the difference between the entrepreneur and CEO mindset when it comes to this particular balancing act. I promise, it is possible to find peace and satisfaction in both areas of your life, and above all else, I hope you walk away from this episode with grace for yourself, for your family, and for anyone else walking the same road.
>>Tips To Juggle Parenthood and Entrepreneurship– LISTEN NOW ON iTunes <<
>>Tips To Juggle Parenthood and Entrepreneurship – LISTEN NOW ON Spotify <<
See the Full Boutique Chat Podcast Website here
Watch the interview on YouTube:
What You'll Learn From Tips To Juggle Parenthood and Entrepreneurship
My background being a parent and running a business.
The importance of knowing your why.
The dangers of the comparison trap.
How to set a boundary on your time for work and family.
The difference between the entrepreneur and the CEO mindset.
Why it's important to manage your relationship, as well as your business.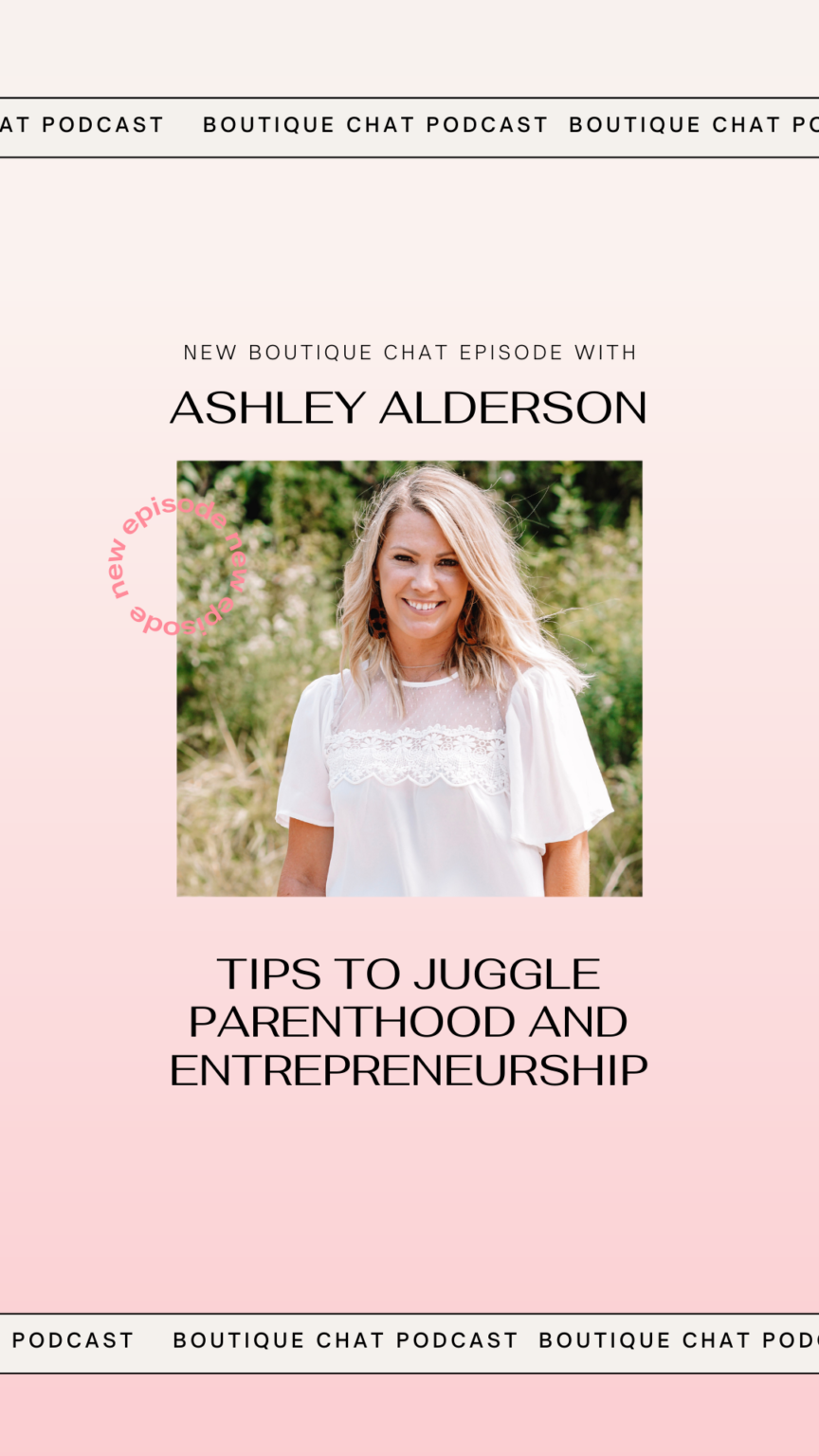 Favorite Quotes from Ashley Alderson
"Balance is what you make of it, and we have all have the opportunity to be great in both areas." – Ashley Alderson [1:45]
"There are others out there that have gone through this before you, and there are things that we can do to make this journey a little easier." – Ashley Alderson [6:30]
"Bigger is not always better. Better is better." – Ashley Alderson [10:40]
---
---
Join the Hub for more training, information, and connections.
www.theboutiquehub.com/join
Use the hashtag #AskAshley on Instagram, or tag her at @ajalderson or @theboutiquehub to suggest topics for the podcast and let us know what you thought about this episode!
Do you love the Boutique Chat Podcast?! Subscribe to our podcast and after that, leave us a review on iTunes Apple Podcasts here!

Original Air Date: July 5th, 2022
Do you love the details of Tips To Juggle Parenthood and Entrepreneurship? Let us know what you think about our show and help spread the word about the #BoutiqueChat Podcast.
Recent Posts:
Retail Sidewalk Sign Inspo

In the fast-paced world of retail, where competition is fierce and attention spans are fleeting, every tool at your disposal can make a significant difference. One such tool that has stood the test of time and continues to be a vital asset for retailers is the humble sidewalk sign. These unassuming signs, often placed right outside your storefront, may seem simple, but they pack a powerful punch when it comes to attracting customers and driving sales. In this post, we'll explore why retail sidewalk signs are so important and some fun inspiration pics to get your creative juices flowing for your very own sidewalks.

Using Story to Grow Your Business with Lyn Graft, founder of Storytelling for Entrepreneurs

Storytelling for Entrepreneurs founder Lyn Graft shares his secrets on how to use story to grow your business.

The Boutique Hub at October Dallas Apparel Market

The time has come for the October 2023 Dallas Apparel & Accessories Market and the Hub team couldn't be more excited! We know how busy market days can be so we wanted to make sure you guys are filled in on our schedule so you can come and stop by!