Pop-up events have become a popular and effective way for businesses to showcase their products, connect with customers, and create a unique and memorable experience. Whether you're organizing a pop-up shop, a craft fair, or an art exhibition, having the right products and equipment can make all the difference. In this blog post, we'll explore the must-have products for a successful pop-up event, making sure you're well-prepared to make a lasting impression.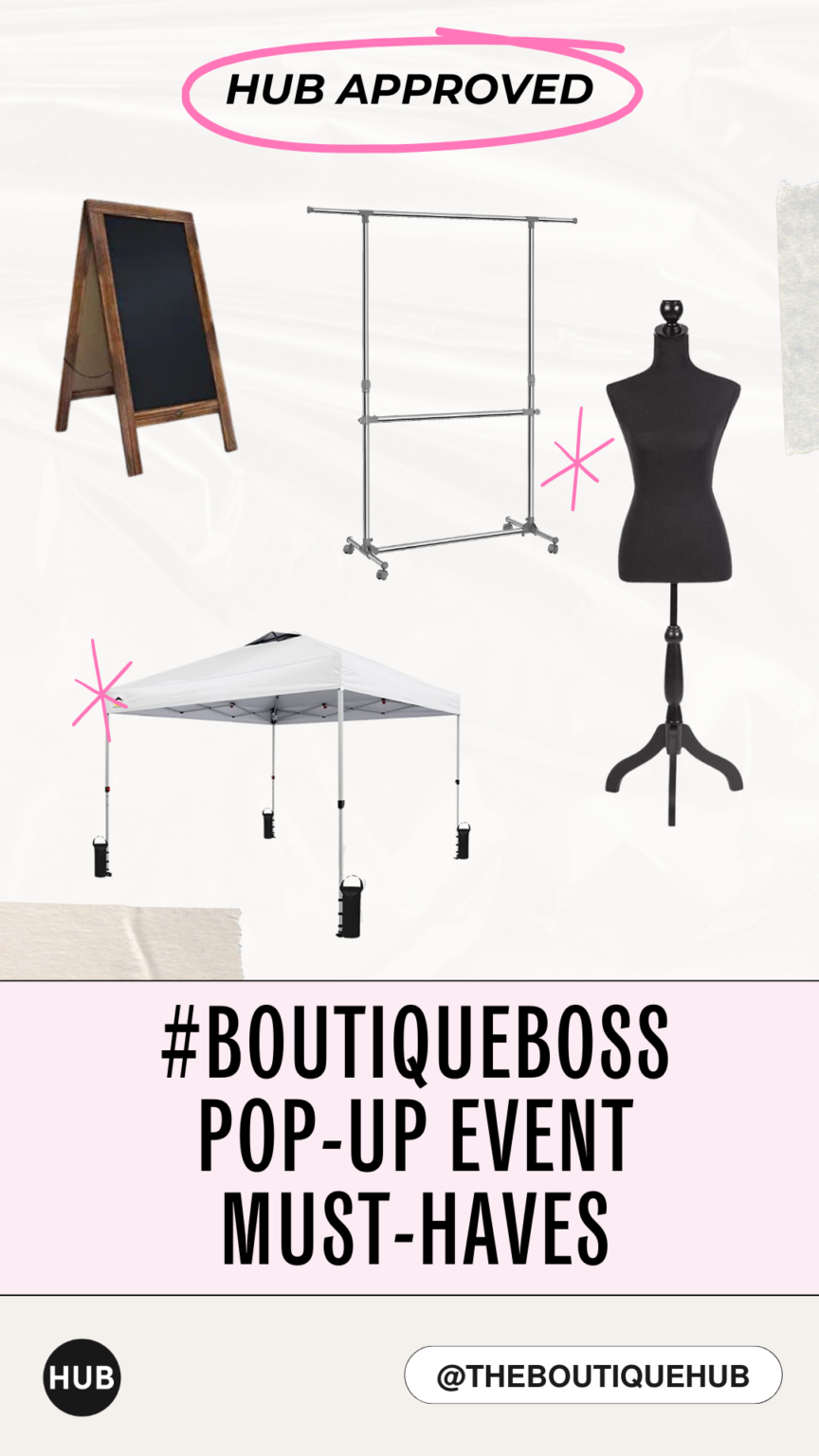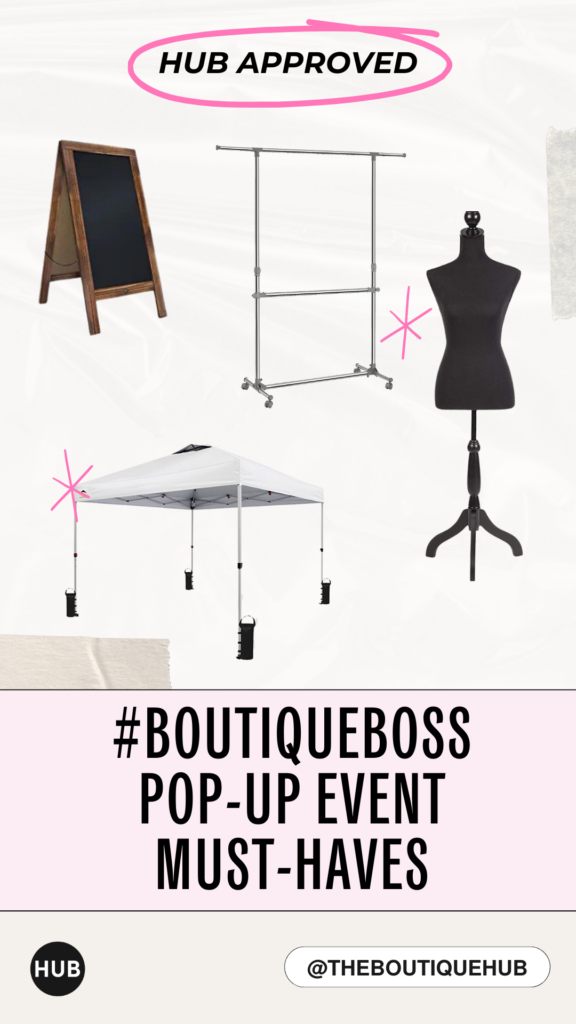 1. Canopy Tent: An outdoor pop-up event requires protection from the elements. A sturdy canopy tent provides shade on sunny days and shelter during unexpected rain showers.
2. Folding Table: Besides serving as your main display area, a folding table is handy for holding promotional materials, business cards, and small items for purchase.
3. Changing Tent: If you're hosting a fashion pop-up or selling apparel, a changing tent allows customers to try on clothes comfortably. Privacy and convenience can boost sales.
4. Clothing Rack: An additional clothing rack provides more hanging space for garments, ensuring your customers have easy access to browse through your clothing selection. You can either use a single bar or double bar clothing right.
5. Cash Box: Keeping your earnings secure is of utmost importance. A reliable cash box with a lock ensures that your money is safe throughout the event.
6. Business Card Holder: Networking and building connections are crucial in any business. A business card holder on your table allows visitors to take your contact information easily.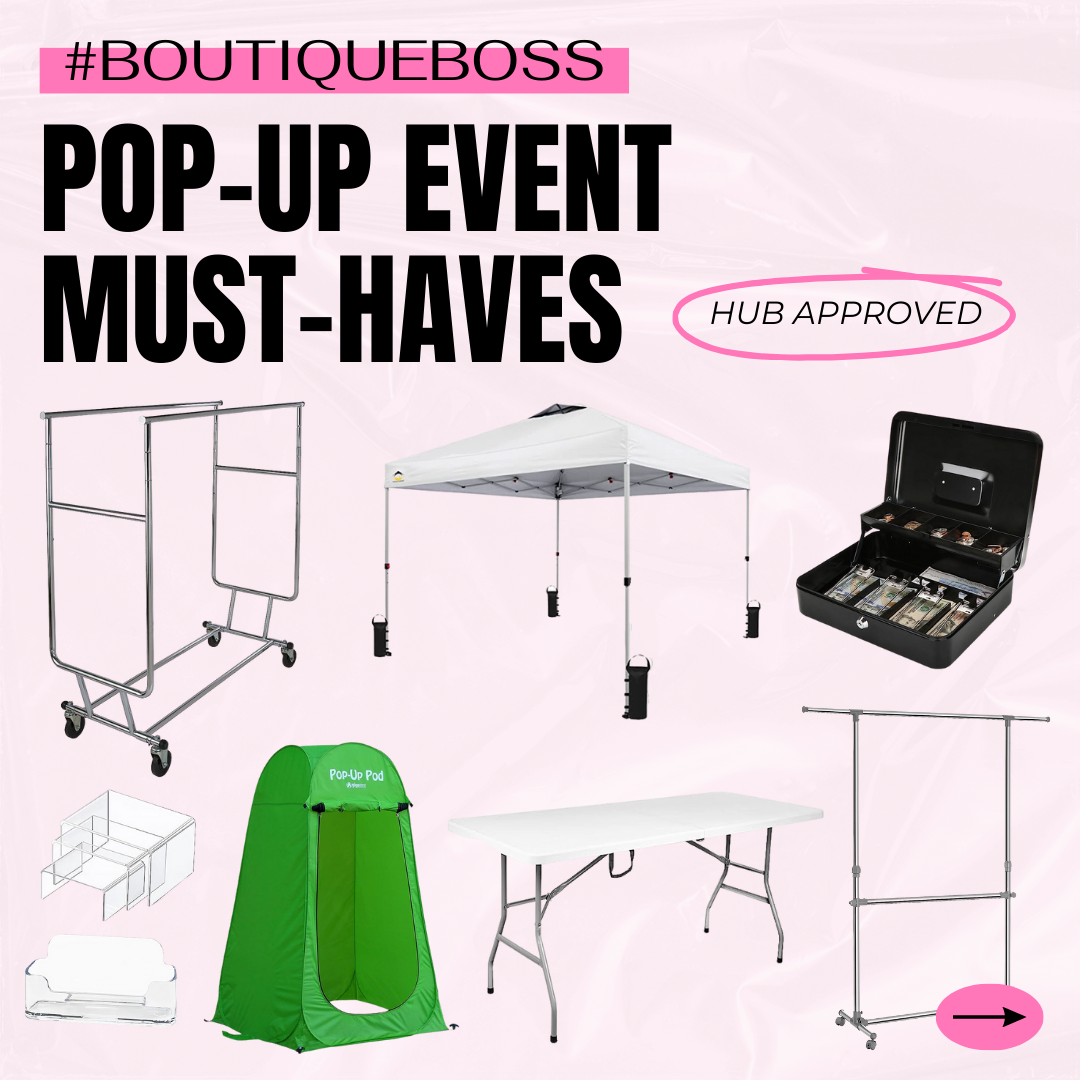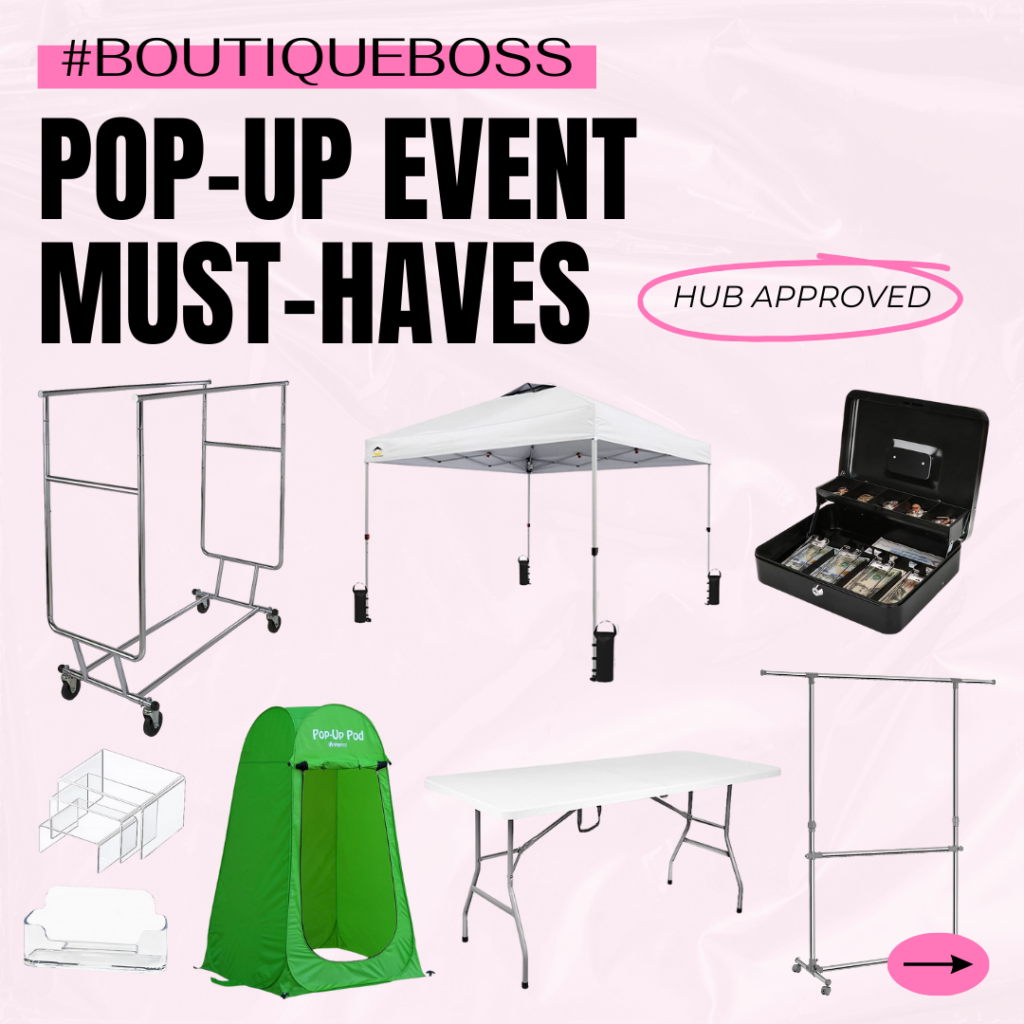 7. Display Shelf: A sturdy and attractive display shelf provides a perfect platform to showcase your products. Choose one that complements your brand aesthetics and is easy to assemble and disassemble for quick setup.
8. Table Cover: A professional-looking table cover can instantly elevate the overall appearance of your display area. Opt for a table cover that fits the event's theme and complements your brand colors.
9. Display Signs: Eye-catching display signs are essential for grabbing the attention of passersby and potential customers. They should be clear, concise, and reflect the brand or theme of your event. Consider using vibrant colors and bold fonts to make them stand out.
10. Drink Dispenser: If your pop-up event spans several hours, consider offering beverages to attendees. A stylish drink dispenser with refreshing drinks can keep visitors hydrated and happy.
11. Chalkboard Sign: A chalkboard sign is not only charming but also versatile. Use it to showcase daily specials, announce limited-time offers, or write personalized messages to engage with customers.
12. Mannequin: For clothing or fashion-related pop-up events, a mannequin can effectively showcase your apparel. Dress it up to display your latest collection or best-selling outfits.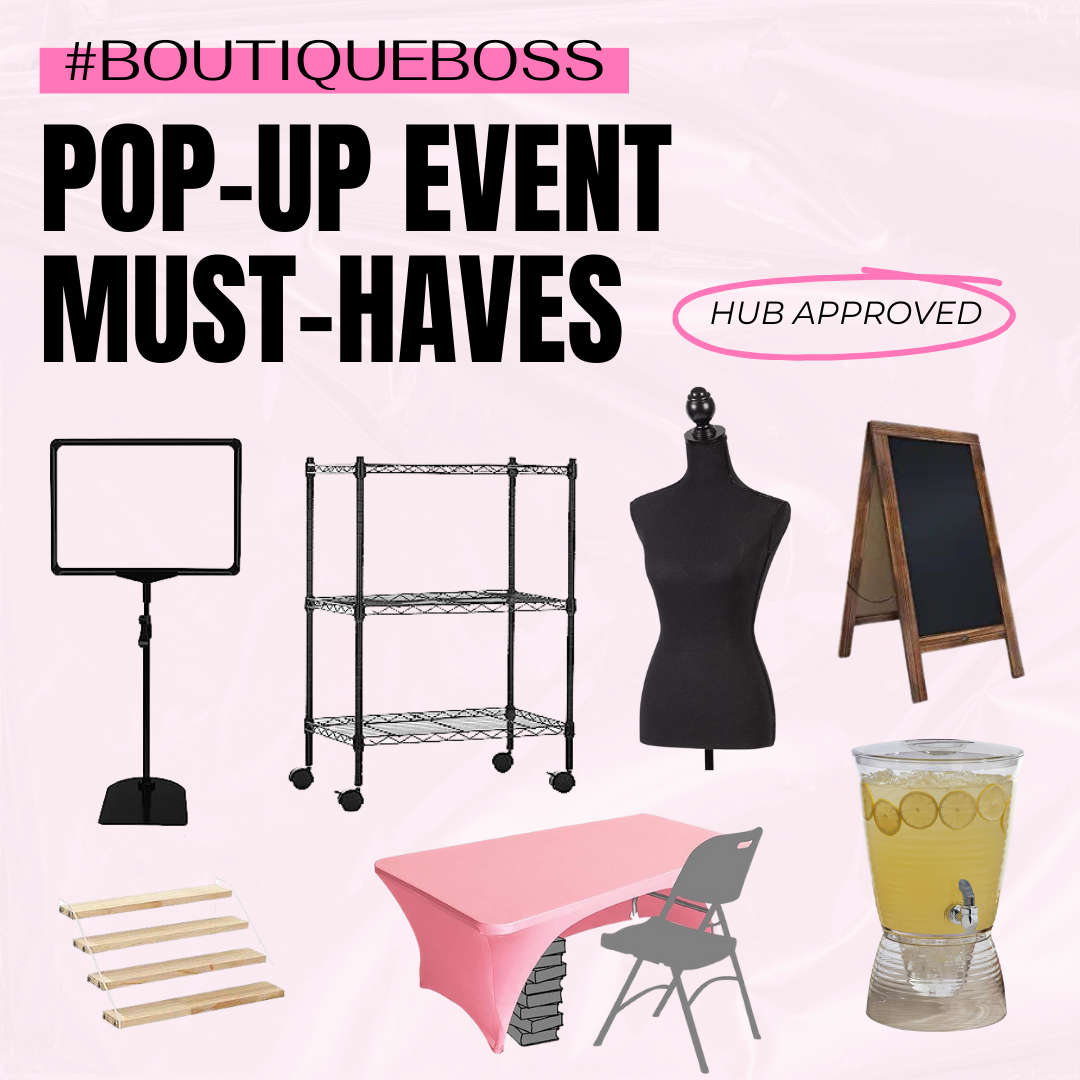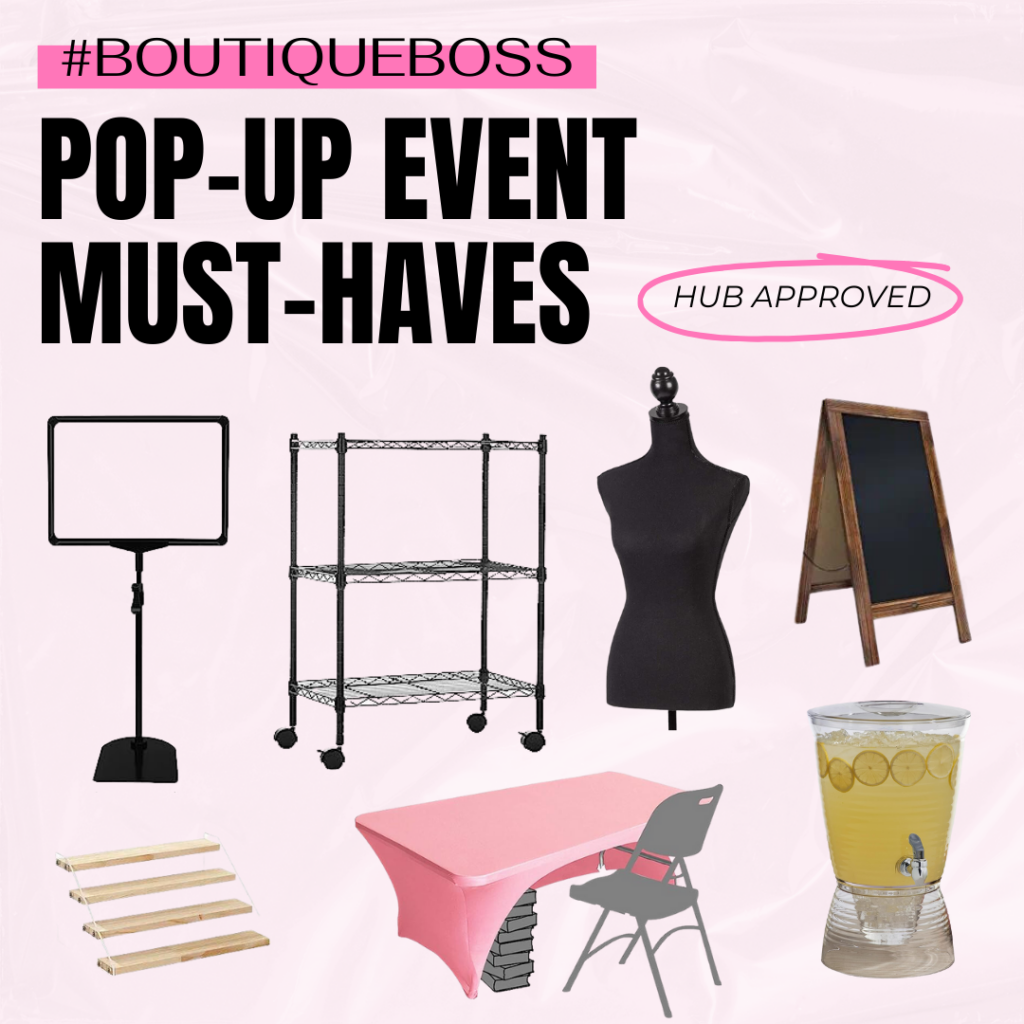 Remember, the success of your pop-up event doesn't solely rely on the products you display but also on how well you engage with your audience and create a memorable experience. Offer excellent customer service, create a welcoming atmosphere, and be prepared to answer questions about your products and brand.
Before your pop-up event, make a checklist of these must-have products and ensure they are in top-notch condition. A well-organized and visually appealing pop-up event will leave a lasting impression on your customers and potentially lead to long-term relationships and increased brand loyalty. So, set up your pop-up shop with these essentials and get ready to impress your visitors!
We hope you liked this blog on Must-Have Supplies for a Pop Up Event. Follow along on Instagram for more content!