Yes, you read that right! After a long work in progress, the Boutique Hub App is finally here! This is something our team has been working on for a while now, and we are so excited to finally be rolling out The Boutique Hub App as a new membership perk! 
The Boutique Hub App is now available to download for members on the App Store or the Google Play Store.
Let's get into all the amazing perks of The Boutique Hub app and why you'll want to download it – ASAP!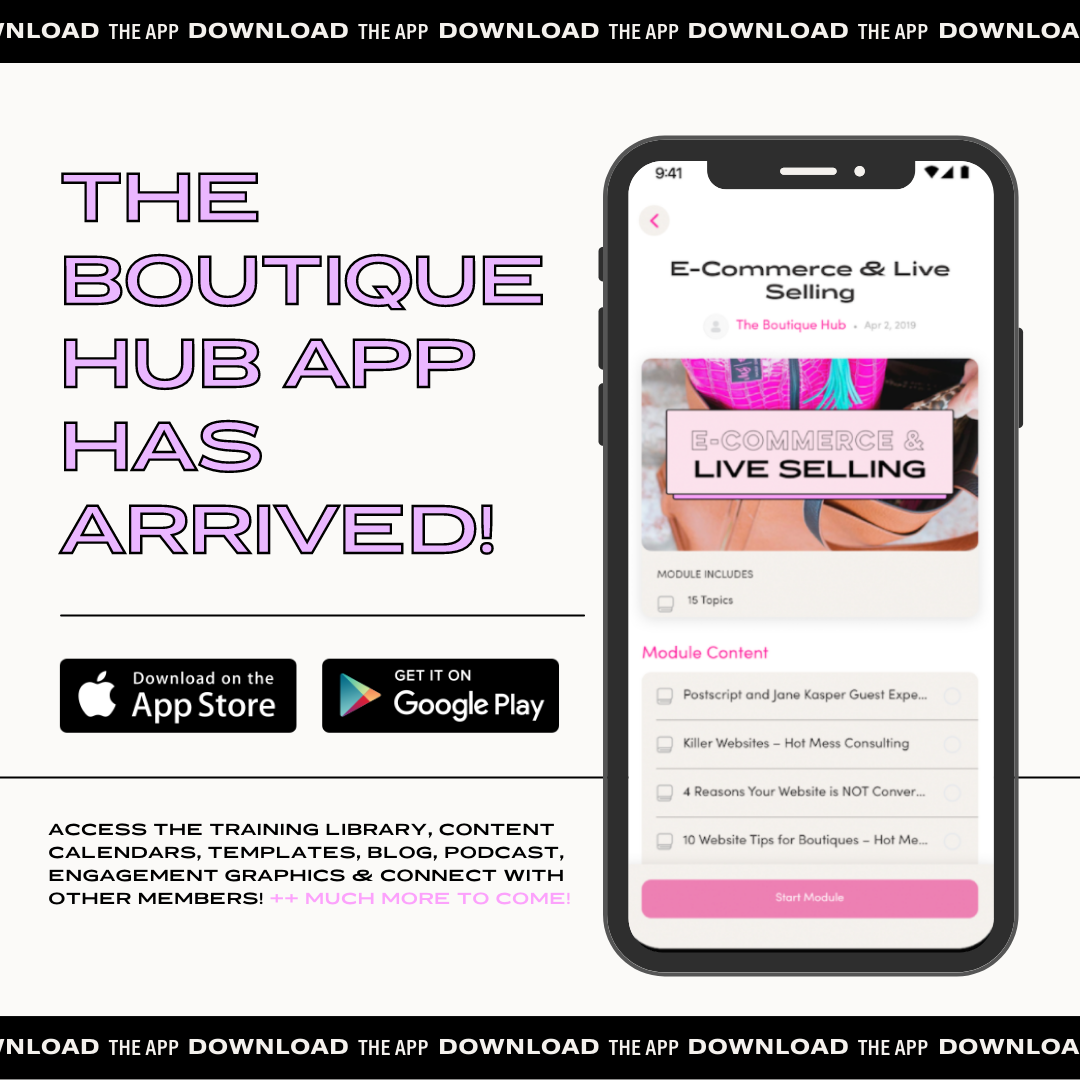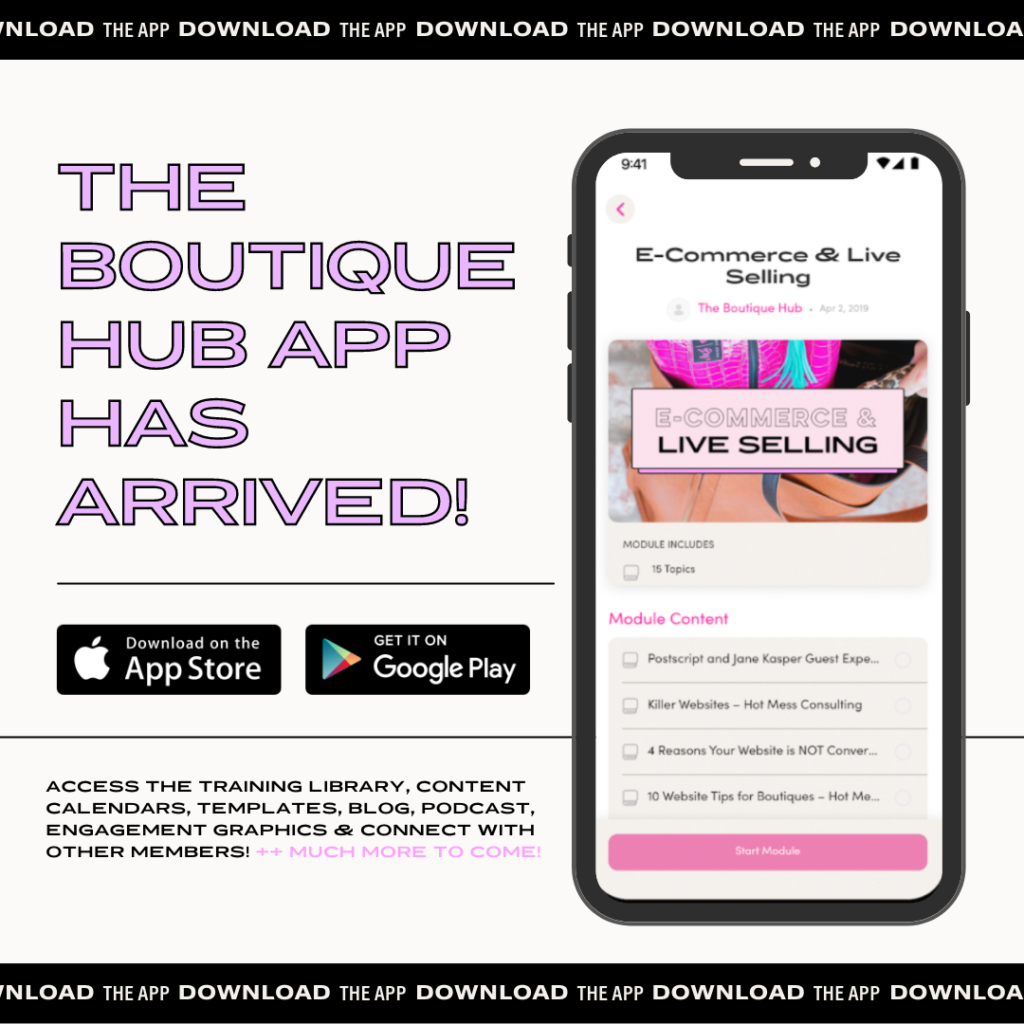 Getting Started
The Boutique Hub App is available for IOS and Android Devices on the App Store or the Google Play Store.  Once downloaded, members will be prompted to log in to their Hub account and will be taken to their membership dashboard. The app is currently a membership perk and is only available to Hub members.
App Perks
Once you are in the app, you will have instant access to a wealth of training, education and support, all at your fingertips! 
Training at your Fingertips! 

With access to your entire Hub dashboard, you'll be able to access the training library in seconds with whatever education you need, on the go! 

Easily Searchable Forums

No more scrolling through the group looking for an answer to your question. With our new Forum feature, you can simply search or ask a question and find answers from other Hub members or a Hub employee. 

Connection 

With The Boutique Hub App, members can create a personal profile to connect with fellow members. You will be able to create meaningful connections with in-app conversations, groups, threads, and categorized topics, so you can quickly find the answers you're looking for from fellow members.
Market Ease

Easily access our market Must-See lists while at market with vetted Hub brands and Hub exclusive discounts! 

All the Member Perks

Easily access your training library for expert business training, updated weekly. Benefit from monthly content calendars, engagement graphics, templates, downloads, blogs & podcasts.

NEW Daily Education via 60 Second Smarter Videos

Users will have access to a new educational video every day covering a range of topics from sales, finances, social media optimization, even travel hacks for market, and so much more – from vetted service providers, brands, industry experts, and members of our Hub team! Get smarter in only 60 seconds every day!  

Save Time 

We know that with an entrepreneur lifestyle, time is the one thing that there is never enough of! The Boutique Hub app saves time by allowing access at your fingertips, anytime, anywhere. You no longer need to pull out your laptop or scroll for hours looking for what you need. Improve your boutique and get valuable education on your phone! Waiting in line at the grocery store? Scroll through the Training Library! Waiting for school pick up? Search the Forums for the question that's been on your mind all day!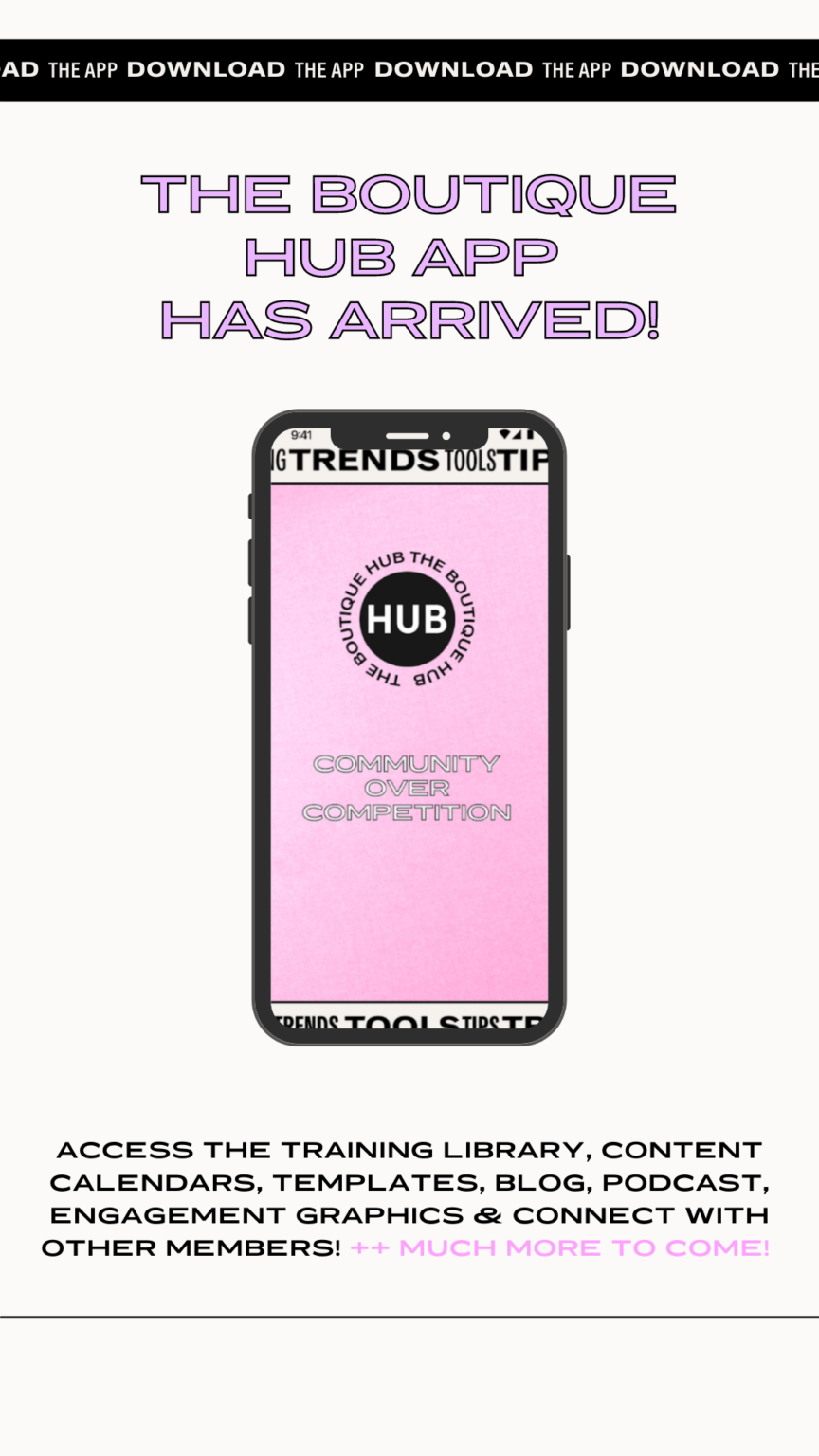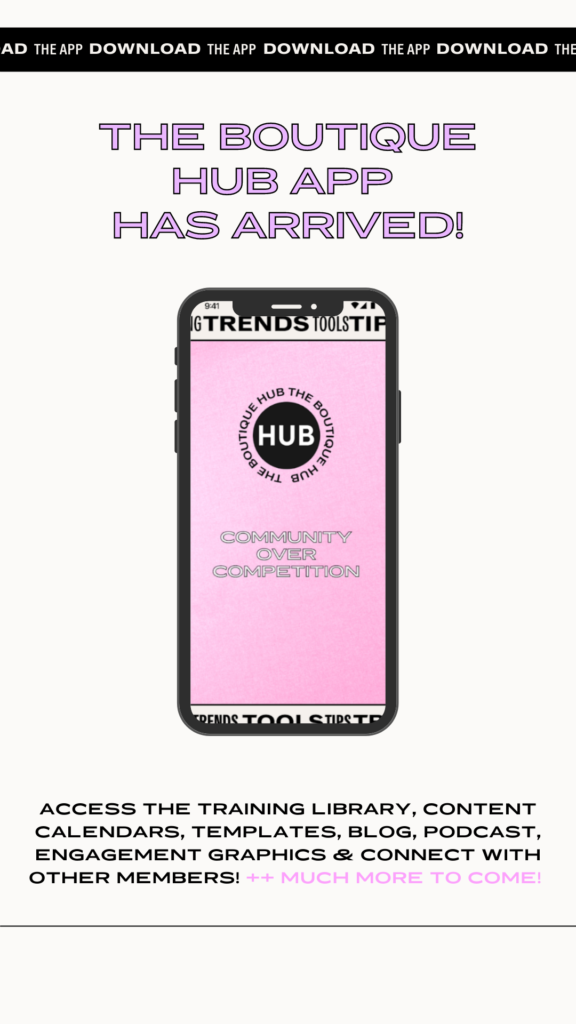 This app was made for our members, and that is why we made it as user friendly and accessible as possible. So, what are you waiting for? Download the app and let us know what you think!
Download The Boutique Hub app on the App Store or the Google Play Store.  
We hope you loved our article on The Boutique Hub App.
How else can The Boutique Hub help you grow? Get more information on growing your business by joining The Boutique Hub where we have tons of training, information, and most importantly, connection! www.theboutiquehub.com/join
Try out our service for a month, cancel anytime. Follow along on Instagram @theboutiquehub!