Neil Patel is arguably one of the greatest minds in digital marketing, and if you've ever searched online for eCommerce or SEO solutions, chances are you've run across one of his companies. A New York Times bestselling author, Neil was named a top influencer on the web by the Wall Street Journal and recognized as a top entrepreneur under the age of 30 by President Obama, among so much more.
He joins the show today to break down how to grow your email list, how to grow an affiliate marketing campaign, and how to make your SEO actually work for you. Listen in to learn what it takes to scale through paid ads, as well as how to get more exposure online. Grab a notebook and get ready to learn from Neil's incredible insight!
>>How To Grow Your eCommerce Store in 2022 – LISTEN NOW ON iTunes <<
>> How To Grow Your eCommerce Store in 2022 – LISTEN NOW ON Spotify <<
See the Full Boutique Chat Podcast Website here
Watch the interview on YouTube:
What You'll Learn From How To Grow Your eCommerce Store in 2022
---
Neil's advice for new eCommerce store owners.
How to make paid ads work for you.
Where the focus should be for established eCommerce owners.
How to get started with conversion optimization.
What the most common missed opportunities are for eCommerce stores.
How to optimize conversions on your homepage.
The importance of knowing—and improving—your page speed.
How to optimize your content and leverage keywords.
How to use backlinks to your advantage.
The SEO must-haves for 2022.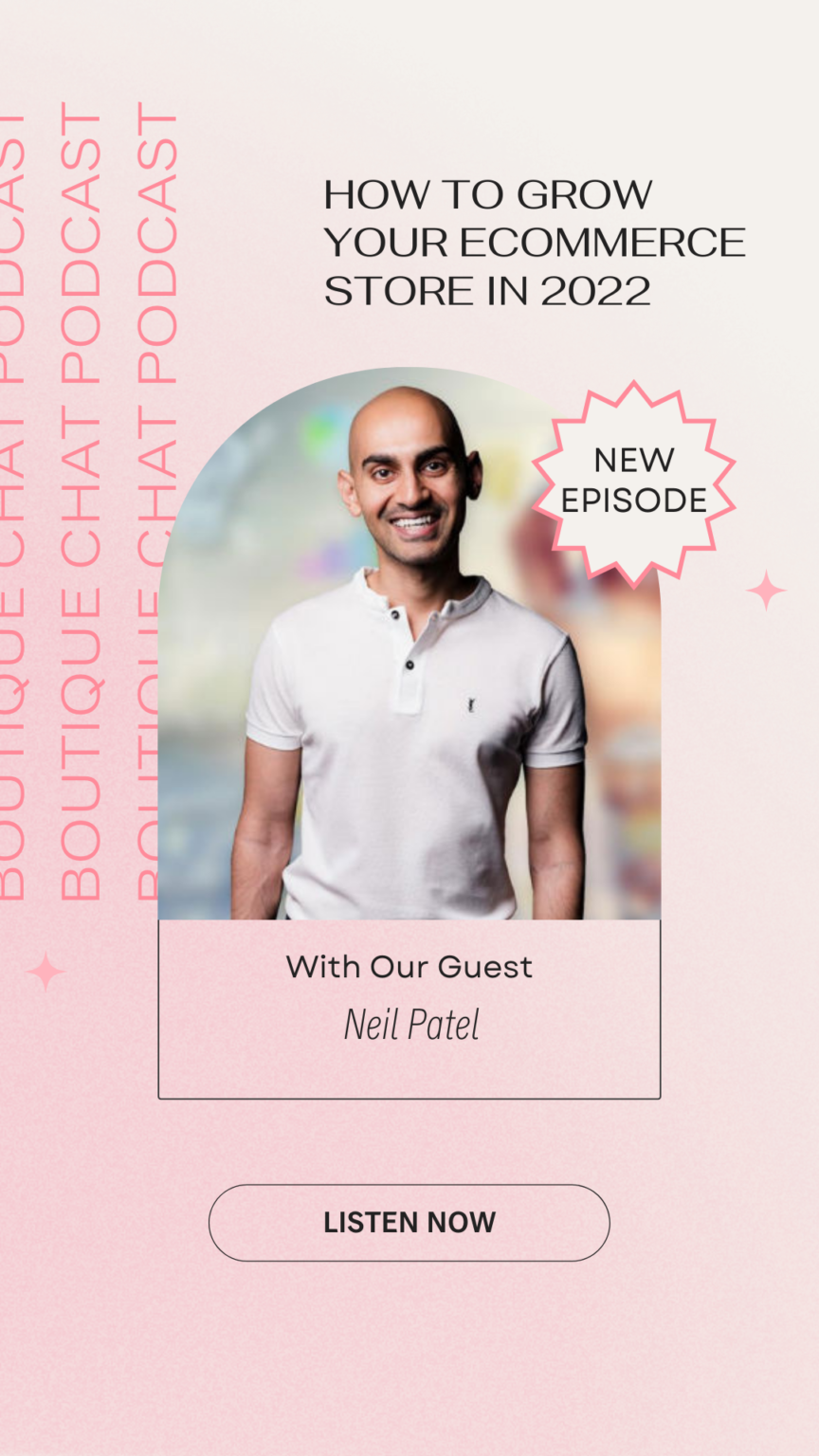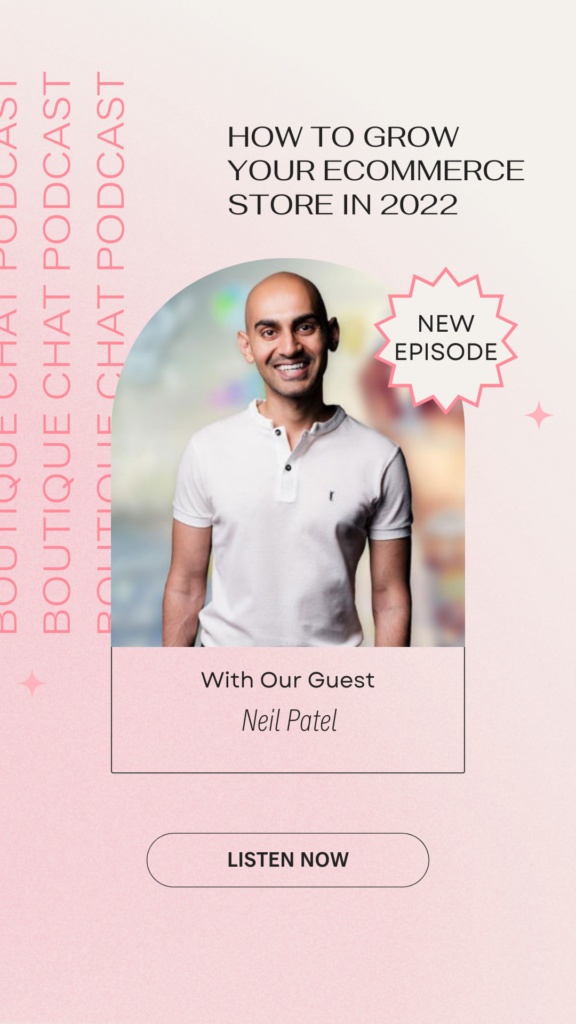 Favorite Quotes
"You should start with one channel, but don't end with one channel." – Neil Patel [3:00]
"We see most eCommerce stores do better on the paid side than they do on the organic side." – Neil Patel [4:40]
"Focus on one thing, get it right, and then expand and do another thing." – Neil Patel [13:05]
---
Resources Featured In This Episode:
---
Join the Hub for more training, information, and connections.
www.theboutiquehub.com/join
Use the hashtag #AskAshley on Instagram, or tag her at @ajalderson or @theboutiquehub to suggest topics for the podcast and let us know what you thought about this episode!
Do you love the Boutique Chat Podcast?! Subscribe to our podcast and after that, leave us a review on iTunes Apple Podcasts here!

Original Air Date: April 12th, 2022
Do you love the details of How To Grow Your eCommerce Store in 2022? Let us know what you think about our show and help spread the word about the #BoutiqueChat Podcast.
Recent Posts:
Why Sezzle Over Other "Buy Now, Pay Later" Options for Boutique Hub Merchants?

Welcome, Boutique Hub merchants! For over 5 years, Sezzle has been a trusted premier partner of Boutique Hub, serving as a secure and dependable solution for all your flexible financing requirements. Sezzle's payment platform provides a quick and easy way to enhance incremental revenue, attract new shoppers, and increase basket sizes by offering your shoppers an interest-free flexible way to pay. As a token of our continued appreciation and commitment to supporting Boutique Hub businesses, we are offering new merchants a special discounted processing rate. 

Holiday Season Playbook: 5 Pro Tips for Boutique Success

As boutique store owners, you understand the importance of gearing up for the retail extravaganza that is this entire holiday season. That's why we've curated a set of exclusive tips, tailor-made for boutique stores like yours. Whether you're a seasoned pro or diving into this season for the first time, our expert advice is here to empower you!

Boutique Owner's End of the Year Checklist

We are so excited to be bringing you some tips to make rolling into 2024 the smoothest transition yet! Here you will find our Boutique Owner's End of the Year Checklist, filled with info on taxes, inventory, and more!