The Boutique Owner Seminar for those headed to the next level. Digital tickets still available.
Less than 40 days until the start of the 2019 Boutique Summit…but who's counting? Well, we know Beth is counting (we're hoping to get her dancing on stage again).
Truth be told we're all doing a little countdown, and making our final preparations for the trip to Atlanta!

The Boutique Summit is the boutique fashion industry's biggest educational event of the year, connecting hundreds of growing retailers, wholesale brands, designers, and industry insiders to discover the latest in innovation, proven business, and marketing strategies, and to hear from our industries most inspiring leaders and dynamic speakers.
For the last two years, Summit's attendees have come from across the United States, and even internationally, to take part in our two-day boutique industry business conference!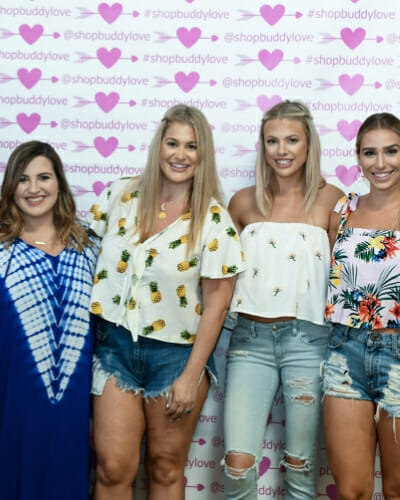 But what if you didn't get an in-person ticket?
This year tickets sold out in record time, beating last year's 30-hour mark by a long way. If you weren't able to snag a ticket fast enough, we've got ya covered!
We'll have a video crew on hand to bring you the full recordings of each speaker and break-out sessions– so you can watch in your sweats and messy bun (#winning).

Digital Ticket holders will receive a unique log-in, about 3-5 weeks after The Boutique Summit, with lifetime access so you can watch, and watch again!

As always, we're going to give you a little What to Wear–Boutique Summit breakdown.
For Monday and Tuesday during The Summit, the dress code is "boutique casual". You'll want to pack comfortable outfits since you'll be sitting most of the day, but don't let that stop you from letting your personal style shine! When it comes down to it, you are the best representation of your boutique and/or brand, and we want your Summit style to reflect that!
Tuesday evening's Banquet dress code is formal, so bring all your fancies! We wanted to give you all an opportunity to pull out those outfits that you don't get a chance to wear all that often and remind us of the beautiful, hard-working women we are!
Come as you feel most comfortable whether that's all out formal, or comfortable in your denim, we're ready to celebrate you all in high style!

As always, we couldn't pull this event off without our amazing Boutique Summit Partners!

Exclusive Partner:
CommentSold
Makeup Junkie Bags
MIA Shoes
FashionGo

Host Partner:
LULUSIMONSTUDIO
Hotline Hair Ties
Texas True Threads
Designer Arm Candy/Glamour Tees
ODDI Clothing
Staccato
Judy Blue Jeans

General Partner:
Streamline Retail
Jadelynn Brooke
LARA Fashion
Voyager's Dream
Bling-a-GoGo/Turquoise Haven
Hot Mess Consulting
Mixologie
Southern Bliss Co
LA Fashion Concepts
Dirty Bee Shop
Jewelinx
Petals & Pearls Handmade Jewelry
Andrea Sager LLC
Alex Carol Jewelry
Burlebo
Spirit with Style
A Better Retailer
Hawthorne Collection
Cinch It
Cuffed Up
Springboard Retail
Lenny & Eva
Lauren Lane Wholesale
PARC Packaging
Duck Dog Clothing
Chinese Laundry
Pinterest
Tres Bien
My Girl in LA

Swag Bag Partner:
Grace Layne
Hustle + Heart
Sezzle
Sentext Solutions

We can't wait to see you all in Atlanta!

If you want to stay up to date on the latest boutique owner seminars, make sure to check out these additional articles as well.