Episode #210: Dana Spinola, the founder of Fab'rik gives your host Ashley Alderson shares what it's really like building a boutique brand across nearly 50 stores, even through a recession. Using her WOW boutique customer service culture, Dana shares her heart & mission in a truly genuine and grounded nature. Get ready to talk burn out, growth and building a legacy you can be proud of.
>> EPISODE 210 – LISTEN NOW ON iTunes <<
Don't Have iTunes? Listen on Libsyn here
See the Full Boutique Chat Podcast Website here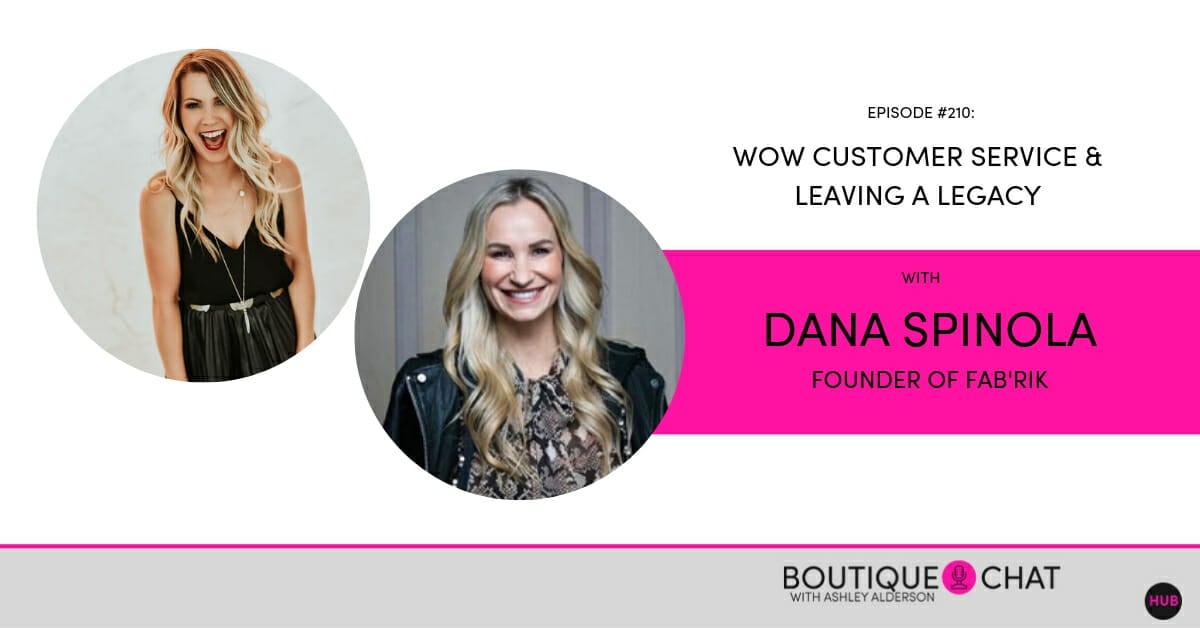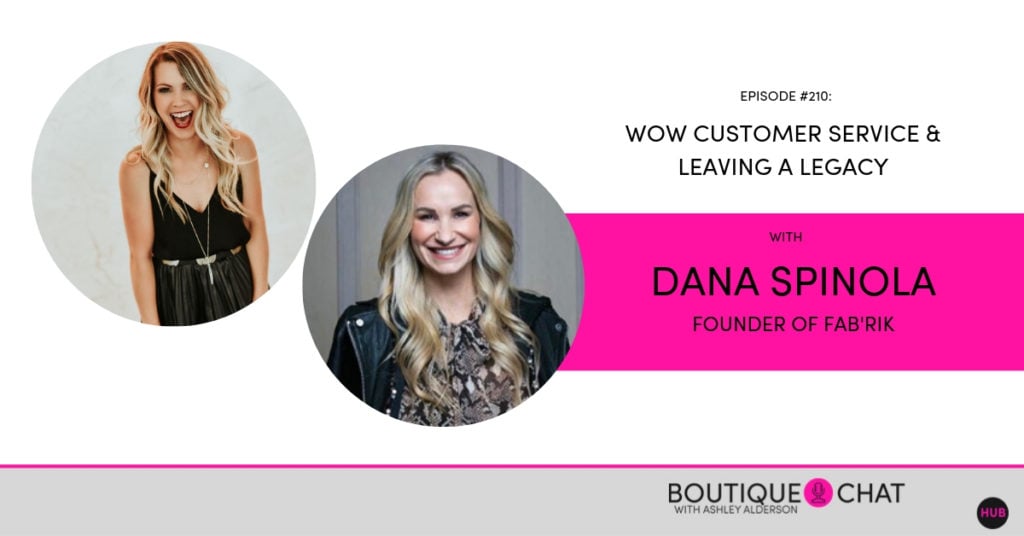 3 Key Points
---
Experience is first, that's all that matters in a boutique.
If you want a team to perform their best, you have to make sure they're whole too.
In any business, how you "wow" people is the biggest contributor to success.
Favorite Quotes:
---
"People want to feel like they're loved and Dana Spinola embodies the boutique mission." -Ashley
"My vision is to create a place where everyone can afford to feel beautiful." -Dana
"The investment isn't in the $900 item anymore, it's about trying things you would have never tried before." -Dana
"I'm more scared of doing nothing than doing the wrong thing." -Dana
Check out Dana Spinola's book Love What You Do: A plan for creating a life you love filled with passion and purpose
Follow Dana and Fab'rik on their site here, or any of their locations on Instagram.
FOR MORE ON THE BOUTIQUE HUB & BOUTIQUE CHAT
Join the Hub for more trainings, information, and connections.
www.theboutiquehub.com/join
Use the hashtag #AskAshley on Instagram, or tag her at @ajalderson or @theboutiquehubto suggest topics for the podcast and let us know what you thought about this episode!
Want to be our listener of the week? Subscribe if you love the show, then leave us a review on iTunes Apple Podcasts here!
Original Air Date: April 30, 2019
Love this episode? We would be so humbled to hear your review on Apple Podcasts or iTunes! Or, let us know below!
If you enjoyed this podcast about boutique customer service, make sure to listen to these as well.