One of the things that makes any boutique stand out among the rest is their taste for fashion showcased through the unique lines they carry. No matter how fancy a boutique's marketing campaign may be, at the end of the day, shoppers still have to love the merchandise! Through our Designer Discovery features, we hand pick a few of our favorite wholesale lines to help you discover popular new merchandise that might be a great fit for your boutique and customers!
We love long, layering necklaces and sassy bangles – so fittingly, we're excited to introduce you to Pink Panache Jewelry!
Perfect for the woman who doesn't mind a little extra attention when she walks in the room, this unique line is hand-crafted in Texas and started as a hobby for sisters DeeDee Plank and Noelle Plank Salmon. Soon, they found out that their unique designs were in demand far beyond their loyal friends and family, and began a bustling wholesale company which now provides merchandise to some of the largest and most popular boutiques across the country!
We got to visit with Noelle and DeeDee of Pink Panache about the line, as well as what makes the brand so unique.
TBH: Tell us about the woman who wears or buys your jewelry.  

PP: Young women to gracefully-aged women buy and wear Pink Panache to set themselves apart and add an unique dash of flair to their wardrobe, whether dressing up or down.
TBH: If you could describe your brand in 3-4 words, what would it be? 
PP: Unique, tastefully gaudy, artisan.
TBH: What do boutiques & shoppers seem to love most about your brand, and what pieces have been your best sellers?  
PP: Our product is appealing to a wide age range; it has a unique look and is handmade in Texas. Our open teardrop earrings and giant cross earrings continue to be top sellers for their distinct look while being lightweight. A bold look without the pain!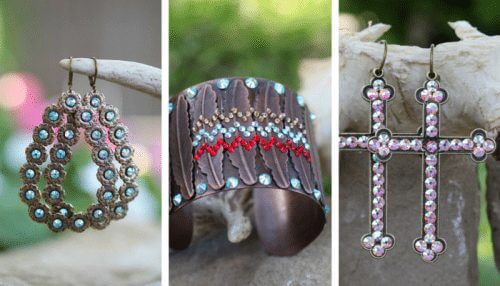 TBH: Who are your style icons and where do you get your inspiration?  
PP: Bold women who are at ease with themselves and don't follow the crowd when it comes to their style. Old school – Sophia Loren or Ali MacGraw; new school – Miranda Lambert or Jessica Simpson.
TBH: Trends you love? 
PP: The return to 80's tattered jeans (only this go around they fit better!) Wearing cowboy boots for any and all occasions, no matter your geography. The chic mixing and layering lots of blingy necklaces with chains and beads.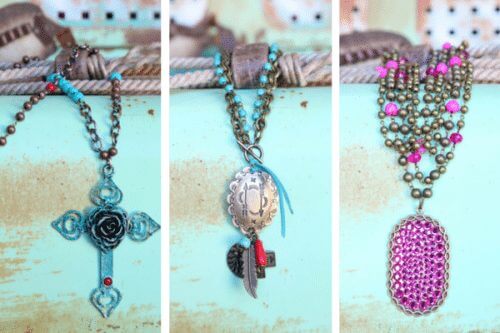 A few of our favorite boutiques carry your lines already, like The Lace Cactus and Giddy Up Glamor. Tell us more about how boutique owners can work with you!
TBH: What markets do you attend where boutiques can see your line?  Do you also offer them wholesale orders online at any time?     
PP: Pink Panache can be found at all 8 market dates at the Dallas Market Center in a permanent showroom, as well as the 2 dates for Western Market in a temporary booth. We also show at the Denver WESA markets in January and September and can be found at WWD Magic in Las Vegas as of February 2015. Pink Panache is set to launch the wholesale shopping side of the website very soon.
TBH: Do you send samples if a boutique owner can't make it to market?  
PP: We have a lookbook/linesheet we send out to customers and interested boutiques.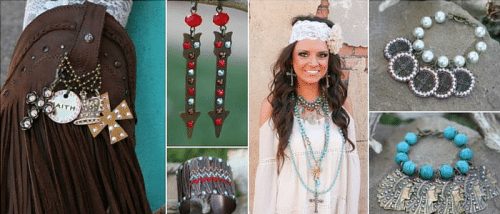 TBH: What are your typical minimum order requirements?  
PP: $500 opening order and $200 re-order
TBH: What is your retailer return policy? 
PP: We allow for exchanges and repairs – we believe in standing behind our product.
TBH: How has the response been from new boutiques carrying Pink Panache?
PP: Our customers tell us they love getting in a shipment and barely have the pink tissue unwrapped before things start flying out the door!
TBH: DeeDee and Noelle, it was fabulous to catch up with you! Thanks for sharing your beautiful brand with us!
If you would like to see more Pink Panache, follow them here on Facebook, Twitter, Instagram or check out their company website.  You can also email the ladies for more information here.
Would you like to hear about more popular boutique brands? Let us know in the comments and be sure to grab a copy of our Boutique2Boutique e-news!
Until next time,
The Ladies at The Boutique Hub, XO