With Amy Harper, Vice President of Marketing, Apparel & Accessories at DMC we will show you exactly how get the most out of your next apparel market.
>> EPISODE 228– LISTEN NOW ON iTunes <<
Don't Have iTunes? Listen on Libsyn here
See the Full Boutique Chat Podcast Website here
Today Amy Harper, Vice President of Marketing, Apparel & Accessories at Dallas Market Center, joins us for 5 Tips for attending apparel markets + how to maximize your market experience. Amy gives us some amazing tips on going to market, whether it's your first time or you are a veteran market buyer!
She gives us valuable information on why going market is so important, how to plan your time at the market, what to expect at Dallas Market Center this October, upcoming trends, and soo much more. The lovely and bubbly Amy will keep you all ears in this episode, so bring along your notepad and pen!

Plus, want to enter our joint GIVEAWAY to win:
– Accommodations at the upcoming Dallas Market of your choice?
– BoutiqueBoss Swag Bundle
– FREE Holiday Marketing Masterclass training from the Hub

Until October 18th, enter our fun giveaway to get you set up for the 4th quarter! ENTER HERE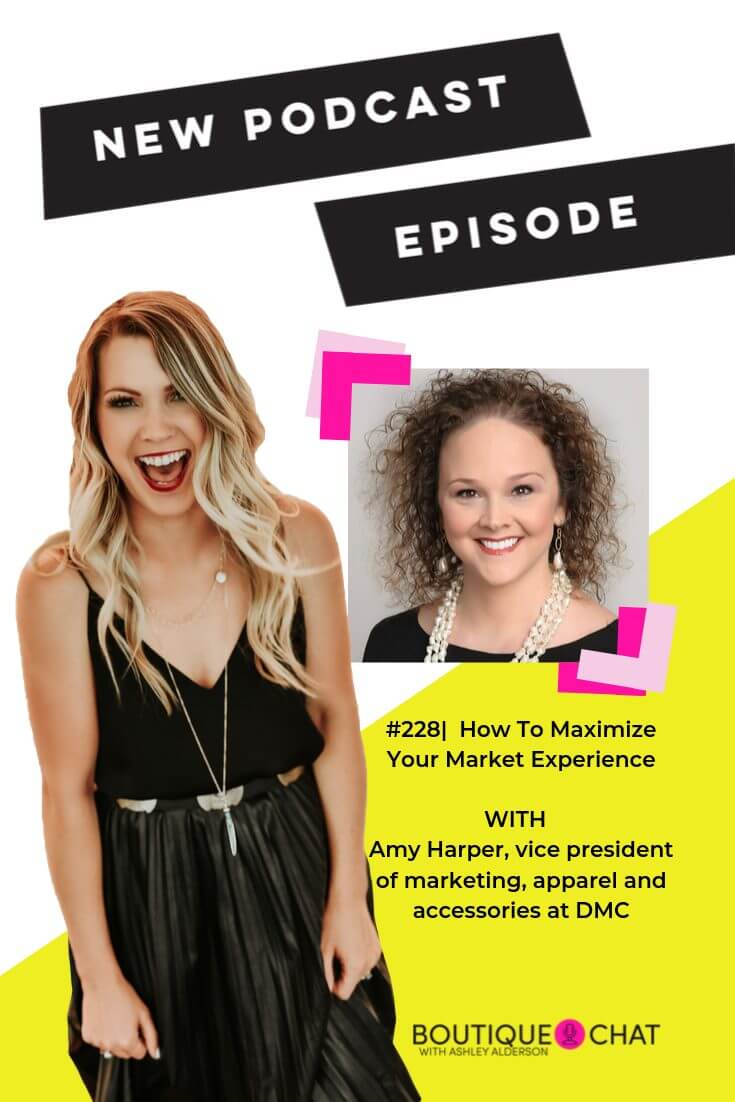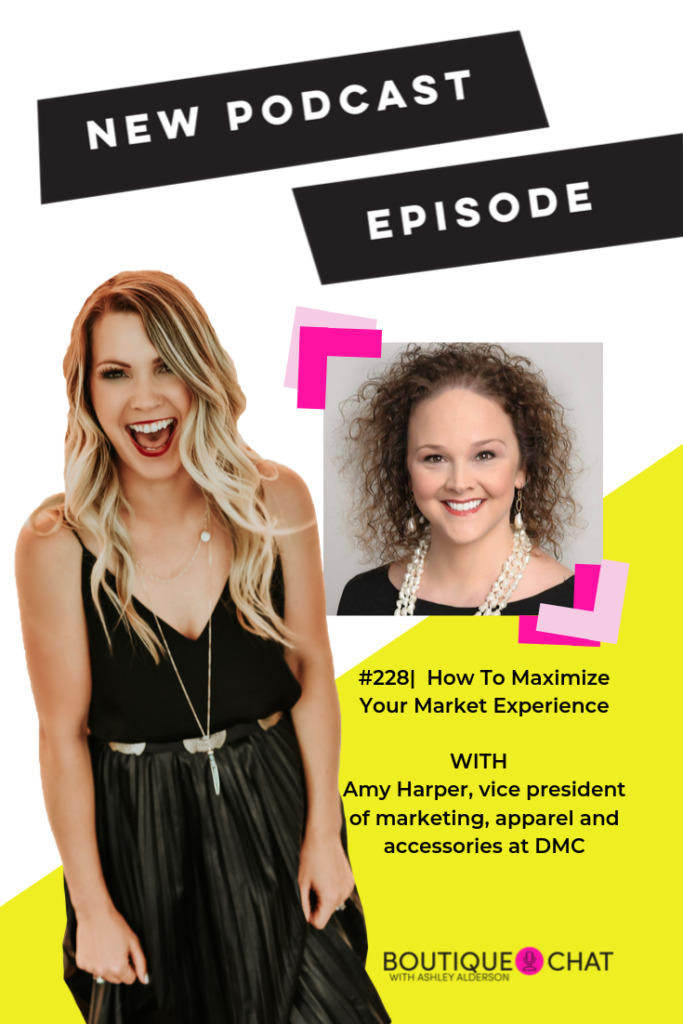 KEY POINTS:
---
Do your homework before market. Get familiar with the space your about to enter and have a buying plan that's going to best accommodate you.
Stay on schedule. Market is full of excitement and opportunities, so don't miss out because of losing track of your time. (bring along a buying buddy to keep you accountable!)
Venders have your best interest. They hold so much valuable information that will help sell the product at full capacity.
FAVORITE QUOTES:
---
"Buyers must know their consumers in order to translate trends." -Amy

"Venders want you to be successful, they want to create a win-win partnership over time, so it's important to get the layout of the land and buy right, not just buying the first, prettiest thing you see." -Ashley

"The excitement you get at market is being brought back to your staff and the store. It's a great way to get your team inspired…in this day age we have to work really hard to inspire each other and that support system is really found at market."-Amy
---
5 Tips for Attending Wholesale Markets as a Boutique Owner
1. Make time to explore what is only available at this market.
Day one is all about getting the lay of the land. What floors house what categories? Take your time to explore new brands, showrooms, and opportunities that are only available at market while you're there. If this is your first time, do this on day one, take photos, make notes and come back ready to buy on day 2. If you are a seasoned vet, you may flip your schedule and buy with your tried and true vendors on day one, and take time to explore what new brands and services this Market has to offer on day 2.

2. Come with a buying plan.
A buying plan is not a generic number you're willing to dump on your credit card. A buying plan is a careful consideration of what product categories are turning best in your store during the season you're buying for. Is that graphic tees, blouses or outerwear vs just 'tops'? Of these categories, how much will your budget to buy for the upcoming season based on what you currently have on hand that is fresh, or what is aged and needs to take a markdown to move out? Know that you have so many SKU's to fill in each category and a dollar amount in mind to fill your plan.

3. Know your terms.
Come with a sticker or card pre-made with your store address to ship to, contact details, cancel dates and any other relevant information for vendors so you aren't spending time handwriting everything. Ask your vendors about ship dates and place a firm cancel date for shipments passing your window of opportunity to sell purchased items. You don't want shorts arriving at the end of August if you're from the midwest.

4. Treat your vendors as you want to be treated.
Wholesale relationships are win-win partnerships. Take the time to build relationships with vendors that will last you over the years. Just as a boutique owner you don't want difficult customers, neither do vendors. The more you have relationships with vendors, the better chance you have for re-cuts and notifications, better terms and the first look at new samples.

5. Take notes and follow up.
You will see so much at Market, from inspiration, merchandising, product ideas and business education, which will overwhelm you. Take great notes on ideas that spark, inspiration photos you see and know just where to use them later, to how to market and sell the new product line you just bought. If you fail to educate your sales team on WHY that new line is special, they will have no way to pass that on to your customers. Don't let great product education or inspiration die with you— take notes, make videos and pass this along to your team. You'll also see some vendors you won't get time to order with. Grab their card, snap a photo and follow up after Market.

Now that you've got these awesome tips, you need a chance to put them to use—and we're going to help make that happen for you!

We've partnered with our great friends at Dallas Market Center, to give one lucky winner a Dallas Market Center Travel Voucher for a three-night stay, valued at $650! This travel voucher can be put to use at either the October Dallas Apparel and Accessories Market (October 22-25, 2019), or the January Dallas Apparel and Accessories Market (January 14-18, 2020).

Follow this link, fill out three questions, and you'll be entered to win!

FOR MORE ON THE BOUTIQUE HUB & BOUTIQUE CHAT
Join the Hub for more training, information, and connections.
www.theboutiquehub.com/join

FOLLOW DALLAS MARKET CENTER
On their website
On Facebook
Use the hashtag #AskAshley on Instagram, or tag her at @ajalderson or @theboutiquehubto suggest topics for the podcast and let us know what you thought about this episode!
Want to be our listener of the week? Subscribe if you love the show, then leave us a review on iTunes Apple Podcasts here!
Original Air Date: October 8th, 2019
Love this episode? We would be so humbled to hear your review on Apple Podcasts or iTunes! Or, let us know below!
Want more boutique business tips to your inbox? Get on this list with 10,000+ industry insiders.