A huge part of the western culture and fashion is about the good ole days.  Worn-out spurs decorate houses, grandma's dated recipes regularly make the menu for dinners, stories of "the olden times" flood the ears of younger generations, and vintage clothing will never go out of style.  Classic pieces are a staple that all women should include in their closets, but that's easier said than done.  I get asked a lot about where a particular dress or accessory I wear was found, and often times it's an older piece that can't be replicated.  Scaling the thrift stores and pawn shops allows you to stand out with unique, one-of-a-kind style.  I'm always looking for how to be different from everyone else, and antique clothing allows me to do that!  I love my vintage hats, skirts, and vests, but they have taken a lot of time and patience to search for.  Finding those once-in-a-lifetime vintage boots is a little more difficult than people understand at times.  However, sometimes the longer the hunt is, the sweeter the reward.
The first secret to shopping vintage is accepting that you may have to spend three hours digging through piles of second-hand clothes to find one single item.  I have an amazing floral pearl snap that's straight out of the sixties, but it took me months of searching online to find one that was just what I wanted for the right price.  As long as you don't mind the time and energy required, you can discover some amazing things!  The second tip I have is to understand how sizing has differed over the years.  Everything was more slender cut back in those times, so remember to always try it on if you have that option.  If not, look for specific measurements on the garment.  Finally, when shopping online at middleman sites, make sure to cover yourself.  Scams are everywhere and if it looks too good to be true, it most likely is.  No one sells a genuine Navajo squash blossom for $40.  Make sure to do ample research, and don't be afraid to contact the seller directly with any questions you have.  Sometimes something as simple as asking for another picture can save you from getting cheated.    
Check out some of the neat vintage examples below and how to style them!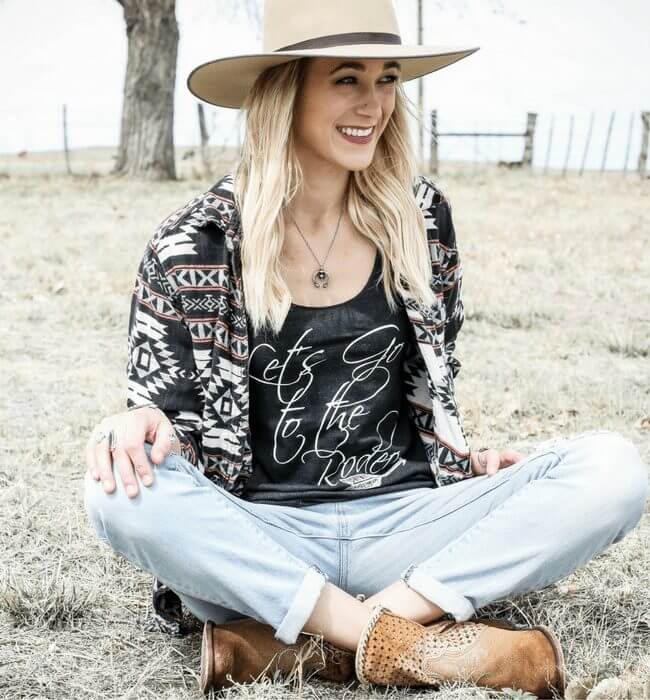 This shirt is one of my go-to's!  Worn tied up with shorts, or over a cute tank paired with boyfriend jeans, it's the perfect compliment.
Let's Go to the Rodeo Tank – $29.00
Redford Ranch Style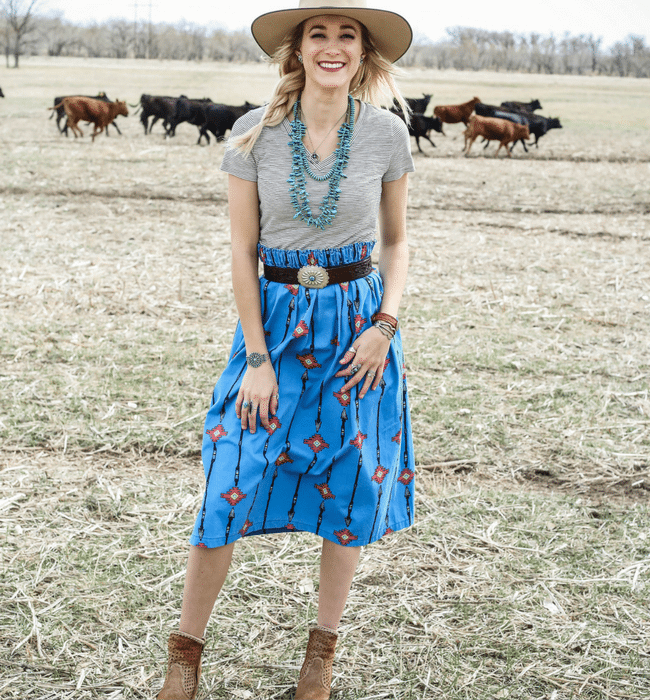 This handmade skirt with vintage fabric is one of those pieces you never let leave your closet.  Style it with a cute tee, or throw a blazer over it to dress it up.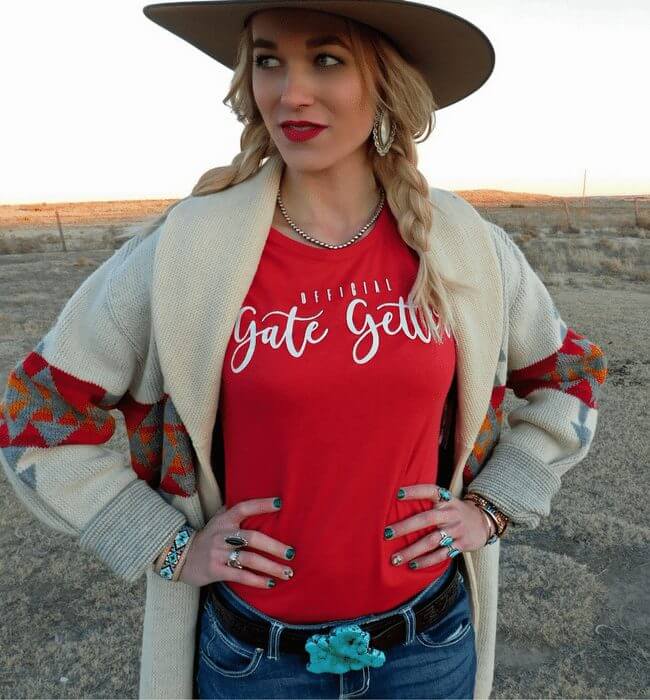 You can't ever go wrong with Pendleton.  This beauty just keeps getting better with age and I like to pair it with a cute tee or blouse.
Official Gate Getter Tee
Redford Ranch Style

I found this wool mustard skirt at a thrift store for three bucks and always get compliments on it.  I almost didn't grab it when I found it!  Looking back I'm so glad I did because I wear it all the time.  The skirt speaks for itself; style bold pieces with more subtle ones, like this simple, patterned button-up.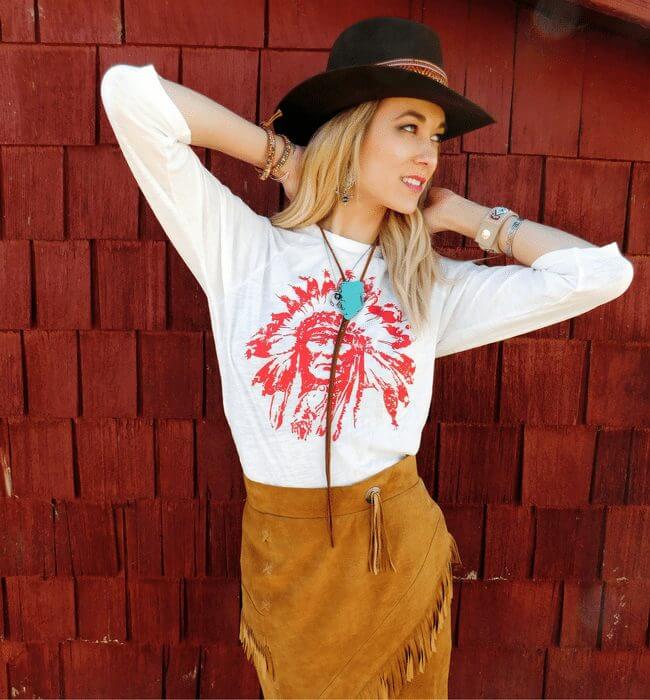 Skirts are seriously underrated in my opinion; you can find me in vintage ones paired with cute graphic tees all summer!
Red Indian ¾ Top
Redford Ranch Style
I hope this inspired you to go out and search for those unique vintage pieces to compliment all your boutique-wear.  Catch me next month right here, where I'll be talking about the history of the squash blossom.  Before then, you can get into the other blogs from my fellow style team girls!  As always, be blessed! -Meghan
Want more style stories?
Make sure you're on our VIP list of insiders who hear it first and are treated to 20+ boutique coupons when they sign up or hop into our Facebook Group, Shop The Best Boutiques anytime to hear style tips, must-see trends, deals and shop our threads by product type from hundreds of boutiques in one place. See you there babe!