What It Is and Why You Should be Part of It
Welcome to Hubventory!
Built on the foundations of COMMUNITY over COMPETITION, we are the online wholesale marketplace built by our industry, for the industry!

Since 2013 at The Boutique Hub, we've intimately served boutique retailers and wholesale brands, always leading with the tools, education and resources most impactful to your business. And that's why we took the leap to create Hubventory! To build a marketplace with the tools, pricing and creative heart that we knew would impact your future most.
Hubventory was created by The Boutique Hub, the most trusted community in independent retail.
When you shop or sell on Hubventory, you not only access a wholesale marketplace but also:
Weekly live expert business training
Vast training library on wholesale & retail business topics
Member perks, pricing & discounts on many tools used daily
Live events, business conferences, LA tours & tradeshow meet ups
A welcoming community to collaborate with daily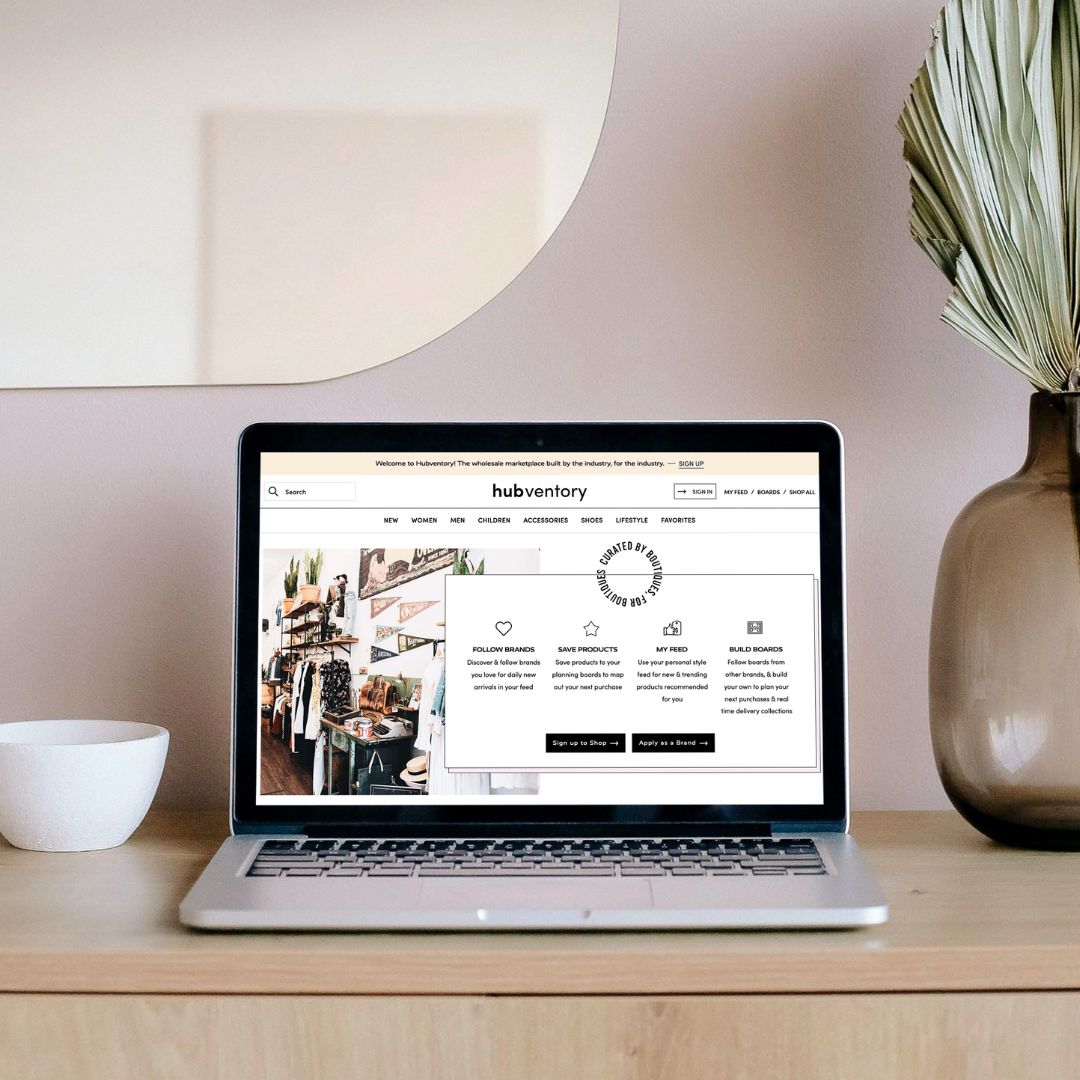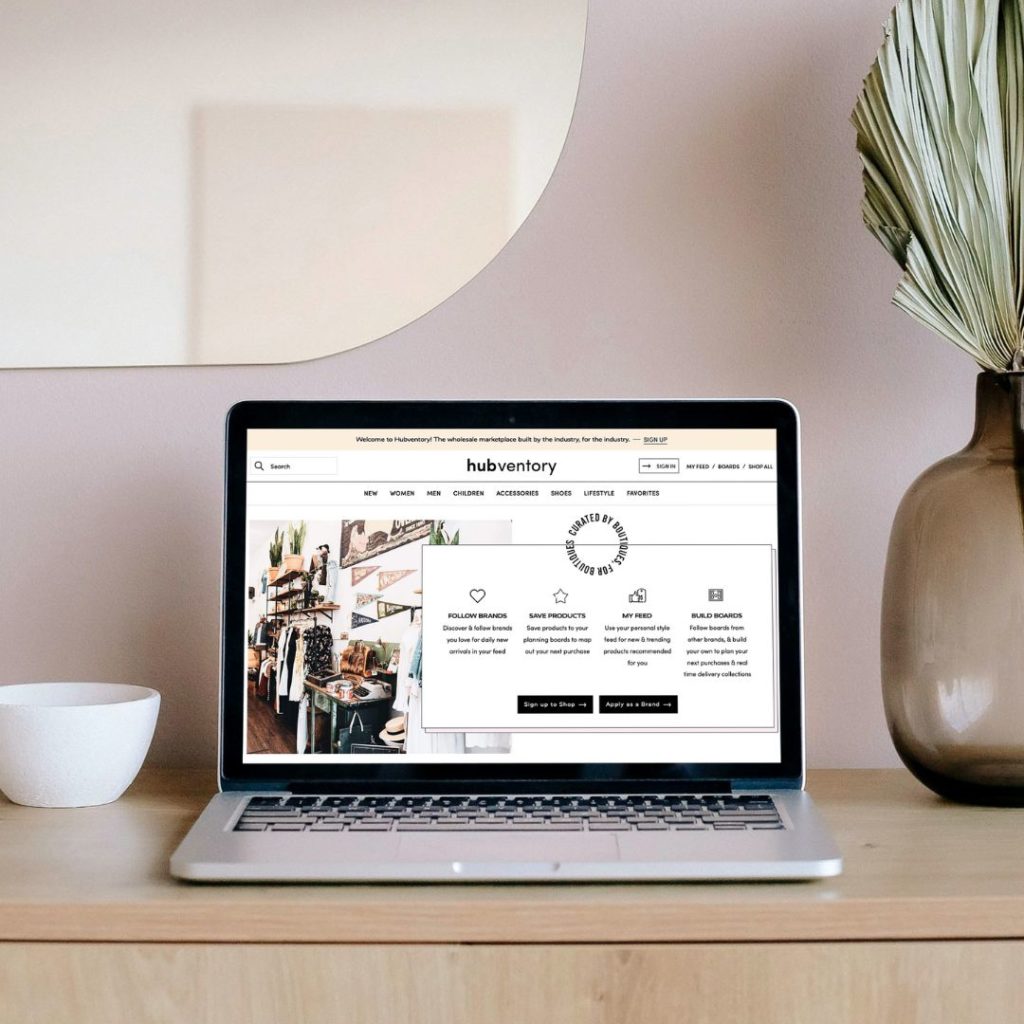 Retailers Shopping On Hubventory: How We Support Retailers
Hubventory is wholesale shopping that was built by the industry, for the industry.
Curated & Trusted
Thousands of brands boutiques retailers love, curated for you in a personal product feed
Creative Inventory Planning
Planning boards, Inspiration boards, & delivery calendars built with business in mind
Smart Integrations
Easy inventory sync for both brands & retailers with Shopify & soon, Comment Sold
Member Perks
Special member pricing, perks, trusted community, education, & live events
Business Tools Built In
Buyer education, content & inventory planning, live training & smarter buying for your business, long term
How does Shopping on Hubventory Work For Boutique Owners?
Follow Brands (Heart icon)

Discover & follow brands you love for daily new arrivals in your feed

Save Products (STAR icon)

Save products to your planning boards to map out your next purchase

My Feed

Use your personal style feed for new & trending products recommended for you

Build Boards

Follow boards from other brands, & build your own to plan your next purchases & real time delivery collections
How Boutiques can effectively plan inventory with Hubventory
1. You can discover & shop in 4 ways on Hubventory:
1. By products
2. By brand
3. By personal style
4. By inventory planning boards
2. 'FOLLOW' the brands that fit your business best for a personalized feed of new arrivals and suggested products from brands you love daily on your homepage.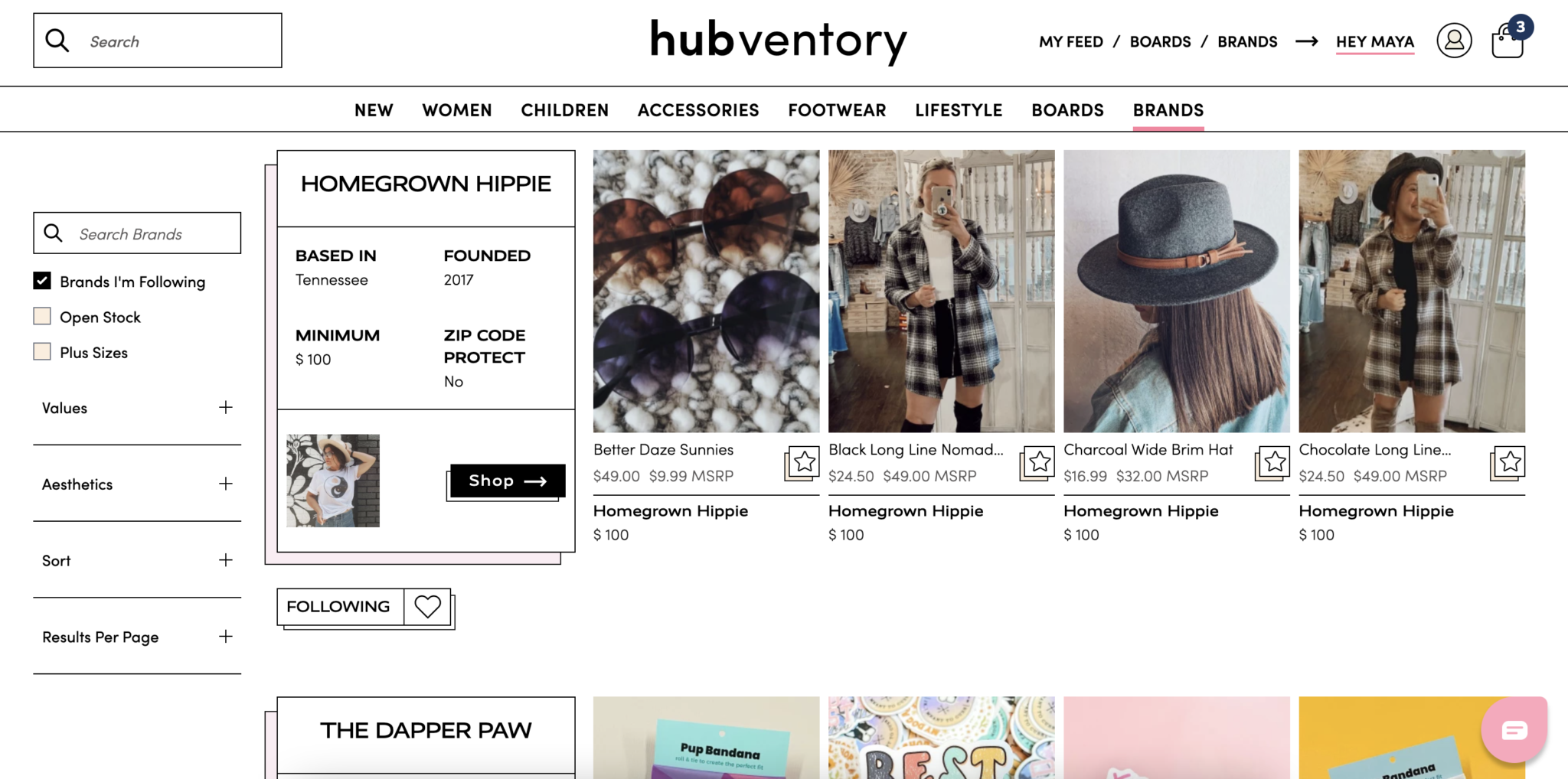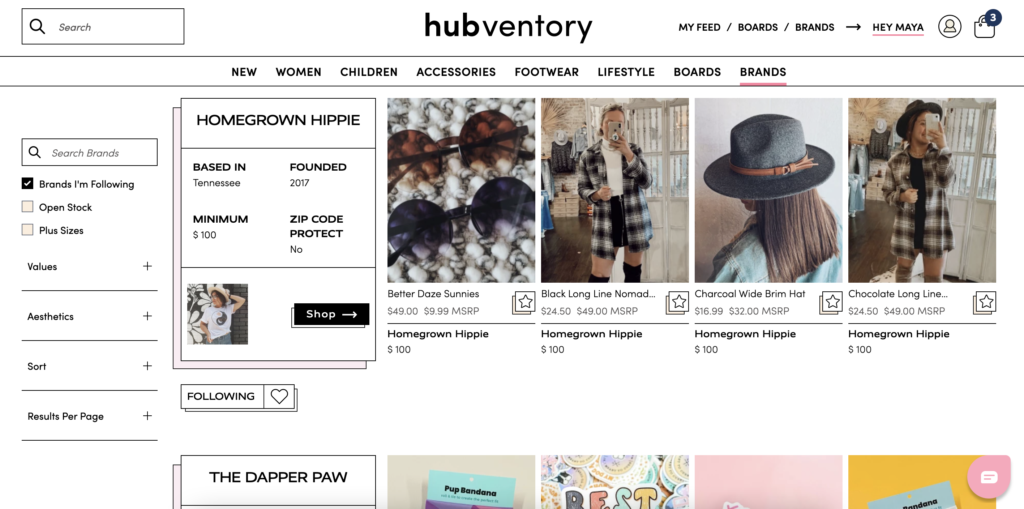 3. 'SAVE to BOARD' as you discover products you love, to build own personal inventory planning experience before you buy. Create your own boards, and follow others for daily inspiration. Download this quick board creation tip sheet!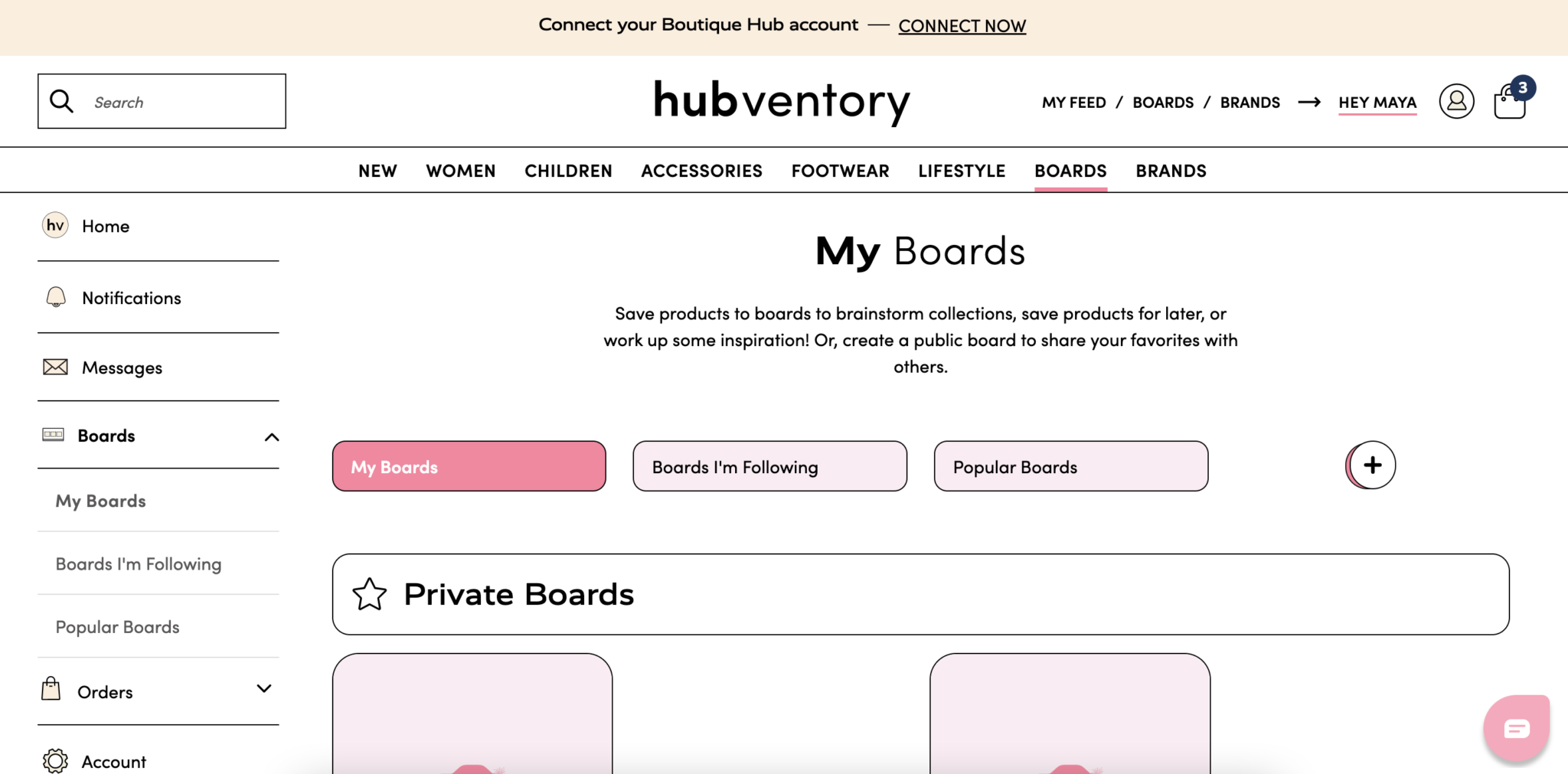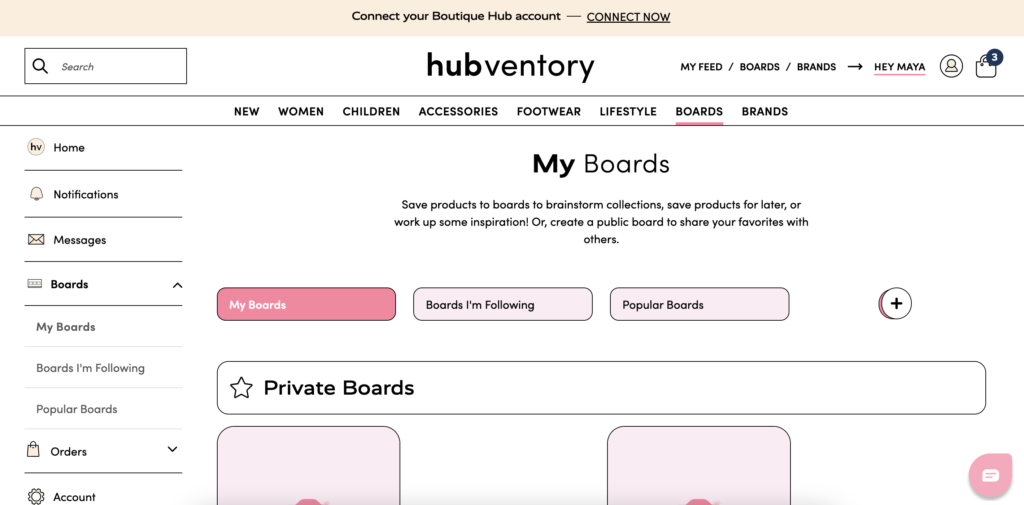 4. Sync to Shopify for draft product creation as you shop to save time later. Look for more integrations coming soon!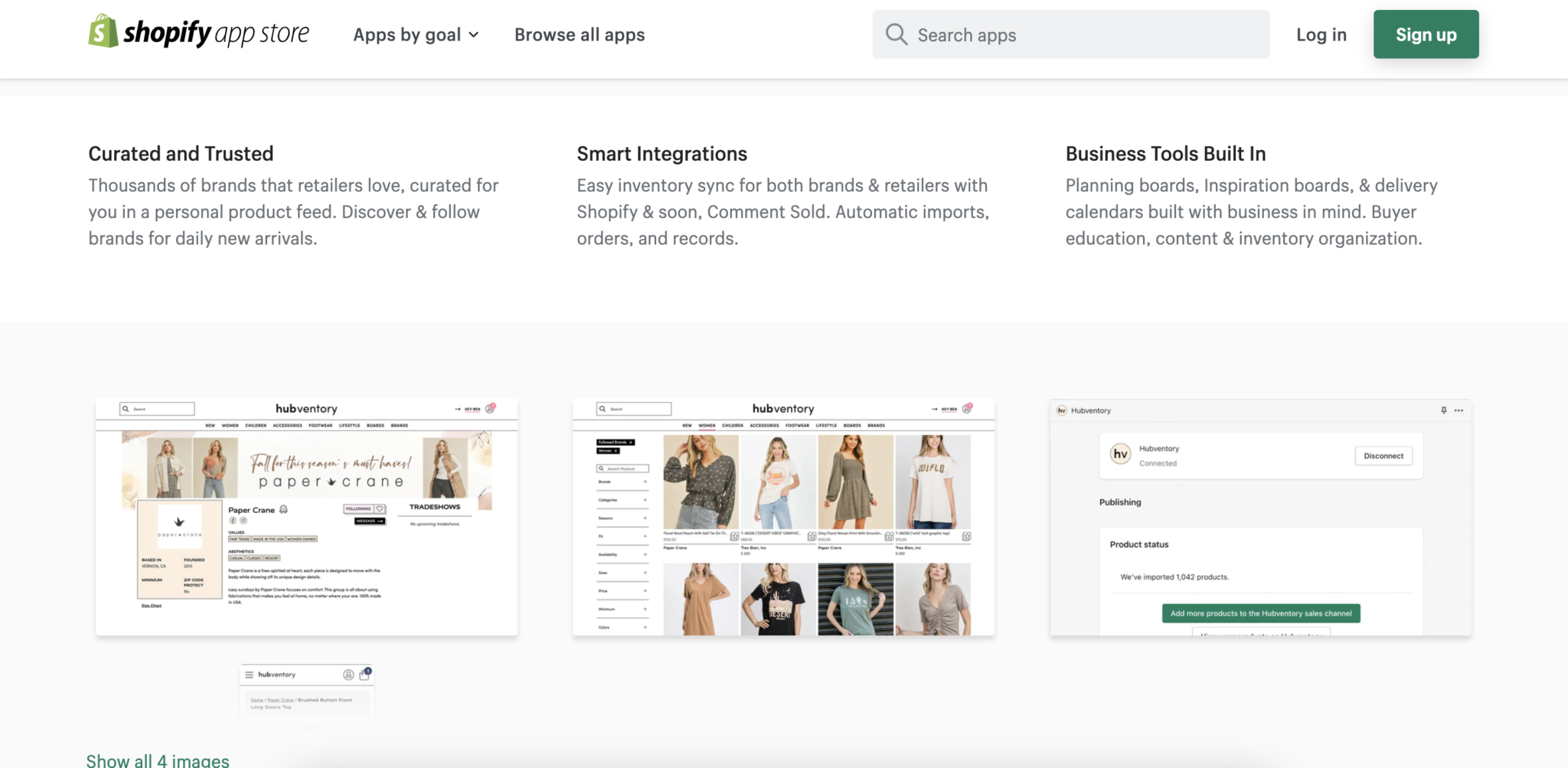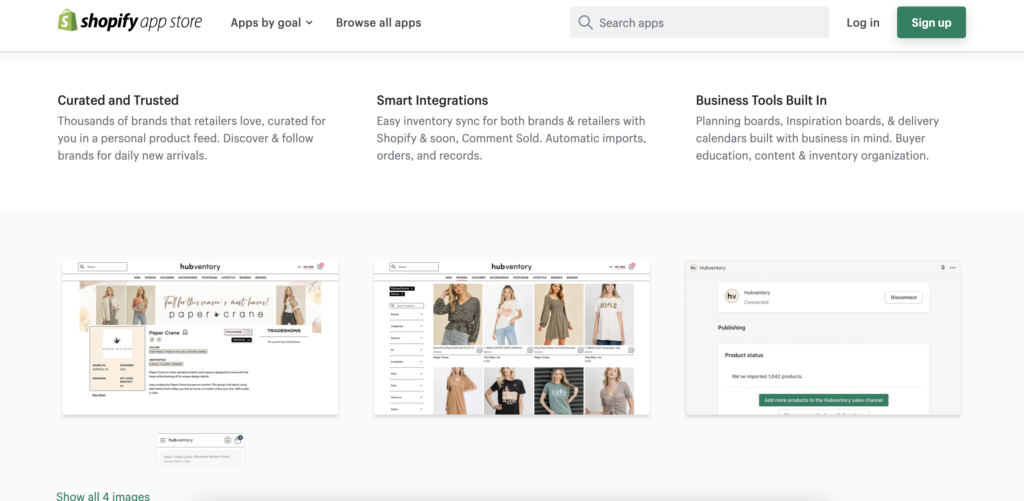 5. View shipments & arrange incoming collections in your 'PURCHASED BOARDS' incoming inventory calendar. Never lose track of a shipment again.
Hubventory for Brands: How We Support Wholesalers and Brands
At Hubventory, we believe in building partnerships with wholesale brands, that don't overcharge them for being successful. That's why we offer a low, flat fee that saves brands time and headache.

We believe that businesses shouldn't have to source customer relationships, argue about fees, or worry about being overcharged on every transaction. Hubventory is the wholesale platform model designed to be sustainable in the long run.

Along with selling on Hubventory's wholesale platform, brands can access ongoing business training, collaborate with wholesale tradeshows, and access tools for long-term financial growth through The Boutique Hub. Two powerful platforms, functioning together. Brands that sell on Hubventory are members of The Boutique Hub community.
Save when you sell to Hub members, participate in events, or run your own site promotions!

No more worrying about a number of SKU's uploaded, new customers, returning customers, existing customers, traveling and booth expenses, paying more to get the money you've earned on time, unique links to use, referring from Facebook groups, high monthly fee's or set up fee's.
Save money when you save time & partner with a platform invested in YOUR growth.
Why Hubventory is different than any other wholesale platform for brands?
Fee's

Hubventory: 5% flat on any order & upload your top 50 customers for 0% commissio
Others: $500+ Set up fee, $500+/month & 5% commission
Others: $0 set up, 25% on new orders, 10-15% recurring orders, 0% your customers
Others: $10,000+ booth fees, $3000+ travel & expenses, 5+ times per year

Returns

Hubventory: You decide your return policy – keep control of your product
Others: Return policy set by the platform.

Shipping

Hubventory: You set your shipping policy.
Others: Charge brands to ship.

Live video

Hubventory: Upload & tag products in videos, create product collections from videos
Others: Limited video capability.

Payout policy

Hubventory: Instant payouts from buyers directly to your account, no waiting, no fees
Others: Middleman accounts, fees based on the speed of payouts

Discovery Tools

Hubventory: quiz based connections, collaborative discovery boards, video buying, tradeshow events, Facebook group, advertising, podcast
Others: Product & brand search, video buying, advertising

Advertising options

Hubventory: Fee based placement for brands of all sizes.
Others: Bid based placement for those who can afford it

Integrations

Hubventory: Shopify for brands, Shopify for boutiques, Comment Sold for boutiques
Others: Shopify for brands

Audience

Hubventory: A variety of vetted independent boutiques and retailers
Others: Anyone with a tax ID

Business Education

Hubventory: Education for brands daily, instant training library + weekly live events
Others: None

General business tools

Hubventory: Marketing calendar & strategy for brands, daily business education, live events, support at major trade shows
Others: None

Community

Hubventory: Trusted, vetted community since 2013 with daily networking, meetups and collaborations
Others: Corporately owned, no community.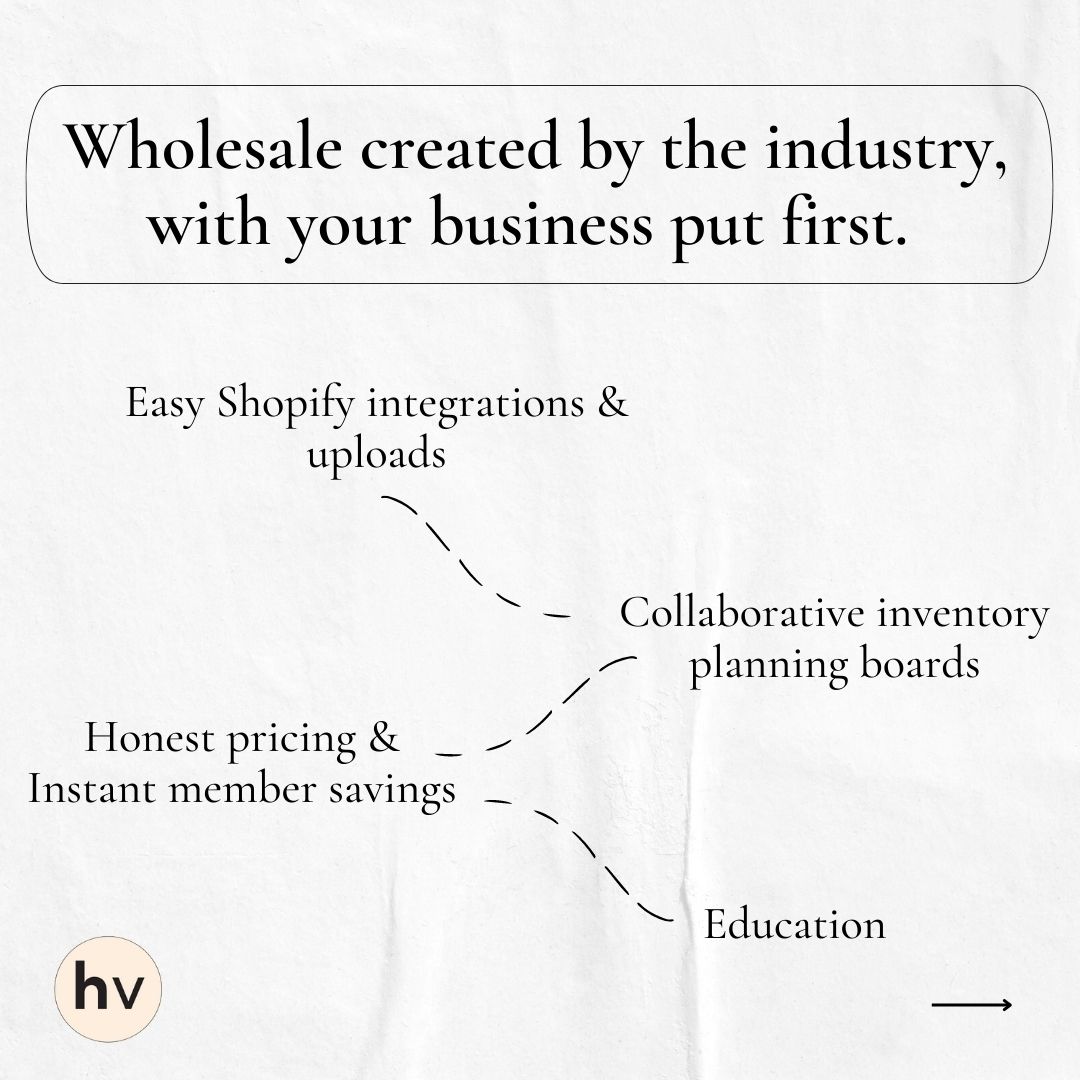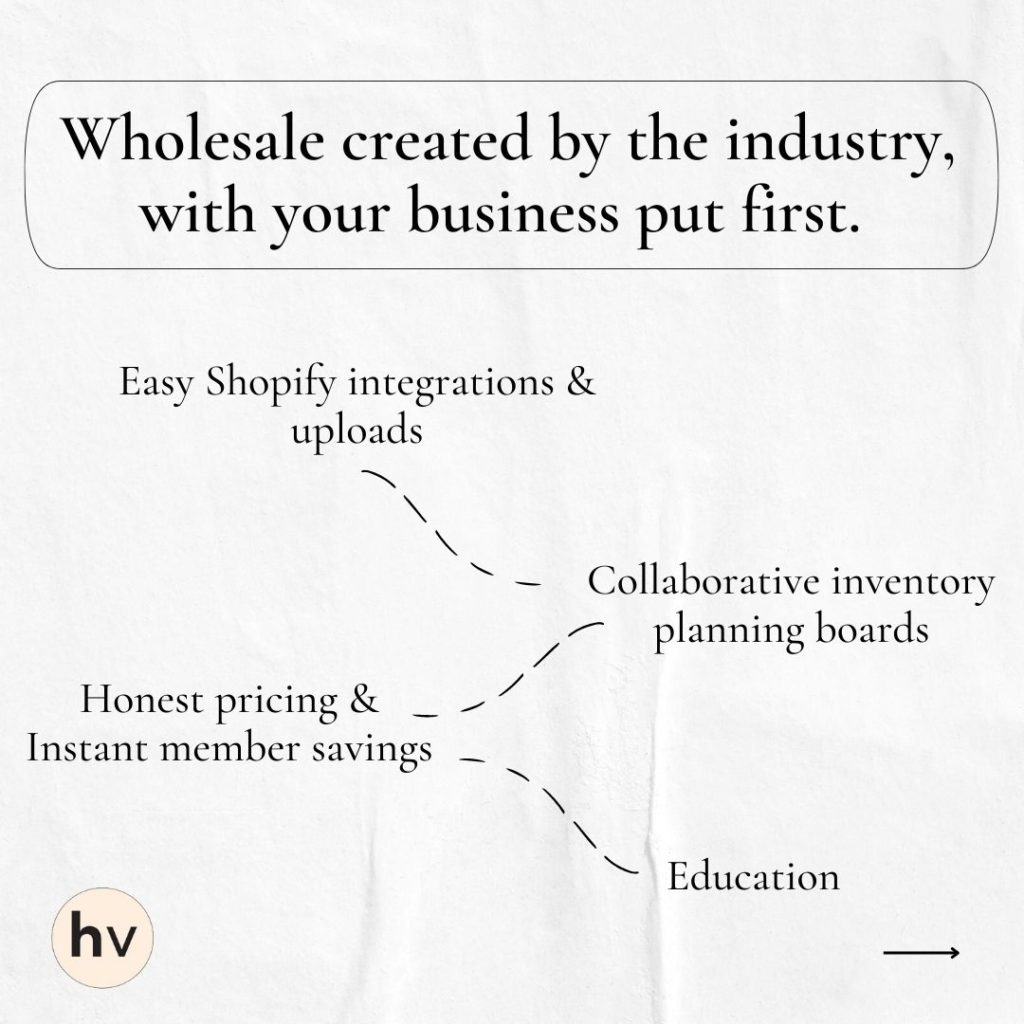 Trust – why is this platform different for Brands?
Hubventory is the only platform built by the industry, for the industry. Every feature, is built with your feedback.

The best growth for small businesses comes from true collaboration. Whether that's between retailers, between brands, or the type of collaboration that builds lasting partnerships between retailers and brands.

From fair pricing and fees, to instant, direct payouts to brands, tradeshow integrations, to transparent advertising and search features, Hubventory is different.

Have a feature request? A way to make wholesale even better? The Hubventory team is always here to work with you on new ways to grow your business. Take a class, use our content calendars, network with fellow retailers or brands, and keep growing with the platform built just for you.
Fair pricing
Flat rate commissions that save time, stress and money. No hidden fees and direct payouts, instantly.
Creative Discovery Features
Save & pin your products into collections or collaborate with a fellow wholesale brand to create inventory planning boards boutiques will love to shop from! Follow, save, shop.
Direct Shopify integrations
Sync your wholesale inventory direct from Shopify, see real time inventory levels, and create draft orders to save time and the stress of overselling.
Trusted Business Tools
From daily education, content calendars & ideas, to tradeshow & live selling collaborations, Hubventory offers the tools you need to grow. We have built a trusted community of wholesale brands that are available to chat with daily. Network with business leaders and learn best practices to take your company to the next level.
At Hubventory, we believe that we are building a true partnership with our wholesale brands. So our fees are fair, the payouts are instant, and there are no hidden costs. We want to grow with the amazing brands who choose to be a part of this community!
Should I sell on Hubventory?
You would be a good fit for Hubventory if:
Have a solid reputation with quality boutique retailers
If you sell quality products that you are willing to stand behind
You have the capacity to take several on new orders
You have already been selling wholesale, this is not your first attempt
The products you sell are not infringing on other's IP, registered trademarks or copyrights and have legal licencing agreements otherwise.
You provide quality customer service, focusing on building long term relationships with buyers
If you are creative, and have excitement for building the future of our industry, together
You believe that ethical and quality business practices are more important that the next dollar you make
You want to work with small businesses to grow, together
You are a Member of The Boutique Hub
If this sounds like you, we'd love to have you apply to join our growing wholesale marketplace!
Hubventory Features
Shopify integrations for brands:

Saves time & hassle tracking inventory on multiple platforms
Get real time updated inventory on Shopify when sales happen in Hubventory
Sync new products directly from Shopify into Hubventory for faster product discovery and sales

Shopify integrations for boutiques:

Save time & hassle uploading products from purchase orders when inventory arrives. Instantly sync purchased products as drafts in Shopify to launch when you're ready.

Smart Inventory Boards

Discovery boards – Follow creative boards from brands & influencers you love on Hubventory! Save ideas to your own boards.
Planning boards – Save products to your own boards arranged however fits your business best. Plan collections, narrow down purchases, make smarter investments.
Incoming boards – See what products you've purchased are arriving soon, and plan weekly launches and collections by what's on it's way to you.

Incoming Inventory Calendar & Boards

Never lose a shipment again, track incoming orders on your Hubventory Inventory Calendar & sync with your own Google Calendar.
Plan out weekly inventory launches with your 'incoming' boards. Arrange collections from shipments scheduled to arrive to merchandise the perfect launch!

Tradeshow integrations

Wholesale will forever be an omnichannel experience. Don't just shop on Hubventory, use the Tradeshow Tools & Must See Lists to meet your favorite brands in person.

Instant payouts & no hidden fees

Directly connect your own stripe payment accounts for instant payouts when orders ship and no middle man.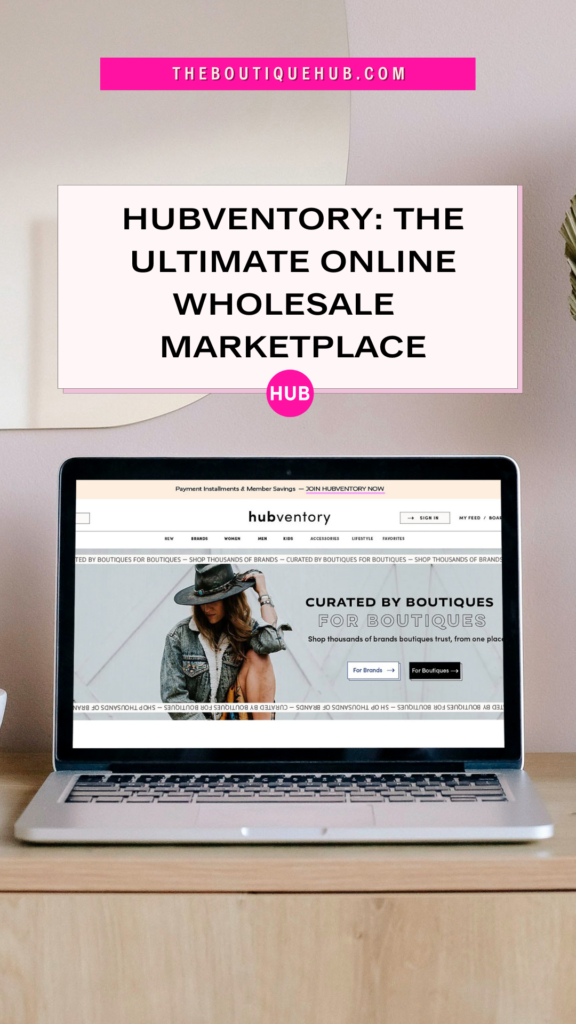 We hope you loved our article on Hubventory: An Online Wholesale Marketplace for Retailers and Wholesale Brands. How else can The Boutique Hub help you grow?
Get more information on growing your business by joining The Boutique Hub where we have tons of training, information, and most importantly, connection! Try out our service for a month, cancel anytime.
Follow along on Instagram @theboutiquehub!