What does it look to build a brand with your best friend? Elina and Ember are the owners of theClothesRak, as well as best friends, and they join the show today to talk about how they built their business together—all while staying in their own lanes and leveraging their individual strengths.
We're diving into so much in this episode as Elina and Ember walk us back through the process of building their brand, how they systematized their business, and the apps and tech tools that they use to run their business. They also share how they got consistent with their marketing and how they are now starting to use paid ads to scale their business further. These two are really something to watch, and we are lucky to have them not only on the podcast, but also as members of The Boutique Hub as well!
>>Building a Brand with Your Best Friend– LISTEN NOW ON iTunes <<
>>Building a Brand with Your Best Friend – LISTEN NOW ON Spotify <<
See the Full Boutique Chat Podcast Website here
Watch the interview on YouTube:
What You'll Learn From Building a Brand with Your Best Friend
How Elina and Ember came together to own theClothesRak.
How they grew their business through the pandemic.
The core things about retail they wish everyone knew.
How they gather customer data that then informs their decisions.
How they work to complement each other.
The apps and tech tools they use.
The paid ads strategy they implement to expand their reach.
Where boutique owners should invest their time and money to grow their business.
Elina and Ember's favorite places to get inspiration from.
Resources Featured In This Episode: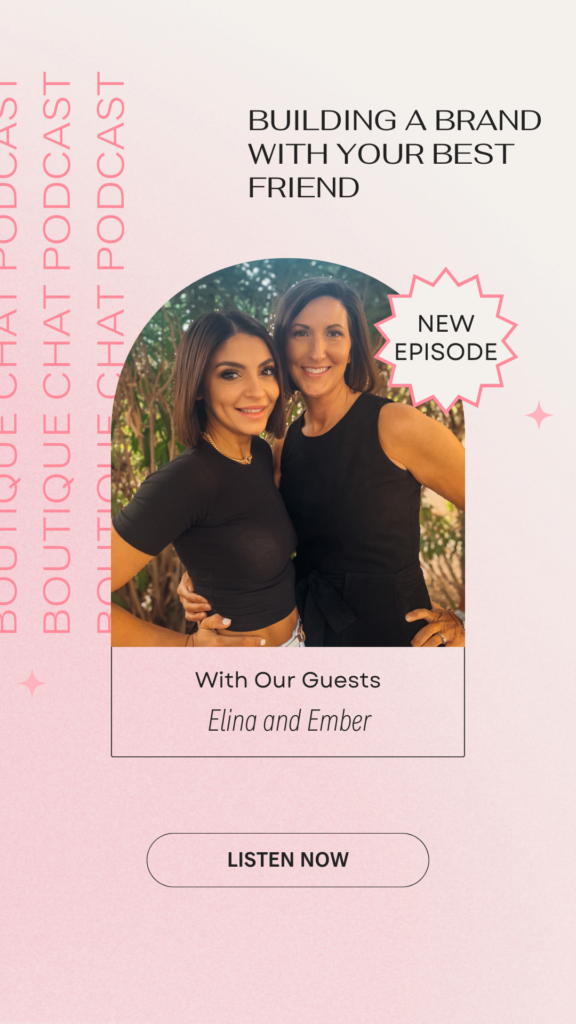 Favorite Quotes from Elina and Ember
"If you ask any of our followers, they know exactly what happens on every day of the week." – theClothesRak [6:50]
"We treat our online store as a brick and mortar." – theClothesRak [7:15]
"At the end of the day, we do what makes us happy, what is going to make the customer feel good, and ultimately, what is going to take us to the goals we need to achieve at the end of the day." – theClothesRak [19:10]
---
---
Join the Hub for more training, information, and connections.
www.theboutiquehub.com/join
Use the hashtag #AskAshley on Instagram, or tag her at @ajalderson or @theboutiquehub to suggest topics for the podcast and let us know what you thought about this episode!
Do you love the Boutique Chat Podcast?! Subscribe to our podcast and after that, leave us a review on iTunes Apple Podcasts here!

Original Air Date: July 26th, 2022
Do you love the details of Building a Brand with Your Best Friend? Let us know what you think about our show and help spread the word about the #BoutiqueChat Podcast.
Recent Posts:
Building a Sustainable Brand in a Modern World

We're going behind the scenes to hear how to build not just a beautiful brand, but also a sustainable one.

The Boutique Hub at Dallas Market

The time has come for the March 2022 Dallas Apparel & Accessories Market + Total Home & Gift Market and the Hub team couldn't be more excited! We know how busy market days can be so we wanted to make sure you guys are filled in on our schedule so you can come and stop by!

The Ultimate Guide to Dropshipping for Boutique Owners

Dropshipping has become increasingly popular within the boutique industry recently. With an uprise in interest, we are here to break down what exactly is dropshipping, and how to be successful with it as a boutique owner. Let's get into the ultimate guide to dropshipping for boutique owners.