I've often heard entrepreneurs described as squirrels who get bored easily, who have hundreds of ideas, and have a deep passion that drives to run from one tree or project to another collecting nuts, aka building something big. Looking back at the past year at The Boutique Hub, I can fully appreciate the analogy! We may even be a little nutty (pardon the pun).
If you are taking the time to read this look back, I want to first stop and simply thank you. YOU are the reason we are here, doing what we love and striving daily to impact the Boutique Fashion industry we all love.
YOU have made this year amazing by simply being a member of the community, and believing in the power of #CommunityOverCompetition, supporting one another, attending HUB events, investing in yourself, and looking for new ways to innovate and grow!
I want to take a look back, together, at 2017 and the shenanigans, projects, and events we built together with you at the HUB for your business, and reflect on what makes this industry so great. Plus, we have some big plans coming for 2018, and we can't wait to give you a sneak peek. Will you reminisce with me?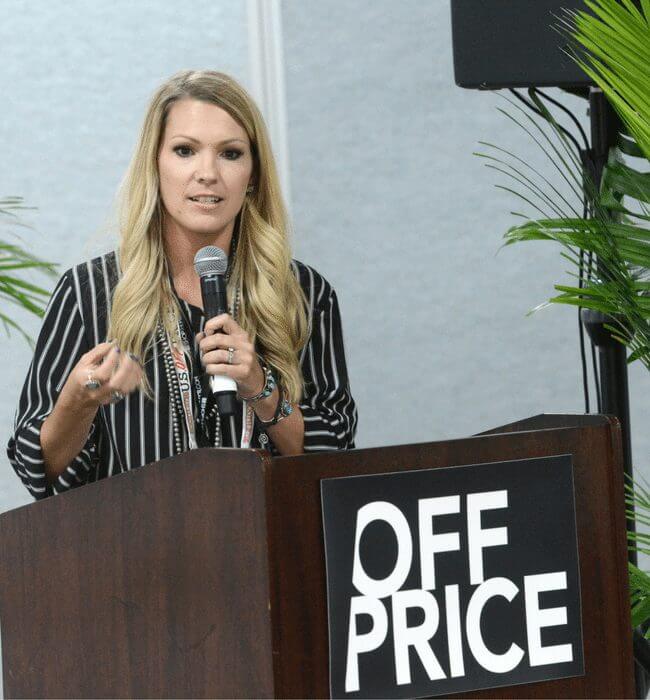 FOUNDATIONS
Four years ago, The Boutique Hub was first launched just after my third baby was born, right from my couch. With a big vision and wild ideas, I sought out and hired a graphic designer and web developer to build the online shopping mall of boutiques that I had always wanted for my own personal shopping needs. It was a humble beginning built to serve a real need for women around the world like me, to connect with the boutiques they loved, serving women of all ages, sizes, backgrounds, budgets, and tastes.
About 300 boutique owners took part in our first iteration, and together shaped The Hub into what it is today.
As we launched that very first version of the HUB, the greater community, behind the scenes grew as well. Facebook Groups, coaching, training, blog posts, and connections were facilitated over time to offer the business support that boutique owners needed along with public consumer discovery.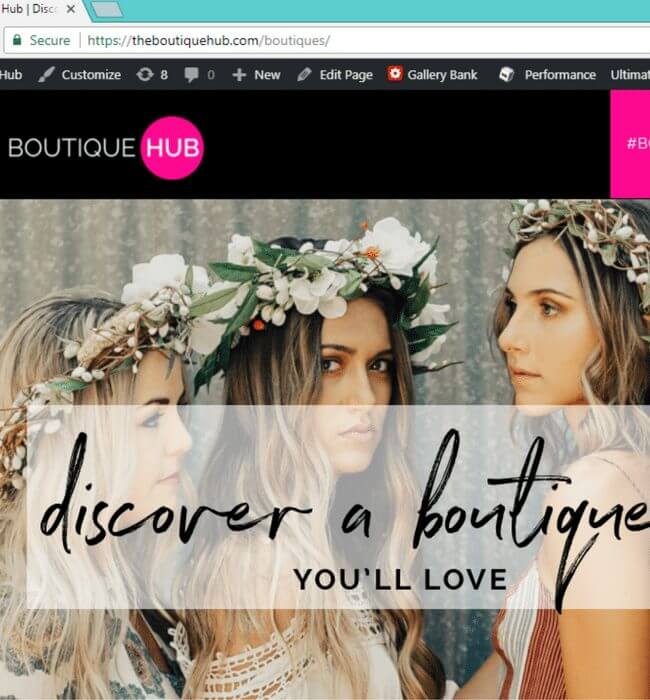 THEBOUTIQUEHUB.COM RELAUNCH
Fast forward lots of trial, iteration, and feedback later, in January of 2017 we launched a new version of TheBoutiqueHub.com, splitting out the two sides of the business, first the consumer-facing #BoutiqueStyle, highlighting boutique profiles, blog content, our monthly Boutique Style Hot List, and numerous other social media promotions. This was separate from #BoutiqueBusiness, the boutique fashion industry's internal connection platform. With this new platform layout, The Hub was able to offer memberships to boutiques, brands, service providers and bloggers in the industry.
Within the new platform, Hub members could now access a formal Wholesale Marketplace, Service Provider Directory, Blogger Directory, Resources Page, and a packed full training library, with expert trainings and downloads for today's boutique or brand owner. This, along with the connection to five Facebook communities, just for boutique-to-boutique inventory buy/sell/exchange, brand discovery, training, connection, and retail sales connecting with consumers. Always evolving, our core platform at The Boutique Hub is constantly updating daily, in an effort to always be a boutique or brand owner's central business resource across all levels and types of businesses.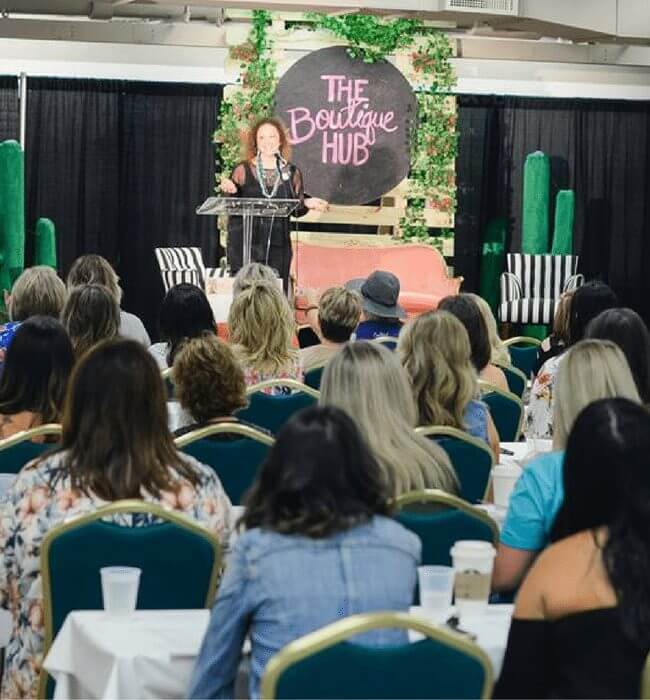 THE BOUTIQUE SUMMIT
Soon after the new site launch, a dream we had held for many years came to shape. We partnered with Dallas Market Center to host our first ever #BoutiqueSummit in June, the boutique fashion industry's premier training conference. As we opened registrations to the event welcoming expert speakers and trainers, our 300 spaces sold out in under 9 days! Whew! We were BLOWN AWAY by the response, excitement and the execution of this monumental event for the industry!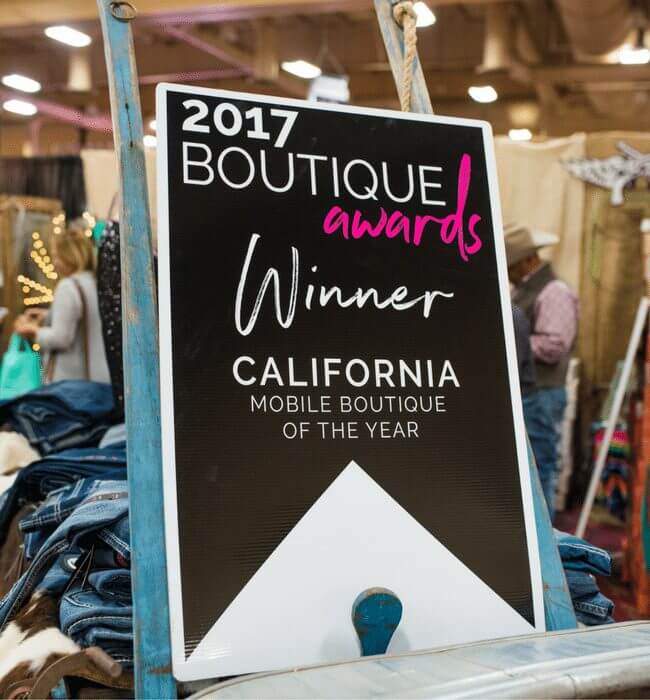 THE BOUTIQUE AWARDS
Soon after The Boutique Summit, we launched a new recognition promotion that we built in hopes to bring boutique shopping awareness to a whole new level worldwide while mainstream big-box retail declined, The Boutique Awards! Locally, boutiques receive great recognition when local newspapers or TV stations allow community voting for the best local businesses, but we knew that on a global scale, boutique shoppers wanted that same opportunity! So hundreds of thousands of consumers came together to support and lift up their favorite local or online boutique in the awards, naming 300 boutique owners the winners across the 50 US States, Canada, Australia and the UK in the categories of Global Boutique of the Year, State Overall Boutique of The Year, Online Boutique of the Year, Storefront, Mobile, and Children's. Winners, finalists, and participants in the awards let us know what a great opportunity it was to celebrate with fans, and achieve the recognition that allows them to stand apart from the crowd!
#BOUTIQUEBOSS DINNERS
For three years now, we have traveled to markets across the U.S. to meet up with our boutique community, but in 2017, we partnered with UBM, owners of WWD Magic, Project, Platform and other Las Vegas and New York wholesale trade shows to host on-site #BoutiqueBoss dinners. Whether we were in Las Vegas or Dallas, we loved meeting up with so many of you, as well as with our wholesale brand members, touring their showrooms and facilitating great connections with buyers!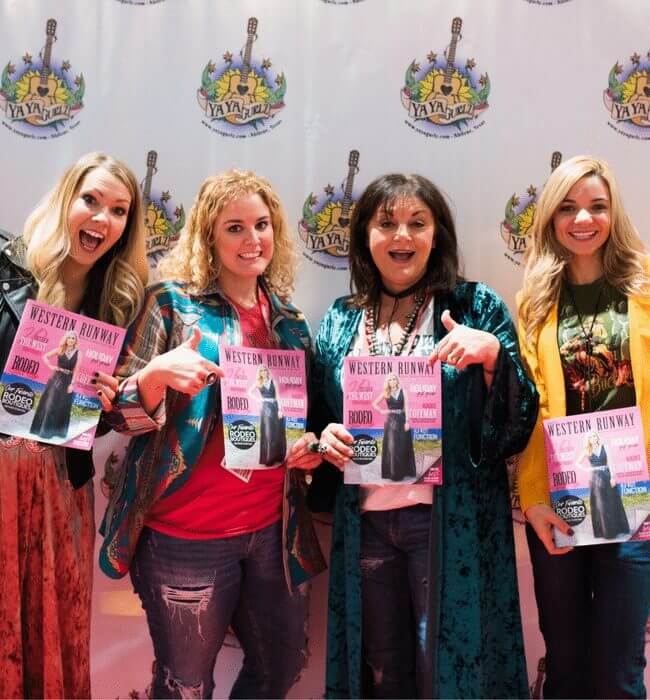 WESTERN RUNWAY
Last November, we partnered with western blogger, Fashion Posse to create a grassroots western fashion magazine connecting western consumers with their favorite boutiques and indie brands. This year, the project took a new name, Western Runway, printing our sophomore edition in Las Vegas for the National Finals Rodeo. The social media coverage was off the charts, with over five million impressions on Instagram alone following along with our NFR coverage!

HOLIDAY MARKETING MASTERCLASS
We know that a boutique's biggest season is the Holidays and 4th quarter, so this year, we released a stand alone Holiday Training covering six key topics retailers need to master for success this season. The feedback from this training was far beyond expectations, and the reports of doubled sales were abundant! We can't wait to update this training and release it again next early next fall!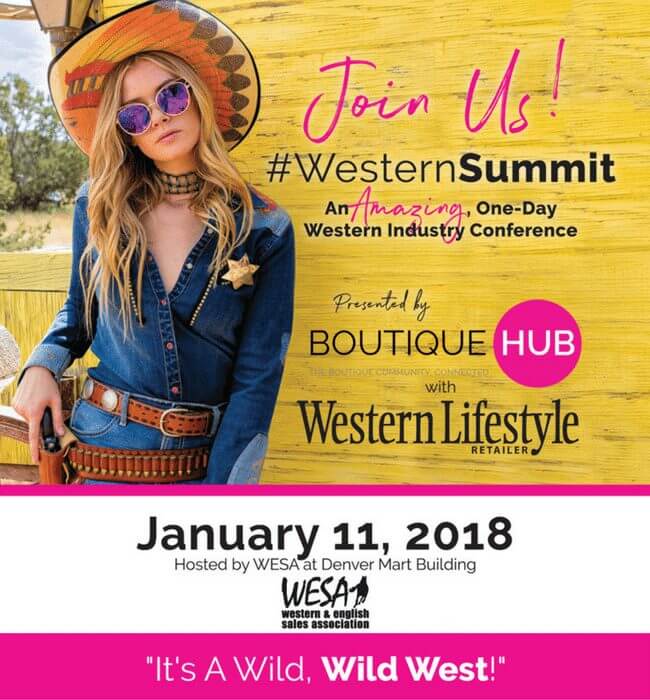 WESTERN SUMMIT
With a large following of Texas-based and western boutiques at the Hub (along with ALL style genres), we had a calling from the industry to have a western-focused gathering of both boutiques and brands for specialized training. With this, we partnered with Western Lifestyle Retailer, a wholesale publication, to host the first ever #WesternSummit together with WESA, the western market hosted in Denver, CO. Bringing together icons in western brands, marketing, and financial experts, we will host this groundbreaking industry event in January 2018.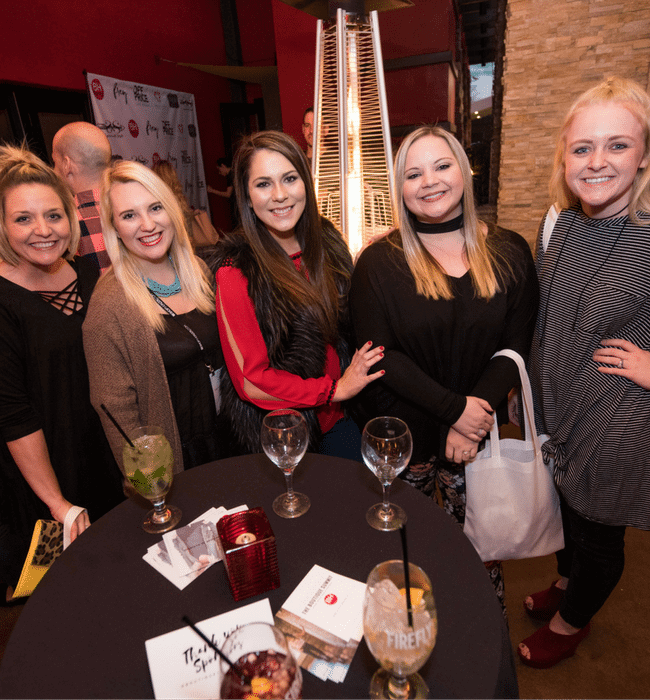 TRIAL & ERROR
Sure, we are pretty darn excited about LOTS of new publications, events, and projects in 2017, but we had some iterations as well. As with any growing company, we had some changes to adapt to. As our membership grew into the thousands, our team also had to grow to support it! We updated several group policies, making our Facebook communities members only, doubled down on what we share with members and limited our time outside of membership.
Due to the also overwhelming excitement behind #BoutiqueBootcamp, our signature boutique coaching program, we updated this program to a small group format to accommodate additional students while maintaining the personal connection and integrity of the course material. Personally, I don't like to keep excited boutique owners waiting, so this new format allows for those who are looking for this level of support to receive it! We have even more exciting updates to the program coming in 2018!
Blogger connections may have been a top priority for us in 2017 as we also launched a Boutique Style Team, working to facilitate boutique-blogger connections. However, we quickly found that the amount of communication time, follow-ups, and efforts made by our team to facilitate this program were not meeting our overall mission and goals. While we no longer host the Boutique Style Team, we do still have a blogger directory and sample collaboration contracts for all members to use and learn from.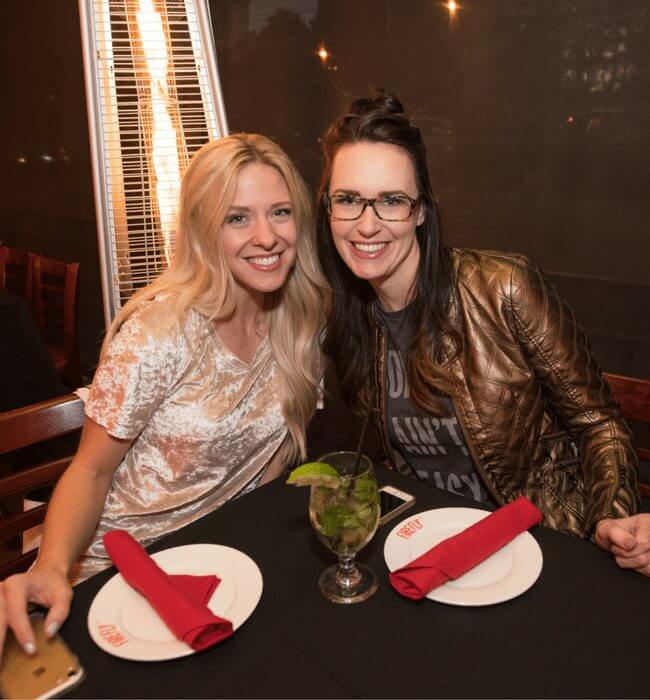 If you've made it to this point in our annual review, wow, cheers! This was a big year PACKED with projects and collaborations, but we are NOT done!
We recently sent out a community survey, asking for your feedback on what you use most on The Boutique Hub, and how we can further support your business.
I want to share a few takeaways, mainly because our key values at The Boutique Hub revolve around honesty, integrity, trust, and open communication. We want to share openly, and invite other companies to also share openly about their successes, their struggles, lessons and future goals with customers! Afterall, The HUB is nothing without its community, and YOU are the reason behind our passion and purpose.
We've heard from you how important our coverage in #BoutiqueStyle is to ALL style genres, and while we do have a number of western members, we need to better break apart the channels and posts we use to share these brands and boutiques. We also heard from you just how important MORE is, more trainings and downloads in our library, more high-level trainings, more exclusivity for long-term members, more events and meetups, more brands to shop with, and more brand and service provider discounts for our members!
Look for large-scale collaboration opportunities in 2018, and introductions to many more brand and service partners who will support and grow your business. Together, our community at the HUB creates great buying power and connection to resources and vendors to help support your business.
You were also SO excited to hear a Podcast from the Hub diving deep into the fashion industry with interviews, tips, and tools, and we can't wait to release it, along with our own Facebook Channel! Will you tune in?
Overall #BoutiqueBoss, I want to end this look back at a big year as a CEO who is humbly grateful for your unwavering support of the community and family hosted at The HUB. You have proven time and again how to live by example, lifting others up in #CommunityOverCompetition and making The Boutique Hub far more than a business tool, but a part of your daily life.
I applaud you, and am honored to be in your company daily.
Thank you for your friendship, your support, and your vision for how together we can make the boutique fashion industry even stronger.
In sincere gratitude,
Ashley Alderson
Cheers to 2018! Watch for our annual kick-off, the 2018 Best Year Yet Challenge for our members the first week in January, and each of the following 6 weeks, prizes for those of you who participate each week!
Not yet a member of theboutiquehub.com? Join us, whether you are a boutique owner new or veteran, a wholesale brand or rep, influencer or industry service provider, our community is all about facilitating the connections, education, and tools that grow businesses and strengthen the independent fashion business.