Today Melissa Megginson, Community Manager at Tailwind, joins us for Managing Social Media with Tailwind. Tailwind is a scheduling and analytics tool used for social media accounts. Grow your Instagram and Pinterest accounts in a fraction of the time by letting tailwind post your scheduled content at the best times and then be able to see your analytics in a user-friendly manner. Today's episode is all about how you can work smarter not harder while running your social media accounts!
>> EPISODE 249 – LISTEN NOW ON iTunes <<
Don't Have iTunes? Listen on Libsyn here
See the Full Boutique Chat Podcast Website here
Main Points:
---
Work smarter not harder! Schedule all your posts ahead of time at all the perfect times.
Scheduling helps you maintain consistency.
Check your analytics! See whats been working best for you, so you can build more successful content.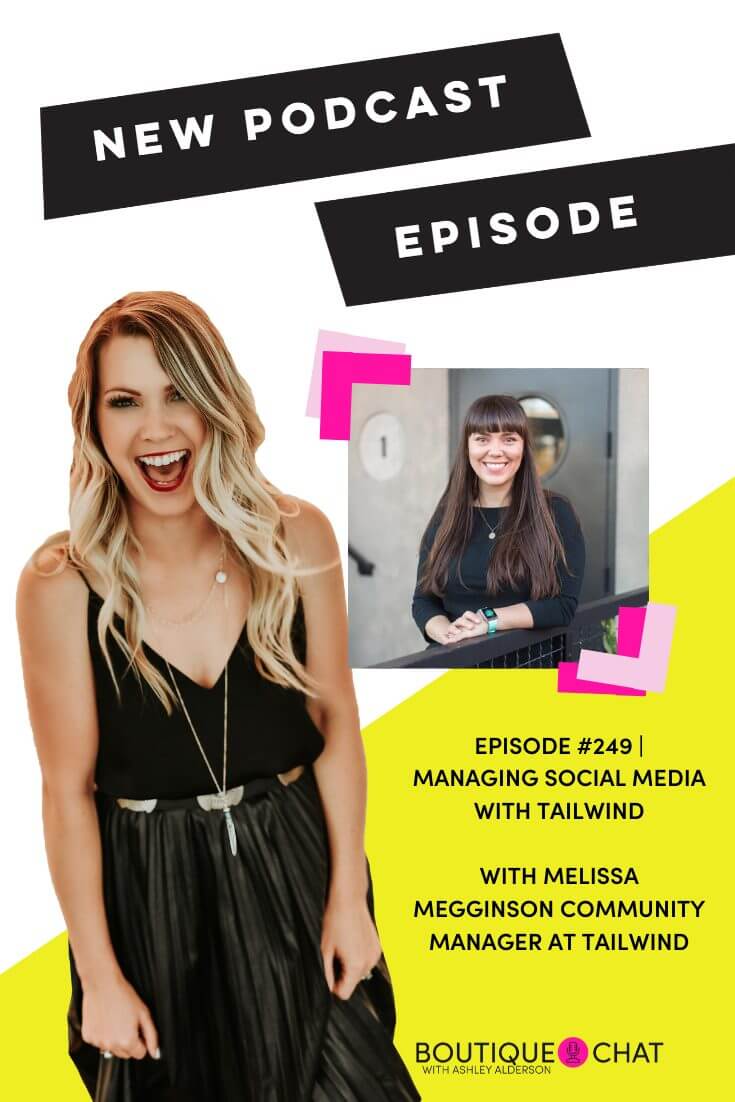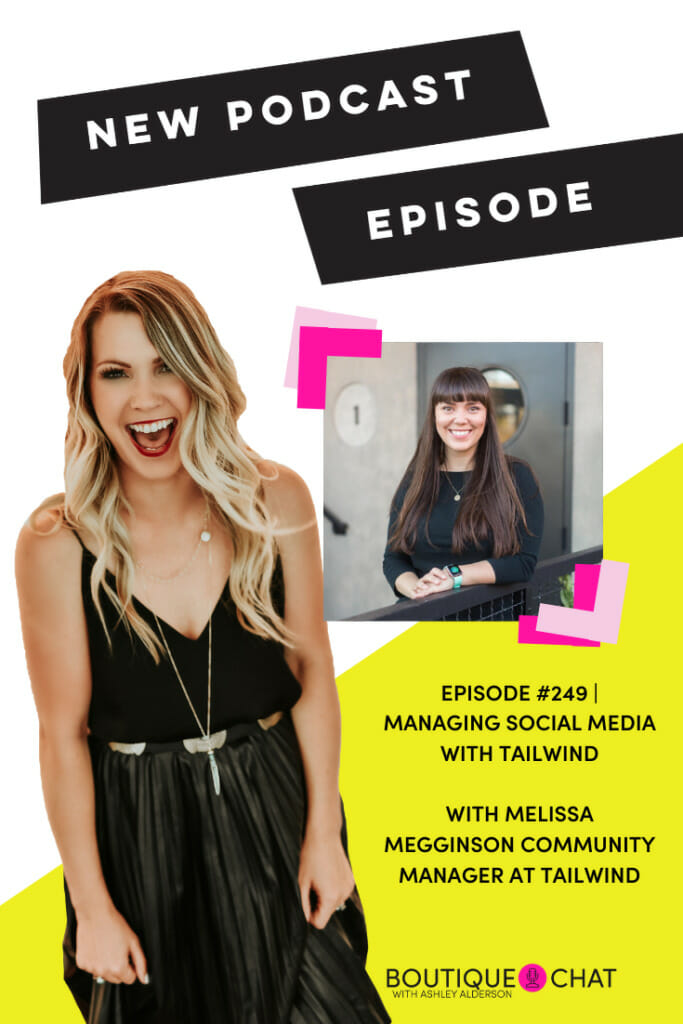 Favorite Quotes:
---
"We are a partner with Instagram which means we can use auto posting its a great way to make sure you are maintaining consistency with your feed while not having to spend your life on Instagram." -Melissa Megginson

Key Takeaway: "Invest in your visuals… wether its creating Pinterest pins, or an Instagram theme that's true to you invest in imagery where ever you can."-Melissa Megginson
---
Learn more about Tailwind here: https://www.tailwindapp.com/
Follow them on Instagram @tailwindapp
Join our Tribes on Pinterest at: The Boutique Hub #BoutiqueStyle and The Boutique Hub #BoutiqueBusiness
SIGN UP FOR EMAIL UPDATES ON OUR WEBSITE:
https://theboutiquehub.com/boutique-summit-2020/
Join the Hub for more training, information, and connections.
www.theboutiquehub.com/join
Use the hashtag #AskAshley on Instagram, or tag her at @ajalderson or @theboutiquehubto suggest topics for the podcast and let us know what you thought about this episode!
Want to be our listener of the week? Then Subscribe to our podcast and after that, leave us a review on iTunes Apple Podcasts here!
Original Air Date: Marth 9th, 2020
Do you love the details Managing Social Media with Tailwind? Let us know what you think about our show and help spread the word about the #BoutiqueChat Podcast.
Related Posts: