As we begin 2022, it's important to look ahead and prepare our businesses as best we can for the coming year. What might be an issue that boutique owners will have to face this year? Is there any way we can avoid this issue or plan for it? To help me discuss this topic is our Director of Education, Sara Burks. We'll be going over how you can set your business up for success right now and more.

Listen in as we talk about how to avoid the overwhelm that comes with having so many marketing channels, as well as how to navigate the inventory issues we may face this year. You will learn the importance of being intentional with what you buy, why you should pay attention to your data, and how to ensure your marketing is reaching the right people.
>> Predictions for 2022 – LISTEN NOW ON iTunes <<
>> Predictions for 2022 – LISTEN NOW ON Spotify <<
See the Full Boutique Chat Podcast Website here
Watch the interview on Youtube:
What You'll Learn In Predictions for 2022
---
The importance of approaching adversity with the right attitude.
What inventory issues we may face in 2022.
Why you should be intentional with what you purchase.
Why tracking your data is key.
How to get more engagement and reach with your social media.
How to stand out from the crowd.
Why it is about quality content, not quantity.
How to find and retain staff.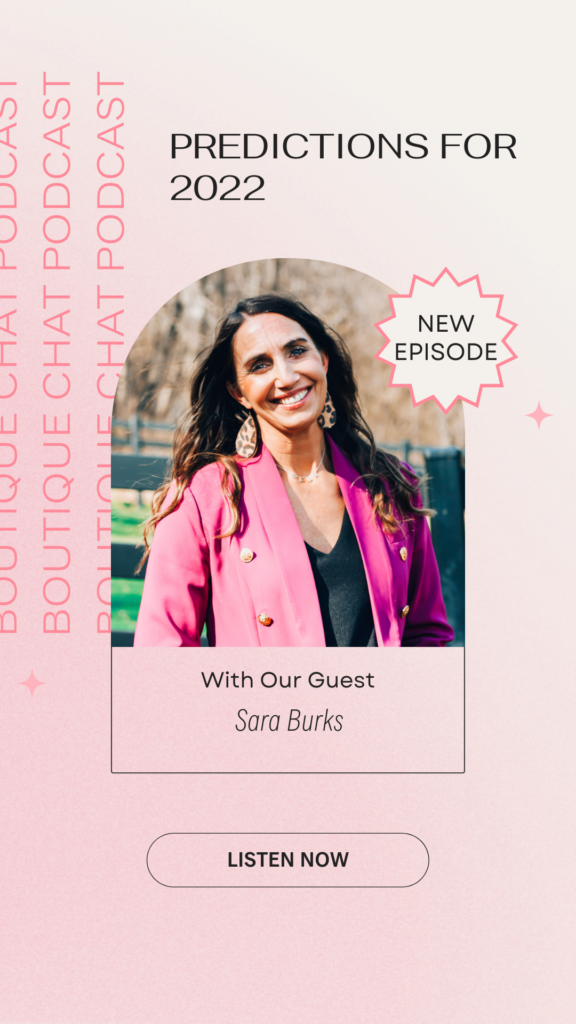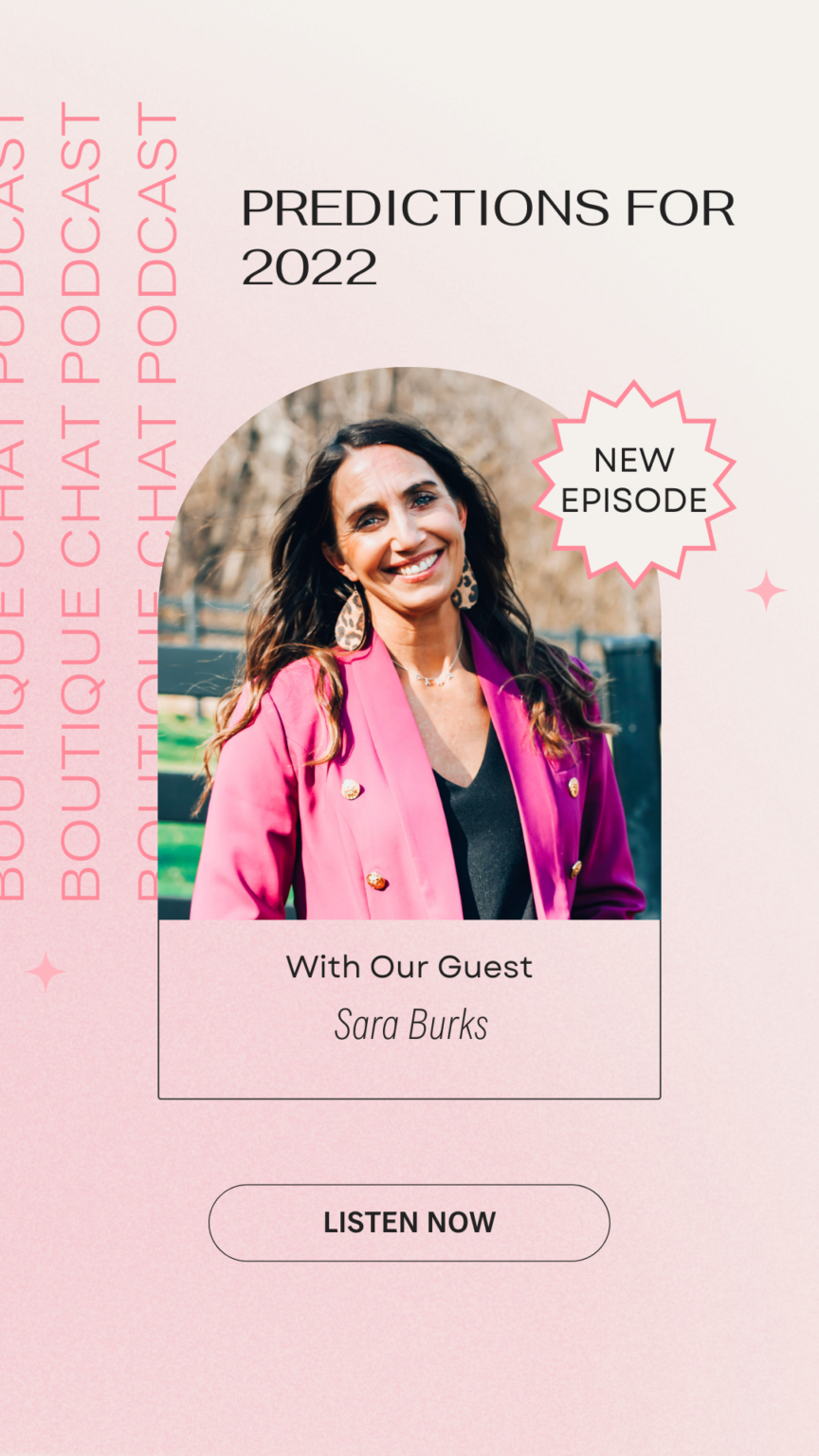 Favorite Quotes
---
"You either make lemonade with lemons or you're stuck with what you get." – Sara Burks [3:30]
"If you want to grow, you need to make yourself different. People are doing business with you for a reason." – Ashley Alderson [8:23]
"[Your staff] have to come into a place where they can grow, not where you're going to be putting a ceiling on them so you can grow." – Sara Burks [16:48]
---
Resources:
---
Join the Hub for more training, information, and connections.
www.theboutiquehub.com/join
Use the hashtag #AskAshley on Instagram, or tag her at @ajalderson or @theboutiquehub to suggest topics for the podcast and let us know what you thought about this episode!
Do you love the Boutique Chat Podcast?! Subscribe to our podcast and after that, leave us a review on iTunes Apple Podcasts here!

Original Air Date: January 4th, 2022
Do you love the details of Predictions for 2022 Let us know what you think about our show and help spread the word about the #BoutiqueChat Podcast.
Recent Posts:
The Best of Boutique Chat Season 4

I'm thrilled to be back for an all-new season of Boutique Chat, and to kick off Season 5, I'm revisiting some of my favorite episodes of the last year! In this highlight reel you'll hear from Social Sales Girls founder Susan Bradley on digital advertising and metrics, Everyday Chic Boutique owner Karli Harris Pennington on…

How to Get Rid of Winter Inventory

After all the holiday markdowns you may be asking the question, "What do I do with all my leftover winter stuff… I want to make room for spring goods!" Let's go over the best plan of action on how to get rid of your winter inventory.

The Boutique Hub at Atlanta Apparel

The Boutique Hub Team can't wait to head back to Atlanta market with you all! There is so much going on so we want to make sure you're prepared. Here's what you need to know about the February 2023 Atlanta market…