This is a very sought after, but rarely executed balancing act.  Some fashionistas can pull together a series of outfits that share a well tied-in narrative without even realizing it, and others come across challenges while trying to achieve the "story" of an outfit, photo shoot, or style.  I like to compare this level of difficulty with the "effortlessly chic" look – those who know the tricks can pull it off, and well!  However, it isn't the easiest thing…and everyone could use a few pointers, regardless of where you're at in your fashion walk.
Without even knowing it, you are telling a story to every person you come across with your style.  This can work hugely in your favor because it allows your creativity and individuality really shine.  But how do we get there?  Sometimes, you know your style, and know it well; you just need to build off of that.  Sometimes a single piece you find at a boutique strikes a chord with you, and that inspires an entire outfit.  Sometimes you identify with a certain era, and that period of time resonates deep within your style.  How do you want the world to see you?  What do you want people to know about you?
I have a very western-rooted style, so I begin with that.  I load my shopping bags with pearl snaps, felt hats, boots, and jeans.  I love to give an old-fashioned vibe when I walk down the street, but that doesn't mean that I can't throw a few curveballs into my wardrobe.  I wear denim bells, leather jackets, lace, and more!  The hints of versatility give way to expanding your style story beyond the box of one genre, while still staying true to you.
As far as photo shoots, I believe that a narrative through the clothing is what gives it feeling.  When styling outfits, try to have a common denominator that is consistent through all outfits, and blend the rest of the pieces under the same theme.  The first series of photos are a settler/prairie theme, all tied together with velvet, and complemented with feminine, vintage, and western touches.  The second series is an edgier/going-to-town theme, with bold colors and statements.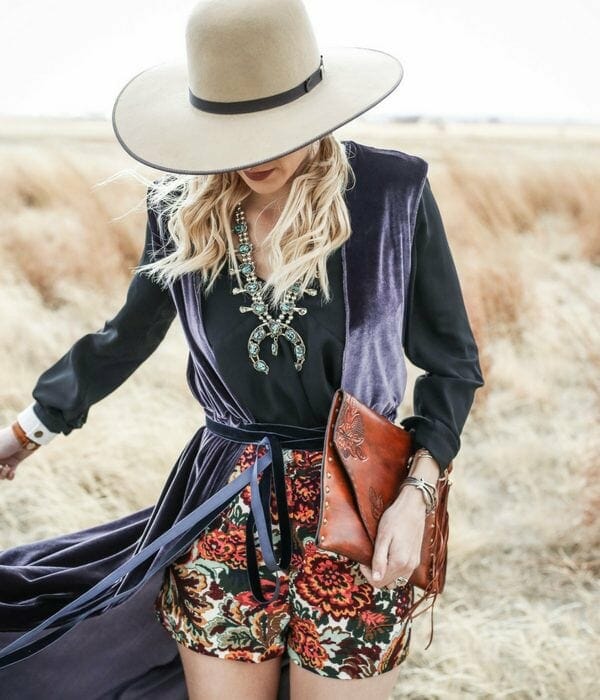 Full-Length Velvet Duster: Petals in the Sky SF
Tapestry Shorts: Ellis & Co
Envelope Clutch: LOVleathers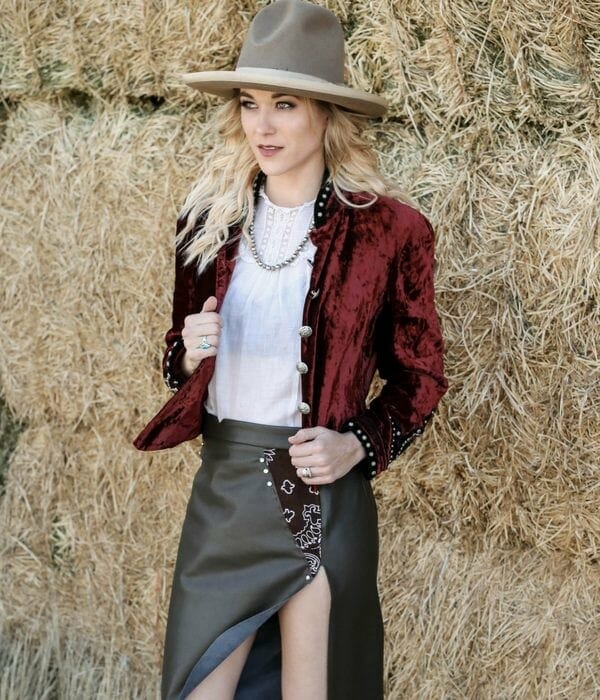 It's a Wrap Boot (not shown): Miss Macie
Skirt & Blouse: Livewire Style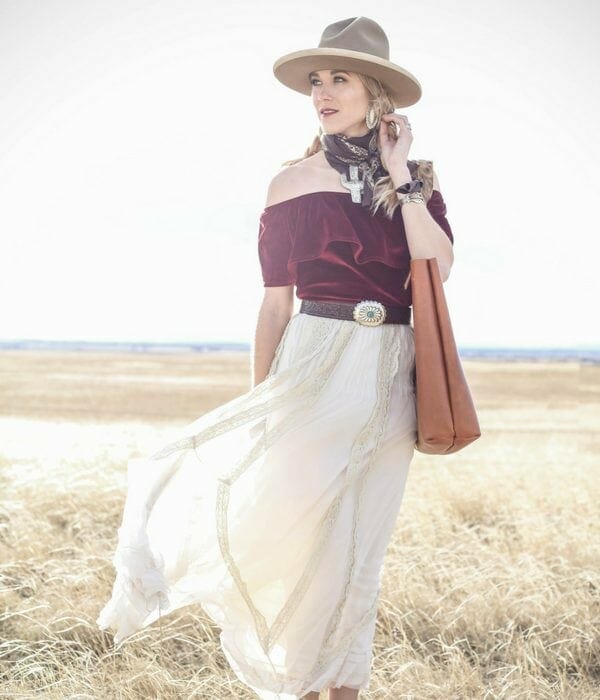 Leather Tote: LOVleathers
Cactus Necklace: Lindsay's TanTrim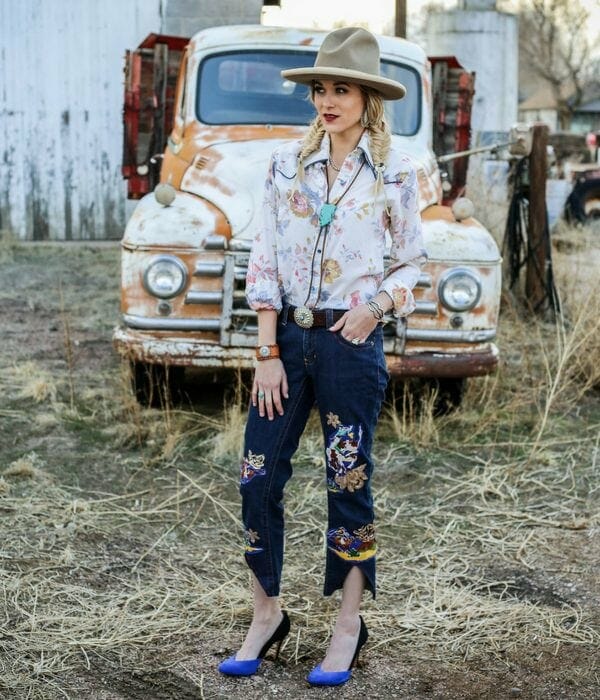 Fancy Fran Jean:  Livewire Style
Turquoise Bolo: Redford Ranch Style
Leather Cuff: LOVleathers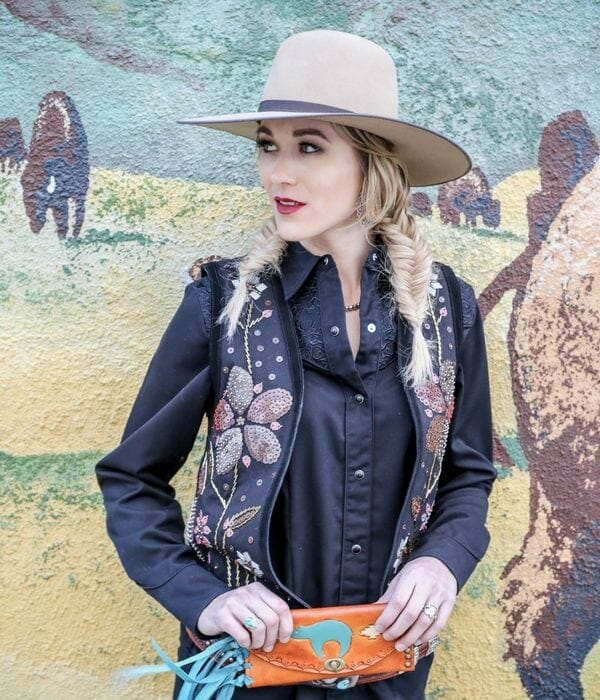 Southwestern Wallet: LOVleathers
With these ideas in mind, go out and be inspired.  You can't go wrong when telling your style story, just stay true to yourself!
Thanks, y'all, for spending some time with me today!  Be sure to stay on the lookout for my next month's blog, where I'll share about the ins and outs of shopping vintage.  In the meantime, check out the rest of our awesome Style Team and what they have to say about stayin' stylin' every week! Have an amazingly blessed day!
-Meghan
If you want to shop the boutiques our Style Team will be working with, you can find a boutique either near you, or by your personal style preference, right here on our site! We are the go-to Hub to find fashion that fits you best! You can shop the site, or get on the list girl, we'll send you the latest styles, discoveries and boutique deals as we find them!
---
Meghan is a member of The Boutique Hub' Style Team and co-owner of the Salt Lick Sisters, a western fashion/lifestyle blog. She spends her "off days" deep in her music, ranching with her fiancé, cooking up new concoctions, and writing.