We are about to hit prime time in the E-commerce industry. As we all know, Q4 is the most important sales quarter of the year… Are you ready to finish 2019 strong? Hello Bar is offering a free webinar training with The Boutique Hub this Thursday, Nov. 21 at 10am PST! Join us as we cover the 3 Crucial Steps that will Increase E-Commerce Sales by 26% (without spending a dime on ads!)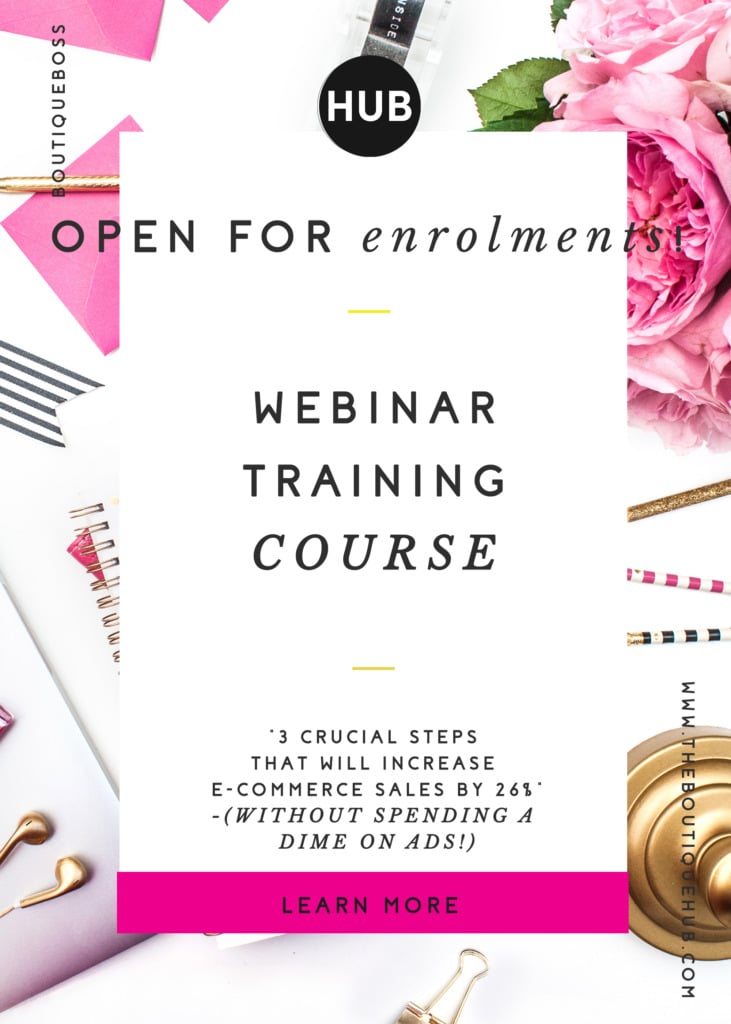 End of Year Challenges for E-Commerce
While there is a lot of money to be made during this time, there are also a few challenges:
Ads are far more costly during the holidays

The competition can get overwhelming and you can often feel like you are competing based on price which can devalue your brand

Inboxes are crowded and it's hard to stand out from the crowd
So what's the solution?
The awesome team at Hellobar has some ideas for you!
Making sure that you are maximizing all of your marketing channels to the fullest. After all, it does take 6-8 touchpoints for consumers to standardly buy.
No need to sink into holiday overwhelm, we have put together a special training to support you in making sure you maximize your resources (whether you have a large budget or not).
After a ton of testing, we know that 98% of your website visitors will leave your website without taking action.
What is crucial is having assets set up on your website to take advantage of your traffic. Think of these assets as a "sales assistant" for your website traffic.
I don't know about you, but I don't want to leave it to chance that someone is going to buy on my website. I want to ensure that I guide my website users down the path that I want them to go to.
When we think about the holidays we often focus on how to get more traffic. But how often are you asking yourself "How do I get my traffic back again?"
Learn The 3 Crucial Steps That Will Increase E-Commerce Sales by 26%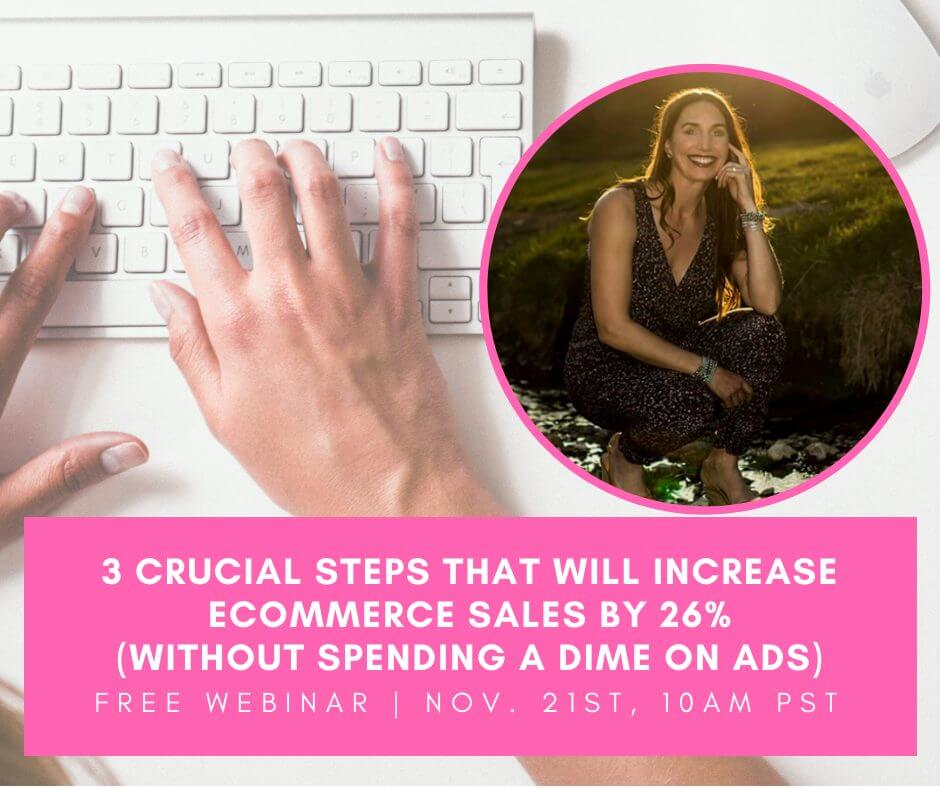 Here is what we are going to cover in our upcoming webinar training partnered with The Boutique Hub this Thursday Nov. 21 at 10 am PST:
How To Get Your Website Visitors To Continue To Come Back Again: Retargeting can get costly. We are going to show you how to get your e-commerce customers to continue to come back again without having to run ad campaigns.

How To Personalize Your Marketing & Increase Sales: If you aren't using personalized marketing in 2019, now is the time. We will show you how to set up automated notifications when your website visitors abandon cart, prices are reduced or items are back in stock!

How To Stop Stressing About Not Getting In The Email Inbox: Let's face it, it is a lot harder to get emails into the inbox these days between the promotions tab and algorithms. We will show you an alternative way to make sure your message makes it straight to your users and doesn't get stopped along the way.
Ready to join? Click here to sign up:
This training is going to be a great opportunity to make sure that your website is set up and ready for the holidays!
After the training you will know how to:
How to do a quick audit on your holiday marketing plan to ensure you are implementing the "right" marketing strategies

Continue to get your website visitors back to your site to take advantage of your holiday offers

How to ensure you are making the most out of your traffic while onsite (and monetize it)
Don't forget the webinar training partnered with The Boutique Hub is this Thursday Nov. 21 at 10am PST! Join us as we cover 3 Crucial Steps That Will Increase E-Commerce Sales By 26%! Our free training will prepare your website and maximize holiday traffic.
Ready to join? Click here to sign up
Guest post blog courtesy of Hello Bar!