Today on the #BoutiqueChat Podcast our host Ashley Alderson, CEO of The Boutique Hub, does a solo episode on 6 Ways to Celebrate Pink Friday. Pink Friday, created by The Boutique Hub, is a small business spin on the traditional Black Friday shopping experience, reminding people to #ShopSmallFirst. Ashley goes over how boutique owners can participate, tips on how to get your customers involved, and where you can get all the resources to prepare for Pink Friday. Tune in now to get all the details! 
>> EPISODE 284 – LISTEN NOW ON iTunes <<
Don't Have iTunes? Listen on Libsyn here
See the Full Boutique Chat Podcast Website here
Key Points:
---
Pink Friday takes place on November 20th, before all the big box stores run their Black Friday specials.
Pink Friday is for EVERYONE who is a small business owner. Hub member or not. And it's completely free!
Give your message before giving out your promotions. People remember not what they bought from you, but how you made them feel.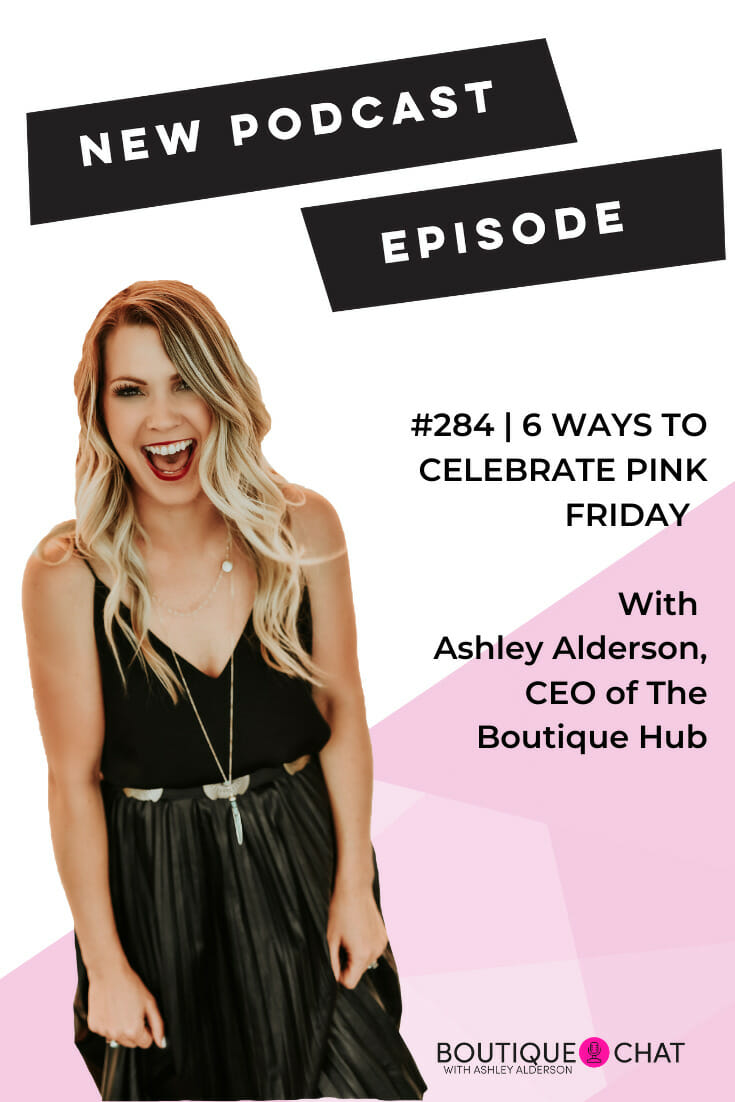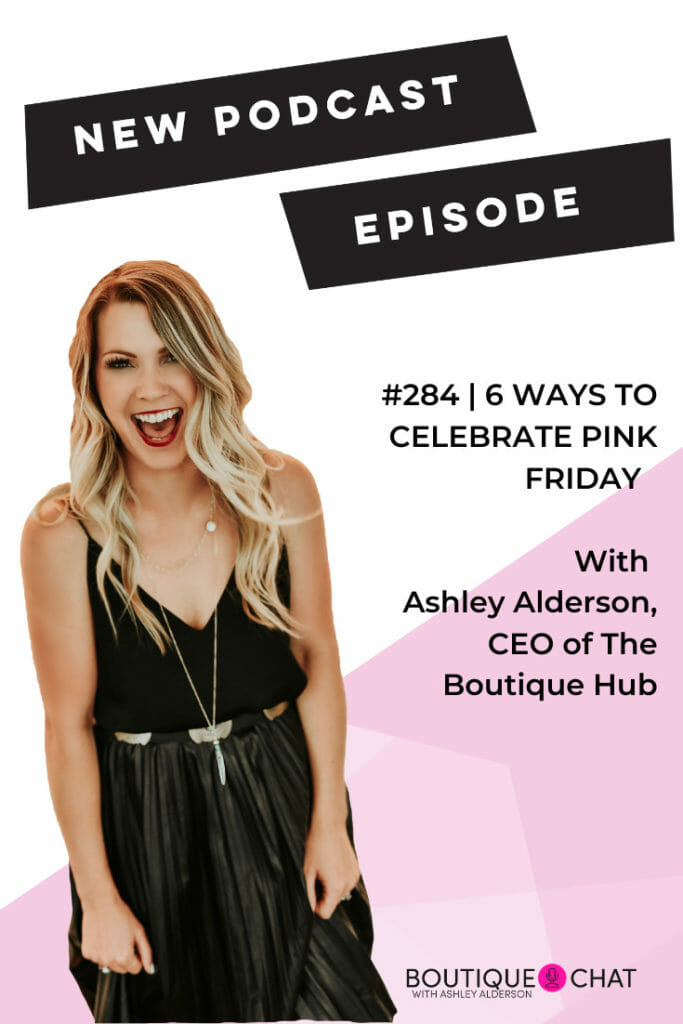 Favorite Quotes
---
"Out of all the years, we find 2020 is the year where our society is valuing shopping small first because they know it makes a difference." -Ashley Alderson
"Don't feel like you have to run a huge blanket sale to get noticed, because that's not what matters. It's about raising your voice and talking to your community about why shopping small first is important and what shopping small first means to your community." -Ashley Alderson
"It's the value that you add to people's lives that really matters. People remember not what they bought from, but they remember how you made them feel." -Ashley Alderson
For more business tips and inspiring words from Ashley, check out her Instagram @ajalderson
Resources Mentioned:
Free Holiday Webinar: https://retailbootcamp.mykajabi.com/holiday-marketing-webinar
Sign Up Here for All Details on Pink Friday!
SIGN UP FOR EMAIL UPDATES ON OUR WEBSITE:
https://theboutiquehub.com/boutique-summit-2020/
Join the Hub for more training, information, and connections.
www.theboutiquehub.com/join
Use the hashtag #AskAshley on Instagram, or tag her at @ajalderson or @theboutiquehubto suggest topics for the podcast and let us know what you thought about this episode!
Want to be our listener of the week? Then Subscribe to our podcast and after that, leave us a review on iTunes Apple Podcasts here!
Original Air Date: November 10th, 2020
Do you love the details 6 Ways to Celebrate Pink Friday? Let us know what you think about our show and help spread the word about the #BoutiqueChat Podcast.