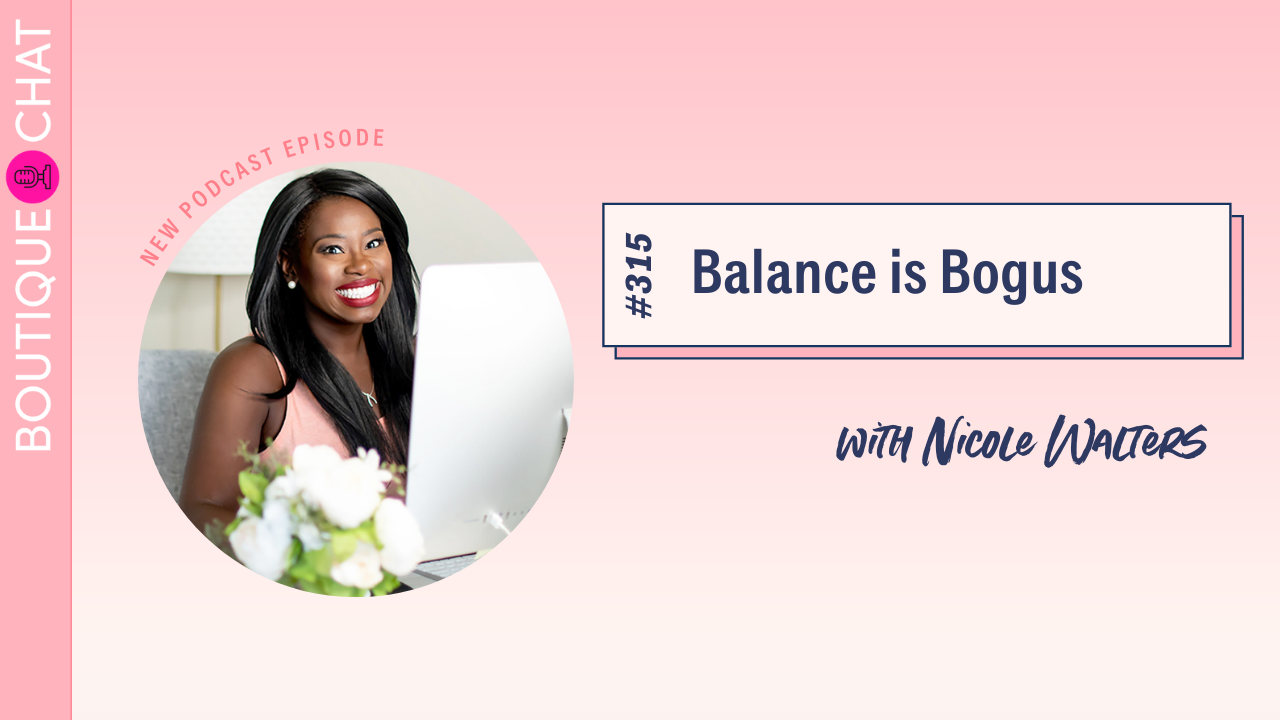 25 May

Balance is Bogus

Is it a challenge to set boundaries between work and family life? Today Nicole Walters discusses why balance is bogus and how one can have a more successful and fulfilling career, all while having a family. Nicole was a former top-selling corporate exec who quit her six-figure sales job in front of 10,000 people, took what she knew, and built a million-dollar business in one short year. Tune in to hear Nicole's crucial advice for entrepreneurs!


>> EPISODE 315 – LISTEN NOW ON iTunes <<
>> EPISODE 315 – LISTEN NOW ON Spotify <<
See the Full Boutique Chat Podcast Website here

Episode Rundown:

00:03:15 Nicole's Story
00:10:41 3 Must-Know Tips for Business Owners
00:26:44 Money Isn't Evil
00:34:50 Balance is Bogoes
MAIN POINTS IN BALANCE IS BOGUS
---
Keeping it old school is the way to survive. People want to do business with people.
Your thoughts create your reality.
Balance is bogus. It's about setting a boundary between what things are none negatable and what things are.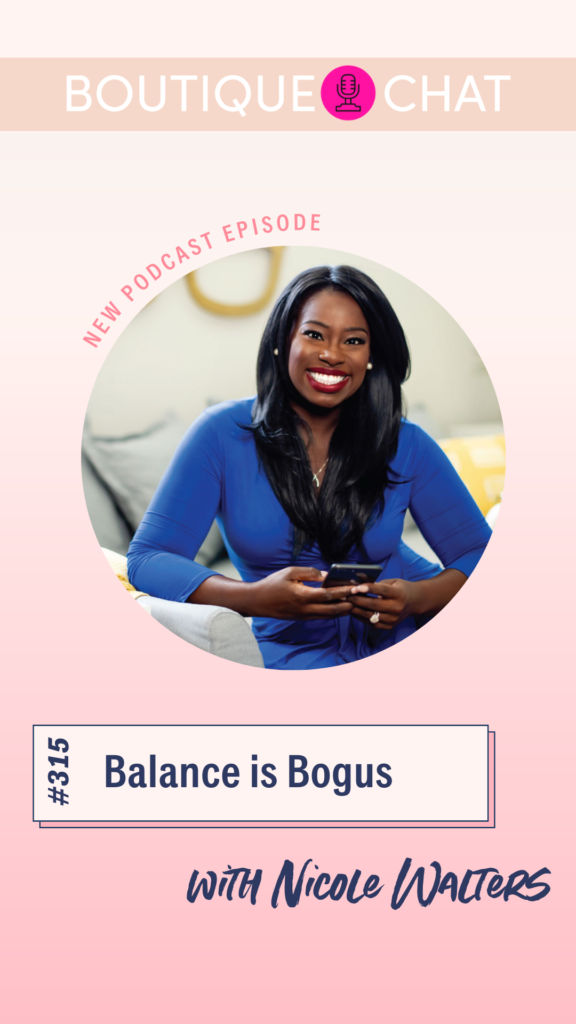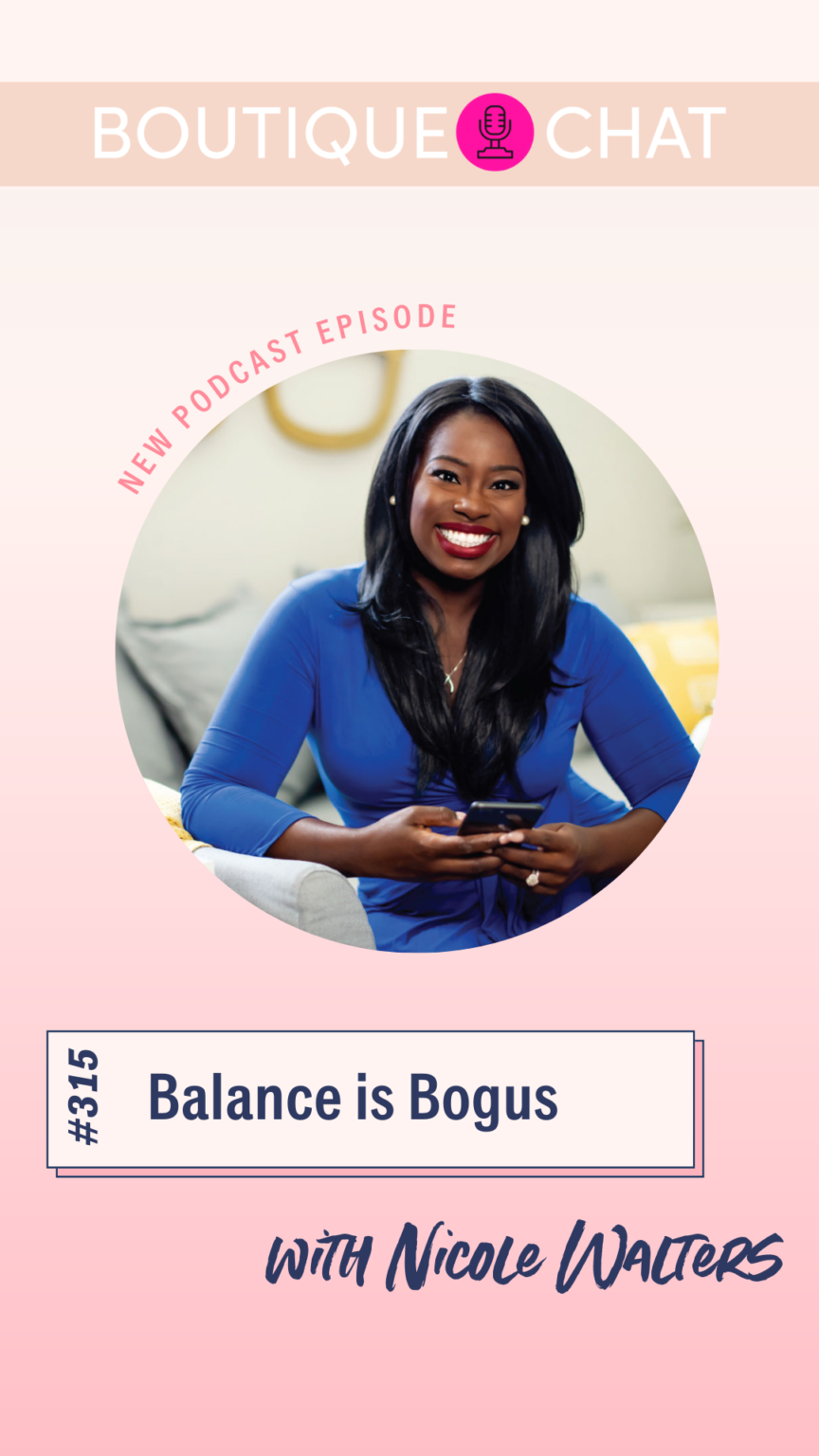 FAVORITE QUOTES IN BALANCE IS BOGUS
---
"If I am saying yes to someone, I am saying no to something else." -Nicole
"You can automate systems, but you can automate relationships." -Nicole
"The biggest mistake I made was waiting too long to actually hire and scale." -Nicole
NICOLE'S INFORMATION:
Instagram: @nicolewalters
Website:
Today's episode was brought to you by CommentSold.
To help uplevel your online sales, the CommentSold team is offering Boutique Chat listeners a free ring light when you start a 30-day free trial. Click here to claim your free ring light!
Nicole might sound familiar, that's because you might have heard from her at the 2019 Boutique Summit! And guess what… the 2021 Boutique Summit tickets are live! Grab them now before they're gone!
---
Join the Hub for more training, information, and connections.
www.theboutiquehub.com/join
Use the hashtag #AskAshley on Instagram, or tag her at @ajalderson or @theboutiquehubto suggest topics for the podcast and let us know what you thought about this episode!
Do you love the Boutique Chat Podcast?! Subscribe to our podcast and after that, leave us a review on iTunes Apple Podcasts here!

Original Air Date: May 25th, 2021
Do you love the details of Balance is Bogus? Let us know what you think about our show and help spread the word about the #BoutiqueChat Podcast.
Recent Posts:
2021 Boutique Summit Tickets & Sponsors

It's almost time for the 2021 Boutique Summit! Besides tons of education to help you crush Q4, we are going to CELEBRATE ourselves & have some fun!

Working With Your Spouse

Working with your spouse can bring on challenges but it can also be so rewarding! Today Ashley and Eric Alderson give their insight and advice on being married and working together. This candid conversion covers setting boundaries, intimacy, and how they handle conflict. But that's not all, tune in to hear all the juicy secrets from this power couple! >> EPISODE 318 – LISTEN NOW ON iTunes <<>> EPISODE 318 – LISTEN NOW ON Spotify…

Creating a Profitable Boutique in 8 Months

How do you market your boutique in 2021? Morgan Phillips created a Profitable Boutique in 8 Months. Today she discusses how her business thrived so quickly, marketing on Tiktok, and how to create a community around your brand.