Today is our final episode for season 3 of the Boutique Chat podcast, and I cannot express how much gratitude I have for all of you. Throughout this season, we have spoken with amazing guests, heard incredible stories, and learned valuable lessons. So, in this episode, I wanted to share an awesome milestone we recently hit and explain an exciting giveaway we will be hosting.

Listen in as I list some of the highlights from season 3, including our outstanding guests. You will learn why it is important to surround yourself with like-minded people, why you should always have friends that push you to grow, and the value of finding a community.
Season 4 of the Boutique Chat podcast will relaunch on December 28th. Until then, each week I will be sharing some short tips to help you power through the busiest time of the year!
>> EPISODE 339 – LISTEN NOW ON iTunes <<
>> EPISODE 339 – LISTEN NOW ON Spotify <<
See the Full Boutique Chat Podcast Website here
Watch the interview on Youtube:
What You'll Learn In Big Announcement and Saying Goodbye to Season 3
---
The value of finding a community.
How much I truly appreciate you.
The 3 types of friends we have.
Why having friends who help you grow is key.
The amazing people who have made this podcast possible.
An exciting milestone we recently hit.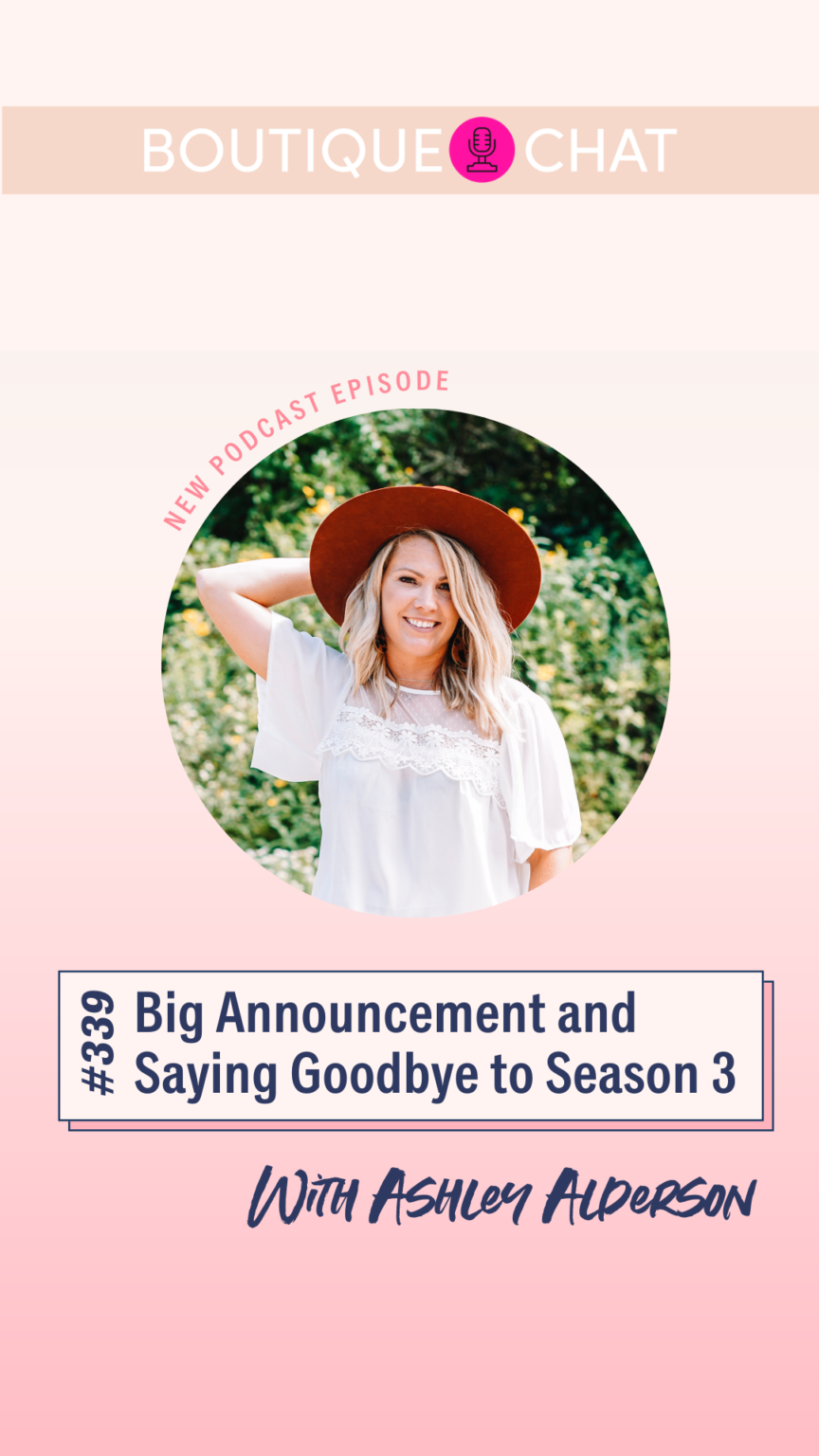 Favorite Quotes
---
"I am just so thankful that you have trusted me to be a source, to be a mentor, and to be a friend that's able to walk through this business with you." – Ashley Alderson [1:45]
"Life is better when you share it with people, and you surround yourself with people who get it and who see you for who you are." – Ashley Alderson [2:29]
"Reach out and surround yourself with like-minded people." – Ashley Alderson [2:58]
---
Resources:
Today's episode was brought to you by Digital Boutique Co. Click here to learn more: https://digitalboutiqueco.com/lets-chat/
---
Join the Hub for more training, information, and connections.
www.theboutiquehub.com/join
Use the hashtag #AskAshley on Instagram, or tag her at @ajalderson or @theboutiquehub to suggest topics for the podcast and let us know what you thought about this episode!
Do you love the Boutique Chat Podcast?! Subscribe to our podcast and after that, leave us a review on iTunes Apple Podcasts here!

Original Air Date: November 9th, 2021
Do you love the details of Big Announcement and Saying Goodbye to Season 3 Let us know what you think about our show and help spread the word about the #BoutiqueChat Podcast.
Recent Posts:
Showing your Customers Appreciation this Holiday Season

Not only is Christmas the time for buying it's also the time for GIVING.  Often times we spend the months looking at numbers and forget about the amazing people who helped us create those numbers in the first place.  How are you showing your customers appreciation this Holiday Season?  

How To Maximize Your Email Marketing

Did you know that 64% of small businesses use email marketing and it is the most reliable method to boost marketing, more than social media! It's easy to think of email marketing as an' old traditional marketing strategy', but it has proven to be still very relevant and effective, with 4.03 billion people using email around the world in 2021.

Big Announcement and Saying Goodbye to Season 3

Our final episode for season three of The Boutique Chat Podcast, a recent milestone we have hit and some exciting things to look forward to!