Are you one of the many boutiques that are chomping at the bit to have your boutique relaunch and open your brick and mortar? Are you having dreams of what it will be like once you get the green light to get back to "business as usual"?   As exciting as these daydreams are, I urge you to pump the breaks and make sure you are prepared! What is "business as usual"? What are you actually "re-opening?" Are you the same business you were prior to The COVID-19 pandemic? Just as the world has changed, so do you! 
We don't know what the future holds. We can't tell you what your business will look like when this is all over. All we can control are our attitudes and our preparation and take this one day at a time. There are a few things you should be certain of if you do plan to re-open your business soon. It is so important, now more than ever, to show your gratitude to your customers, staff, vendors, community, and families! And you must commit to following recommendations set by your local officials and government agencies at all times to not only regain but keep the trust of your customers. You are re-opening, or re-launching your business in hopes that your customers will re-trust and remain loyal to you and your offering.
Let's take a look at what we believe to be true about our customers.
What has changed?   
People now believe there is a risk of being in large groups.
People have lost trust in what used to be considered comfortable situations, processes, and daily activities – this trust was not developed overnight, however, it has been tarnished in a short period of time.
People have adapted to new technology and opportunities to get what they need without going in public.
People used to know who you were, what you offered, and how you offered it – currently, they assume you are closed or possibly open but not conducting business as it used to be.
Your business doesn't have the same customer any longer.
Old sales strategies or practices won't be allowed at this time.
A new mindset has been established in our country. Priorities have changed in the blink of an eye. So now is the time to assess your business and decide what is important to you and your boutique relaunch. How has your business shifted? Is your business the same as it was prior to this pandemic? We are a more localized society now and we are stronger together!   
This is no-doubt true Community Over Competition!  
So what will you do to re-build that trust among your customers, staff, community, and family?
Vow that your business will follow all recommendations from the CDC and your local Department of Health office.
Constantly remind everyone you have made a number of operational changes to keep everyone safe.
It all starts with a feeling of comfort and security! Communicating with your staff will be imperative to your boutique relaunch. If your staff is not comfortable in their working environment, your customers will know it and won't feel comfortable shopping with you.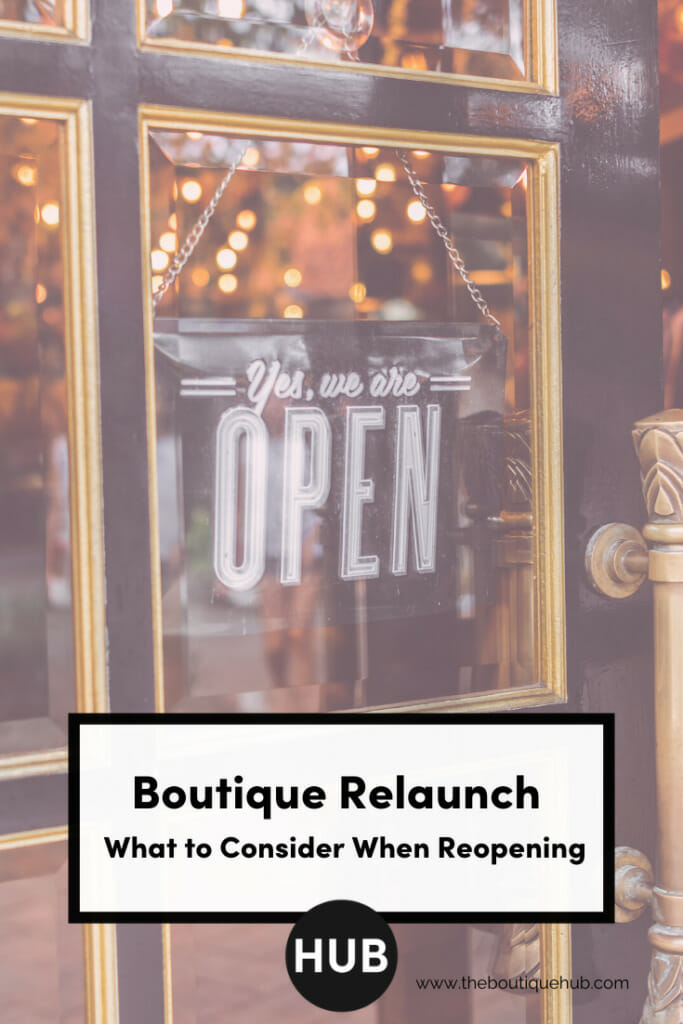 Here are a few ideas for your boutique relaunch as you commit to being Part of the Solution, Not the Problem. 
Ask all staff to communicate any illness or feelings of illness. You can also provide an instore thermometer to reassure other staff members, customers, and family.
Update your Employee Handbook and standard operating procedures. This is the #1 rule in training your staff – if it is not written down NO ONE knows about it!

Face Masks
Hand Washing Requirements
Cleaning Procedures
Social Distancing

Encourage them to openly communicate any concerns they have about returning to work.
All employees must be trained on environmental cleaning and disinfection, hand hygiene, and respiratory etiquette. https://www.cdc.gov/coronavirus/2019-ncov/community/disinfecting-building-facility.html
Discuss the OSHA Employee Guidelines and how they relate to your business. https://www.osha.gov/Publications/OSHA3990.pdf
We are all entering into uncharted territory and there are many unknowns. Now more than ever, we realize we can't take anything for granted. Therefore, we need to enter with caution and take things one day at a time. As we all learn a "New Normal" we must be patient and kind. Only then can we reconnect and reconfirm the relationship with our customers.
Here are a few ideas of ways to let your customers know you have their best interests at heart: 
Respect proper social distancing during the customer's shopping experience.
Provide masks, gloves, sanitizers, plastic shields – all options many retailers are using to protect themselves and their customers.
Increase signage to encourage social distancing, hand washing, and other sanitary practices.
Install a device on your front door that allows customers to open it with their foot instead of using the door handle.
It's also important to:
Be vocal about your boutique relaunch:
Do not assume your customer knows when you are re-opening.
Do not assume your customer knows what steps you are taking to protect them or your staff.
Keep your announcements consistent – repeat, repeat, repeat.
Do not make assumptions about your customer's comfort level.
Consider snail mail for your VIP customers.
Re-evaluate the problem you are solving for your customers and make sure you have:
Clarity of purpose in this new world of business.
Clarity of the mission and vision for your business.
Clarity of who your customer is and how you can serve them.
Consider conducting a customer survey to confirm your value proposition.
Extended return policies to better serve the needs of your customers who are shopping via pick up or online.
Add a friendly note in each purchase showing your gratitude for their purchase and reassure them of the new and improved business practices.
The true definition of an entrepreneur is someone who is a balance of knowledge, hard work, creativity, and a little luck! We could all use a little luck right now, that is for sure… But in the true spirit of entrepreneurship, we encourage you to forge forward, chin up, believe you are going to get through this. Identify alliances with your neighbors, grow together, and support each other more than ever. Consider going above and beyond for your customers! It is important to remember that they didn't learn to trust you overnight, so be patient as you rebuild that trust. 
Your boutique relaunch will be as successful as you want it to be but you can't do it without your customers. We want to build excitement, suspense, and FOMO! We want your customers to feel that they would be missing the shopping opportunity of a lifetime if they didn't reconnect with you for their shopping needs, however, it has to be done responsibly and safely. 
Consider this an opportunity to be better than you once were!
May your reopening be better than your first opening!
---
Click here for the FREE Resource Center for the Boutique Retail & Wholesale Industry
We're in this together.
Join the Hub for more training, information, and connections.
www.theboutiquehub.com/join
Recent Posts:
Retail Businesses Giving Back: An Innovative Approach
Coronavirus Will Cause a Lasting Positive Change in E-Commerce