Girl, grab a pen. This podcast answers questions you've been searching for and we go in-depth on what technology is most important for your boutique. Point of sale systems helps you better manage your inventory for e-commerce and brick and mortar stores.
#BOUTIQUEBOSS BREAKFAST: at WWIN @ 8:00 AM
Featuring 4 speakers + Roundtable business topics on buying, data, sales training and Social media engagement. Breakfast will be served!
Click here to RSVP
Enter the Lightspeed Retail + The Boutique Hub Giveaway here!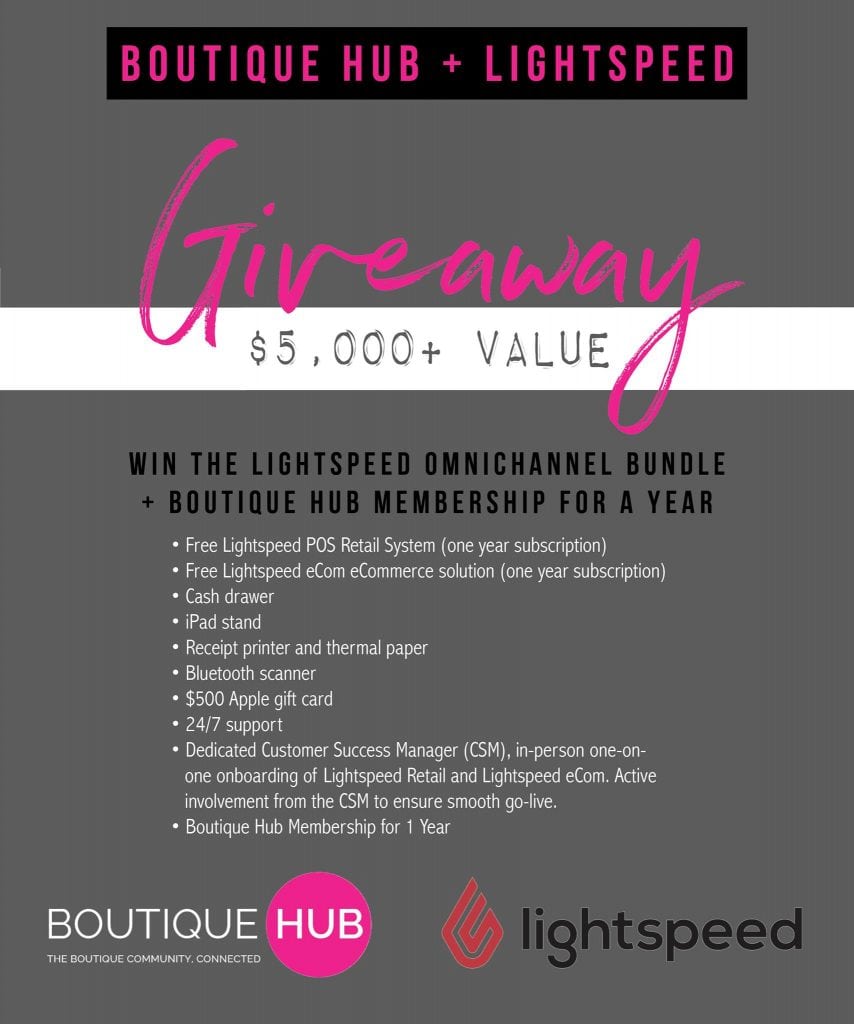 ABOUT CARO & LIGHTSPEED
Lightspeed provides retailers with a simple way to build, manage, and grow their business all while creating a better customer experience. With their POS and eCommerce platforms that centralize daily operations, they offer entrepreneurs their time back. Lightspeed Retail system takes care of the tasks that slow them down and helps them grow their business by giving them the tools and support to succeed in a competitive and evolving landscape. All Boutique Hub members will receive preferential Lightspeed pricing.
Caro is a Sales Engineer at Lightspeed. She's worked with thousands of retailers over the last few years and learned more about their specific needs and workflows. Based on these discussions, she's learned to showcase different technological solutions that could be implemented to improve their business and help them grow.
KEY TAKEAWAYS
Start by just tracking your data, technology doesn't have to be scary.

Time is money. Run aging reports.

Conversion rates? Google Analytics is FREE!

The best way to eat an elephant is one bite at a time.

Customer convenience is key.
SHOW NOTES
06:50 – What sets Lightspeed Retail apart.
10:00 – One of the biggest obstacles small retailers are facing today.
13:00 – Reports to analyze on a weekly basis.
18:55 – How to speak specifically to your customers using data.
24:35 – What successful boutique do and where the industry is headed.
31:45 – Why Carol loves working with boutiques.
35:50 – Lightspeed Retail in Las Vegas… There's a GIVEAWAY!
FOLLOW LIGHTSPEED
Their Hub profile
On Facebook
On Instagram
On Twitter
FOR MORE ON THE BOUTIQUE HUB & BOUTIQUE CHAT
Join the Hub for more trainings, information, and connections.
www.theboutiquehub.com/join
Use the hashtag #AskAshley on Instagram, or tag her at @ajalderson to suggest topics for the podcast and let us know what you thought about this episode!
Want to be our listener of the week? Subscribe if you love the show, then leave us a review on iTunes Apple Podcasts here!
FOLLOW THE BOUTIQUE HUB
Boutique Hub Business on Facebook
Boutique Hub Business on Instagram
Ashley Alderson on Instagram
Original Air Date: August 6, 2018
Love this episode? We would be so humbled to hear your review on Apple Podcasts or iTunes! Or, let us know below!