Feeling defeated with the same old brands & designs? Customers getting bored with your inventory? Needing some inspiration for looking outside the box? Our do's and don'ts for buying for your boutique are sure to get you on your feet & fill up your warehouse!

DO – Keep Track of the Brands You Use
As a business owner, you have a million things going on at once and there's no way you can remember every vendor and your sales numbers, or experience with them. Keep a designated spreadsheet specifically for this purpose! Be sure to note key information about the brands you work with such as turnaround time, quality of clothing, fit, customer service, turn rates, and sell through. It is also important when ordering from a new vendor to get multiple forms of contact so you can stay in touch with them. You can also use this to rediscover old brands that you've used in the past. Chances are they have some new designs for you to discover!
DON'T – Abuse Zip Code Protected Brands
Brands zip code protect for a reason. They do it to protect you, their valued customer, the boutique owner. If you aren't sure what zip code protecting is, think of it like a bubble around your area. Within this bubble, only YOU are allowed to purchase and sell lines from this specific brand. By doing this, you can be confident knowing that the boutique down the street won't have the same brands in their store as you.
However, some boutique abuse this when they purchase inventory from zip code protected brands in destash groups. If you destash your zip code protected inventory to boutique owners that aren't approved vendors for said brand, or purchase zip code protected inventory when you aren't an approved vendor, you dilute the quality and integrity for that brand. When discovered, you and the boutique you purchased from or split packs with will lose all current and future buying privileges. Please abide by their rules because they're doing this for you!
DO – Join Individual Brands' Wholesale Groups on Facebook
Some wholesalers don't publicly promote their latest designs because they don't want others to steal the designs or copy their ideas. Instead, most brands have a private Facebook group where they release designs and allow boutiques to directly order packs from them. Upon finding a new brand, ask if they have a Wholesale Group on Facebook for you to join. More often than not, the brands will ask for you to verify your legitimacy with proof of a Sales Tax ID and/or Reseller's Permit. This is normal business conduct, as brands want to verify that you are in compliance with your state's business regulations. These permits allow you to purchase wholesale items (or items for resale) without having to pay sales tax because you are agreeing to charge/collect sales tax when you sell the items to customers at retail prices.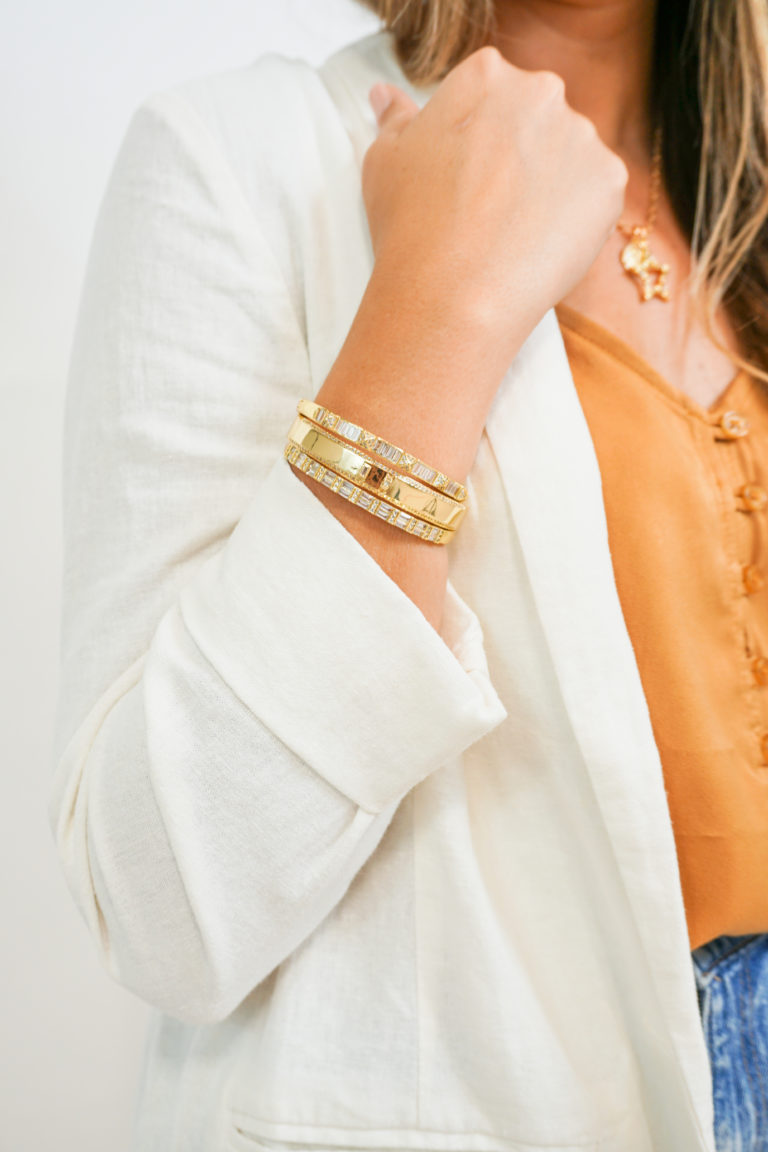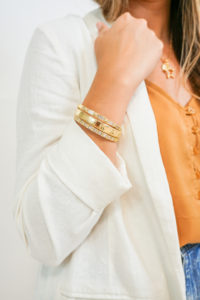 DON'T – Ask Other Boutique Owners About Their Brands
When you ask another boutique owner about the brands they purchase from, you are asking them to give away the secret which may have taken several hours, days, or even months to secure. Although some boutique owners may be brave enough to say, "I'm sorry, but I don't share my vendors," some may be more passive and give away those hours just with one question. Additionally, posting another boutique's photo in any boutique owners forum or Facebook group, is hurtful and should be avoided. Please respect your fellow #BoutiqueBoss & allow them to keep the secret of their vendor names. If you want to be successful, you will find a way to secure your own unique pieces and brands. The easy way is never the best way to grow your business.
DO – Reverse Search on Google
Find a product on Pinterest or Facebook and not sure of the brand? Do a Reverse Search on Google to find the source of the image. It's as simple as the click of a button.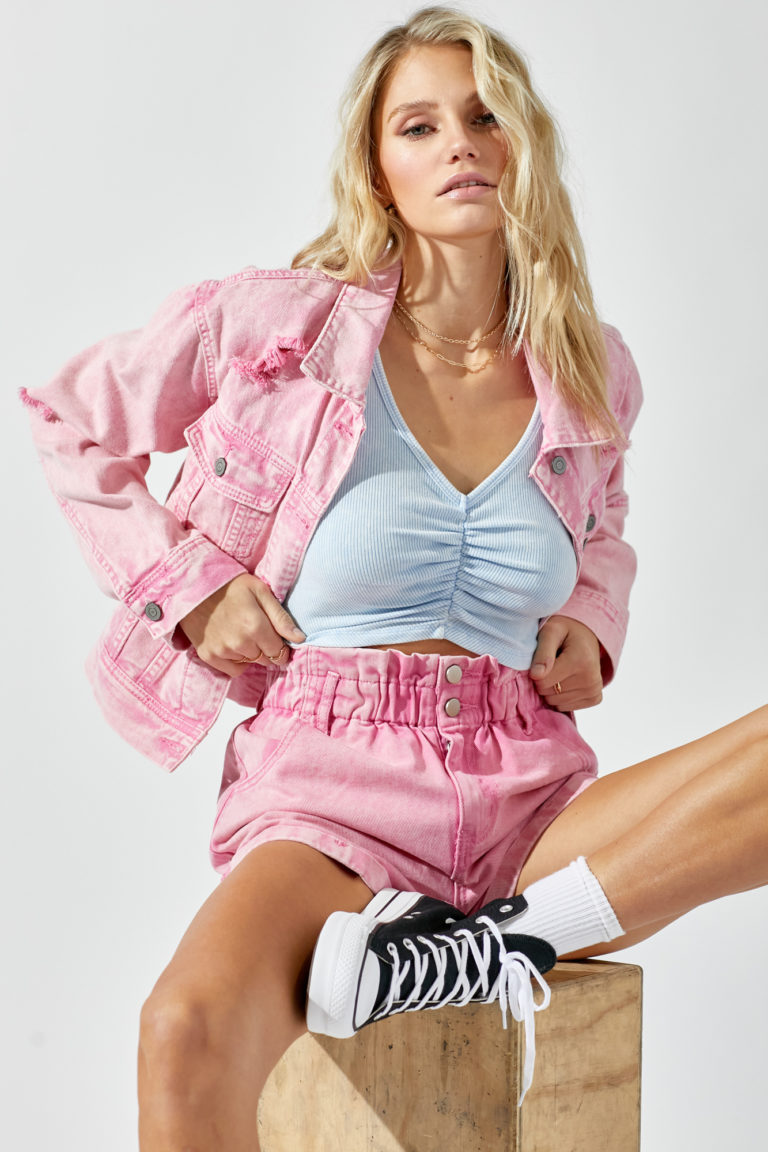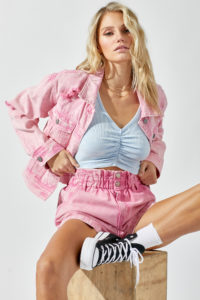 DON'T – Steal Designs
We all get ideas from the Internet, creative inspiration is all around. But taking that inspiration which is someone else's design to print it, and sell it for your own profit (even if changed 20 percent from the original) is wrong, shady, lazy and disrespectful. Let your fellow designers inspire you, but don't copy. Don't flood the market with the same designs everyone else is selling, because it won't help anyone.
When you copy another designer's teeshirt, print, painting, quote, etc., you're taking money away from the original designer, their business, employees' wages, and family. If you're a screenprinter or if you use one, please stop & think for a moment about the results of your actions. If you want to build a brand that stands the test of time, then be original. Create something unique and stop trolling Etsy, Facebook groups, Instagram, and other successful boutique's websites to find designs. Imitation is not flattery, and the boutique industry is quite small so your own reputation will always suffer!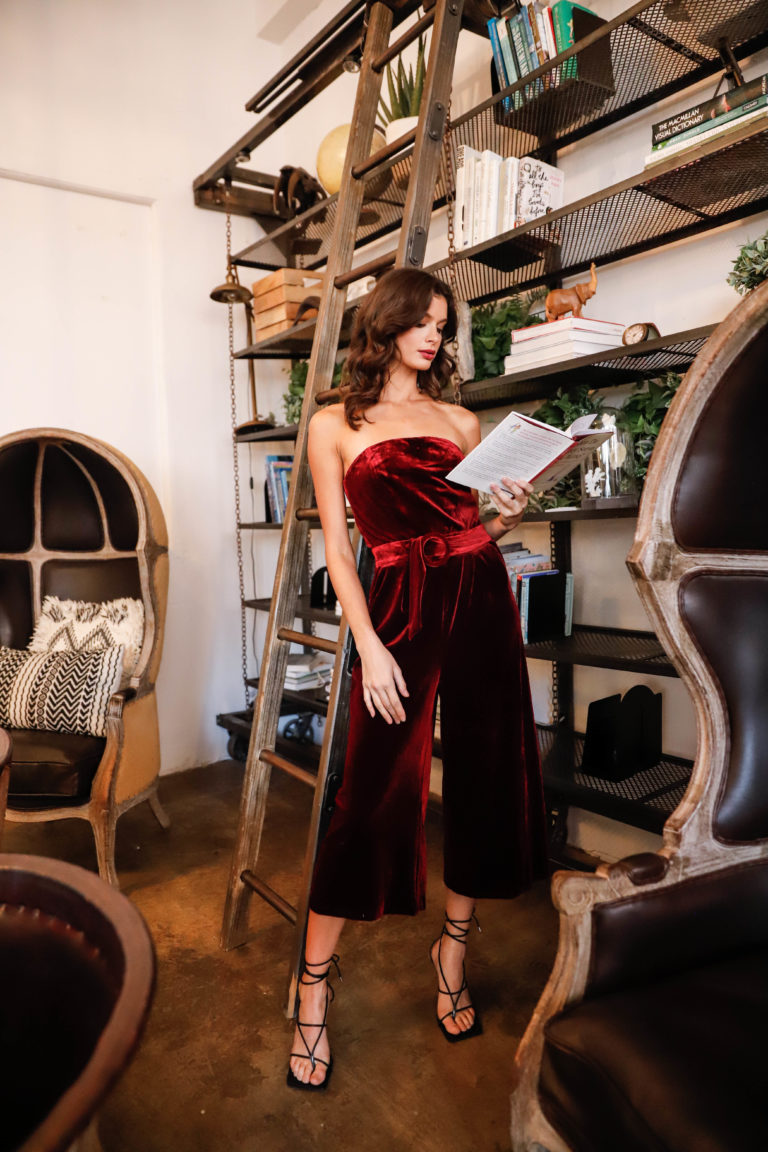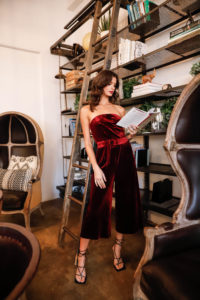 DO – Attend Markets!
For those that haven't been to a market, you may think of it as one big shopping trip! However, once arriving, you may feel overwhelmed and confused. Develop a "plan of attack" before attending with a budget, map, breakdown of inventory to purchase, and list of vendors you want to visit. Most unique brands, lines, and styles are not found online, they are only available at market. Everyone has access to Fashion Go, just like you do. So if being unique is important to you, this should be a priority.
For more tips about attending markets, check out our blog post here.
For a list of popular markets & their websites, check out our Resources page.
DON'T – Split Packs with Other Boutique Owners
If you are going to split a pack, please only do it with boutique owners that you know & trust! Even then, do so at your own risk. Someone doesn't pay an invoice. Another pays, but never receives their items. We hear these issues all of the time! This is often a policy that you are breaking with brands who set a minimum order on purpose to ensure that the retailers they work with are legitimate businesses and invested in the brand as a partner, rather than only dipping their toe in the water.
But what if you don't think you can sell an entire pack? Some vendors, especially if you've ordered from them in the past, will sell smaller packs to you. Contact your rep & see if you can negotiate an order that works for you.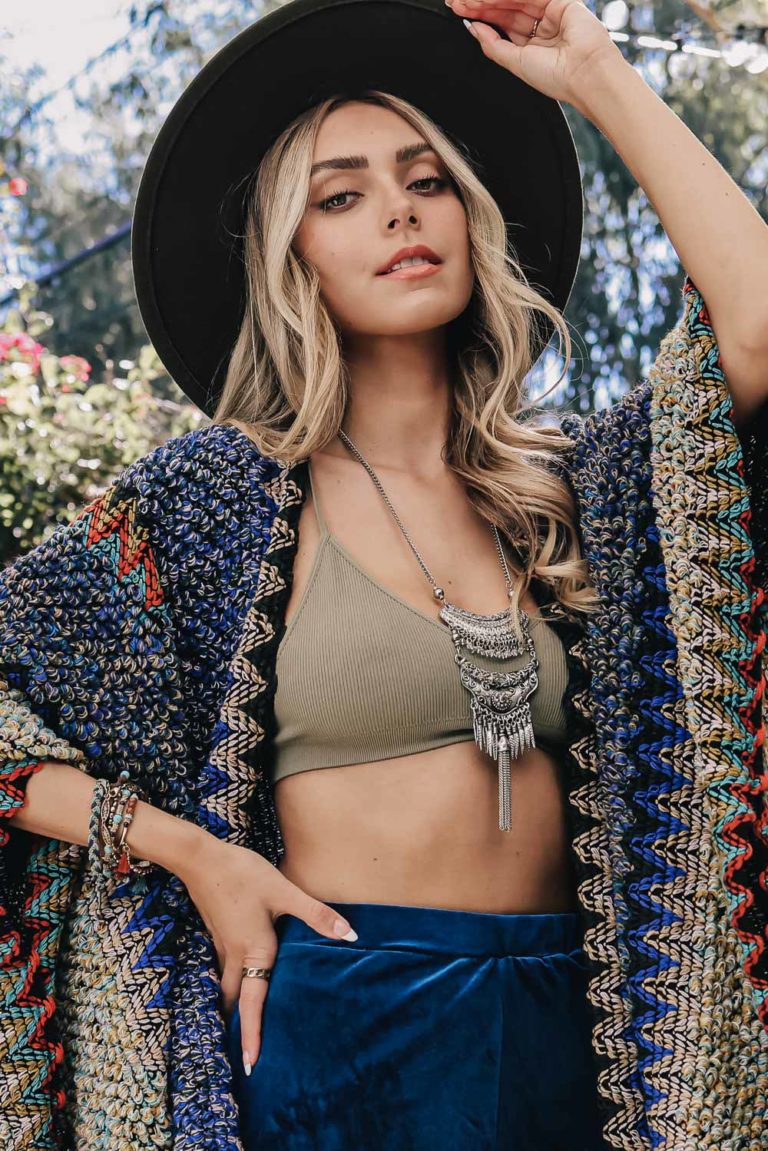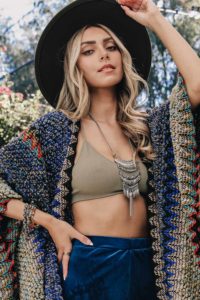 DO – Look at sites like Hubventory
Still small and don't have the funds to meet minimums? Try looking at wholesale websites such as our very own Hubventory, which offers lower minimums to build your inventory.
DON'T – Use Buy-In Groups
What is a buy-in group you ask?
It's often a Facebook Community of a 'leader' who purchases goods for wholesale at either an overseas marketplace who illegally remakes goods to appear that they are the same as well-known American brands or styles, or they are purchasing from actual wholesale brands in the US under the disguise of a real independent boutique owner, passing along rock bottom prices that seem too good to be true to consumers.
Sometimes you'll see these groups named "BUY-IN" or you'll see them posting in a way that is. a pre-order to meet a minimum quantity of goods to place the 'buy'.
For more information about why these hurt our industry, read our full post on our The Boutique Hub: Business Facebook page
DO – Go to the LA Fashion District or Hire a Professional Buyer
If none of the Market dates work for your schedule or if you're looking for something different, plan to take a trip to sunny Los Angeles to find some new brands. There are hundreds of places that offer cash & carry, as well as Fashion Markets and Showrooms. You can learn more about it here. Also, check out our Service Provider page (available exclusively for Boutique Hub Members) to meet professional buyers who can also provide this service for you.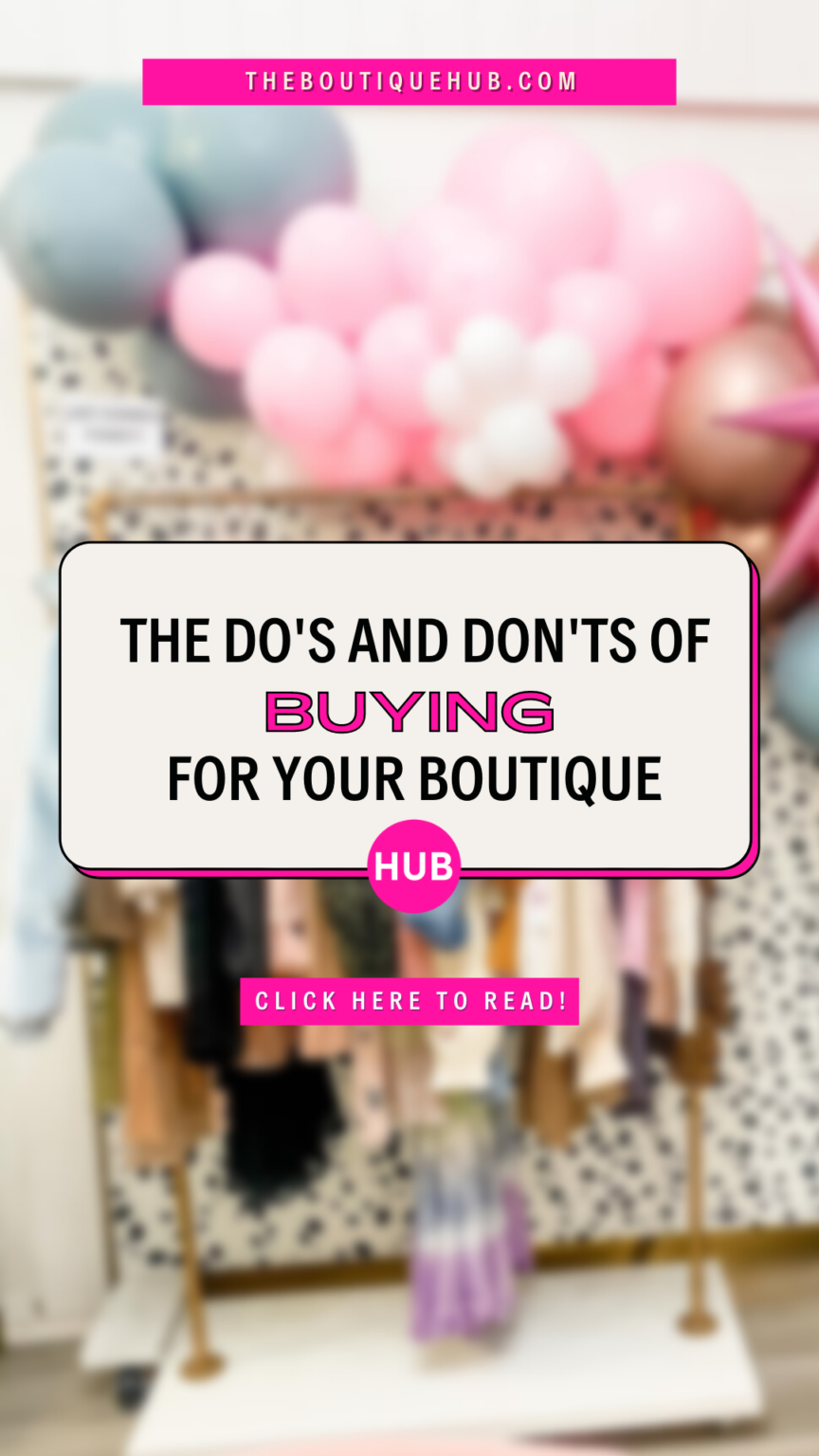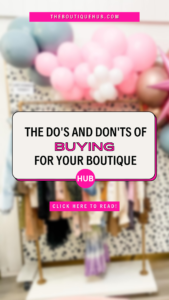 DON'T — Give up! 🙂
Most importantly, don't give up! If owning a boutique is your dream, go for it! The only thing standing in your way is you. If it seems like things are crumbling around you, change your perspective on the situation. Ready to throw in the towel on your store? Check out our Best Year Yet video series in our Training Library. It's proven to turn your business around.
DO – Use the Hub's Resources for Members || Brands Directory and Brands, Vendors, & Designers Facebook Group
If you're a Member of The Boutique Hub, one of your membership benefits is access to our Boutique Brands, Vendors, & Designers group on Facebook where you can see a constant stream of wholesale items for boutiques! Another benefit for our Members is our Brands Directory where you can connect with even more wholesale providers. Visit your Dashboard on theboutiquehub.com to access the Wholesale Marketplace to search for a new brand, find their HUB discount, and shop them directly on their site or with their rep. JOIN HERE.
---
We hope you loved our article on Buying for Your Boutique. How else can The Boutique Hub help you grow?
Get more information on growing your business by joining The Boutique Hub, where we have tons of training, information, and most importantly, connection! www.theboutiquehub.com/join Try out our service for a month, cancel anytime.
Follow along on Instagram @theboutiquehub!