Have you ever looked at your analytics and wondered why you're getting traffic to your website but your store isn't converting to the sales you should be seeing? Or maybe you are looking to build an eCommerce store, but you're unsure of where to begin. If this sounds familiar, then Kelly Vaughn is your go-to girl. Kelly is the CEO and Founder of The Taproom, a business that creates high-powered Shopify Plus solutions for fast-growing businesses. In this episode, she joins the show to share her advice for turning a Shopify store into a sales powerhouse, as well as the tools you need to keep your business growing.

Listen in as Kelly explains why it's so important to build a relationship with your audience from the homepage of your website—and how to do that. You will learn how to ensure your storefront stands out, the benefit of having strong imagery on your podcast, and the benefit of asking a friend to review your website and give you honest feedback.
>> Converting Your Shopify Store into A Sales Powerhouse – LISTEN NOW ON iTunes <<
>> Converting Your Shopify Store into A Sales Powerhouse – LISTEN NOW ON Spotify <<
See the Full Boutique Chat Podcast Website here
Watch the interview on YouTube:
What You'll Learn In Converting Your Shopify Store into A Sales Powerhouse:
---
How to optimize the home page of your website.
The best way to highlight your product pages.
The psychology behind why some stores work and some stores don't.
The importance of having strong imagery on your site.
Why having unique copy on your site is essential.
How to continue the opportunity to shop on your footer.
Why your product description is important.
How to introduce text marketing.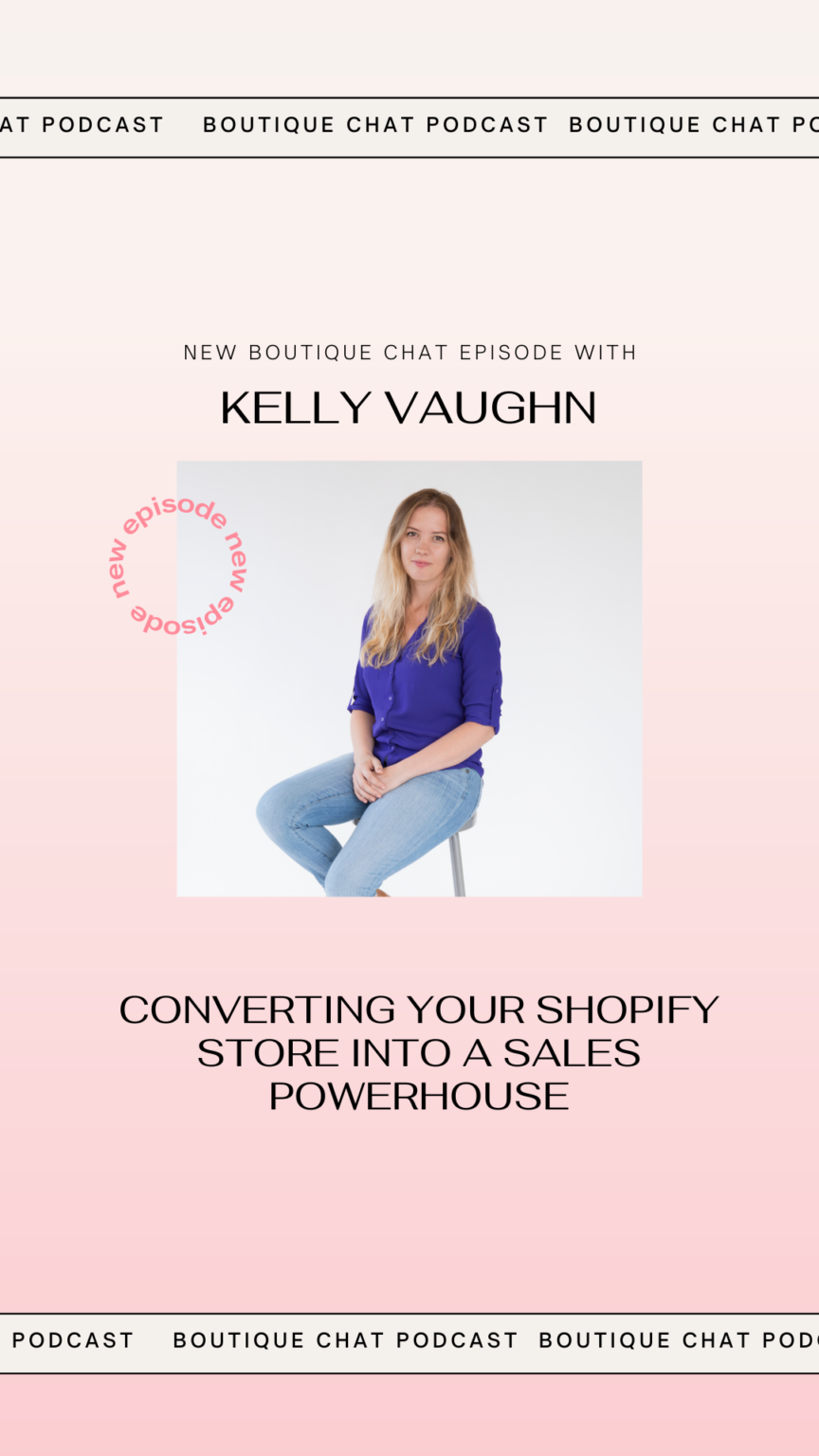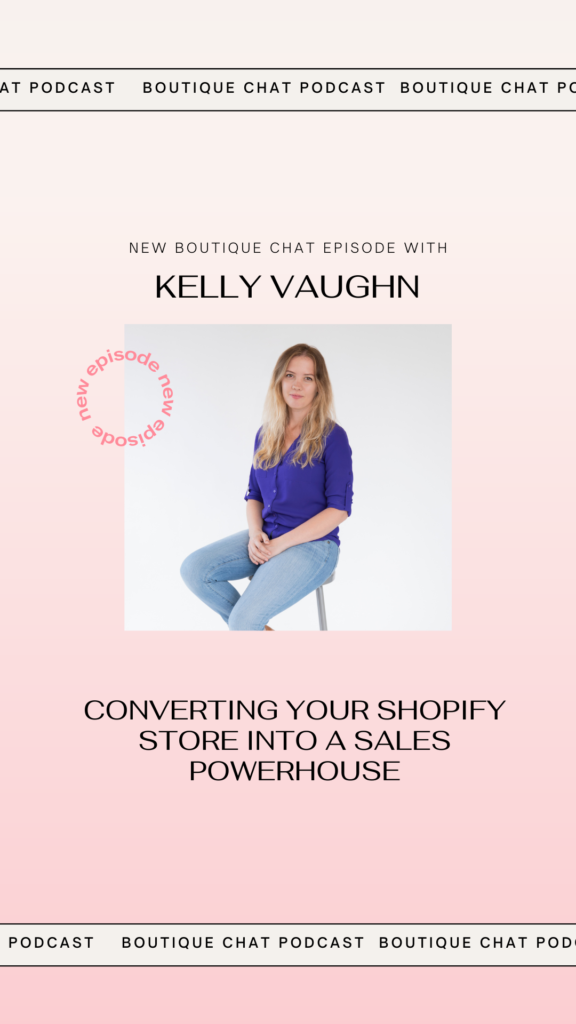 Favorite Quotes
---
"Whenever I am building a new website, I am trying to answer three questions from their homepage: Who are you? What do you sell? And why should I buy from you?"- Kelly Vaughn [3:55]
"Your product description is incredibly important." – Kelly Vaughn [9:55]
"SEO is a marathon, not a sprint." – Kelly Vaughn [18:50]
---
Resources:
Kelly Vaughn: Instagram
The Taproom: Website | Instagram
---
Join the Hub for more training, information, and connections.
www.theboutiquehub.com/join
Use the hashtag #AskAshley on Instagram, or tag her at @ajalderson or @theboutiquehub to suggest topics for the podcast and let us know what you thought about this episode!
Do you love the Boutique Chat Podcast?! Subscribe to our podcast and after that, leave us a review on iTunes Apple Podcasts here!

Original Air Date: January 18th, 2022
Do you love the details of Converting Your Shopify Store into A Sales Powerhouse? Let us know what you think about our show and help spread the word about the #BoutiqueChat Podcast.
Recent Posts:
Holiday Season Playbook: 5 Pro Tips for Boutique Success

As boutique store owners, you understand the importance of gearing up for the retail extravaganza that is this entire holiday season. That's why we've curated a set of exclusive tips, tailor-made for boutique stores like yours. Whether you're a seasoned pro or diving into this season for the first time, our expert advice is here to empower you!

Boutique Owner's End of the Year Checklist

We are so excited to be bringing you some tips to make rolling into 2024 the smoothest transition yet! Here you will find our Boutique Owner's End of the Year Checklist, filled with info on taxes, inventory, and more!  

Dig In and Do The Hard Thing with Anais Almazan, Pretty & Pink Boutique

Anais Almazan, founder and owner of Pretty & Pink Boutique, shares her story from growing her business to building a true community.