Because western fashion isn't just about the ladies…
Pre-WNFR and Western Fashion Week, we caught up with Austin Whitmore, Founder of Cowboy Fresh, a men's apparel brand making a name in Western Fashion. From custom designed graphic tee's from well known western influencers, to patchwork caps, to a great line of outerwear – Cowboy Fresh is on the move!
Founded in 2010, this men's western apparel brand as become a go-to for guys on the road.  The Cowboy Fresh brand is no stranger to the rodeo trail, so chances are you'll see Austin or one of their pop-up shops at your favorite summer rodeo around the US.
We wanted to know more about this growing brand and what it's like to be a guy in the western fashion business- so we asked….
TBH: What was life like before Cowboy Fresh?
AW: I used to ride bulls, so life before Cowboy Fresh consisted of bucking bulls, bull riding and lots of rodeos. Not much has really changed since then, except now I'm just focusing on the business and not messing around with the toros, ha!
Tell us about the men who shop your brand?
Our customers are mainly men. They consist of rodeo contestants who want to represent a fresh new look to turn a few heads at their next event. Of course we also get women buying for their guys!
Describe your business in three words…go!
Fresh.  (who need's 3?)
Why Cowboy Fresh the name?
I saw a style being created and there wasn't a brand behind it. So I decided to come up with a brand. Within two weeks of making the decision to start, I came up with Cowboy Fresh!
What do you consider to be the atmosphere of your brand, and how do you hope to make your customers feel?
When you come to our site and social platform, you will see a blend of western fashion, rodeo, and the lifestyle of the rodeo trail. That's the experience we want to give to our rodeo family, and people outside of rodeo.
What tips do you wish someone would have shared with you as an new entrepreneur?
To just go for it!! Actually I had so many people give me this advice when I was starting Cowboy Fresh. If you have it in you, and you can't stop thinking about it, just go for it!
What has been the most fun or exciting part of owning a brand? The most challenging?
Planning my own schedule is the most fun part for me, because I'm still able to travel the rodeo trail and keep up with the industry/sport that I love. The most challenging is keeping up with myself at times. I get going 100 mph, come up with 10 projects in a day, and then realize I still have to follow through with all!
What would you say your "go-to style" is?
My closet, err suitcase, is filled with starched Buckle Jeans, Cowboy Fresh Tees, Snap Backs, Hoodies, and jackets. I combine my personal style and my brand to create my unique looks. The products in the Cowboy Fresh brand are definitely a reflection of my own style.
What are your favorite trends at the moment?
I'm a big fan of the style on the roughstock side of the arena for men's. Starched jeans, square toe exotics, hand tooled belts, custom pendants etc. On the women's side of things, I'm diggin' it all. From the fringe, to boho style, you gals are rockin' it!
Are there any big goals you as a business owner that you are excited about reaching?
Yes I have some big goals for the next year. I am going to start starting more partnerships with western retailers, and boutiques. I want to get these threads out there!!
Owning a business is hectic, how do you unwind?
During the work week I'm in the gym every day. It's a great way to get out of work mode. It also gets me fired up for the rest of the work day. I'm also an avid bass fisherman. I fish pretty often and I love it. But anytime I'm away from the "office", the wheels are always turning about Cowboy Fresh. So in a way, I'm always working.
Ok, Lightning Round!
Who's been your role model in business?
Business would be Gary Vaynerchuck or "Gary Vee". He motivates and pushes me to the max. If I can wake up with coffee and one of his videos–I'm ready to go for the day.
More importantly, dark or milk chocolate?
Sour candy or no deal!
What's your favorite retail season?
Christmas & The WNFR
What is your favorite social network and why?
Instagram for sure! I've watched it grow from the beginning and IG has been killing it. I love the new Instagram Stories. It's a great marketing tool!
Alright Austin, we have been so excited to see your brand in the WNFR Style Guide, so we want to see more! Let's talk about some of your customer favorites. Show us!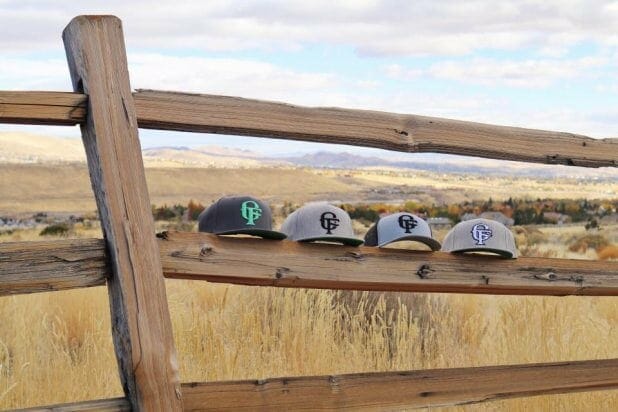 Austin – thanks so much for taking the time to catch up with us, we know you are one busy guy! We can't wait to see where Cowboy Fresh goes next!
For more information on Austin and Cowboy Fresh, visit their website (www.cowboyfresh.com), or send them an email at [email protected].
---
Want more fashion coverage?
Make sure you're on our VIP list of insiders who hear it first and are treated to 20+ boutique coupons when they sign up, or hop into our Facebook Group, Shop The Best Boutiques anytime to hear style tips, must-see trends, deals and shop our threads by product from hundreds of boutiques in one place. See you there babe!
PS – have a unique boutique back story you'd love to share? [email protected].