Content marketing strategists are constantly telling us that "content is king" and it's critical for sales. But with so much conflicting information out there, how do we know what social platforms to focus on? And how do we ensure we are creating content that actually interests our viewers and potential buyers? To help us dive into all things content creation is Jasmine Star, founder of Social Curator and the queen of content.

In this episode, we will be discussing how to cut the overwhelm, maximize your Instagram, and create eye-catching reels. You will learn why the algorithm is not out to get you, the importance of engagement, and how often you should be posting. Content creation doesn't have to be scary—you have the ability to be just as creative as anyone else!
>> EPISODE 338 – LISTEN NOW ON iTunes <<
>> EPISODE 338 – LISTEN NOW ON Spotify <<
See the Full Boutique Chat Podcast Website here
Watch the interview on Youtube:
What You'll Learn In How To Create Quality Content That Actually Works
---
Why Jasmine is so passionate about content.
The importance of content for a boutique owner.
How to know if what you're doing is working.
The best way to get engagement.
How often you should be posting on social media.
What the most successful boutique owners have in common.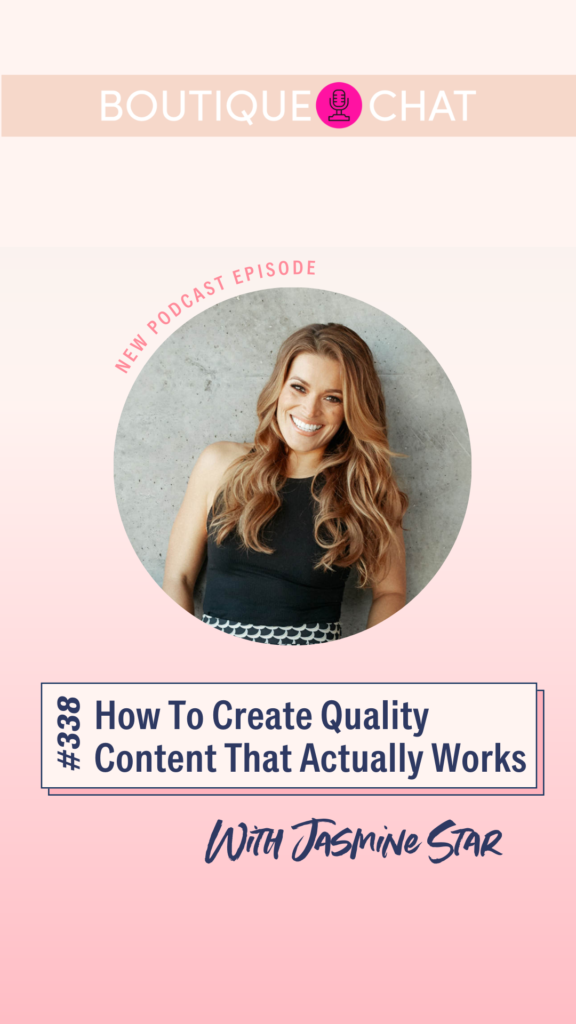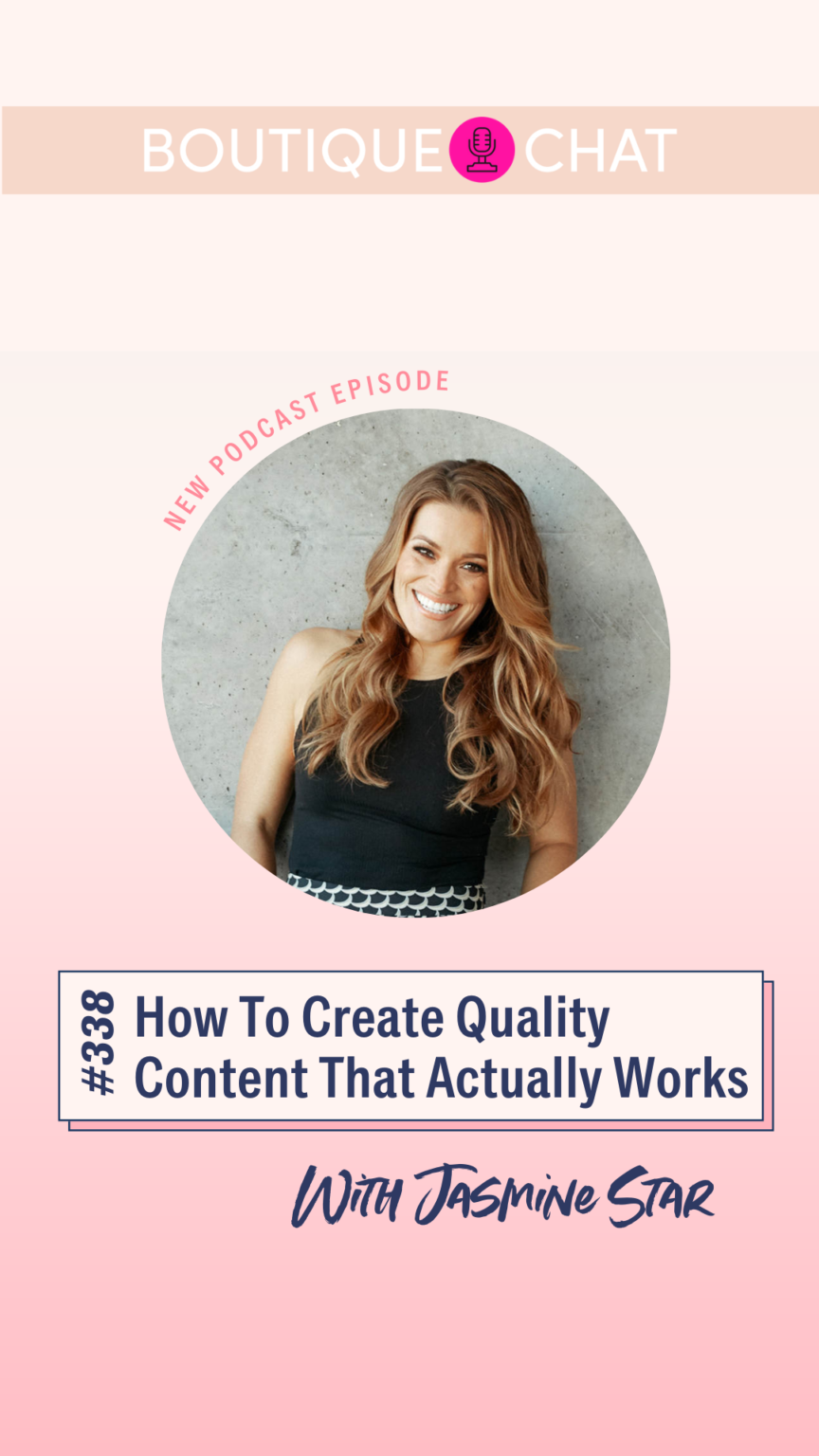 Favorite Quotes
---
"Content in and of itself is an expressive, creative, artistic division of who we are, even if we do not feel like we are artistic, creative creatures or beings." – Jasmine Star [2:58]
"Content will be a defining factor for the success and growth rate of a boutique owner." – Jasmine Star [3:48]

"Making a plan is just the heavy lifting, and then creating the content becomes the joy." – Jasmine Star [15:45]
---
Resources:
Jasmine Star: Website | Instagram | LinkedIn
Today's episode was brought to you by Digital Boutique Co. Click here to learn more: https://digitalboutiqueco.com/lets-chat/
---
Join the Hub for more training, information, and connections.
www.theboutiquehub.com/join
Use the hashtag #AskAshley on Instagram, or tag her at @ajalderson or @theboutiquehub to suggest topics for the podcast and let us know what you thought about this episode!
Do you love the Boutique Chat Podcast?! Subscribe to our podcast and after that, leave us a review on iTunes Apple Podcasts here!

Original Air Date: November 2nd, 2021
Do you love the details of How To Create Quality Content That Actually Works? Let us know what you think about our show and help spread the word about the #BoutiqueChat Podcast.
Recent Posts:
The Pursuit of Happiness: Prioritizing Mental Well-Being in Business and Life with Sara Durcholz, JO+CO

Jo+Co boutique owner Sara Durcholz talks about her business journey and finding happiness, going from multiple brick-and-mortar locations to focusing on e-commerce.

5 Productivity Habits Of Successful Business Owners

What are the 5 habits of successful boutique owners and top business owners? Let's dish! The truth is, we all fight the same battles…time…productivity…team optimization….creating systems….taking care of ourselves and families. From our community at The Boutique Hub to those in Retail Bootcamp, we've walked through solving so many of these challenges together and have come up with some real solutions you can put into play RIGHT NOW.

Boutique Financial Tips For Success

Use these 8 Financial Tips to manage your inventory, increase your profit margins, understand your investments, limit your markdowns and GROW your business. Only a tracked number grows, so if you are ignoring your finances and buying strategy, then you're asking for a disaster! These are 8 quick and easy tips you can start tracking today!