Today on #BoutiqueChat Podcast Shane Holman, Ariat Senior Director of Global Western Trend and Market Development, joins us for How to Fashion Forecast. Not only does Shane work for Ariat, but she is also the owner of Envie Boutique. Shane goes over how to spot trends, details Ariat's boutique line, and tips on carrying footwear. She gives us first-hand insight on the process of trend forecasting to product development, so don't miss out. Tune in now to get all the details!
>> EPISODE 283 – LISTEN NOW ON iTunes <<
Don't Have iTunes? Listen on Libsyn here
See the Full Boutique Chat Podcast Website here
Key Points:
---
Trends start on the runway, always pay close to the big name designs. When you see things repeating, you'll know it's a trend.
Build a brand board. Create a vision of what you want your boutique to carry in the next year.
When you start carrying footwear start small then build up. See what your customers gravitate to and go from there.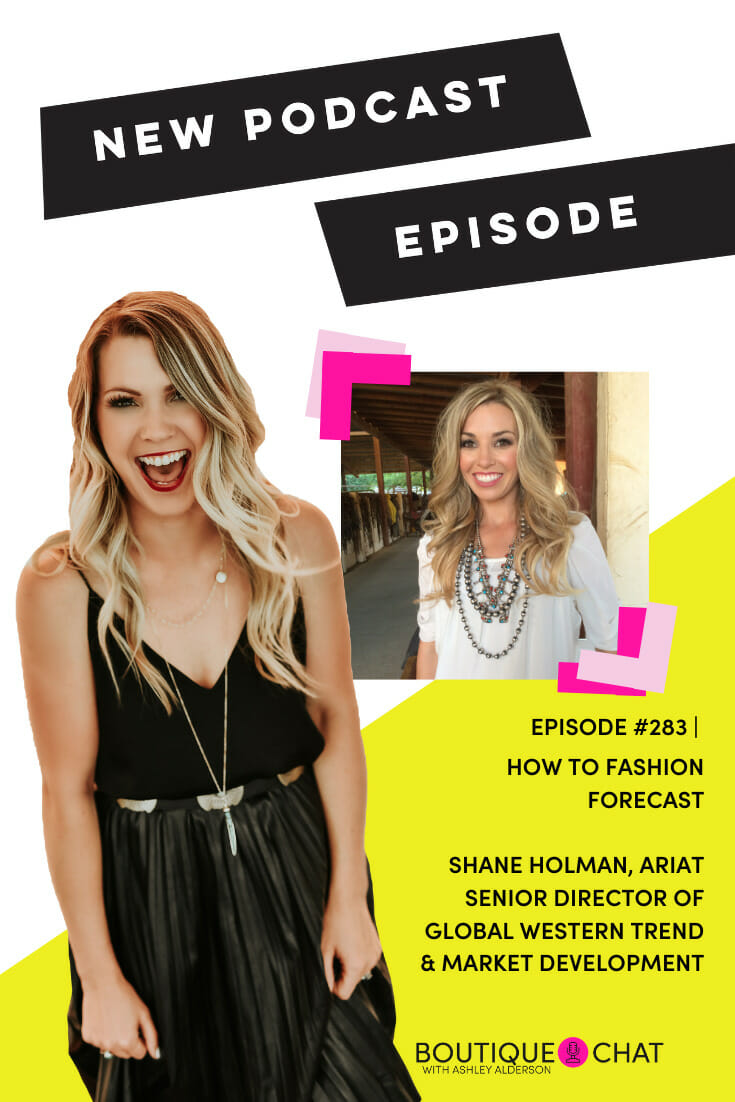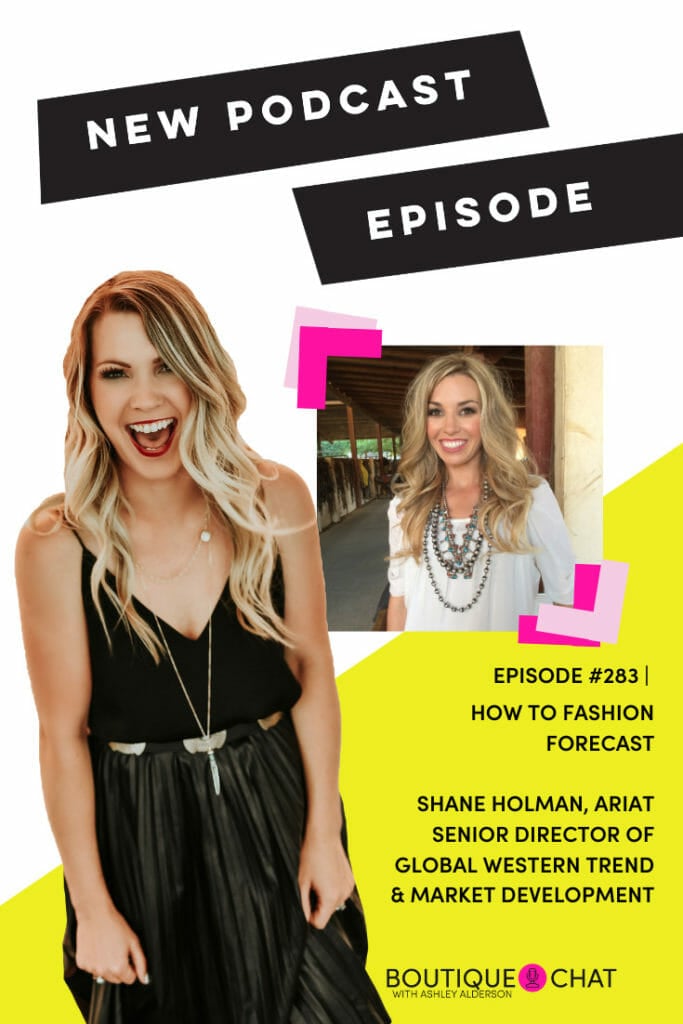 Favorite Quotes
---
"When you see things repeating you know it's a trend. Watch all these big-name designers because they set the tone and then everybody
follows and interprets it after that."-Shane
"Don't just follow what you find simply for sale on the next vendor's website but do some research." -Ashley
"Ariat's offered new programming for boutiques where they allow them to take in smaller size runs and test the product." -Shane
"It's about being true to your customer and understanding who's shopping in your store and really targeting them. Get the product that's right for them." -Shane
About Ariat:
While few people have not heard of Ariat, most are unaware of the fascinating story and history behind this iconic company. In 1990, while working at Bain and Company on a strategic marketing and product development strategy for a global athletic shoe brand, Beth Cross and co-founder Pam Parker saw an opportunity to apply the principles of athletic shoe technology and sports marketing to the equestrian footwear market. It was then, that Ariat was born.
Three years later, the pair launched Ariat's first riding boot. Since then, the brand has rapidly developed new technologies and products to serve the needs of the world's top equestrian athletes. Not only are athletes fond of the brand, but also those who love western fashion. Ariat carries footwear with the latest technologies, but also footwear a western fashion-forward individual will adore.
If you're interested in carrying Ariat products in your store or have more questions in regards to their many product offerings, feel free to contact Julia Paulson (via email), to get started!
Where to follow Shane & Ariat:
Instagram:
Website:
---
SIGN UP FOR EMAIL UPDATES ON OUR WEBSITE:
https://theboutiquehub.com/boutique-summit-2020/
Join the Hub for more training, information, and connections.
www.theboutiquehub.com/join
Use the hashtag #AskAshley on Instagram, or tag her at @ajalderson or @theboutiquehubto suggest topics for the podcast and let us know what you thought about this episode!
Want to be our listener of the week? Then Subscribe to our podcast and after that, leave us a review on iTunes Apple Podcasts here!
Original Air Date: November 3rd, 2020
Do you love the details How to Fashion Forecast? Let us know what you think about our show and help spread the word about the #BoutiqueChat Podcast.